Millennium Blitzkrieg - Email for other epub info on the novel
NOW ON KINDLE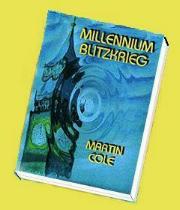 Read the novel, wriiten in the 1990s, which warned of an EU catastrophe by the centenary of WWI in 2014.
- Order for your Kindle from Amazon.com - Order for your Kindle from Amazon.co.uk - Order for your Kindle from amazon.de - Order for your Kindle from amazon.fr
---

Copyright2005MartinCole
---
Blogs:
Teetering Tories
UKIP Uncovered
The Strasbourg Cesspit
Anglo Saxon Chronicle
EU Realist
EU Referendum
Road to EU Serfdom
Eurosoc.com
Adam Smith Blog
Fainting in Coils
Tim Worstall
Anthony Wells
Samizdata.net
The Commons
USS Clueless
UKIP Uncovered
Blogs en Francais:
L'UE L'A EU
---
Archives:
February 2003
March 2003
April 2003
May 2003
June 2003
July 2003
August 2003
September 2003
October 2003
November 2003
December 2003
January 2004
February 2004
March 2004
April 2004
May 2004
June 2004
July 2004
August 2004
September 2004
October 2004
November 2004
December 2004
January 2005
February 2005
March 2005
April 2005
May 2005
June 2005
---
E-Mail Me
---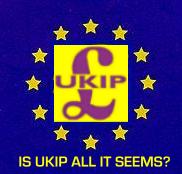 Click here to learn much much more
---
Tuesday, April 29, 2003

This is a section from a report in EU News regarding the very weird meeting today on a European Defence and Security organisation between France, Germany, Belgium and the nascent superpower Luxembourg:-

Quote
In addition, the EU four called for:

-- a "solidarity clause", binding EU member states together in the event of an attack on one, and a "common security" element, seen by sceptics as encroaching on NATO's turf;

-- the creation of an EU agency to develop and buy weapons, so as "to increase the European military capabilities and strengthen the interoperability as well as the cooperation between the armed forces of the member states";

-- a European command for strategic air transport, built around the A400M;

-- the creation of an EU protection capability against nuclear, biological and chemical attack;

-- a rapid reaction ability to rush in humanitarian aid within 24 hours of a natural disaster;

-- an EU security and defence college, as well as specialist training centres for A400M, helicopter and ship crews.
Unquote

As can be seen the whole thing seems to be going to revolve around the A400M as the only piece of serious kit. Unhappily Germany's economic plight which can now only weaken as a result of its governments recent blatant anti-Americanism has already forced a cut in the orders from 73 to 60 planes as announced in 2003. A400M Order Slashed

With Airbus now having to give virtually give away its commercial aircraft to a crisis-ridden airline industry in order to appear to be competing with its US competitor (A matter that is now an act of faith for EU fanatics) more cuts or cost increase for the military jet seem inevitable. Will Germany's pacifist inclined government really have the stomach to maintain the project and if not what hope or meaning for this new European Defence pipe dream. Portugal has already reduced its orders for the A400M to 3.

This goes beyond Irony. The EU Core is looking increasingly absurd as well as irrelevant.



posted by Martin at
4/29/2003 06:44:00 PM
Sunday, April 27, 2003

An interesting paragraph from a Reuters report on Donald Rumsfeld's visit to the United Arab Emirates said the following:-

Quote
Military analysts say they expect the United States to sharply reduce its military presence in Saudi Arabia, a key ally for decades, and perhaps move some air power from there to Qatar, Oman or the UAE. Washington also has a major military presence in Iraq's southern neighbor, Kuwait.
Unquote

While much press comment has centred on the impact of the Iraq campaign on that countries less than pro-American neighbours such as Syria and Iran, the consequences for Saudi Arabia , home country of so many of the 9/11 terrorists, might be even more traumatic. The link found in Baghdad by a London Telegraph reporter between OBL and Saddam is also an extremely interesting development.

Ironic is the absence of press speculation on the whereabouts of Saddam and his top advisers. Hidden deep below ground with the majority of Iraqs WMD and the only living people to know the location of their lair. Could OBL be there as well?





posted by Martin at
4/27/2003 09:05:00 PM
Thursday, April 24, 2003

I find myself repeatedly returning to the question of Jaques Chirac. An enigma indeed, brilliantly taken apart on USS Clueless at the tail end of last week from a French foreign policy viewpoint. The IHT today has another excellent analysis probing more at the man himself, its worth a read for those still interested.

IHT on Chirac


posted by Martin at
4/24/2003 09:00:00 PM
Wednesday, April 23, 2003

The Economist had an interesting article on the dilemmas facing French diplomacy. It was published on 17th April, well before yesterday's extraordinary climbdown by the French UN Ambassador over Iraqi sanctions, and therefore provides even more fascinating reading in the light of that event. What next for France one must now wonder? The Economist on France



posted by Martin at
4/23/2003 08:34:00 AM
Tuesday, April 22, 2003

French Degradation in the UN

The French Ambassador announcing at the UN, his country's support for the immediate lifting of UN Iraqi sanctions, speaks volumes on France's new position in the world and the depth of evidence of French treachery the coalition of the willing must have uncovered in Baghdad, to wring such an humiliating climb down.

Brilliant, humble pie eating should be observed by all on a TV near you!



posted by Martin at
4/22/2003 08:02:00 PM
Friday, April 18, 2003

Jaques Chirac President of France, is quoted in today's The Independent of London, on the subject of the European Union and on the signing of the Accession Treaty for its ten new members

"This new Europe will not be able to fulfil our citizens' expectations if, as we are seeing in the current crisis, its political ambitions are not clarified and its running is not extensively rethought," he said.

"The European Union is about more than just a large market, common policies, a single currency and free movement," he said pointedly. "It is more importantly about a collective ambition, shared disciplines, firm solidarity and naturally looking to the European family."

Let nobody say that they were not warned! Is this really what our British Euro-fanatics also understand is represented by the EU?

Probably they do, in which case I would love to see what they define as Collective Ambition, Firm Solidarity and naturally looking to the European family Sounds to me like a bloody nightmare. The Independent obviously had a view on what he meant prefacing the quotation with this introductory sentence:-

But Jacques Chirac, the French President, who stunned the acceding countries when he upbraided them earlier this year for supporting the US-led war on Iraq, again warned the new states to toe the line.

Jaques Chirac is for the moment the greatest menace to the future smooth running of international affairs, but could he, paradoxically,
be the final straw that causes Britain to see the dangers of this dreadful European experiment, and thus prove himself the unlikely saviour of the United Kingdom?



posted by Martin at
4/18/2003 04:50:00 PM
Thursday, April 17, 2003

An interesting proposal for a fundamental shift in Britain's relationship with Europe is set out by Tim Congdon in the Cover Story of this week's The Spectator. The cover illustration makes an ironic follow on from the bloody hand of Chirac, on the same magazine a few weeks ago, to which I also supplied a link that may be found in my archives.

The Spectator The dawning of a new Europe


posted by Martin at
4/17/2003 02:36:00 PM
Wednesday, April 16, 2003

On 15th April, 2003 at 1:30pm EDT a Pentagon briefing was held by US Secretary of Defence Donald H. Rumsfeld. It is worth quoting at length. After a brief report on the status of prisoners of war in Iraq he delivered the following words:-

Quote

Coalition forces now control Saddam Hussein's hometown of Tikrit, and
only a few Iraqi cities remain contested. Our forces are now going
back to the smaller cities and towns they initially bypassed, to deal
with any regime forces that may remain. We'll continue these efforts
until Saddam Hussein's regime has been removed from every corner of
Iraq.

Once conditions on the ground permit, the civil administration team
will deploy to Baghdad. Even before they do so, the coalition is
beginning to hold regional meetings with free Iraqis from all walks of
life to discuss the way ahead. The purpose is to begin a dialogue with
Iraqis on the future of their country, to build momentum for the
formation of an Iraqi interim authority, and to help pave the way for
a free Iraqi government that will eventually be chosen by the Iraqi
people. The first of these meetings was held today, in [An] Nasiriyah.
It is noteworthy that even before the coalition's civil administration
team has arrived in Baghdad, they are meeting with free Iraqis to
discuss handing over authority to the Iraqi people. It underscores our
intention to give responsibility for governance of that country to
Iraqis as quickly as is possible.

The makeup and responsibilities of an Iraqi interim authority will be
up to the Iraqi people, but we envision that it could take on at least
two main tasks. First, it could allow Iraqis to have an immediate role
in the administration of their country, including responsibility for
running a number of the ministries. Second, it could take
responsibility for laying the foundations of a new Iraqi government,
including formation of a draft constitution, the reform of the legal
system, economic reform, electoral planning and the outlines of a bill
of rights, to assure a just system that guarantees that all Iraqis --
diverse population -- has a voice in the governance of their country.

The specific institutions of a new Iraqi government will be decided by
Iraqis. A free society should really not be imposed from the outside.
We can help by bringing Iraqis together, and by helping to create
conditions of stability and security that are necessary for a free
society to take root. But building a free Iraq is the right -- and
indeed the responsibility -- of the Iraqi people.

Moreover, a free society is about more than just elections or specific
institutions of government. Free nations across the world have
different institutions that reflect their unique cultures and their
traditions. What they share in common are certain principles that
undergird those institutions: freedom of speech, freedom of religion,
individual rights, equal justice under law, checks and balances,
protecting minorities against the tyranny of the majority, and
ultimately a government that is chosen by and answers to the people.

The interim authority will be a stepping stone in that process. This
much is certain: It will be temporary. It will be large, involving
Iraqis from all walks of life. And it will be open to participation by
new leaders from across the country as they emerge from the shadow of
Saddam Hussein's repression. It will evolve, to use the American
phrase, from the "big tent" approach.

These meetings will help set in motion a process that will lead to an
Iraqi government that does not threaten its neighbors, or the world,
with weapons of mass destruction; that does not support terrorist
networks, that guarantees the rights of religious and ethnic groups;
that permits political freedom, individual liberty and rule of law to
prevail, so that no Iraqi is forced to live in terror or fear.

Unquote

The next day 16th April in Athens, no such hopes of a bright, democratic and prosperous future could be held out for the citizen's of the ten aspirant euopean countries whose governments were about to commit themselves to joining the increasingly bureaucratic and daily less democratic nightmare that is today's European Union.

Could there be any greater contrast, for the people of Iraq, in the midst of chaos hope for the future, held out to them by the brilliant American Defence Secretary.
For the only recently repressed countries of Eastern Europe the leaders of Western Europe can only offer a return to pointless bureaucracy, stifling controls of almost every aspect of daily life, corruption up to the highest level of governance, and a steady and continuing erosion of those basic rights in Rumsfeld's list once held dear particularly in Britain namely:-

Checks and Balances,
Freedom of Speech,
Individual rights,
Equal justice under law,
Protecting minorities against the tyranny of the majority, and
Ultimately a government that is chosen by and answers to the people



posted by Martin at
4/16/2003 04:48:00 PM
Monday, April 14, 2003

A wonderful piece of descriptive prose in today's EU Observer regarding the European Union's consideration of its future role in Iraq

Quote
In a sign of the sensitivity of the issue, the papers - one from the Commission; one from the Greek presidency - do not put forward concrete proposals on what the Union should do, but instead analyse management of previous post-conflict situations such as, Afghanistan, East Timor, Kosovo and Cambodia.

"It is time to get down to specifics" a Council spokesperson told the EUobserver, but the debate is expected to be very open, the papers "help us list all the tools in the tool box..." apparently without explicitly suggesting ones to use.

The tools under special consideration are thought to include appointing an EU envoy to Iraq and opening an EU representation in the country.

Although diplomats are candid about the EU's influence, "it is clear that this will depend on discussion elsewhere" said one.

Unquote

The greatest ironical pleasure may be obtained by reading the piece complete, The EU Listing itsTools

Special mention for rare EU candidness when it for once admits the possibility of a conflict between the equally ineffective Patten and Solana:-

Quote
The Council currently has six 'special representatives' including ones in Afghanistan and Bosnia and Herzegovina. Critics have argued that their positions have been fundamentally undermined by the complex arrangement in which External Relations Commissioner Chris Patten and High Representative Javier Solana share the EU's foreign minister hat.

There may be objections to the idea of opening an office in the region. Current EU representations do not always work harmoniously with representations from member states.

The ministers will also discuss in concrete terms what the EU means when it says the UN should have a central role in post-war Iraq.
Unquote




posted by Martin at
4/14/2003 07:53:00 PM
Saturday, April 12, 2003

Two weeks or so without a post. Glued to the screen as the Iraqi regime collapses? Travelling? Lost for words?

A combination of all three really, awesome as the US led campaign proved to be, single-minded as its leaders proved, for once "ironies" were few and far between.

As Putin, Schroeder and Chirac meet in St Petersburg but fail to agree a closing statement they seem bound to soon return.

The BBC should be the next casualty of this recent crisis, as is finally becoming clear even within the UK, although only the Telegraph has yet run the idea in its Leader column. I would provide the link but am still struggling with the technology.

I will post substantively within the next few days. I have a lot I wish to share, but has anyone ever visited this page?????


posted by Martin at
4/12/2003 07:35:00 PM
Use eBay's PayPal service if you appreciate this blog - to make fast, easy and secure donations to help towards our broadband and other costs! martin.cole@gmail.com Many thanks!.