Millennium Blitzkrieg - Email for other epub info on the novel
NOW ON KINDLE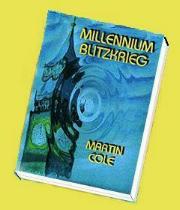 Read the novel, wriiten in the 1990s, which warned of an EU catastrophe by the centenary of WWI in 2014.
- Order for your Kindle from Amazon.com - Order for your Kindle from Amazon.co.uk - Order for your Kindle from amazon.de - Order for your Kindle from amazon.fr
---

Copyright2005MartinCole
---
Blogs:
Teetering Tories
UKIP Uncovered
The Strasbourg Cesspit
Anglo Saxon Chronicle
EU Realist
EU Referendum
Road to EU Serfdom
Eurosoc.com
Adam Smith Blog
Fainting in Coils
Tim Worstall
Anthony Wells
Samizdata.net
The Commons
USS Clueless
UKIP Uncovered
Blogs en Francais:
L'UE L'A EU
---
Archives:
February 2003
March 2003
April 2003
May 2003
June 2003
July 2003
August 2003
September 2003
October 2003
November 2003
December 2003
January 2004
February 2004
March 2004
April 2004
May 2004
June 2004
July 2004
August 2004
September 2004
October 2004
November 2004
December 2004
January 2005
February 2005
March 2005
April 2005
May 2005
June 2005
---
E-Mail Me
---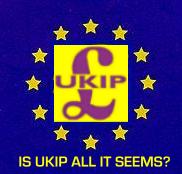 Click here to learn much much more
---
Saturday, May 29, 2004

Twelve Peers urge UKIP Vote

A dozen members of Britains Upper Legislative Chamber the House of Lords have urged voters to vote for the UK Independence Party, five of them now face party discipline procedures from their party the main opposition Conservatives. The report in The Scotsman is linked from here and is as follows:-

Quote
Tory Peers in Hot Water for Backing Ukip

By Jamie Lyons, Political Correspondent, PA News

Five Tory peers could be disciplined after today giving their backing to the UK Independence Party.

They have joined a further seven members of the Lords in calling on voters to back UKIP in June's European Parliament election.

They said it was their only hope of persuading Tory leader Michael Howard to advocate pulling Britain out of the EU.

Baroness Cox of Queensbury, Lord Willoughby de Broke, Lord Pearson of Rannoch, Lord Stevens of Ludgate and Lord Laing of Dunphail have put their names to an open letter urging people to vote UKIP.

The letter states: "We urge those who normally vote for one of the main political parties to lend their vote at the European elections on June 10 to the UK Independence Party.

"Only thus will the main parties be persuaded that their policies towards the European Union are not in the national interest. It is to that national interest that we all owe our allegiance."

Lord Pearson said he hoped other Tory peers would back UKIP. He told PA News: "We have failed to persuade Michael Howard over Europe.

"The only party that can save our democracy is the Conservative Party. But we hope a significant vote for UKIP can make Michael Howard see sense."

He said it did not matter which candidates became Euro MPs as Brussels was full of "second-rate freeloaders" anyway.

"The British people are not frightened of pulling out," he added.

"The only people who don't see that are that discredited hen-coop at Westminster who feel guilty about having taken us into Europe in the first place."

UKIP MEP Nigel Farage welcomed the move. He said: "I am delighted that 12 peers are backing our campaign. In the case of the five Conservatives it shows that the time has come to put country before party and is a very brave act on their part.

"The signatures of the seven cross-benches indicates the depth of feeling on this issue within the Lords and we believe there are many more who will follow the example they have set."
Unquote






posted by Martin at
5/29/2004 02:23:00 PM

Austria Suggests Voting Rights Suspension for Pact Breakers

A suggestion so clearly sensible it can never be accepted within the EU has been proposed by the Austrians. Read the article from this link to the EUobserver.


posted by Martin at
5/29/2004 08:39:00 AM

Canadian Veterans Protest.

OTTAWA, May 28 /CNW/ - The 47-member National Council of Veteran
Associations in Canada (NCVA) today told the Times of London that its members had "strenuous objections" to the proposal that German Chancellor Gerhard Schroeder would be invited as a guest to commemorate the landing of Canadian troops in Normandy on June 6th of this year.

Cliff Chadderton, Chairman of NCVA, stated: "About 4,000 retired D-Day
veterans saved their money for months to take this trip to give them one last look at where they had fought and where their comrades had died. It would be difficult to explain to them or their families that the current leader of Germany would participate in the sacred ceremony."

Read the full report from this link.


posted by Martin at
5/29/2004 07:45:00 AM
Friday, May 28, 2004

Government Treatment of British Democracy - 'Offensive and Abhorrent!'

Such was the verdict of North East Region Independent Candidate Neil Herron, at the latest developments in the postal ballot fiasco. The Daily Telegraph coverage of the looming chaos in all four regions selected for postal voting is linked from here and had this to say regarding the North East:-

Neil Herron, an independent candidate in the European elections, said the postal ballot in the North East appeared to be "descending into a total shambles".

He said four authorities - Newcastle City, North Tyneside, South Tyneside and Gateshead - had not even printed the ballot papers.

It could mean that 25 per cent of voters in the region would not get them in time.

"The pantomime we are witnessing is worthy of a banana republic and not the founding father of modern democracy," said Mr Herron.




posted by Martin at
5/28/2004 05:34:00 PM

Schroeder's D-Day Anniversary Invitation

Expatica linked here reports the German Chancellor as stating his invitation to the events to mark the anniversary of the Allied landings on the Normandy beaches means that he is now equal to those Allies, quoted below:

"My presence will make clear ...that we are accepted as an equal partner by the former (World War II) allies," said Schroeder.

I would have thought that it was already quite clear that Germany was accepted in the modern world as an equal partner in most things and more than equal in respect of the workings of the EU. I therefore do not grasp the full meaning of his words.

Personally, I am not sure about the invitation at all. If the ceremonies are to honour the memories of those slaughtered trying to free almost the entire European Continent from a tyrannical occupation by German Nazis who were killing in defence of - and for the purpose of perpetuating that tyranny then I do not consider the presence of the German Head of Government as at all appropriate. In fact I am sure that it could be looked on by some, as an insult to the memories of their fallen relatives.

A World War II veteran I knew intimately, who has only recently died, steadfastly refused until his end to buy any vehicle manufactured by those against whom he had fought. I find his motivations more easily understandable than those of our national leaders who presume to invite the representative of the nation of the killers to pay homage in memory of those innocently slaughtered at the place of their youthful deaths a mere sixty years after the dreadful events and while many actual particpants still survive.

If modern Germany really wanted to be considered an equal in resisting tyranny and spreading freedoms, it could fully contribute in Iraq. The same goes for France. So called Iraqi dissidents, in reality cold-blooded murderers, get nothing but succour and comfort from the Franco-German refusal to send troops to aid in the restoration of order to that country. Their intention is clearly to undermine both Bush and Blair over Iraq. They are having some success at the expense of present day British and American lives. What is about to take place in Normandy is one more example of 21st century hypocrisy.




posted by Martin at
5/28/2004 04:29:00 PM

Britain's Postal Ballot and Leaflet Problems

The delays would be unacceptable in a "fledgling third world democracy". according a Labour MP from this BBC report linked here.

Problems go further than just the delivery of postal ballot papers in the four regions where only postal voting is allowed. Steven Uncles, the Lead Candidate in the South East Region and Campaign Manager for the English Democrats Party, advised me this morning as follows:-

Quote
Dear Martin

The English Democrats have paid for leaflets to be delivered by the Royal Mail to every household in the 5 Regions we are standing.

No doubt the other parties sending our leaflets were expecting the same thing.

This morning I was horrified when our Post Lady

1. Asked me to sign for the 'pack' of leaflets

And

2 Explained that leaflets were only being delivered to every third house.

This is terrible news for the English Democrats who have been totally 'blanked' to date by the National Press and the TV, as it means that we have no way of getting our message to 2/3rds of the households who were meant to be getting the leaflets.

The English Democrats will almost certainly take legal action against the Post Office to claim compensation if this policy of a 1 in 3 delivery has occurred in many areas.

Has anyone else shared a similar experience – ie no leaflets ?
Regards
Steve

Any with similar experiences can forward the facts to this blog and we will send them on to Steve, alternatively you can send them direct to the EDP www.EnglandsParty.com


posted by Martin at
5/28/2004 10:13:00 AM

The 60th Anniversary of D-Day

Simon Schama's introduction to some actual D-day letters is recommended from this link to The Guardian.

More worrying in view of the controversial decision to invite the German Chancellor to the celebrations on 6th June, is this report from the Russian news agency Interfax linked here and titled 'EU, NATO should take heed of Estonia's removal of war monument - Russian foreign ministry' - it points out that not only has a Russian memorial been removed but that one in memory of an SS leader has been erected.


posted by Martin at
5/28/2004 09:52:00 AM

A Thought for the Day

The following is circulating, having originated from Earl Williams:-

A little twist on an old saying, "Discussing the GOALS of the EU is like two wolves(France-Germany)and a Sheep (Britain) discussing what's for dinner?"!!!!!!!!!!




posted by Martin at
5/28/2004 08:54:00 AM

English Democrats Candidates

The following are the candidates for the English Democrats Party (EDP) in the European Parliamentary elections for 10th June.

The party's National Campaign Manager and Lead Candidate for the South East England Euro Region Constituency is – Steven Uncles – a 40 year old Company Director, who lives in Dartford, Kent, - he is married with 2 Children and still plays Rugby as a hobby – He has never been involved in politics before in his life; "but feels that some of us have to stand up for England!"

The party supports an English Parliament, opposes EU Regionalisation and its policy on the EU may be read from from this link which may be summarised as follows:-

The EDP favours European co-operation and trade but not a European political entity which undermines the independence, sovereignty, and democratic institutions of European states.

The rest of the EDP Candidates in the South East England Euro Region Constituency are:-

2 Robert Alfred SULLEY – Retired – Lecturer Imperial College London/ RAF - Sussex
3 Courtney Graham WILLIAMS – Retired – Chief Inspector – Sussex Police - Sussex
4 Richard Derek SUTTON – IFA – Maidstone, Kent Based
5 Jacqueline Ann BROOKMAN - Lloyds of London – Insurance Brooker - Kent
6 Dr David Roy UNCLES – Consultant Anaesthetist – Worthing Hospital, Sussex
7 Lyndon NEWINS – Company Direct – Soft Drinks - Kent
8 Louise Ann UNCLES – wife of Steven – Administrator – Abbott Laboratories – Kent

In the other Regions they have:-

LONDON: 6 Candidates
EDP - ENGLISH DEMOCRATS PARTY
Robin Charles William TILBROOK – EDP Party – Chairman - Solictor
Timothy Patrick BRAGG
Terence Peter BROWN
Robert HOWELLS
Alan Gerald SUTTON
Robert John POULTON

NORTH EAST: 1 Candidate
INDEPENDENT (EDP SUPPORTED) – ENGLISH 'NO' TO REGIONS
Neil HERRON – Metric Martyr leader of the No to Regions NE Campaign

NORTH WEST: 7 Candidates
EDP - ENGLISH DEMOCRATS PARTY

Christine Hilda CONSTABLE – EDP Party Vice Chairman – Company Director - Training
Mark Kenneth WHEATLEY
Julia Dawn HOWMAN
Stephen Richard PIPE
Lauren Adele SPRATT
Phillip EVANS
Robert Edward ABRAMS

YORKSHIRE & THE HUMBER: 4 Candidates
EDP - ENGLISH DEMOCRATS PARTY
Gary Alan COWD – Company Director – Haulage Business (National Council Member)
Stephen Edward ELLIOTT
Derek John SMITH
Nicholas Ian BOOTH

WEST MIDLANDS: 1 Candidate
(ENGLISH) COMMON GOOD - (EDP SUPPORTED)
Dick RODGERS

EAST MIDLANDS: 1 Candidate
INDEPENDENT (EDP SUPPORTED) – ENGLISH DEMOCRAT
Russell ROGERS – Company Director

EASTERN: 5 Candidates
EDP - ENGLISH DEMOCRATS PARTY
Robert Jervis KAY – Queens Council (QC) Barrister – Lives in Suffolk
James Brian SAMUELS
Adrian Ralph KEY
Gloria MEREDEW
Michael Thomas Martin BLUNDELL
Kim GANDY

SOUTH WEST: 6 Candidates
(ENGLISH) COUNTRYSIDE PARTY - (EDP SUPPORTED)
Christopher Philip THOMAS-EVERARD
Brian CRAWFORD
Diana Mary SCOTT
Ranulph FIENNES
Archibald John MONTGOMERY
John Antony YEWDALL


posted by Martin at
5/28/2004 08:14:00 AM
Thursday, May 27, 2004

EU Enlargement Realities

The Prague Post has published a deeply worrying report on the ecomomic consequences of the recent EU enlargement, which is linked from here. The concluding section and author's details are quoted here:-

A difficult road ahead

There is no guarantee that the accession states will find membership in the EU a magic potion to remedy all economic ills; indeed, the opposite seems more likely. While entry may prove a blessing for the more-advanced accession countries (including the Czech Republic), the poorer countries may fall even further behind the EU-15, according to projections recently published by the Centre Economique de l'Universite de Paris Nord.

Overly tight fiscal and monetary policies have nearly paralyzed the economies of Germany, France and Italy. Thus, EU generosity is in short supply. The Dutch finance minister's opposition to sharing the 2004 EU budget surplus with the 10 new members is one example of the new miserliness of the rich. In addition, there's an ominous possibility that the Maastricht budget deficit rules will be applied to the accession countries immediately.

In short, a radical reformulation of macro-policy in the core eurozone countries is urgently required if the EU-15 and the 10 accession countries are to prosper together.

-- The writer is a professor of economics at the Institute of Social Studies, The Hague.



posted by Martin at
5/27/2004 06:52:00 PM

Stop Press - An EU Commissioner embraces Free Markets!!

EU Commissioner for Health, David Byrne implicitly criticized a French government rescue plan for engineering group Alstom Thursday, insisting that state aid to prop up big private companies was "completely wrong."

Well Hallelujah! All hope for the EU should not be abandoned - but who is David Byrne and what is the purpose of an EU Commissioner for Health? Never mind the latter question - providing the one sole voice of sanity in a totally corrupt and off the rails organisation has already made me feel slightly better ! Read the startling report, hinting at some sanity surviving amonst the stupidity from this link to EU Business.


posted by Martin at
5/27/2004 06:34:00 PM

Deepening EU Crisis Report

One month to go and no clear favourite has emerged for the post of EU Commission President. The European Foundation Digest Number 193, just issued suggests the deeply domestically unpopular present French Prime Minister Raffarin might be being considered for the post. He appears to have all the necessary qualifications being French and presently running an administration whose policies can mostly be quite clearly seen to have quite clearly failed. Perhaps he could even outprat Prodi.

We have aleady reported Berlusconi's attack on the ECB on this blog but other bits from the bulletin are that the Polish Government, to whom the German Chancellor paid a visit yesterday and got little, now apparently lacks legitimacy:

The Polish Parliament has failed to vote in favour of the current caretaker government headed by Marek Belka. Belka continues in office for the time being, but it means that Poland has been in a state of incipient crisis since 2nd May when the previous Prime Minister, Leszek Miller, resigned, under the pressure of a collapse in popularity, scandals, and a rift in his party.

Also we learn that existing EU member Austria has now fallen out with newcomer Slovakia over nuclear power:

AUSTRIANS AND SLOVAKS ARGUE OVER NUCLEAR POWER

Three years after their concerted effort to get the Czechs to close their nuclear power station at Temelín, the Austrians are now once again enraged, this time with the Slovaks. The Slovak Minister of Economics, Pavol Rusko, caused a storm when he implied on television on 23 May that Slovakia might build two new nuclear reactors at Mochovce, 140 km East of Vienna, to compensate for the closure of the two reactors at Bohunice, which the EU has demanded that Slovakia shut down.

If Britain were removed from the EU all this would appear amusing! No wonder UKIP are surging in the UK opinion polls for the coming European Parliamentary elections!



posted by Martin at
5/27/2004 05:24:00 PM

Referendum Bill

We earlier posted a Referendum Bill which was in fact a Private Member's Bill brought about by John Marples and supported by a number of other people. It was not the government's bill for a referendum, and I apologise for having later mistakenly added a reference that gave that impression. The posting has been corrected accordingly.




posted by Martin at
5/27/2004 08:34:00 AM

Good News - Red Tape Could Strangle EU Regulators

The flow of new regulations from the EU that is crippling the economies of the entire European Continent, could grind to a halt under the weight of its own paperwork, according to this report in today's Daily Telegrapgh from Ambrose Evans-Pritchard which is linked from here. A quote:

Two new laws on financial services ready for adoption a month ago will remain in limbo until the autumn as the EU scrambles to find expert translators. No EU law can come into force until it has been published in all official languages.


posted by Martin at
5/27/2004 08:08:00 AM

Murdoch's News International Tory Donation

The Guardian reports linked here on a Tory Party donation as follows:-

Rupert Murdoch's News International Ltd paid the Conservative party nearly £19,000 after Michael Howard flew to Cancun to address media executives, new figures from the Electoral Commission revealed yesterday.

The Tory leader gave a keynote speech at the News International global conference in Mexico in March, reigniting suspicions that Mr Murdoch's British papers - The Sun, The Times, The Sunday Times and the News of the World - will desert Labour at the next election.

In his entry in the Commons register of members' interests, Mr Howard says the company paid for three nights' hotel accommodation and meals, as well as return air fares for himself and his wife Sandra. Yesterday, the Electoral Commission's quarterly figures for political donations reveal Conservative Central Office was paid £18, 951.59 for the trip.

It appears that the trip, while clearly expensive, and no doubt much fun
did not yield very much for the Conservative Party. Had a good impression have been made, might something extra not have been thrown in?

Perhaps the News International group feel that with their newspaper titles, enough influence is available to make cash donations or gifts in kind unnecessary, but reporting on the party from the Murdoch newspaper stable has not been that effusive since Howard's trip. Even a rounding up to twenty thousand would make the entry appear somewhat less grudging!


posted by Martin at
5/27/2004 07:31:00 AM
Wednesday, May 26, 2004

A Welcome Return to this Blog for Janet Daley

Whether I have missed the columns, or she has been absent I do not know, but it is a pleasure to find Janet Daley at her best in her opinion piece in today's Daily Telegraph linked from here and recommended to be read in full - if time forbids then these quotes should not be skipped, the topic, is of course, Iraq:-

The American "mistake" - if mistake it is - is a generous and well-intentioned one: it assumes that, because freedom is a natural right (a belief that is fundamental to American political culture), then it must also be a natural condition. To Americans of all persuasions and parties, personal liberty is an absolute and inviolable good: it is the state to which all human beings instinctively strive.....

The American belief that freedom is the ultimate human goal - and therefore that all men everywhere must want it - arises from a failure to understand the extent to which America as a nation is unique in its historical and philosophical roots......

But whatever the delusions and mistakes, the American experience has produced one important truth: the two conditions most conducive to peace and prosperity are liberal, democratic government and free-market economics.

The challenge of this century will be to extend those things to the parts of the world that do not have them.

Whatever its blunders, America is, at least, trying to do that. We would have to be deeply cynical and selfish not to support that intention.





posted by Martin at
5/26/2004 09:05:00 PM

France Hails Alstom Bail-out as Nationalistic Victory

European only when it suits them? The French truly seemed to live up to the perception held by many that they are only in Europe for what they can take out of it by the the manner in which they reportedly trumpeted their latest humiliation of the EU Commission. A Reuters report in Forbes sums it all up in their headline:-
Quote
France flies national flag over Alstom bail-out
Reuters, 05.26.04, 9:12 AM ET
By Mark John
PARIS, May 26 (Reuters) - France's leaders hailed Brussels' approval for a state-led rescue of engineering giant Alstom on Wednesday as their latest victory in efforts to protect French jobs with a controversial interventionist policy.
Unquote

Elsewhere in the New York press the French Prime Minister is reported laying down the law as to what parts of the new EU Constitution are open for discussion and which are not. Of more interest than the argument over Christianity and past methods of continental misrule is for me the new horrors now being opened up. The non-democratic nature of the present proposals being more than adequately highlighted by the last paragraph of this linked report quoted here:-

The constitution seeks to simplify decision-making in the EU and prevent a minority of states from blocking decisions.

(An accurate summary of the Constitution's real purpose, that will effectively mean rule by an appointed Commission, a powerless legislative assembly and a Council of Ministers dominated by Germany and France).

450 million people on the verge of losing their entire democratic rights for zero gain, the events now taking place are surely quite breathtaking in both their stupidity and their audacity. Yet Europe's leaders choose to debate whether Christianity should be mentioned as having been a factor in bringing us to this pretty pass!


posted by Martin at
5/26/2004 04:28:00 PM

Oil Price Rise Threatens EU's recovery - What Recovery?

Ireland Online, linked here, a few minutes ago reports that: EU energy commissioner Loyola de Palacio warned today that record world crude prices could shave a few decimal points off of growth in the 12-nation euro zone, which is emerging from a prolonged slowdown.

This came after another report five hours earlier from the same Commissioner, linked here, that the oil price rise would have no effect.

Possibly the two reports do not contradict one another and in the crazy world of the EU Commission, shaving a few decimal points from a recovery which is unlikely to end up much more than a few decimal points anyway could be said to be having no effect. If you do not believe your own growth prediction at the outset seeing it adjusted ever downwards in a strange twisted kind of way could be said to leave your own expectations unchanged, so perhaps the Commissioner has a point. If all is lies and half-truths, adjusting the balance between one or the other changes the facts not one jot!

On the other hand if growth is forecast at 1.7 per cent and it remained unchanged I would have expected it to remain at 1.7 and not have a few percentage points lopped off. Perhaps the question is left to be resolved in the minds of the individual reporter - in this case for me the Irish have it!

The May growth forecasts from the ECB have already been revised downwards as reported here in Business Day from which I quote:-

In its May monthly bulletin, the ECB said that in its regular quarterly "Survey of Professional Forecasters", the experts had revised downwards their growth forecast for this year to 1.6% from 1.8% previously.

If last year is any guide the growth projections were revised downwards throughout the year until the final actual figure of almost zero was eventually estimated spot on!

But these EU Commissioners won't worry, they will be off anyway (many have gone already) to whatever cushy positions they have lined themselves up for when their sojourn in Brussels ends this Autumn - tax free pension anyone? If such were to be revised upwards a few percentage points - to compensate for the higher price of petrol - let's say, would the pension stay the same I wonder?




posted by Martin at
5/26/2004 03:19:00 PM

Sleaze in Politics

This morning's Financial Times linked here carries a report this morning titled 'Sleaze blamed for disaffection with politics' from which this is a quote:

Public disaffection with politicians is caused primarily by perceptions of sleaze at Westminster rather than declining trust in government or public life, according to an academic study.

With Labour expecting a drubbing in next month's local and European elections, partly because of a low turnout, the findings will add to worries that the party is now reaping what it sowed when campaigning against Tory sleaze during John Major's government.

The conclusions of the study from University College of London, as reported in the rest of the article, make confusing reading and seem not to tie in with the opening paragraphs quoted above nor the findings of the most recent opinion poll reported upon in this morning's Guardian linked from here

I believe sleaze will be a major factor in the coming Proportional Representation European Parliamentary poll. If things really go well a sufficient blow can be struck at the thoroughly corrupted leading political parties in Britain , such that the impact will have a major affect on peoples' perception of what might be possible even in 'first past the post' elections. Public disquiet which is what presently exists, now stands on the brink of becoming disgust! Who knows the likely result of that?


posted by Martin at
5/26/2004 08:01:00 AM
Tuesday, May 25, 2004

English Democrats Party

I am receiving ever greater interest in the English Democrats Party as an alternative eurosceptic, anti-corrupt-politicians vote in the coming European elections. It is not proving easy to obtain detailed background information on their founders or MEP candidates, although nothing we have heard so far is critical. With the present surge in anti-established party feeling apparently growing stronger every day it is not impossible to foresee this party winning some representation - particularly where the UKIP candidates are known to be in danger of receiving much deserved adverse press coverage in the closing stages of the campaign.

The EDP are offering their support to Neil Herron in the North East, which candidate I wholeheartedly support and the fact that the Countryside Party has attracted Sir Ranulph Fiennes to their list, which grouping the EDP also support is another encouraging sign we believe. I am trying to obtain background detail as to the reason for the earlier reports that Sir Ranulph was first supporting UKIP.

The full details of the EDP candidates in the five regions they are running lists and the other candidates that they are supporting may be reached from this link.


posted by Martin at
5/25/2004 06:45:00 PM

Alstom a Suitable Case for EU-thanasia?

The Financial Times, among others, today brings further reports on the sorry saga of the ailing industrial French conglomerate Alstom - a source of French national pride as it produces the 'prestige project' TGV trains. We previously commented upon this EU bail-out farce here and again here.

Background is available from this link to Bloomberg's report of today, but the significant element was a jump in yesterday's share price for the company - a clear sign that the European taxpayer is about to be milked once again for 'la gloire de France', this quote is from Forbes:-

Elsewhere, troubled French engineering group Alstom jumped 6.3 percent to 1.17 euros.

The European Commission said there was a basis for an agreement with the French government over a two-billion-euro bail-out for Alstom which was expected to be sealed soon.

As we quoted earlier:- Sarkozy -- in his first major corporate venture -- visited Alstom's train production site near La Rochelle where he vowed that "we will not let Alstom fail."

Asked Monday before the meeting about the possiblities of getting a green light from Brussels for the rescue plan, the French minister smiled and replied: "What do you think"?

I believe this EU Commission has run the EU exclusively for the benefit of France and Germany........"What do you think?


posted by Martin at
5/25/2004 06:41:00 AM
Monday, May 24, 2004

Prime Minister Berlusconi Now Attacks the ECB

EUobserver has this report on the latest attack by one of Euroland's suffering ex-nation states upon the policies of the European Central Bank, guardian of the single currency in whose name the economic well-being of an entire continent is presently being sacrificed. Read the details from here.

A mere few of the various warnings issued on this blog may be read here, here and finally this reminder of the rush towards a Constitutional Agreement at any cost first blogged last September but always worth re-visiting from here.


posted by Martin at
5/24/2004 08:49:00 PM

Irish Presidency Breakthrough!

Slovakia has dropped its demand for its own Commissioner beyond the year 2014 - is the Constitution thus saved????? The report is linked from here.


posted by Martin at
5/24/2004 06:41:00 PM

YouGov Poll Gives ony 21 per cent Constitution Support

The Poll linked here, published in this morning's Daily Telegraph, was mainly noteworthy for a sudden surge in support for the Eurosceptic UK Independence Party. It also had some interesting results regarding the Referendum on the Constitution. 47 per cent of Britons are against the document, 21 for as highlighted in this post's headline with 26 per cent saying they do not know. Another section shows great reluctance to give up any national vetoes in any major policy area.


posted by Martin at
5/24/2004 05:57:00 PM

Complacency from Labour's Europe Minister

John Vinocur, first rate columnist from the IHT visited Rotherham with Denis Macshane. I believe this will be an item worth returning to when the results come in. It is linked from here.


posted by Martin at
5/24/2004 04:48:00 PM

Constitution for the European Union (Referendum) Bill

The following is a Private Member's Bill brought about by John Marples and supported by a number of other people. It is not the government's bill for a referendum.

The Bill seems well balanced and it will be interesting to co,mpare with the Governments proposal whem it eventually appears. It may be found from this link Private Members Referendum Bill in pdf but is quoted in full below:

Quote
Constitution for the European Union (Referendum) Bill

A Bill To Make provision for a referendum on any Treaty establishing a Constitution for the European Union; and for connected purposes.

Be it enacted by the Queen's most Excellent Majesty, by and with the advice and consent of the Lords Spiritual and Temporal, and Commons, in this present Parliament assembled, and by the authority of the same, as follows:—

Referendum on the proposed Constitution for the European Union
(1)
No treaty establishing a Constitution for the European Union ("the Treaty") shall be ratified unless its provisions have been agreed to in a referendum.
(2)
A referendum shall be held within six months of the adoption of the Treaty.

Referendum question
(1)
The question to be asked in a referendum held in pursuance of section 1 is:
"Should the United Kingdom be bound by the Treaty establishing a
Constitution for the European Union?"
(2)
The following statement must precede the question on the ballot paper:
"Parliament has decided that the Government should not ratify the Treaty
establishing a Constitution for the European Union unless the people of the United Kingdom have agreed in a referendum that it should do so."

Arrangements for the referendum
(1)
Those entitled to vote in the referendum shall be persons who, on the date of the referendum, would be entitled to vote as electors in European Parliamentary elections.
(2)
The Secretary of State shall appoint a Chief Counting Officer.
(3)
The Chief Counting Officer shall appoint a counting officer for each
parliamentary constituency.

Constitution for the European Union (Referendum) Bill
(4)
Each counting officer shall—
(a)
conduct the counting of votes cast in the area for which he is appointed
in accordance with regulations, and
(b)
certify the number of votes cast for and against the proposition.
(5)
The Chief Counting Officer shall certify the total of—
(a)the ballot papers counted, and
(b)the votes cast for each proposition, for the whole of the United Kingdom.
(6)
The Electoral Commission shall publish a report setting out when and how the referendum shall be conducted, including what information is to be provided to those entitled to vote.
(7)
The conduct of the referendum shall follow as closely as possible the
provisions of the Representation of the People Acts 1983 to 1993.
(8)
The Secretary of State shall give effect to the provisions contained in a report of the Electoral Commission under subsection (6) by means of regulations.
(9)
Regulations under this section shall be made by statutory instrument which shall be subject to approval by each House of Parliament.
(10)
The day chosen for holding the referendum shall be a public holiday.

Expenditure
There shall be paid out of money provided by Parliament—
(a)any expenditure of the Secretary of State in consequence of this Act; and
(b)any increase attributable to this Act in the sums which under any other act are payable out of money so provided.

Short title
This Act may be cited as the Constitution for the European Union
(Referendum) Act 2004.


posted by Martin at
5/24/2004 09:04:00 AM

Symbolism in Charles de Gaulle Air Terminal Collapse

Reading and listening to the reports, and seeing the TV images of the collapsed structure I wondered if it was just me seeing some analogies to the present EU.

Reports that pressure had been applied on the contractors to rush the projects completion make me wonder about another such project recently in the news - the Athens Olympic Stadium. This, having been months behind schedule is apparently now suddenly going to be readied in time, with the giant roof structure finally being slowly moved into place. I for one will never be found beneath it, such prestige projects hastily cobbled together like the enlarged EU, the EU Constitution of Valery Giscard d'Estaing and it appears the new Charles de Gaulle Terminal structure, all too clearly have inner self-destructing flaws!

The loss of life in the Charles de Gaulle disaster was a lot less than it might well have been but is tragic nevertheless. Gross political incompetence also carries its penalties, the longer they are left untended and unresolved the more serious they are likely to become. No EU leader appears to be presently addressing the huge disasters now facing the 'still just nations' making up the EU - the French and German economies are like the collapsed portions of the Charles de Gaulle terminal building, the EU cannot expect to function without urgent repairs or replacement, but is the flaw that caused the collapse also present elsewhere?


posted by Martin at
5/24/2004 08:17:00 AM

Prodi's Confusion of Roles

The Financial Times linked here reports on Romano Prodi's disastrous confusion of domestic politics with his role as EU Commission President:-

Mr Prodi also defended the centre-left's decision to call for the withdrawal of Italy's 3,000-strong military and police contingent from Iraq, a stance opposed by Mr Berlusconi's government.

"Prodi's position damages the EU institutions that he presides over, because while it is legitimate for an Italian politician to call for a withdrawal from Iraq, the European Commission can't have an opinion like that. There's an objective confusion of roles," said Gianfranco Fini, the deputy prime minister.

It is not of course enough for the Italian Foreign Minister to point this matter out. The Council of Ministers should urgently convene and issue a sharp reprimand or demand Prodi's resignation. The precedent being set could have dire future consequences, to leave the matter unaddressed for so long beggars belief!


posted by Martin at
5/24/2004 08:10:00 AM
Sunday, May 23, 2004

EU Propaganda

A tool in the nation's subjugation to the EU has been highlighted by a regular reader of this blog. It goes under the initials European Public Information Centre, which since the 1990s have been infiltrating local libraries. We all know what the 'P' really stands for, of course. Here are some of the links which illustrate how far this insidious campaign to rob us of our democracy and freedoms is proceeding:-

Shropshire OnLine
North Yorks
Herts
Suffolk

Click on any of the above links to see how the lies and distortions about the true intent of the EU are being disseminated by our own Government through are own Public Reading Libraries, previously intended to be a source of education and enlightenment, now a tool of manipulation and conspiracy to impose a non-democratic, alien and totalitarian system of government on these islands.

I read recently that Public Libraries could soon become a thing of the past and felt saddened. If this is how they are being used, and what they have become - mere tools in the destruction of our liberties, then such sadness is misplaced.

The politicians having been exposed as untrustworthy liars over their decades of deceit regarding the Common Market, the European Economic Community and now the European Union are apparently having to rely on the County Councils and the people's own once trusted Public Library service to disseminate their continuing lies, in preparation for the next steps in the removal of our democratic rights. They no doubt hope these latest lies will be believed as they appear to have been untainted by apparent contact with politicians. I have just now read Lithuania is to get a similar service in its 49 public libraries 'courtesy' of the discredited EU Commission.

Give the EU the right to inform, before long other rights will be gone!



posted by Martin at
5/23/2004 06:58:00 AM
Saturday, May 22, 2004

Foul Fisheries Thieving EU now Plunders the Pacific

Five hundred and fifty nine thousand Euros is what the disgraceful fisheries destroying European Union is paying the Federated States of Micronesia for 6 tuna seiners and 12 surface long-liners to have the right to catch 8,600 tons of tuna. This is the third such agreement reached with island states in the Pacific.

How much did they pay the British to fish our seas that they 'stole' from us to the brink of extinction? Nothing! All they needed was to dupe Heath and all his successors.

From what ex-nation state will these privileged and EU subsidised fishing boats come I wonder?

Long line and seine net fishing for tuna is a danger and disgrace, as a one time trans-ocean yachstman I know to my cost!

The press release may be read in full from here.



posted by Martin at
5/22/2004 06:43:00 PM

Patten's Missing Millions to the Palestinians

The May edition of The Sprout has a Commentary article on the scandal of the money paid to the Palestinian Authority (PA) by the EU over the recent past amounting to some four billion euros according to the author David Frankfurter. In 2003 such payments reached a level of 245 million euros we are informed. The following quotes give just a flavour of the disgusting misadministration so far apparent:-

"The weight of evidence confirms that much of the money paid to the PA has disappeared, with no benefit to the man in the street.

....As Europe's chief civil servant for foreign affairs Mr Patten is in the firing line over theses allegations.

....In his defence, Patten has argued for years that the IMF monitored the distribution of funding for the Palestinians. The IMF's own website did clarify that point way back in 2002 - unfortunately not by backing the Commissioner but by contradicting him: 'the IMF does not and cannot control downstream spending by the various Palestinian agencies.' This matter remains between the PA and the donors."

Numerous examples of the warnings about diversion of funds are then provided in the article some - "were deposited in a bank account under Chairman Arafat's personal name and sole control."

Towards the article's conclusion the author, a writer on economic affairs in the Middle East states:

"Let's be clear. Hundreds of millions of Euros have gone missing, but its unfair to blame it all on Patten.
But let's ask this: How in the name of everything decent in Europe, is it that a veritable library of verbal, written and circumstantial evidence, all pointing to the same conclusion - massive misappropriation of vast amount of money intended for the Palestinian Arab people - has been ignored and denied for years? Some plain answers are needed. Patten's office no longer seems the place to go.



posted by Martin at
5/22/2004 09:45:00 AM

European Elections

The BBC have a page devoted to comments on the coming European Elections. It is linked from here, this is one:-

I shall go to the polling station, but in the absence of a "none of the above" option I shall spoil my ballot paper (as I do at local and general elections). Why? Because I believe that all politicians everywhere are self-serving liars, crooks, and cheats who once elected, immediately forget everything they promised the voters as they clamber on board the gravy train.
Paul, Milton Keynes, England


posted by Martin at
5/22/2004 07:59:00 AM
Friday, May 21, 2004

Gisela Stuart Speech to Bruges Group 19th May, 2004

Here is the link to this important contribution to the EU debate:-
The EU Constitution: Where Next?


posted by Martin at
5/21/2004 06:43:00 PM

EU and Russia in Trade/Kyoto Deal

It seems that Russia got value the EU got a PR gain that will prove worthless. The EU does not even meet its own Kyoto targets by its own member states as proven by its own statistics, why try and hold Russia to a Treaty that is worthless without the USA, who will never sign - as even Bill Clinton made clear, thus making the whole exercise pointless.

Russia on the other hand gets its much desired entry to the WTO!

Once again the EU betrays the interests of its members. Is it a surprise negotiations were handled by Bertie Ahern and Romano Prodi - see the report from here.


posted by Martin at
5/21/2004 04:41:00 PM

Howard Homes in on Immigration

When I was young, I understood that I could be proud to be British. I knew about my forebears who had toiled and fought to leave me my birthright - which brought privileges, but in turn imposed duties. The duties were always emphasised far more strongly than the birthrights, which mainly came down to such matters as 'fair play', knowing to respect others, sympathy for the opposite view and manners - which cost nothing but lasted a lifetime!

My birthright was indeed many things, but one thing it most certainly was not, was inclusive. Membership came by assimilation of these values, thus place of birth could almost be an irrelevance. Through my life the rights of being British have come to be redefined in more material terms and the duties have seemed to been largely forgotten. The Labour Government of Tony Blair would now appear to have finally disposed of the last significant aspects of being born British. Interestingly the present debate over this growing disregard for the heritage of us all has now tended to centre on the material aspects, namely the rights of newcomers to our welfare benefits - in reality something far more significant is at stake.

Self-respect is important. In what should I now be proud? It appears the arbiter of that question is now to be the European Court of Justice!

The asylum debate (and to a lesser extent the right to immigration from the new entrant EU countries) centres on whether this situation can continue or be reversed. Michael Howard yesterday gave publicity to a legal opinion on the present situation, discussed in this article from the Daily Telegraph, titled 'EU constitution will hand over control of asylum, says Howard' by George Jones, Political Editor, which may be read from this link. The following quotes cover the thrust of the worsening situation:-

He published a legal opinion from Martin Howe, QC, an expert on European law, showing that the constitution would greatly increase the powers of the European Court of Justice over asylum policy.

Mr Howard said the Government was wrong to claim that asylum rules would not be affected by the constitution because the UK had an opt-out. "The opt-out has not yet appeared but, even if it does, it will be of limited use," he said. "The constitution would still give un-elected judges in Luxembourg more power to decide what Britain can and cannot do to manage asylum."

The constitution would incorporate the Charter of Fundamental Rights into EU law. That means the European Court of Justice would start interpreting existing and new EU asylum rules in the light of the charter.






posted by Martin at
5/21/2004 07:41:00 AM
Thursday, May 20, 2004

Pat Cox follows Giscard d'Estaing with Charlemagne Prize

Fitting recognition for one demented federalist to follow another, both holding democracy with complete disdain. Fittingly named prize for what they are about, come to think of it. Read the more flattering report from EU Business from here.



posted by Martin at
5/20/2004 04:56:00 PM

Giscard Presidium Member Savages Constitution

Gisela Stewart, Labour MP and representative on the Convention on the constitution last evening addressing the Bruges Groups declared:

Describing the document as a "token gesture" she said it failed to "anchor EU decision making in national institutions".

"This is very dangerous: when electorates sense that the people and institutions they elect are increasingly unaccountable, nationalism will find expression in other ways: colour, religion or ethnic origin."

The full speech will shortly be available from the Bruges Group web site. The quote above is taken from the Daily Telegraph report by Toby Helm, which is linked from here.

PLEASE WRITE TO THE TELEGRAPH EXECUTIVES ON THE ADDRESS GIVEN IN THE POST BELOW, IF YOU WISH TO BE ABLE TO CONTINUE TO READ ARTICLES AND COMMENT OPPOSED TO THE EVER ENCROACHING, TOTALITARIAN AND NON-DEMOCRATIC EUROPEAN UNION IN THE TELEGRAPH GROUP TITLES.


posted by Martin at
5/20/2004 07:27:00 AM

URGENT - ACT TODAY TO SAVE TELEGRAPH GROUP FROM EURO-FEDERALISM

Axel Springer who demands that his newspapers commit to the European Union seeks to take over the Daily and Sunday Telegraph. German Conservatism has little in common with British (or American) Conservatism. British readers of these titles should write to the Editor, Managing Editor and Chief Executive of the Telegraph Group (Canada House, Canary Wharf London E14 5DT) saying you will abandon the papers if Springer buys them.

A report on the reality of the threat may be read in this report from the International Herald Tribune on Monday, 'Springer's chance for global growth' by Nicola Clark, which may be read by clicking on this link.




posted by Martin at
5/20/2004 07:09:00 AM
Wednesday, May 19, 2004

European Defence Agency Gets Go Ahead

As I was typing the warning of the end of an effective defence for Britain, the above announcement was reported by Euractiv linked here of which this is a quote:-

The EDA's tasks will, among others, be to work for a more comprehensive and systematic approach to defining and meeting the capability needs of the ESDP (European Security and Defence Policy) and to promote 'equipment collaboration', both to contribute to defence capabilities and as catalysts for further restructuring the European defence industry.

A classic instance of 'salami sausage' tactics of which few can question when the announcement is considered in conjunction with the 'Battle Group' proposals posted below, these requiring a decision from Blair in June crucially affecting Britain's role within Nato AND as a close ally of the USA.

Can any doubt looking at the state of the defences of the other countries within the EU, the emphasis that these fail to be given in those countries national priorities etc.etc., that this is nothing more nor less than an attempt to surreptitiously undermine Britain's defences and strong armed services links with BOTH its Transatlantic (and ONE North Sea) neighbour(s)?

The debate as trailered in the Telegraph group papers last weekend must now centre on the very survival of this country both as a country and all those values for which it stood and in which its peoples have previously believed! Are we really to betray our heritage of individual liberties and a belief in democracy and our common law rights - reported in the Daily Telegraph this morning, as vitually already abandoned by the Foreign Secretary - linked here.




posted by Martin at
5/19/2004 09:03:00 AM

Spooks in Politics? Amidst World Shaping Changes!

In view of the major issues now being determined - we should beware that servants of our state or other supranational entities, are not able to influence the democratic process on 10th June. It might appear that this could be the case from evidence emerging from the UK Independence Party's anti-EU European Election campaign, see this morning's posting on UKIP Uncovered linked from here.

Not only the future EU Constitution but also dumping Nato for the EU in defence is essentially the major constitutional issue that now confronts the Prime Minister, AND hopefully also the Cabinet, but surely AS A MUST - Parliament between now and next month according to this item from EUobserver linked here, from which these quoatations come:-

"The European Union is a global actor, ready to share in the responsibility for global security", are the first words in an ambitious plan "Headline Goal 2010", adopted by EU defence ministers in Brussels on Monday (17 May).

Under the plan, the 25 EU member states are committing themselves to be able by 2010 to respond to crises throughout the world.
.......
The plan also commits Member States to "harmonise their respective future requirements" by 2010.

The 2010 Headline Goal plans will now be submitted to EU leaders in June for final approval.

June is clearly to be the crunch month for Britain if the country is to have any further future as an independent nation. Those who are trying to distract us from the issues or divert the electorate's attention from the gravity of the decisions at hand must now be exposed!

We must all do our best to ensure that the debate is not allowed to be side-tracked into incidental tittle-tattle whatever the motives of those seeking to distract the electorate from the mind-numbing realities of the events presently in train.





posted by Martin at
5/19/2004 08:11:00 AM

UK Threat to Block Constitution

The Scotsman article linked here begins with this summary:-
Quote
Key points

• Britain to block EU constitution if demands on 'red-line' vetoes not agreed
• Government believes British people will reject constitution in referendum
• France and Germany oppose UK bid to maintain unanimity on key decisions

Key quote
"If we do not get our key red lines for the UK, then we won't sign up for the constitution" - Jack Straw, Foreign Secretary
Quote

Finally!!!! At Long, Long Last!



posted by Martin at
5/19/2004 06:27:00 AM
Tuesday, May 18, 2004

Economic Indicators

Sharp drop in German Confidence index throws growth forecasts into doubt. The Euro fell against the Yen and the Dollar. High OIL Prices raise inflation worries. In the US Greenspan is invited to stay for a further four years term, to get a similar psychogical boost in these troubling times in the Eurozone could presumably only be achieved by mass resignations at the ECB.

Channel News Asia here, and Bloomberg from here.


posted by Martin at
5/18/2004 08:41:00 PM

French FM loses his Sang Froid

Global solution to all outstanding issues demanded by the French - don't you just love 'em. All those weighty issues -"sort them out, Bertie".

This report is from EUPolitix


posted by Martin at
5/18/2004 07:59:00 PM

Jack Straw on 'Four' Today

The FCO transcript of the interview with the 'Today' programme on the Constitutional negotiations may be read from this link.

The following quote shows that the Charter of Rights, far from having the significance of the 'Beano' as we were once assured by this lying government, will in fact interfere in every aspect of our daily lives by trying to gratnt rights nobody has any power to grant. Futhermore the Foreign Secretary does not consider the ending of our Common Law rights - which this clearly is - as a "Red Line Issue; so defeat is inevitable.

The following is taken from the telephone interview:

FOREIGN SECRETARY:
...What we have to do and what we sought to do all the way through over the last two years in, is to ensure that these rights are there but they do not impede the fundamental right of the British Parliament to pass laws as a British Parliament would wish outside areas of direct EU competence. And it's for that reason that when the Convention was being negotiated we got some pretty good safeguards written in which include, and I just read you from Article 251 the Charter does not extend the field of application of Union law beyond the powers of the Union or establish any new power or task for the Union. It also makes it clear that a lot of these things are principles rather than directly accessible rights and in respect of one issue which is of concern I know to the CBI, we've already pinned down that the right to strike which is included in 228 has to be seen in accordance with not only Union law, but national laws.

INTERVIEWER:
And if you don't get that legal certainty what happens?

FOREIGN SECRETARY:
Well on this particular issue we remain in negotiation and what I was suggesting yesterday is not a red line.


posted by Martin at
5/18/2004 04:40:00 PM

Poles Pessimistic on Agreement

The Warsaw Business Journal reports the Polish Foreign Minister as Pessimistic on prospects of success at the Brussels summit, the report is linked from here and states:

The government does not believe it will be possible to reach an agreement concerning the European Constitution during the EU summit in Brussels, as apparently other states are not expressing their will to reach a political compromise with regard to the voting system.

"My pessimism is growing," said Foreign Minister W?odzimierz Cimoszewicz. He added that the common opinion is to delay everything until the very last moment, while Poles are pressing for the important issues to be discussed.




posted by Martin at
5/18/2004 11:46:00 AM

France Twigs the 35 Hour Week Does Not Work

The Daily Telegraph reports on the French fiasco of the 35 hour week, which is finally apparently being seen for the menace it is. Read from here.


posted by Martin at
5/18/2004 08:16:00 AM

Britain warned over Weakening Constitution

The Financial Times reports on Franco/German concerns over the results of Blair's referendum decision now requiring a major overhaul of the EU Constitution to try and make it, even ever so slighty, appear that it might in reality be 'just a tidying-up exercise' - FAT CHANCE. The article is linked from here.


posted by Martin at
5/18/2004 08:09:00 AM
Monday, May 17, 2004

A Gloomy Look at the Constitutional Ratification Prospects

The normally totally Europositive EU news site Euractiv carries this uncharacteristically downbeat report on the prospects for the new constitution which may be read in full from this link.

I found the following paragraph particularly realistic:-

The second aspect that makes the prospect of ratification more difficult is the overall European milieu which does not seem to be favourable at the moment. There is uncertainty about the impacts of enlargement, accompanied with a weak economic performance in the Eurozone, continuing tension between small and big states and between the contributors to and recipients from the EU budget. Furthermore there is considerable discontent over the European policy towards the Middle East and the way things have gone wrong in Iraq, along with gradual "disintegration" of the European Commission even before its term expires. These are but a few issues that have contributed to a loss of trust in the European project among large portions of European population. This atmosphere will certainly not help Europe to get its first ever Constitution approved.

Now look at the tactics being prepared to keep those reluctant to stay, within the dreadful confines and restrictions of the increasingly totalitarian and completely non-democratic burgeoning conglomerstate:-

One way of winning the approval is to link the question of the Constitution to withdrawing from the EU. This might help to mobilise the public opinion and win the necessary support. The example of Britain shows that although the British public is quite euro-sceptic, Britons do not want to leave the Union. In fact, for Blair who lost much of his political credibility over Iraq this might be the only way forward. The disadvantage is that it might be presented by the opponents of such a move as a kind of blackmail tactic and that the two issues are completely separate. An argument against that can be that this is basically what happened already in 1975 where the British were also deciding on their willingness to be part of the European Community.




posted by Martin at
5/17/2004 05:48:00 PM

Milton Friedman Confirms 'Ironies' predictions of Eurozone Collapse

The noted economist Milton Friedman, see this report from EUobserver linked here, believes there is a "strong possibility" that the 12 member euro zone could collapse "in the next few years".

There is some advice for the member states after the barb that the Lisbon agenda is 'a nice dream' namely:-

"There is no doubt what the EU should do. Abolish your rules and regulations. Abolish your [high level of] spending. The European economy is too burdened with rules and regulations".

"There is nothing wrong with the basic strength of the individual countries. But they have burdened themselves with a range of rules that strangle their economies".

Which to me states it as clearly as it can be said - 'SCRAP THE ENTIRE EU'.


posted by Martin at
5/17/2004 08:11:00 AM

Blair's Future in Balance

Nearly all the broadsheets this morning (an example here) seem to be saying that Blair's days are numbered. The only somewhat respectable early exit strategy would be the next EU Presidency, and that is only within the gift of Chirac and Schroeder. A Telegraph article on the thwarting of Blair's plans for his friend Mandelson indicate these two are not in a mood to do Tony any favours, read from here.


posted by Martin at
5/17/2004 07:31:00 AM
Sunday, May 16, 2004

The Reality of Iraq

The Sunday Telegraph leading article describes Britain and America, bound together in Iraq for the foreseeable future. Our so-called EU partners have in the main excluded themselves from this commitment, while others appear to be about to reconsider their ealier decision.

We passed a fork in the road when it came to the invasion of Iraq - for better or worse Tony Blair took Britain one way, most of the EU went the other. It is now clear the routes ahead do not rejoin - Blair has decided we must continue with the US. Is there an alternative leader in the wings willing to take the country 'cross country' to rejoin the EU? It would appear not. I supported Blair in the original decision but have naturally had doubts since - but I still support Blair even now. For Britain to weaken its commitment to an Iraq governed with humane values giving no tolerance of terrorists must remain the goal and it will require troops to achieve it. The UN presently appears too corrupt to fulfil that role, one consequence being that its very name is stigmatised in Iraq from the means of administration of the oil for food and medicine programme.

At times it appears to this solitary observer, entirely dependent on the broadcast and published facts, that not only are the US, Britain, Poland, Italy, Australia etc., now receiving zero co-operation in attempting to achieve what should be common aims, but sometimes it appears others are positively willing us to fail. (I commend Secretary of State Powell's speech to the World Economic Forum in Jordan yesterday, and will place a link here when found!)

The following quotes do not give an adequate flavour of the entire editorial which is linked from here.
...the liberation of Iraq has been very far from futile. Since the fall of Saddam, Libya has agreed to disarm its weapons of mass destruction. Iran has admitted the International Atomic Energy Authority to survey its nuclear installations. As a by-product of this, UN inspectors in Tripoli and Tehran helped to uncover the trade in nuclear technology overseen by the Pakistani scientist Abdul Qadeer Khan. If one of the most significant objectives of the Iraqi conflict was pour encourager les autres, then it has been a resounding success.....

....there is no alternative for America and Britain but to stay in Iraq until that country is stable and safe for democracy - conditions in which al-Qaeda does not readily flourish. Bleak as it is to admit it, that process may take many years and require new standards of political leadership on both sides of the Atlantic. But the prospect of failure has implications far beyond the sands of Iraq. It is no exaggeration to say that the stakes could not be higher.

The connection with yesterday's Daily Telegraph Leader quoted below seems plain.


posted by Martin at
5/16/2004 07:43:00 AM

Book Reviews

An interesting review and possibly also an interesting book: Colussus The Rise and Fall of the American Empire by Niall Ferguson reviewed in Scotland on Sunday by Alex Massie linked here. Twenty pounds to Penguin to try and discern some logic in the apparently bizarre and unachievable ambitions of those driving the EU to destruction?

More, less closet, anti-Americanism seems to be what's on offer in :-

· William Pfaff's 'Fear, Anger and Failure: A Chronicle of the Bush Administration's War on Terror from September 11, 2001, to Defeat in Baghdad', has just been published in New York (Algora).

The book is reviewed in The Observer by William Pfaff which is linked here


posted by Martin at
5/16/2004 07:29:00 AM

Constitutional Wrangles Threaten Referendum Strategy

Blair's supposed timetable for getting the oppressive and undemocratic EU Constitution approved in Parliament and then put to a referendum looks increasingly at risk due to the practicalities of even getting a final draft agreed by the now twenty-five ex-nation-states of the economically ravaged European Union. The Sunday Telegraph reports on the problems in this article linked from here.

The Irish Prime Minister Bertie Ahern came under growing criticism within Ireland last week, as his indecent haste to conclude a deal at any cost became apparent. His stubborn determination to meet the timetable of his Franco/German taskmasters now looks most likely to carry grave political costs for those in power across the British Isles. The latest EUBusiness summary of the main Constitutional Changes is linked here.


posted by Martin at
5/16/2004 07:09:00 AM
Saturday, May 15, 2004

Faked Abuse Photos - Who Set-up the Hoax?

Following the sacking of the Mirrors editor, more serious questions now arise. Who set up the hoax, and who was behind them? Was it merely for money - or are there more sinister political implications?

The Guardian report linked from here states in its conclusion that :-

Brig Sheldon, speaking at a press conference at his regiment's headquarters in Fulwood, confirmed that the truck in the Mirror photos had been found at the Territorial Army's Kimberley barracks in Preston, less than a mile from Fulwood.

It is understood that the military police matched scratches on the vehicle with the Mirror's photographs.

Could Britain's enemies have put this scheme into the minds of those who might at first appear to be solely motivated by money? The lives of Britain's servicemen have been placed at risk and the Foreign Policy objectives of the nation jeopardised! Answers must be found to questions that make the future of one disgraced tabloid editor an incidental!




posted by Martin at
5/15/2004 09:15:00 AM

Ironies Welcomes the 'Daily Telegraph' to its View of the World!

The Leading Article of the Daily Telegraph' loudly proclaims:-

BRITAIN BELONGS IN THE ENGLISH SPEAKING WORLD

Read it from this link link, be thankful and keep your fingers crossed, that with that paper's present uncertain future, this sane and sensible policy stance will survive the summer!

For further comments and excerpts see Teetering Tories


posted by Martin at
5/15/2004 08:19:00 AM

Another U-Turn? Blair to turn Eurosceptic to save his own bacon

Such is the next twist of the tale and our PM according to this article by Toby Helm, Chief Political Correspondent of the 'Daily Telegraph' linked from here.


posted by Martin at
5/15/2004 06:48:00 AM

The Global Civil Society at Work

On 5th February this year I posted an item titled 'The Enemies of Democracy in the EU and Beyond" it is linked from here.

This article from what was once East Timor gives a vivid picture of how ineffective are those who are presently planning to rule us all.The following gives a flavour:-
Quote
The UN, UNPOL, UNDP, the EU Human Rights Commission and dozens of other aid organisations are here, still overseeing things, holding this fledgling democracy's hand as it takes its first steps towards an uncertain future.

But the present is daunting enough: with 75% unemployment, disenchanted groups of men languish under the leafy trees that line Dili's seaside Esplanada. Many of these are IDP – Internally Displaced Persons – from the economically anaemic countryside. The UN is no longer "comfortable" with the term "refugees".

Many now see the occupation of the Indonesians as "not so bad". One young man, Eduardo, selling mangos door-to-door, stopped for a chat. Our common language was Bahasa Indonesia.

"Back then, we had basic infrastructure and social services. And we were tapped into a vast, if lumbering, economy. We have timber, oil, coffee and gold. Our economic hopes lie in the exploitation of our own natural resources, just like all our previous colonisers. This time we'll use it to better ourselves."

Burned and looted buildings dot the town like cavities. Shiny white UN Pajeros huddle in front of the many new cafés and restaurants springing up everywhere, albeit, catering mostly to Westerners.

Dili is veritably crawling with Westerners. This place is very Graham Greene. TL is a magnet for mercenaries, missionaries and misfits, all doing their bit, if not for the country, then at least for themselves. But what after they leave? Nobody, not even the UN, is thinking that far ahead.
Unquote


posted by Martin at
5/15/2004 06:21:00 AM

Mugabe to Step Down

According to a report in the East African Standard, the bloodthirsty and tyrannical Dictator of Zimbabwe, Robert Mugabe, who has almost totally destroyed the once wealthy nation, has announced he will stand down, once he can find a successor. The article is linked from here.


posted by Martin at
5/15/2004 06:05:00 AM
Friday, May 14, 2004

Chirac and Schroeder Gain New Austrian Ally over Iraq

The French and German Governments have a new ally tonight for their policy of 'let chaos reign in Iraq as long as Bush and Blair can be shown to be wrong' -in Jorg Haider, the report from EUBusiness is linked from here.


posted by Martin at
5/14/2004 08:30:00 PM

Peerages Seem to Cost Less with Labour

We missed this Mirror report when it appeared at the beginning of the month, but the moral is obvious - if you want to become a Lord in Blair's Britain - donate to the Labour Party - the Tory's seem to cost more (or is that just because they are presently in opposition). The Mirror article
linked here mainly attacks Michael Howard, but these are the figures:-

Their varying expense Lordships

Coonservatives:

Tax exile Irvine Laidlaw has handed out more than £1.5million.

Dixons boss Sir Stanley Kalms, a former party treasurer, has given £600,000.

Leonard Steinberg, a former deputy Tory treasurer, put in £110,000.

And Greville Howard, chairman of Wicksteed Leisure, gave £100,000 in consultancy fees.

While coming in at the bargain rate for Labour, and we quote ".. still making up a Lords shortfall, named two donors among its 23 new peers. Most controversial will be Paul Drayson, head of PowerJect Pharmaceuticals, who has given £100,000." Number two and the price tag was not disclosed by the Labour supporting newspaper.....???


posted by Martin at
5/14/2004 05:49:00 PM

EU Reported to Reach Swiss Deal

EUobserver reports a deal but the detail implies there are still hurdles ahead. The article is linked from here.


posted by Martin at
5/14/2004 04:20:00 PM

Britain's Conservatives Finally Announce Revocation of Compulsory Metrication

The following is the Press Release of this excellent news, as issued by Neil Herron, Independent MEP Candidate in the North East and leading light of the 'Metric Martyrs' and Anti-Regionalisation Campaigns:-

Press Release
Metric Martyrs Defence Fund
13th May 2004 4pm

Stakes Raised as Enforced Metrication becomes a major Election Issue

After intense political pressure and continued campaigning by the Metric Martyrs the subject of criminalising shopkeepers for using imperial measures is back to being a hot political issue.
Following the leaking of a document from the Labour-chaired Local Government Association telling local authorities to go back on the metrication enforcement warpath, Bernard Jenkin MP for North Essex and Shadow Secretary of State for the Regions, stated...
"Conservatives would reinstate the rights to sell such goods in pounds and ounces. We secured this change to this EU Directive before and would do so again. Conservatives are on the side of consumer choice, small businesses and the pound - in all its forms."

Neil Herron, Campaign Director of the Metric Martyrs Defence Fund, and standing as an Independent in the European Elections, states...
"We have applied intense political pressure to all Political Parties over the last few years over this issue. The Labour Party now see fit, despite there being no further prosecutions in four years bar the initial four, and reluctance by any other local authorities to prosecute, to now advise local authorities to go out and actively enforce this highly contentious legislation against small traders whilst supermarkets breaking the 1999 Price Marking Orders go untouched. There has been huge public anger and hostility over the Metric Martyrs' prosecutions, and the underhand and insidious attempt to begin more prosecutions will undoubtedly backfire politically for the Government. Rest assured, we will hold the Conservatives to what will undoubtedly become a manifesto pledge and will become a major election issue. To all the traders out there we have a simple message... continue to serve your customers the way they wish to be served, either metric or imperial, because with a General Election not far over the horizon it would be political suicide to fill the courts up with more Metric Martyrs. This will not go down well to those who will not see it as a fit and proper use of their hard earned council tax. We hope that common sense does prevail. We will not back down until the criminal convictions of the original Metric Martyrs are quashed and will keep the nutcrackers well and truly applied to all political testicles. We owe the late Steven Thoburn nothing less."

Editors Notes.
The Metric Martyrs Defence Fund only exists due to the support and generosity of ordinary members of the public.
May we take this opportunity to thank all who have suupported the campaign. Any further donations can be sent to

METRIC MARTYRS DEFENCE FUND
PO BOX 526
SUNDERLAND
SR1 3YS

ENDS

Contact
Neil Herron (office) 0191 565 7143 (mob) 07776 202045
www.metricmartyrs.com
48 Frederick Street
Sunderland
SR1 1NF


posted by Martin at
5/14/2004 10:11:00 AM

The Redoubtable George West and Treason

The post beneath this links to a communication from Mr George West to his Returning Officer on the dangers of postal voting. This is not all that Mr West has been up to of late, as we discovered when finding this quote sent to us among our morning e-mails:-

Quote
Leicester Mercury
BID TO PUT BLAIR 'ON TRIAL FOR TREASON'
10:30 - 10 May 2004
A bid has been launched to summon Tony Blair and cabinet colleagues to face treason charges in Leicester.

Eurosceptic campaigner George West is urging Leicester magistrates to put senior politicians on trial, using an ancient law.

Magistrates have pledged to consider Mr West's evidence, but a cabinet minister has poured scorn on his campaign.

Mr West believes that the 1795 Treason Act enables magistrates to try Prime Minister Blair, Chancellor Gordon Brown, Foreign Secretary Jack Straw and Trade Secretary Patricia Hewitt.

He says in his submission to the court: "It is my duty to bring to your attention any actions or planned actions which may amount to a crime against the Crown by any individual or group of individuals, so that appropriate action can be taken."

The submission adds: "Any action tending to the overthrow of laws, government and happy constitution of the United Kingdom is treason, section one, Treason Act, 1795."

Mr West alleges treason because he believes the European Union is persistently misusing British taxpayers' money.

Rick Moore, chairman of the magistrates' court committee, said: "The magistrates court, as ever, playing its important role in the judicial system, will give it all due scrutiny."

Trade Secretary Patricia Hewitt said: "If I'm committing treason, then so is Parliament and the Great British people for voting in the 1975 referendum to stay in the European Union."

The Mercury contacted 10 Downing Street for a comment, but none was provided at time of going to press.

This is not the first time that Mr West has tried to use ancient laws as part of his campaign which rallies against the European Union.

In 2001, Mr West used a rule in the Magna Carta to enlist 25 barons to lobby the Queen to express concern at the Government's policy on Europe.
Unquote


posted by Martin at
5/14/2004 06:51:00 AM

Postal Voting! - Danger to Democracy?

A letter setting out the dangers may be read from this link


posted by Martin at
5/14/2004 06:28:00 AM
Thursday, May 13, 2004

Signs of Franco/German Panic on Corporation Taxes

Proposals by France and Germany were described as hot air by the EU Commission in another sign that the complete control of the community to which the duopoly have become accustomed is being recognised as fatally weakened even by the fawning autocrats of the inefficient and derided executive branch. The article in EUobserver is linked from its headline:
Commission pours cold water on Franco-German tax idea




posted by Martin at
5/13/2004 04:38:00 PM

Chirac and Schroeder WARN...!!!

Once again the duopoly leaders bluster over the consequences of a failure to ratify the undemocratic EU Constitution. Epolitix reports in an item headed 'EU constitution warning sounded' linked here.

The consequences, of course most probably at the forefront of these two leaders' minds are the huge fines their countries face under the Maastricht Treaty, if the Constitution fails to be ratified and the former Treaty therefore remains in force.


posted by Martin at
5/13/2004 12:42:00 PM

Democracy at Work in India!

It should be a matter for much celebration that in the world's largest democracy, following a peaceful General Election, one Prime Minister and his party are preparing to hand over power and office to his victorious opponent from another party. Such is the news from India this morning.

While taking nothing away from the Indian people in this achievement, which also employed some state of the art electronic voting developments, it seems permissable to ascribe a small part of the credit to the country that was once the ruling colonial power. How tragic that Britain is even now in the process of dismantling its own democratic structures, on which India's were based, and replacing them with foreign, non-accountable, autocratic and potentially despotic rule - where the concept of 'one man -one vote' will soon become but a distant memory and parliamentary democracy has already been made a sham!


posted by Martin at
5/13/2004 11:51:00 AM

France/Germany Prepare for an Attempt at UK Expulsion

The Financial Times this morning reports that France and Germany are to attempt to formulate a strategy to proceed with the EU Constitution if only 20 of the 25 EU once nation states ratify the horrendous Convention Proposals as a Treaty. Legally this would seem a minefield, but if the national intent to go separate ways existed - who could prevent it?

The article may be read from this link from the title: Warning over failure to ratify the EU Constitution

The intent is clearly to scare the British voter in the referendum campaign and vote, but could it backfire, possibly fuelling further animosity towards the economically failing Franco/German duopoly not just in the UK but elsewhere in the enlarged EU? How will the politically damaged duo of Chirac and Schroeder cope with the three-quarters of their electorates who also want a vote on their own countries' dismemberment?


posted by Martin at
5/13/2004 06:55:00 AM
Wednesday, May 12, 2004

New Alliance

I had my attention drawn to a new web site yesterday called 'New Alliance'.

I recommend a visit and consideration for your favourites/bookmarks:

New Alliance





posted by Martin at
5/12/2004 07:23:00 AM

Constitution Scramble

EUobserver reports the Irish Presidential constitutional preparations as reaching a fever pitch, which was enough to catch the attention of the Chinese News Agency Xinhuanet who repeated the report. As was reported from many sources yesterday British Chancellor Gordon Brown was the subject of much speculation over a hardening of Britain's negotiating stance. Highly significant in view of headlines in one of this morning's London papers regarding the increasing precariousness of Tony Blair's position in light of the news now coming from Iraq. The Telegraph item linked here is an example trailered as MPs Revolt against Blair and headlined 'Blair faces leadership revolt as abuse crisis deepens'

Brown is still viewed as Blair's most likely successor and is considered to be more eurosceptic, (is it possible to be less?)


posted by Martin at
5/12/2004 05:56:00 AM
Tuesday, May 11, 2004

Boeing/Airbus Competition

A major area of the developing confrontation between the EU and the USA is in aircraft manafacture. An interesting perspective on this is provided in this translation of a report from a Japanese perspective: The Fall of Boeing and Japan's Airline Industry


posted by Martin at
5/11/2004 05:52:00 AM

Blair's Greatest Crisis - The Referendum?

The International Herald Tribune prints an article by British author Antony Beevor writing in the New York Times that the coming EU Referendum will be the greatest crisis of Blair's career. Some quotes:-

Perhaps the most depressing characteristic of the Brussels mentality is its urge to meddle. It is a prime example of what I call the first law of bureau-dynamics. The desire to regulate becomes self-perpetuating, because bureaucrats who are not seeking to introduce further controls are clearly not doing their job.

It concludes - It is a gamble in which I - and, I hope, the majority of my fellow Britons - do not wish to take part

The column may be read from this link.




posted by Martin at
5/11/2004 05:30:00 AM
Monday, May 10, 2004

Belgian PM Loses his Marbles Completely!

GUY VERHOFSTADT, Prime Minister of Belgium, and rumoured to be the German's choice as next EU Commission President (he certainly seems to have the qualifications to fill Prodi's shoes!) has called for the G8 to be replaced by a Union of Unions. Don't believe it! Then read this.

That is almost as insulting and ridiculous as asking if it might not perhaps be time for the Government of Belgium to be replaced by a Committee of Non-Governmental Organisations, but I for one am far too polite to suggest such a course.


posted by Martin at
5/10/2004 06:56:00 PM

Chirac in Referendum Peril

The man who would be King, Chirac's popular closest contender for the next Presidency for the Right in French politics, Nicolas Sarkozy, who was transferred from Interior Minister to the Finance Ministry to be wrecked upon the rocks of the French Economic Disaster by Chirac (double entendre!) has instead put the 'le chat parmi les pigeons' by stating :-

"I do not see how it would be possible to tell the French people that the European Constitution is a major document and to then draw the conclusion that it should be adopted by parliamentarians, without taking the trouble directly to ask the people's opinion".

In other words France is about to get a referendum.

The latest Eurobarometer Poll (published last Friday)shows 62 per cent of the French in favour of the Constitution, but only 43 believing membership of the EU is now a good thing, 46 per cent believing that France benefits from membership and 37 per cent in favour of the recent enlargement.


posted by Martin at
5/10/2004 03:20:00 PM

EU-IMPERIALISM IN ACTION

When I wrote my blogs regarding the expansionist ambitions of the EU over the weekend, I had not yet had my attention drawn to this report:-

Quote
Special Economic Zone

BERLIN/PRISTINA (Correspondent's Report) – Berlin's opposition party, the Free Democrats (FDP), introduced a bill in parliament demanding admission of Kosovo to the EU. According to the bill, initiated in the Bundestag (lower house) by FDP member Rainer Stinner, the territory, belonging to Serbia, should be expropriated from Belgrad and left to ,,Europe´´ as a ,,trust territory´´. In an interview with the editor, Stinner stated that ,,a European administrator´´ would be in charge of Kosovo's ,,foreign and defense policies´´. The Friedrich-Naumann-Stiftung (foundation), which is close to the FDP, already provides several ,,advisors´´ to pivotal economic committees of Kosovo's regional parliament.

Literally, Berlin's bill states: ,,the return of Kosovo to Serbian sovereignty is unacceptable to the Albanian majority population of Kosovo´´: ,,Kosovo's sovereignty must be turned over to the EU.´´ The FDP writes that, as a consequence, all sovereign rights regarding police activities, legal and internal administration, as well as foreign policy would be safeguarded by the foreign ,,trustees´´. ,,The successive transfer of jurisdiction to the political organs of Kosovo´´ is to ,,follow intermediately step by step´´, however the occupation by foreign troops would have to be retained.

Trade and Industry
In addition, parliamentarian Stinner explained to the editor, that the ,,Europeanization´´ of Kosovo would be ,,the only opportunity, (…) to attract investors´´ and to achieve economic progress. Stinner prides himself in having advised Kosovo's regional parliament in economic affairs. He was assisted by Klaus Bünger, the former undersecretary in Berlin's economic ministry. Furthermore, the former German economic minister, Lambsdorff, became instrumental in Pristina by bringing in German specialists from the Friedrich Naumann Foundation. They were provided to the parliamentary committees of economics and finance, trade and industry and budged. The manager of project ,,Südosteuropa III´´ (South Eastern Europe III) of the Friedrich Naumann Foundation disclosed that the German advisors also arrange ,,contacts´´ with ,,responsible specific ministers´´ of Kosovo.

Extraterritorial Integration
Subordination of conquered territories and appointment of dependent regional administrations is not a recent German policy. Imperial Berlin, during her belated conquests, imitated the colonial practices of the competition and passed itself off as the protector of the occupied. Compared to open annexation, administration as a trust offers the advantage of imposing obligations on the occupied territory while legal rights must be granted by the conqueror. This condition is especially well suited for the establishment of ,,special economic zones´´, in which the occupying power can take advantage of exclusive trade privileges and can subjugate the trust territory to ,,extra-territorial integration´´.

See also earlier article Model

Link: www.german-foreign-policy.com
published: 06. May 2004
Informationen zur Deutschen Außenpolitik
© www.german-foreign-policy.com
Unquote


posted by Martin at
5/10/2004 12:07:00 PM

Kilroy Erupts Under Britain's Anti-EU Movement

'Britain must pull out of the EU now before it collapses', these words, encapsulating the intent of almost 1200 postings on this blog, were spoken by Robert Kilroy-Silk on the David Frost Sunday morning TV programme yesterday.

A fundamental change in the make-up and outlook for the anti-EU movement in Britain seems to have been signalled.

Nobody can help but be aware of the controversy that surrounded the ex-TV presenter over his article regarding the Arab States in the Sunday Express which caused him to lose his presenter's slot.

Will this incident affect his ability to advance the cause of those fighting to halt the malign spread of the EU's power and influence within this country? I have obtained a copy of the article in question, have read it carefully and am forming my own opinion. The link below will allow others to do the same:-

Kilroy's Express Article 4th January, 2004




posted by Martin at
5/10/2004 08:39:00 AM
Sunday, May 09, 2004

EU's Imperialistic Disdain for the Poor - 1. Mercosur

The sordid basis of the proposed Mercosur Trade arrangement was first discussed in our posts of 14th April here with a follow-up the next day from here. EU Observer reported at the end of this week the talks have progressed and a deal appears possible by October. The cynicism underlying the proposed arrangement beggars belief and no self-respecting national government could possibly accede to such a shameful ploy. The EU as has so often been proved, however, knows no shame!

The Economist report on the deal linked here, is headlined Good for the few, bad for the many and is summarised at its opening - The prospects of a trade deal between Mercosur and the European Union look good. The prospects for the Doha round of world trade talks look ever worse. The article concludes with this paragraph:-

Quote
This kind of trade discrimination threatens to sully the multilateral trading regime founded in 1947. Seven rounds of successful trade talks, culminating in the creation of the World Trade Organisation in 1995, proceeded on the principle that any "advantage, favour, privilege or immunity" granted to the goods of one country should be passed on "immediately and unconditionally" to the same goods from any another country. An EU-Mercosur deal would be one more breach of this principle, to add to the morass of overlapping and interlocking bilateral deals that now clog up the world trading system. It would be a sorry legacy for Pascal Lamy, the EU's energetic trade commissioner, whose term ends in October.
Unquote

The World demands that some decency be returned to European dealings with other nations on the planet, paricularly those in the developing world. It is increasingly clear that this will not be achieved within the EU as it has developed (see the absolute lack of any move towards reform of the sugar regime detailed in the report immediately beneath this post.)

Britain should withdraw, if only for the sake of its own collective conscience!


posted by Martin at
5/09/2004 03:10:00 PM
Use eBay's PayPal service if you appreciate this blog - to make fast, easy and secure donations to help towards our broadband and other costs! martin.cole@gmail.com Many thanks!.