Millennium Blitzkrieg - Email for other epub info on the novel
NOW ON KINDLE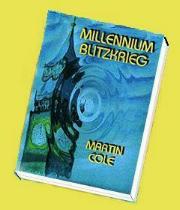 Read the novel, wriiten in the 1990s, which warned of an EU catastrophe by the centenary of WWI in 2014.
- Order for your Kindle from Amazon.com - Order for your Kindle from Amazon.co.uk - Order for your Kindle from amazon.de - Order for your Kindle from amazon.fr
---

Copyright2005MartinCole
---
Blogs:
Teetering Tories
UKIP Uncovered
The Strasbourg Cesspit
Anglo Saxon Chronicle
EU Realist
EU Referendum
Road to EU Serfdom
Eurosoc.com
Adam Smith Blog
Fainting in Coils
Tim Worstall
Anthony Wells
Samizdata.net
The Commons
USS Clueless
UKIP Uncovered
Blogs en Francais:
L'UE L'A EU
---
Archives:
February 2003
March 2003
April 2003
May 2003
June 2003
July 2003
August 2003
September 2003
October 2003
November 2003
December 2003
January 2004
February 2004
March 2004
April 2004
May 2004
June 2004
July 2004
August 2004
September 2004
October 2004
November 2004
December 2004
January 2005
February 2005
March 2005
April 2005
May 2005
June 2005
---
E-Mail Me
---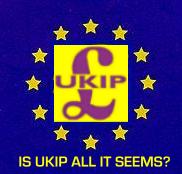 Click here to learn much much more
---
Sunday, February 29, 2004

Could the ECB Cut Rates this Week?

Hamburg was the first of 14 regional elections in Germany. The debacle experienced by Schroeder's SDP could now lead to an abandonment of reforms or worse. Will the EU's largest economy now dispense with the myth of ECB independence and prevail on Trichet and co., to cut rates this week. If so it could be the death knell of the already sorely tested pan-European single currency, with attention likely to turn to which 'ins' will be the first out rather that which 'outs' will be the first to join the 'pre-ins', which just about sums up the nonsense of the whole thing.

Read more from the FT: Lagging Europe may cut interest rates this week.


posted by Martin at
2/29/2004 09:04:00 PM

Schroeder Takes a Thrashing

Blairs recent lunchtime host took a pounding in the German polls in Hamburg today with the SPD expected to record its lowest post-war vote of around 30 per cent according to early results and exit polls. With his coalition partners the Greens struggling to get 12 odd per cent it looked probable the CDU at 47 per cent would have an outright majority in the city.

A Sensational Victory according to Swiss news reports! The Third Way of Blair, Clinton, and Schroeder looks like it will soon be history! Words without substance or meaning deserve no other fate.


posted by Martin at
2/29/2004 08:49:00 PM

Clare Counterattacks on Cronyism

While John Major entered the fray by calling for the Attorney General's Iraq War advice to be made public earlier today, Clare Short has turned her fire onto the destruction of our institutions by:

"questioning the impartiality of "Tony's friend" the Attorney General".....and accusing "the Head of the Home Civil Service, Sir Andrew Turnbull, of allowing Britain to "rush to war".

Echoing criticisms we have been making on this blog and elsewhere she states:-

"Tony is running this country in a deeply, deeply personal way and the institutions that we have to get these decisions right are crumbling and being personalised."

The article is linked from The Scotsman from here.



posted by Martin at
2/29/2004 07:51:00 PM

Illegality of Iraqi War

Any interested in the question of the legality or otherwise of Blair's position on the war are directed to this item from Brian Brady in 'Scotland on Sunday' from which this is a quote:-

The submission, seen by Scotland on Sunday, declares: "The defence believes that the advice given by the Foreign Office legal adviser expressed serious concerns about the legality (in international law) of committing British troops in the absence of a second resolution."

Gun's defence included the startling claim that Blair's top legal adviser, the Attorney-General, Lord Goldsmith, also told him such a war would be illegal in December 2002.

The entire Opinion piece 'Secrets and Lies' is linked from here. A companion article in The Scotsman 'Whistle-blower tipped by Downing Street mole ' is also linked from here.


posted by Martin at
2/29/2004 11:59:00 AM

Neil Herron to run as an Independent Candidate in the Euros

According to Christopher Booker's notebook in this morning's Sunday Telegraph Neil Herron, co-ordinator of the Metric Martyr Campaign and leader of the North East's fight against the EU inspired democracy destroying Regional Assemblies is to stand as an Independent candidate in the upcoming sham-European Parliament Elections. Brilliant news for the people of the North East.

The full item may be read from here ;A battle lost, a war to win' and the following is a brief quote:-

Neil Herron was so fired up by this fight that he has, in four years, become one of the most effective grassroots political campaigners in the country. He is leading the campaign against John Prescott's plan to have a vote in the North-East later this year for the first elected regional government in England outside London. A series of local victories won by Mr Herron have thrown the Deputy Prime Minister's scheme into serious disarray.

Now Mr Herron plans to make the chaos of metrication a centrepiece of his campaign to be elected as an independent for the European Parliament next June. "I shall give the people of the North-East," he says, "the chance to vote on just one issue: who should govern Britain, Westminster or Brussels?"



posted by Martin at
2/29/2004 07:14:00 AM
Saturday, February 28, 2004

Saving the Telegraph

Tom Utley on the 'Daily Telegraph in the Daily Telegraph. Hear hear! - Linked from here


posted by Martin at
2/28/2004 01:19:00 PM

Spain's Aznar condemns Franco/German Wreckers

The following brief opening quotes are from an interview in today's The Times, which regrettably cannot be linked. It is available on-line for those within the UK.

February 28, 2004
Aznar hits at Europe's loss of direction
By Martin Fletcher and David Sharrock

Franco-German ambitions are a dangerous fantasy

THE Spanish Prime Minister flayed France and Germany yesterday for reneging on European Union accords, blocking economic reform, and harbouring dangerous 'fantasies' of making the EU a global counterweight to America.

In an interview with The Times, José María Aznar said that the EU had lost its way and was in urgent need of new leadership and direction.

A strong supporter of the British and American intervention in Iraq, the famously austere Castilian admitted that mistakes were made but insisted that the world was safer without Saddam Hussein.


posted by Martin at
2/28/2004 12:27:00 PM
Friday, February 27, 2004

Core Europe Considered

We recommend this analysis from Euractiv, from which this is a brief quote:-

The future architecture of the EU depends greatly on Germany. As the EU's largest member, Germany has always played a bridging role, between Europe and the US, and between France and the rest of the EU. Germany has also served as a strong link to Central and Eastern Europe because of its geographical position, and it has long tried to bring together the larger and smaller member-states in the Union.

The whole is linked from here.


posted by Martin at
2/27/2004 05:03:00 PM

Eurozone Inflation Indexes Lower

The EU's Midday Express just out puts Eurozone inflation at 1.9 per cent for January 2004 against 2.0 per cent in December 2003. The Flash estimate for February eurozone is 1.6 per cent.

Pressure for an interst rate cut by the ECB will therefore probably grow next week.


posted by Martin at
2/27/2004 12:41:00 PM

EU Facts, Figures and Phantasies

The end February edition is now available. It leads on the three nation Berlin summit meeting and is worth reading in full. A brief quote from the summary:

"The three junketeers - France and Germany had Tony Blair for dinner."

This link will lead you there.


posted by Martin at
2/27/2004 12:19:00 PM

Schroeder's Half-hour and Trade Tensions

The following is taken from an EUobserver report on Franco/German efforts to lower the euro against the dollar on which topic we blogged yesterday.

Mr Schröder is expected to raise this issue with George Bush on his official visit today. The German Chancellor has been allotted about 30 minutes with the US President, during which time, they are expected to discuss - on top of the euro rate - Afghanistan, Iraq, the Middle East, Turkey, Cyprus, bi-lateral economic relations and preparations for the forthcoming G8 and NATO summits.

The full article is linked here

Not mentioned above is the very grave matter of growing trade tensions, highlighted in a separate EUobserver article titled US firms to be hit by multimillion-euro sanctions The EU action against poultry, followed by the US riposte on French Salamis and other meat products , coming on top of the belated realisation the Euro strength is far from the big plus Euroland's leaders had been blithely assuming, does not augur well.

Perhaps if Schroeder's visit could be somewhat extended to cool things on the trading front, we all might be the beneficiaries?


posted by Martin at
2/27/2004 11:30:00 AM

MEPs Gravy Train Good Times to Continue

EUobserver reports the unsurprising news that the EU's pointless and sham MEPs have stymied any chance of reforming their grotesque expenses system which now looks set to continue into the next Parliament.

Ironies proposes a suitable protest would be for Europe's voters to ensure that those MEPs who have enjoyed these obscene perks for the past five years be deprived of the opportunity of continuing this abuse by voting all sitting MEPs out of office on 10th June next. This should particularly apply to those in parties within the EPP - ED group and the Socialists, singled out in this report and taking in the two main British parties. We quote:-

During the meeting this morning, both the EPP and the Socialists, were not prepared to move on the issue of MEPs pay and the reform of the allowance system, sources told this news site.

Read the full report from here.


posted by Martin at
2/27/2004 05:47:00 AM

Barclay's Telegraph Purchase Stymied

The fate of the Telegraph group of newspapers, only London broadsheets mildly resisting, rather than promoting the termination of the nation's democratic heritage by the EU, was stalled by a US Court yesterday. According to the report in this morning's The Guardian this ruling was highly critical of Conrad Black. The article is linked from here.

The weak if not completely wishy washy and uncertain editorial tone of these papers therefore looks set to continue, yet one more blow to those in the country fighting against the further erosion of the freedoms and individual democratic rights of the peoples of the British Isles.


posted by Martin at
2/27/2004 05:34:00 AM
Thursday, February 26, 2004

Britishness?

In the fallout from the whistleblower Gun's prosecution collapse and the first citizenship ceremonies I highly recommend this piece written by Anthony Barnett in Open Democracy linked from here


posted by Martin at
2/26/2004 09:24:00 PM

Economic Reality Percolates the Franco/German Dreamworld

French Prime Minister Raffarin quickly threw his weight behind German Chancellor Gerhard Schroeder's call for an easing in Euro interest rates, as the real nightmare facing the industries of the two largest euroland economies, on which we have been warning for months, finally seems to be sinking in.

Jean-Claude Trichet and the ECB are now in a difficult position, charged with maintaining price stability, inflation is nevertheless still present even as reflected in their wierd official statistics, let alone in the real life nightmare of constant euro-inspired price hikes on all the streets across euroland.

The wild assent of the euro against the dollar which has given such a boost to the egos of Euroland's cosseted leaders and eurocrats is now clearly being paid for in lost jobs and growth, as was so obviously always going to be the case. A huge cut in rates, even in the unlikely event of it happening today would still be far, far too late. Ask the Dutch, who at least have tried to stay within the G & S Pact, and look at their economy.

See Bloomberg report linked here.


posted by Martin at
2/26/2004 05:03:00 PM

Lord Falconer a new Cromwell?

The Daily Telegraph in an article linked here questions both the competence and hurry of Lord Falconer, our one-time Lord Chancellor presently of uncertain but extremely powerful position.

I wonder on witnessing recent events whether we are seeing a new Cromwell in the making, if so which one: Thomas of who Henry VIII is reported to have said "A good household manager, but not fit to meddle in the affairs of kings." or Oliver! A link with a summary of the lesser known Thomas is provided from here.


posted by Martin at
2/26/2004 10:20:00 AM

Is this the End for Pounds and Ounces?

The Scotsman provided a detailed report on the failure of the appeal to the European Court of Human Rights of the 'metric martyr' case linked from here.

Elsewhere it as if a Government/EU news blackout has been imposed. Some local coverage in London and the North East and that seems to be it. The British nation seems to have rolled over and allowed part of our national life for centuries be quietly destroyed, without even a whimper as the final death blow was struck.

More important, however, is the principle that two people meeting on the street are prohibited from agreeing an exchange of goods in units other than those decreed by foreign powers. Yet we kid ourselves that we are still free men and that British Government is solely our concern. That fantasy must at least be surely abandoned!


posted by Martin at
2/26/2004 08:59:00 AM
Wednesday, February 25, 2004

Metric Martyr Barrister claims Kelly was Murdered

Having heard that the European Court of Human Rights had rejected the Metric Martyrs' appeal, we were surprised to see the name of Michael Shrimpton their Barrister so quickly back in the news with a report that he has stated in a radio interview, his belief that Dr Kelly the WMD expert was in fact murdered. The Metric Martyr case may be reviewed from this link which includes a photograph of the barrister.

The summary of the radio interview is linked from here. A link on that site: Infoshop.org about whom we have no prior knowledge, also contains a link to an audio version of the interview. The full transcript of the interview can also be read from this link to another US web page 'thoughtcrimes'.

Ironies has no position on the death of Dr Kelly, and we put forward these items for the interest of readers. Our only interest was in the background of the metric martyr's defence barrister and from that our curiousity was tweaked!


posted by Martin at
2/25/2004 06:25:00 PM

Trougher's Thursday Tomorrow

MEPs gather again tomorrow, for a good lunch, delectable dinner and another attempt to pad their salaries and perks to the maximum for the next Parliamentary session which most no doubt look forward to with some relish....sauce hollandaise perhaps (bet your life it wont be ketchup). Read the official version from EUobserver here.


posted by Martin at
2/25/2004 05:21:00 PM

Strong GDP Growth for the UK

The British economy grew at 2.3 per cent last year. Details available from this IHT coverage linked from here.

Euroland growth was a miserly 0.4 per cent with Germany as reported here in the Miami Herald on 12th February shrinking in the year 2003.




posted by Martin at
2/25/2004 04:29:00 PM

GCHQ Whistleblower Walks Free

No evidence was offered by the prosecution prompting press speculation that it is one more attempt to patch up the rapidly deteriorating Prime Ministerial reputation, or lack thereof as it presently is coming to appear. Bloomberg carries a good summary linked from here


posted by Martin at
2/25/2004 04:19:00 PM

Metric Martyrs Lose Appeal

The Metric Martyrs have lost their appeal in the European Court of Human Rights according to this BBC Report linked here.

Final proof, as if any more were needed, that there is no justice for the British from the European system. The very suggestion that we should be legally prohibited from buying our vegetables in pounds and ounces and measuring our children in feet and inches is so absurd as to beggar belief. One more nail in the coffin of the EU, and more backbone in the fight for justice from the British people I hope!

Amazingly the News Headlines at 8 o'clock on the BBC's flagship 'Today' Programme leads on Fat Britain, Free Fertility Treatment and the allowability of secretly taped conversations as evidence in court..

In the main bulletin we were also informed about a policy review on arms sales, the statements of the Libyan PM on Lockerbie and the US reaction and Democratic contender Kerry's latest primary success. We then learnt of moves to intercede in Haiti with a report from Port au Prince, leading on to an item on a 12 year old death in Glasgow. A new warning about the safety of child car seats by the AA was followed by an item on the reform of the Law Lords in the House of Lords - Lord Falconer then had a sound bite - justifying the changes (no mention being made of the EU imposed requirement for such changes). The BBC winning 7 awards then followed with absolutely no mention of the loss of the appeal in the Metric Martyrs case.

Is the BBC censoring our news on behalf of the EU? Given their own web site carries a full report on the lost appeal that conclusion is inevitable!!!


posted by Martin at
2/25/2004 07:50:00 AM

Contrasts in Governance

Russian President Putin dismissed his Prime Minister and Government yesterday in a naked display of absolute power.

Most of Europe's other nation states have now combined varying proportions of their sovereignty into an ill-defined and ungovernable conglomerstate where influence peddling, behind door horse-trading and growing corruption are the order of the day. Nobody now knows who is responsible for what!

Across the Atlantic, America prepares for its Presidential elections, one Western Power at least where the people will have some say in deciding who will govern them next year. Thanks be!, one major power where a true Popperian Democracy still survives.


posted by Martin at
2/25/2004 06:23:00 AM
Tuesday, February 24, 2004

Second Whistle Blower Joins MEP Candidate List

Marta Andreasen has joined Paul van Biutenen new list as an MEP candidate in Holland. Brilliant! Read the report here and the earlier one from here.

Unhappily we are running out of whistle blowers and none have stepped up for the UK as yet!

Perhaps the best protest against corruption and waste in the EU is to ensure that no previous MEP gets re-elected in June, anywhere in Europe!


posted by Martin at
2/24/2004 04:49:00 PM

Lack of Jobs scares US Consumers

While the fall in the German IFO (reported below) might have seemed predictable in view of the surging Euro, the last thing that might help is a fall in US consumer confidence which is what has just been delivered in an index fall from 96.4 to 87.3. read here from Reuters. Could Blair (if he survives), be visiting his third US President early next year?



posted by Martin at
2/24/2004 04:26:00 PM

Brussels and Showgirls

I was struck on visiting the Belgian capital at the preponderance of sleazy strip joints which, unlike in other European cities, did not appear to restrict themselves to one particular part of the city, but rather cropped up in clumps all over the place. My hosts assured me that this change was a consequence of the city now fulfilling a much more significant role these days, as the home of the European Union.

Whether or not it is the eurocrats, the MEPs, the visiting lobbyists or other EU visitors who provide the growth for this clearly booming business, I couldn't say, but convincing evidence that it is almost certainly EU connected came our way in the February 2004 UK edition of Glamour, a magazine for the fashion conscious .

In an article entitled Bikini School on page 56, we learn that the European Union has invested over one and a quarter million euros in a scheme where almost 100 young girls at a time are trained to be showgirls. (Read the article for clues as to what that might mean!).

This first such school is based near Naples in Italy, but with an enlarging EU and the amazing ability that organisation appears to have to corrupt all it touches, watch out for many other such schools cropping up thoughout the enlarged EU. After all, with the coming EU enlargement, newly qualified showgirls would seem unlikely to experience the more normal EU unemployment difficulties.


posted by Martin at
2/24/2004 02:43:00 PM

Chirac calls for 2 speeds

In Hungary, Jaques Chirac, (Tony Blair's new copain) has called for a two speed Europe and pressurised his hosts, other new entrants and existing members, according to this linked report from The Scotsman, as follows:-

Chirac said that EU states should put their trust in the current Irish presidency and allow it to conclude negotiations on adopting the planned EU constitution by the end of June.

In tha absence of any sign that the Franco'German axis are prepared to budge over the weights of voting, this must be taken as yet more bluster. Yet another dreadful misreading of the present situation!


posted by Martin at
2/24/2004 01:03:00 PM

Unexpected IFO fall in Germany adds to Euroland Gloom

A surprise fall of 3 points in the German IFO, belies the optimism expressed recently by Jean-Claude Trichet, that all was getting rosier in Germany. Read the report from this link.

The Commission President Prodi boasted yesterday, as reported in EUPolitix (linked from here,):-

"If it is not recognised that there is an EU added value in at least some chapters of expenditure (I repeat at least in some), then I believe that everything we are doing is just a waste of time," he told ministers.

Is claiming that ALL the money spent by the EU is not entirely wasted either a matter for boasting or sufficient cause to get the struggling German economy to pay more in future? Looking at yesterday's Eurobarometer Poll the answer quite clearly will be, NO.


posted by Martin at
2/24/2004 12:52:00 PM

EU Dismay over Iran Election

Such is a headline in this morning's Daily Telegraph linked from here. The involvement of the monstrous non-democratic conglomerstate in questions of turnout and democratic legitimacy or accountability is not just Ironic it really does take the biscuit!

According to its own Poll 'Eurobarometer 60' (more excerpts appear beneath this posting with the entire poll linked in pdf format from here), it is reported on page 99 that the average likelihood of people voting in next June's EU Parliamentary elections is 6.84 per cent. We shall wait for the final turnout figures in June and will refer back to this post when they are in. We will be most surprised if the final turnout figures in Iran are not substantially above those for the sham, entirely corrupt and neutered EU Parliament.

Read more from EU Politix link to Apathy to win European Elections


posted by Martin at
2/24/2004 07:41:00 AM
Monday, February 23, 2004

EU Floundering amongst larger and founding countries - Brilliant!

More on Eurobarometer 60, first discussed in the post just below this.

Twenty-eight percent of the UK poll considers their country's membership to be a good thing, 29% a bad thing and 30% as neither a good nor a bad thing. The highest 'don't know' factor was also found in the United Kingdom (13% compared with an EU15 average of 6%).

Falling support for the EU is particularly marked in the six founding countries of the Community. The most significant falls, in fact, are recorded in Germany (-12 points in six months), in the Netherlands and in Belgium (-11 both) and Luxembourg (-8). In the two other countries, Italy and France, positive attitudes, although still dominant, are getting close to their lowest level since Eurobarometer was created in 1973.

In Germany, by far the largest state and biggest net contributor, those who would feel relieved or indifferent if their country were to leave the EU (43 pct) now exceeds those who would feel sorry (42pct). Admittedly only just, but going the right way! The graphs for Germany showing those who feel their country has benefited is plunging, while those who believe there is no benefit rose by 7 pct to have reached equilibrium at 37 per cent each. In the Netherlands those who feel they have not benefited rose by 14 per cent from 20 to 34 per cent. (Remember this poll was taken before Germany and France broke the Growtrh and Stability pact with the Dutch being the most voluble in protest.)

The Euro is also suffering from its obvious flaws. In the Eurozone, as a whole, support fell by 7 points to 59 per cent. But it was most marked in the bigger countries: Italy minus 12, Germany minus 10 and France minus 7.

The EU unsurprisingly gets little support for its efforts on unemployment. A worrying poll for Eurofederalists. A cause for quiet celebration among those who consider the section of the poll on democracy a complete farce....What Democracy?


posted by Martin at
2/23/2004 05:55:00 PM

Huge Swing in EU Sentiment in Holland

Eurobarometer 60 opinion survey taken last Autumn and just published is being carefully reviewed.

First initail surprise is a huge reversal in feeling for the EU in Holland previously one of the most EU entusiastic nations. A massive 68 per cent feel 'not very' or 'not at all' attached to the EU against 29 per cent who feel very or fairly attached to the monstrous creation. This even knocks the UK off its habitual most negative spot where the equivalent figures are 56 to 41 per cent. More detail will be posted as we continue the review.


posted by Martin at
2/23/2004 05:05:00 PM

Our First Post Re-visited - One Year On

We started this blog in disbelief and disgust at the direction Tony Blair was taking Britain. We titled our inaugural posting: By their friends shall we know them!, which is partly reproduced here:

Quote

Germany's Bild newspaper reported the following last Monday.

"Iraqi Deputy Prime Minister Tariq Aziz praised German leaders for their anti-war stance, saying they were doing "a good job,'' Aziz called German Chancellor Gerhard Schroeder "a clever politician'' and said Fischer was doing a good job'' by upholding his country's position in the U.N. Security Council, which Germany is chairing this month."

Yesterday it was the turn of President Chirac of France to bask in the praise of a despot.

The Washington Times reported the following "President Robert Mugabe, an international pariah for his increasingly authoritarian rule, yesterday ended a visit here for the Franco-African summit hailing the "tremendous hospitality" he found in France.
"We've had tremendous hospitality. We felt at home," he told Radio France Internationale (RFI), praising French President Jacques Chirac for inviting him despite a global outcry over Mr. Mugabe's poor human rights record.
"We leave with a very good impression of France," he added. In Mugabe's view Mr Chirac is not just a great leader, but apparently of the sort of which the world needs more, the paper's article continues "Chirac insisted that we attend, because some members of the EU didn't want Mugabe to attend," the Zimbabwean leader told RFI, speaking of himself in the third person."He put his foot down on principles," Mr. Mugabe added, saying the world needed more leaders of great stature such as Mr. Chirac.
"That is the kind of leader we regard as very important for this stage ... in the international community," he noted.

Unquote

Now, following recent Berlin summits, Blair has turned his back on those who supported him one year ago: Nato, Poland, Spain, and the USA who now, alongside all of Blair's countrymen, find themselves in the growing group of those whom he has betrayed!

Our second post was the EU censored tract on the lack of Popperian Democracy in the EU conglomerstate, to which subject we have of course frequently returned.

Another early post was this quote from Michael Rivero, more true today than ever:-

"Most people prefer to believe that their leaders are just and fair, even in the face of evidence to the contrary, because once a citizen acknowledges that the government under which they live is lying and corrupt, the citizen has to choose what he or she will do about it. To take action in the face of a corrupt Government risks harm to life and loved ones. To choose to do nothing is to surrender one's self image of standing for principles. Most people do not have the courage to face that choice. Hence, most propaganda is not designed to fool the critical thinker, but only to give the moral cowards an excuse to think nothing at all."

Watch the propaganda continue to flow, and remember it is solely to make you feel happier about fooling yourself! Or continue reading Ironies where we will always try to get at the truth!

We thank those who regularly visit, and apologise for many repetitive criticisms. I hope the style and content have improved. I always welcome comments.

Martin Cole


posted by Martin at
2/23/2004 10:11:00 AM

Real Bonds and True Community of Interest

Across the other side of the world are nations still holding true to common sense notions regarding wealth creation and responsibility towards generations to come. How unlike our close neighbours to whom the Blair Government is in the process of enslaving us.

The following is the concluding paragraph of a speech made by Hugh Morgan, President, Business Council of Australia to the New Zealand Business Roundtable Annual Retreat on 20th February, 2004:

We are heirs to a civilisation which is the envy of those who look at it from outside, even though we tend to take it for granted, or even sneer at it for its alleged flaws. An important part of that civilisation is the corporation, an extraordinary artefact, and a powerful engine of economic progress. We should defend it, and ensure that we can bequeath it, in good shape, to the generation that is soon to take over. More broadly we have to defend the role of business and markets in society, the institutions on which our prosperity and vitality depend. In doing so we will contribute greatly to the future security and well-being of our countries.

The full speech may be read from this link Reigniting Reform in Australia and New Zealand


posted by Martin at
2/23/2004 08:26:00 AM
Sunday, February 22, 2004

A First Anniversary look at Europe

Ironies will be one year old tomorrow. Time to consider why I blog and whether or not I should continue?

As the European Union broadens and deepens, and refuses to confront the consequences of its non-democratic structures; instead substituting individual freedoms and pride in national achievements with a false sense of 'Europeanness' and affection for symbols and anthems that strike no chords in peoples' hearts, a strange tendency towards unspoken and therefore hypocritical intolerance is in danger of being fostered among its people.

Lack of accountability from its leaders, with the blurred edges of responsibility between national and european bodies, allows festering sores to grow within society as exampled by the decision last week to expel 25,000 failed asylum seekers from Holland. Politicians both national and european are therefore inevitably being seen as the cause of the problems and increasingly also sickeningly corrupt.

In a church in Toulouse, the Christmas before last, I saw around a nativity scene and in various other parts of the church, supposed Christmas decorations in the form of drawings and paintings from school-children, who I would guess would have been aged between seven and twelve, depicting in gruesome detail scenes from the Middle-East that could only be described as 'bloodily anti-semitic'. I was horrified and the memory and fear of the consequences of such subliminal propaganda has no doubt been sometimes reflected in the postings to this blog.

The following report is taken from "The Times" and must serve as a warning to us all:-
***
EU challenged to stamp out anti-Semitism
From Rory Watson in Brussels

JEWISH leaders challenged the European Union yesterday to begin a campaign to remove the 'monster' of anti-Semitism from the Continent. Cobi Benatoff, president of the European Jewish Congress, told a meeting of political, religious and community leaders that the history of prejudice and persecution that had afflicted Jews through the centuries was repeating itself. "We bring a warning cry. We European Jews are not able to live our daily lives like other European citizens. Anti-Semitism and prejudice have returned," he said. "The monster is here with us once again and what most concerns us is the in- difference of our fellow European citizens." He insisted that the EU could not allow anti-Semitism to survive and grow. The call for action came against the background of an increase in attacks on Jews and their property in countries including France, Italy, Belgium and Britain. Elie Wiesel, the 1986 Nobel Peace Prize Laureate, yesterday accused left-wing groups of fuelling the climate of hate with provocative language against Israel. "No country, no region and no person is above criticism. But what the extreme Left is saying about Israel is couched in the language of the Holocaust," he said. In a newspaper article last month, Mr Benatoff and Edgar Bronfman, president of the World Jewish Congress, had attacked the European Commission for not doing more to confront the problem. "Anti-Semitism can be expressed in two ways: by action and inaction. Remarkably, the European Commission is guilty of both,? they wrote. In particular they criticised the Commission for publishing a survey indicating that European public opinion believed that Israel was a greater threat to world peace than the 'axis of evil' trio of Iran, Iraq and North Korea. They also accused it of preventing publication of a study by the Vienna-based monitoring centre on racism and xenophobia, which linked Islamic minority groups to the rise of anti-Semitism. Romano Prodi, the Commission President, whose first foreign visit after taking office in 1999 was to the remains of the Nazi death camp at Auschwitz in Poland and who has developed close links with Jewish leaders, was outraged by the criticism. Mr Benatoff praised Signor Prodi yesterday for his 'courage, vision and wisdom', and urged him to lead the fight. Speaking at the meeting, Signor Prodi condemned attacks against synagogues, desecration of Jewish cemeteries and physical assaults on Jews. But he spoke forcefully against the danger of equating recent incidents with the organised policies pursued by Hitler and Stalin.
The number of anti-Semitic attacks in Britain increased by 7 per cent last year. There were 375 incidents recorded, compared with 350 the previous year.The worst month of 2003 was October, when 57 incidents were recorded, the second highest monthly total since records began in 1984.
***

The EU is taking Europe in a direction that its citizens are increasingly showing signs of not wishing to go. The history of the continent stands witness to the lack of importance European leaders are inclined give to the wishes or best interests of its citizens. It also shows that its peoples can periodically be led in directions for which they later feel great shame.

I do not hold that any one religion has greater truths or worth than any other, nor do I believe that any race or nation nor any colour of person has a monopoly or preponderence of virtues or vices than any other. I support the nation state not from nationalism or excess of patriotism, but rather because history has so far demonstrated that the presently existing nation states have generally speaking proved to be the largest units able to uphold the democratic rights and freedoms of their individual citizens. I believe therefore that the nation state needs protecting and that the open threats now being mounted against its structures, particularly by the European Union, represent the greatest possible danger to all European citizens, their individual rights, democratic liberties and the fundamental decency that can only flow from the maintenance of such values through an open democratic system, where the real rulers can at regular set intervals be bloodlessly approved or removed!

I do believe the revolution in information technology provides huge opportunities to extend the democratic element of major policy making and decision taking, and am dismayed that no attempt is yet being made to apply those opportunities in the growing intranational bodies that are becoming an increasingly burdensome part of everyday life due to the demands of globalisation.

Tomorrow, the first anniversary of my first post, I will review the past year on this blog!


posted by Martin at
2/22/2004 05:09:00 AM
Saturday, February 21, 2004

Euro Woes Hit Carnival

More signs of European trouble ahead from looking at social events rather than statistics; this time its 'Carnival' due to reach a climax this week, as many must know one of the times of the year in Germany when people relax and have a little fun. Deutsche Welle in this report has some sombre news:-

"In Cologne, where the biggest Carnival celebrations are held, some groups are really having trouble this year," said Franz Wolf, president of the German Carnival Association. "At some of the events only 80 percent of the tickets were sold and empty tables could be found. Those are the first indications that something is wrong."

Wolf doesn't believe the economy has anything to do with it.

"In my opinion, what the hospitality industry did after the change from the Deutsch mark to the euro was impossible," he said. "In many cases, they just kept the deutsche mark price and put a euro sign in front of it making things twice as expensive. Nobody can pay the new prices."

In some places there are empty halls, empty bars, and even empty cash registers. With lower tax revenues pouring in, many cities have also reduced the amount of subsidies they give to the different Carnival associations.

Donations to the groups have also dropped and they're having trouble making ends meet. The average Carnival association spends about €400,000 ($506,000) each year for everything from candy that's tossed to crowds during parades to portable restrooms.

The above article is an extract from this linked report.


posted by Martin at
2/21/2004 08:45:00 PM

Jobs for the Boyos

Now this is Ironic: After nine years of daily conniving at the destruction of Britain, Neil Kinnock on leaving the EU Commission will next day take up the post as head of the British Council, supposedly tasked with promoting all things British! See this Guardian link.


posted by Martin at
2/21/2004 07:09:00 AM
Friday, February 20, 2004

Crowing Commissioners

Pascal Lamy EU Trade Commissioner, ended his speech to the Centre for European Policy Studies yesterday, notable for the complete absence of the word democracy, with this quote from the man nowadays feted as the brain behind the present monstrous and tyrannical EU, Monnet:-

" Les nations souveraines du passe ne sont plus le cadre ou peuvent se resoudre les problemes du present. Et la Communaute elle-meme n'est qu'une etape vers les formes d'organisation du monde de demain ".

Jean Monnet's world of tomorrow is our world of today.

Which I loosely translate as follows:-

The sovereign nations of the past no longer have the scope or ability to resolve the problems of the present. And the Community itself is only a step towards a form of organisation for the world of tomorrow

Jean Monnet's world of tomorrow is our world of today.

Read the entire dreadful and totally confused speech of one of the most powerful men within the new Europe and shudder. It is linked from here.


posted by Martin at
2/20/2004 06:42:00 PM

Highly Recommended Article

We enjoyed this review of matters European titled 'Threes a Madding Crowd' by Denis Boyles for the National Review Online linked here, particularly for the description of arriving in Italy from France :

The minute you cross the border and see that big sign in your mind that reads, "Welcome to Italy! Have Fun! Drive Fast!" the dour, secular, sanctimonious dust of France falls from your eyes ? and just in time, since every driver in Italy saw the same sign you did. The car floods with Italian pop music. The dolcetto flows, uh, like wine. People in sunglasses shout "ciao!" and wave from the backs of Vespas, just like in the movies. In fact, everybody in Italy looks like a movie star ? suddenly even I look like a movie star. Unfortunately, it's Orson Welles.


posted by Martin at
2/20/2004 04:50:00 PM

RFID Scanner

A new blog with above name has come to our notice. We have added a link to the blog on our left side bar, for those wishing to check on this latest threat to individual liberties which no doubt will shortly become a major feature of EU people surveillance. Maybe the expensive Gallileo GPS project could be scrapped comopletely with this superior and cheaper sounding potentially oppressive sytem. Let's face it the longstanding US GPS system is perfectly adequate for all legitimate navigational purposes. Reach the new blog from here.


posted by Martin at
2/20/2004 04:24:00 PM

Destruction of the former Democratic Nation States of the EU through Regionalisation

The proposed disposition plans fopr 336 billion euros announced this week will be mainly fed to the Regions as defined and non-democratically controlled by the EU with hardle any available to the former National Governments. This was announced by the Commissars this week in a report linked from here and of which the following are relevant extracts:-
---------------------------------------------------
"The proposals follow those of last week on the Union's future budget which included a (Euro) 336 billion package for cohesion policy"......

On current estimates, around 78% of this amount would be for the "convergence" priority, some 18% for "regional competitiveness and employment" and around 4% on "European territorial cohesion".
---------------------------------------------------

A certain recipe for more waste, more corruption, zero accountability and yet more nails in the coffin of democracy. Power and money to the non-elected for distribution to their similarly unaccountable lackeys spread theoughout the EU. A certain recipe for a Popperian Tyranny.


posted by Martin at
2/20/2004 03:36:00 PM

Enforced EU Citizenship Petition passed to EU Committee of Citizens' Freedoms and Rights, Justice and Home Affairs.

The following is a copy of a letter circulating on the internet regarding a petition against the enforcement of EU citizenship upon the unwilling, (which absolutely includes this blogger!):

Quote

19/02/03 - Roy Perry - First Vice President - Committee on Petitions - European Parliament,
Schuman Building - L - 2929 Luxembourg

Subject Petition 723/2003

Dear Roy

Thank you for your letter of the 13/02/04 advising me that my petition is valid as admissible under the terms of the European Parliament Rules. However, I am disappointed to hear that the Committee of Petitions (predictably) did not discuss the content, as it concluded that there was no violation of my rights under Community law. On the other hand I am delighted to hear, that it has been passed on to the Committee of Citizens' Freedoms and Rights, Justice and Home Affairs.

However and respectfully, I disagree with your assertion that there has been no violation of my rights under community law and advise that you read the following in conjunction with my original petition.

Firstly: May I draw your attention to ETS No 166 European Convention on Nationality, Entry into force: 1 March 2000.

In the Preamble (ETS 166) it clearly states: 'Recognising that, in matters concerning nationality, account should be taken both of the legitimate interests of States and those of individuals;' It goes on to say 'Desiring to avoid discrimination in matters relating to nationality;' and it further
states, that it is aware of the right to protection of Human Rights and Fundamental Freedoms;

In Article2 Definitions (ETS 166) it states, For the purpose of this Convention:

a "nationality" means the legal bond between a person and a State and does not indicate the person's ethnic origin;

d "internal law" means all types of provisions of the national legal system, including the constitution, legislation, regulations, decrees, case-law, customary rules and practice as well as rules deriving from binding international instruments

In ChapterII General principles relating to nationality, Article3 Competence of the State (ETS 166) it says 'Each State shall determine under its own law who are its nationals'. And secondly: 'This law shall be accepted by other States in so far as it is consistent with applicable international conventions, customary international law and the principles of law generally recognised with regard to nationality.'

The convention further states in Article12 that I should have a 'Right to a review'

May I also direct you to the various ETS relating to The Convention on the Reduction of Cases of Multiple Nationality

I have a right and fundamental freedom to be and to remain solely a Subject of the Crown, and to be described as an English national within the United Kingdom. I also have a legal bond and duty to the Monarch as head of State.

By being described as an EU citizen and subjected to European law, I am being discriminated against as a member of the English minority in the EU and potentially in breach of my oath of allegiance to the Crown.

I have no rights of review, as section 6 of the UK Human Rights Act 1998 does not allow me to challenge the UK parliament.

(Contravention Article12 Right to a review (ETS 166) and contravention of article 8 of the United Nations Universal Declaration of Human Rights)

May I now draw your attention to the Vienna Convention on the Law of Treaties, with particular regard to Article 27.

Article 27
A party may not invoke the provisions of its internal law as justification for its failure to perform a treaty.

In this instance

1. The internal law of the European Community and My self, a subject of the Crown of the United Kingdom

2. The Internal law of the United Kingdom of Great Britain and Northern Ireland, My self, a subject of the Crown and the Treaty of the European Community

According to Article 17 (8) ECT, every person holding the nationality of a Member State is a citizen of the Union. Nationality is defined according to the national laws of that State. Citizenship of the Union is complementary to national citizenship and comprises a number of rights and duties in addition to those stemming from citizenship of a Member State.

This is in direct contradiction to the preamble of ETS 43 Convention on the Reduction of Cases of Multiple Nationality where it states: (Considering that cases of multiple nationality are liable to cause difficulties and that joint action to reduce as far as possible the number of cases of
multiple nationality, as between member States, corresponds to the aims of the Council of Europe;)

Principles of International Treaty Law

Originally, the international treaty rules were either part of customary international law or belonged to the general principles of law. Today the rules governing international treaties that are concluded between States in written form are codified. The codification governing this legal area is the Vienna Convention on the Law of Treaties (Vienna Convention) of 1969, which has entered into force on 27 January 1980. Although the Vienna Convention is not applicable to treaties concluded before its entry into force (Article 4) it is de facto applied to those too, since it incorporates - at least to a large extent - customary rules, which were already applicable before this date.

Article 31 (Vienna Convention) General rule of interpretation

1. A treaty shall be interpreted in good faith in accordance with the ordinary meaning to be given to the terms of the treaty in their context and in the light of its object and purpose.
3. There shall be taken into account, together with the context:

(b) any subsequent practice in the application of the treaty which establishes the agreement of the parties regarding its interpretation;

(c) any relevant rules of international law applicable in the relations between the parties.

The Foreign and Commonwealth Office of The United Kingdom of Great Britain and Northern Ireland, has stated to me in a letter on the 23rd December 2003.

(Under international law, a State has a people, not citizens. A people are a collection of people who live together as a community. A State decides who are its citizens are under its domestic law).

Under International law across the world, applications for dual citizenship are entirely voluntary. Citizenship is not in the gift of a self-appointed foreign institution, which in any event is unaccountable to the British electorate and, I argue, has no standing here

Until the coming into force, on 1 January 1915, of the British Nationality & Status of Aliens Act 1914. The United Kingdom had no nationality law. The Act conferred the common status of British subject upon those persons who had specified connections with the Crown. The status of British subject implied allegiance to the Crown.

May I point out, The British constitution, including the ancient rights and liberties as laid down in the Magna Carta and Bill of Rights, (both treaties) belong to the British people - and not to Parliament, the EU or any political party - who have no right to remove them.

In the UK, the people are sovereign. The monarch is the embodiment of that sovereignty. Our Parliament is elected and answers to the people. Unlike Europeans, we British are free men. Here, the state answers to us - not we to the state, as in Europe. There are a great many things the UK parliament cannot do, and one of them is diminish or restrict common law. Statutes can 'improve' common law, but even if that statute is later repealed the original common law still stands. Thus it follows that the imposition of a foreign citizenship on a natural-born Englishman is beyond the powers of parliament or the EU, since it purports to impose a system of law, which makes an Englishmen subservient to the state - and that is an attempt to restrict sovereignty.

As the European Union is even now only an association of sovereign nation states and is not in itself a State, much as it might like to pretend otherwise. Under international law, it is impossible to be the citizen of a non-state. The notion of dual citizenship, implied under Article 17 (8) ECT is nonsense and the imposition of EU citizenship upon me is therefore in breach of article 20 (2) of the United Nations Declaration of Human Rights.

Article 20. (2) No one may be compelled to belong to an association.

I do not wish to be a citizen of the associated states of Europe

Signed
***
CC
Her Majesty Queen Elizabeth II
Lord Falconer Department of Constitutional Affairs
Jack Straw Foreign & Commonwealth Office
House of Lords Constitution Committee
To the Office of the United Nations,
High Commissioner for Human Rights. United Nations Office at Geneva 1211
Geneva 10, Switzerland
Unquote



posted by Martin at
2/20/2004 02:18:00 PM

Britain's Second Chamber to become Appointee Sham by Stealth?

According to this report in this morning's Daily Telegraph one of the last remaining constraints on th already far too powerful government executive is now set to be removed by trickery! The article titled 'MPs braced for Falconer 'trick' on Lords reform' and is linked from here.


posted by Martin at
2/20/2004 09:18:00 AM

Big Three get Demand for a Vote in Berlin




The three leaders pictures with a demand for a Vote in each of their languages.


posted by Martin at
2/20/2004 08:54:00 AM
Thursday, February 19, 2004

F.A.Z. Weekly's View of the Troika

This article offers a German attempt to justify without attempting an explanation. It is entitled Countering Suspicions and for me fails absolutely completely.


posted by Martin at
2/19/2004 09:07:00 PM

Big Names sign up for Vote2004

The new group, which is drawn from all walks of life, includes Body Shop founder and environmental campaigner Anita Roddick, Private Eye Editor Ian Hislop, writer Will Self, actress Joanna Lumley, Wellcome Trust Chairman Sir Dominic Cadbury and John Bird, founder and editor of the Big Issue.

The group also includes Sir Bill Morris, publishing tycoon and Labour donor Felix Dennis, George Carey, former BBC Chairman Marmaduke Hussey, General Charles Guthrie, Nobel Prize-winning writer Vidia Naipaul, Charter 88 founder Stuart Weir and Shree Venilal Vaghela, Chairman of the Hindu Council (UK).

To see the list of supporters, visit

Vote2004 Who We Are



posted by Martin at
2/19/2004 06:41:00 PM

Romania Negotiations Could be Put on Hold

EUobserver linked here reports that negotiations with Romania to enter the EU could be stalled.

The significance of this should perhaps be weighed against our recent posting on the Big Three blocking minority vote, which only exists up to the accession of Bulgaria and Romania, following which they will need to recruit a fourth member no matter how small!


posted by Martin at
2/19/2004 05:51:00 PM

Fear and Loathing in Europe

The above is the headline to an aricle in The Herald which we commend to others and is linked from here.

The concluding sentence to the article is this 'If the democratic whole is to flourish, the days of the big two, or even the big three, must be numbered.'

The fear and loathing is because Europe's citizens can see their democracies now being destroyed before their very eyes!


posted by Martin at
2/19/2004 05:28:00 PM

Big Three Meetings to be Institutionalised

The International Herald Tribune reports that Germany, France and Britain are set to cock a snook at the rest of their EU partners by holding more trilateral summits. More Big Three Sessions...


posted by Martin at
2/19/2004 04:21:00 PM

Howard's Burnley Speech on Race, Asylum and Immigration

The full text of Michael Howard's speech in the BNP stronghold of Burnley is linked here from The Guardian


posted by Martin at
2/19/2004 12:14:00 PM

Tridummies Press Conference

Some choice quotes from the Berlin Trilateral Press Conference:-

Schroeder: What we are talking about first and foremost here is that we have to be quite clear about the fact that prosperity for the people in our countries, prosperity for Europe and for Europe's citizens can only be guaranteed in the long run if we succeed in, when it comes to implementing knowledge and implementing it into new products and thus creating new jobs, if we continue to be top when it comes to this matter, and in those areas where we are not yet top, try to become top, which is to say that more than ever before we have to focus on innovation.

Waffle Waffle now Chirac: I am sure the Chancellor will allow me to make this comment, and our foreign colleagues will not mind too much I hope, and I just wanted to say that we have come to a conclusion on our talks bilaterally to bring the VAT levels in the food industry, or rather in the restaurant industry, down to 5% and we will do so in 2006. I know you are smiling. You shouldn't smile in that way, you should realise that in France this is something that people had pinned high hopes on.

Grovel, Grovel and Bliar, apropos of nothing in particular, but the closest quote we could find on the generality of the proceedings, therefore taken entirely out of context but indicative of his tone: "That is what people want to hear...".....which of course entirely sums up our PM's philosophy!

For once the people of France, Germany and Britain can be completely united in any justifiable contempt they might feel at the pathetic and divisive antics of their leaders!

The FCO report is linked here


posted by Martin at
2/19/2004 11:52:00 AM

Rosemary Righter, what a Writer!

A new name to me and what style....WOW!! This opening to a column in the "Thunderer", brought to our attention courtesy of Christina Speight, co-founder of the Bow Group (another WOW!! I only learnt that yesterday) and of course editor of EU Facts Figures and Phantasies. If Britain is to be saved, (which on a grey snowy day, I gloomily increasingly begin to doubt) it will only be through the efforts of women such as these...

Tony's Berlin love fest is a doomed affair
By Rosemary Righter

It is told of one of London's literary lionesses that she flattened a pursuer with the riposte: "No thanks; I only sleep with the first 11." That is pretty much how France and Germany treated Tony Blair's panting puppy-love for "Europe" when he first did the EU rounds. Yet there he was in
Berlin yesterday, for a "Big Three" summit as elaborately choreographed and as little to Britain's advantage as was, centuries ago, the celebrated Anglo-French encounter at the Field of the Cloth of Gold. Barely able to contain his pride at having 'made it', the Prime Minister has strutted right into an ambush.

Can anybody be 'righter' than that!




posted by Martin at
2/19/2004 10:23:00 AM

Howard to Confront the BNP

Michael Howard the Conservative Party Leader will travel to Burnley today, heartland of BNP support, to deliver a speech on immigration, asylum seekers and racism. According to the BBC he will call on the Government for action against the expected influx of work-seekers from the new-entry EU countries.


posted by Martin at
2/19/2004 08:08:00 AM

The Berlin Tripartite Summit

SHAM ECONOMICS from SHADY LEADERS and SHALLOW MEN

I truly believe that if I am forced to watch just one more shot of Chirac emerging from a car and grabbing Schroeder in yet one more totally contrived bear hug my sickness of thought will truly move to my stomach.

Compounding the disgust at the events of yesterday was the presence of Britain's own Prime Minister at one these two political fixers' fiascos.

By the way B.Liar T-Shirts are available from teemarto.com telephone 0208 747 4554

Any interested in the coverage of the meeting can use these links: Chirac in EU snub to Blair, Chirac, My Pact is with Germany and 'Big three' fend off charges of EU power grab at summit from The Sun, The Guardian and The Independent respectively.


posted by Martin at
2/19/2004 07:55:00 AM
Wednesday, February 18, 2004

'Big Mess' - says Berlusconi

Well then! He's right about that, of course, but when it comes to the European Union he could be talking about any area of its operations or aspect of its institutions or workings.

In this case it is the meeting of the three wannabe 'Directoire' Countries (as B.Liar has picked up when discussing new non-democratic means of citizen control it is always best to put it into French it sound less menacing; like 'aqui communitaire' which means non-returnable power grab by stealth and deceit!).

A Link and a quote:-

Speaking in Rome yesterday (17 February), Mr Berlusconi said, "Europe doesn't need any directorate; it's just a big mess". EUobserver 18/02/04


posted by Martin at
2/18/2004 03:11:00 PM
Tuesday, February 17, 2004

Nice Treaty Blocking Minority

After May's EU enlargement it will be the Nice Treaty qualified majority voting rules that will prevail. To pass a proposal, 258 out of 345 total votes will be required. As Bulgaria and Romania will not yet have joined the total votes fall to 321 and on the same percentage basis 240 votes will be needed to win. As the three countries meeting in Berlin tomorrow control 87 votes between them, they have the ability to block anything of which they do not approve. If they rigidly stick together they hold the power to deadlock the EU as effectively as the Euro has achieved with the Eurozone economies!


posted by Martin at
2/17/2004 12:08:00 PM

Berlin proposes Industry 'Ûber-commissioner' to keep hands on levers of power

Ahead of tomorrow's summit aimed at continuing the Franco/German hegemony within the EU, (is Blair attending hoping for a nomination as next President?) comes this early announcement indicating exactly what is afoot.

According to the Sueddeutsche Zeitung, Berlin officials described the proposal to "bundle together [portfolios] into one person" as "food for thought", but the suggestion is part of the wider debate to ensure the real power remains in the right hands when ten new countries join the EU in May and the commission swells to 25 in November.

The full report from EUPolitix can be reached from here


posted by Martin at
2/17/2004 11:36:00 AM

Dutch Press Highlights EU Frictions

This excerpt is from the website of Radio Netherlands and is titled Second Class Citizens

Problems relating to European Union enlargement are widely discussed in the press today. According to the TELEGRAAF, "the Czech republic has threatened the Netherlands", expressing "vehement" disagreement with Dutch plans to bar workers from the new EU member-states. The Protestant daily TROUW reports that there is increasing bitterness among eastern Europeans about the fact that borders are being closed to their workers seeking jobs elsewhere in the EU. There is also a great deal of anger about the tough resistance of countries like the Netherlands and Germany to increased financial support for the poorer, mostly eastern European, regions of the EU. TROUW says, "The battle about support for the poor regions has already begun", and the paper quotes a Hungarian parliamentarian who says "we can no longer deny that the EU is being divided into a first and second class."


posted by Martin at
2/17/2004 11:26:00 AM

EU Conflicts and Contradictions to Culminate in Collapse?

The stalled Constitutional Treaty, lack of economic growth, garrotting and strangulation of the G & S pact by France and Germany, absence of acceptable replacement Presidential candidates, emerging enlargement difficulties, budget disputes, entrenched corruption and rapidly rising public disillusionment seem to be combining in a such a manner that the resultant cacophony might stir even the somnolent and Eurignorant Great British public.

On the Continent, the storm signals are plainly visible. Yesterday evening in an extraordinary public confessional on the second French TV channel, Jaques Delors and ex-PM Raymond Barre were subjected to almost two hours of relentless analysis and probing of their muti-year failures against the backdrop of a clearly faltering national and European economic system.

The EUobserver reports on a letter from six EU countries: Spain, the Netherlands, Italy, Portugal, Poland and Estonia calling for the smashed rules of the G & S pact supporting the Euro to be upheld, linked from here.

The planned Berlin meeting tomorrow will throw the other 22 members of the EU against the three attending. What a moment for Blair to pick to cast his country alongside the corrupted Chirac and struggling Schroeder. Rarely has the triumph of personal ambition over national interest been so openly nor obviously displayed. Another EUobserver article covers that event, linked from here.

Every cloud has a silver lining however, and for a description of one group who might have a reason to smile at these developments, see this morning's post on our sister blog Teetering Tories.


posted by Martin at
2/17/2004 05:22:00 AM
Monday, February 16, 2004

Future of Telegraph Group in Court on Wednesday

The Independent linked from here say the case will be one of the most sensational legal hearings in recent US corporate history.. It is scheduled to last three days with the verdict coming one week later.

The ownership of the main eurosceptic, and therefore most pro-democratic, titles in the UK are up for grabs....critical stuff!


posted by Martin at
2/16/2004 05:44:00 PM

Letwin's Previous Tax Cut Plans

Two days after being named as the source of a report that the Tories would slash taxes by £20bn,.......no not a report on the speech at lunchtime today by the Shadow Chancellor, but a flashback to the last election when Oliver Letwin managed to effectively scupper the entire Conservative Party campaign in its opening stages.

That quote from a report in The Guardian of 17th May 2001 continued as follows:-

......the candidate for Dorset West popped up 70 miles away in Stroud, Gloucestershire, to plead half guilty.

Yes, the old Etonian said, he had spoken to the Financial Times which reported that the Tories were planning a dramatic increase in their tax cuts from £8bn to £20bn. But Mr Letwin insisted that he had never mentioned the highly controversial £20bn figure which came close to derailing the Tory campaign.

Mr Letwin, until now an obscure intellectual, shot to national fame on Monday when he was named as the source of the FT report. As William Hague and Michael Portillo launched a damage limitation exercise on the first formal day of the election campaign, Mr Letwin went to ground in his constituency.

The question now is why is he trusted by the Tories to play with a straight bat for Michael Howard, he clearly never expects to be the actual Chancellor of the Exchequer or he would not have been so reluctant to abandon real job as a City Merchant Banker?

The newspaper report quoted is linked from here.


posted by Martin at
2/16/2004 05:36:00 PM

England run by Scotland

The article linked from the post below states the following:-

"Twice now, Tony Blair has had to rely on his Scottish MPs to ram through contentious legislation: first over foundation hospitals, then over top-up fees. Since neither measure will apply north of the border, English and Welsh voters are understandably cross"

Understandably cross is not how I would have described the reaction of some students of my acquaintance, presently attending a British university not far south of the Scottish border. Neither is it the reaction of anyone who believes in representative democracy and the principles of fair play handed down by generations of our forefathers and perfectly acceptable and workable before the election of the present unprincipled government. Bloody furious would probably be a more apt description and it is a fury that is like to mount as Blair and his like-minded cronies continue to trample over English democratic rights and traditions.

With the loss of much of the Westminster Parliament's powers to the EU, the spectacle of English legislation being increasingly rammed through by Scottish MPs whose constituents will not be subject to the consequences will inevitably be increasingly viewed as unacceptable.

William Hague and IDS made much of this matter, it is good that Michael Howard, having seen the results of this morning's YouGov poll, has finally and belatedly also awoken to the issue.


posted by Martin at
2/16/2004 04:21:00 PM

Michael Howard begins to show his Mettle

After 100 days of preparation the new Conservative Leader has finally addressed one of the major scandals in the country. We will comment further on this later today. Meantime the article concerned is in today's Daily Telegraph and may be read by clicking here Votes of Scotland MPs must be curbed says poll We quote:-

Michael Howard has reaffirmed his commitment to banning Scotland's MPs from voting on laws that only affect England as a poll shows overwhelming support for the policy throughout Britain.


posted by Martin at
2/16/2004 09:18:00 AM
Sunday, February 15, 2004

Blair Statists Conspire for BBC Coup

State Control of the BBC is what seems in store according to a report in this morning's Sunday Times (unlinkable), but summarised by Sky News and therefore readable from here. We quote the opening paragraphs:-

The BBC could be broken up and its independence removed under plans being considered by the Government, it is reported.

Documents leaked to The Sunday Times suggest the corporation would be divided up into sections for England, Scotland, Wales and Northern Ireland.

The job of ensuring the organisation's impartiality would be taken away from the board of governors and given to a Government watchdog.


posted by Martin at
2/15/2004 09:34:00 AM
Saturday, February 14, 2004

Howard's Hundred Days

A review of some of the popular press and their attitude towards the new conservative leader has been summarised by The Guardian this morning, is interesting and linked from here.

He comes out of the review quite well, but then the British popular press has a different agenda than this blog, theirs often appearing to be principally a maintenance of Blair in power while ours is for a full restoration of a Democracy as defined by Karl Popper in his book The Open Cociety and its Enemies. As therein defined : Both the main political parties, the entire British broadcasting network and almost the entire print media are all working for the opposite : Tyranny

My post of 5th February 'Enemies of Democracy in the EU and Beyond had more on this point with links to earlier postings on the same theme please click here.


posted by Martin at
2/14/2004 09:30:00 AM
Friday, February 13, 2004

First Faint Signs of Tory Backbone

Bill Cash and David Heathcot-Amory MPs are reported to have the courage to express slight doubts over the new Euro-federalist direction of Michael Howard and the spoiler lackey Letwin! Linked from here.

No reasonably well-informed observer of events in Britain should any longer doubt the depths to which Tory leaders will stoop to appease their Christian Democrat EPP paymasters after the reversals of this week. The sole question remaining is how long can their MPs and MEPs try to maintain the charade that they are men and women of principle? Have they the slightest degree of interest in the welfare of their constituents when put against their own present comforts and future pensioned security. Check out the detailed provisons of the tax free arrangements as we have and there can be little remaining doubt as to why European democracy has been sold downstream!

The only adjectives I can find to describe the people now abusing their supposed positions of democratic accountability are so venal that I hesitate to put them into print! Enough said I trust!




posted by Martin at
2/13/2004 08:43:00 PM

The 'Enhanced Cooperation' Embraced by Howard

This is it as set in law by the binding Treaty of Nice. Some political dream, n'est pas?

'Article 27a
1. Enhanced cooperation in any of the areas referred to in this Title shall be aimed at safe-
guarding the values and serving the interests of the Union as a whole by asserting its identity as a coherent force on the international scene. It shall respect:
Š the principles, objectives, general guidelines and consistency of the common foreign and security
policy and the decisions taken within the framework of that policy;
Š the powers of the European Community, and
Š consistency between all the Union's policies and its external activities.
2. Articles 11 to 27 and Articles 27b to 28 shall apply to the enhanced cooperation provided for
in this Article, save as otherwise provided in Article 27c and Articles 43 to 45.
Article 27b
Enhanced cooperation pursuant to this Title shall relate to implementation of a joint action or a
common position. It shall not relate to matters having military or defence implications.

Those wishing further detail can find it from Page 9 of the pdf version of the linked Nice Treaty, here.


posted by Martin at
2/13/2004 09:27:00 AM

Howard's Berlin Speech

The Daily Telegraph has Toby Helm in Berlin searching for the positive in a piece linked from here. Neither The Times, The Independent nor The Guardian seemed to have held the presses to report on the subject. BBC Coverage here, with this summary:-

The Tory leader said he was, "determined that Britain shall remain a positive and influential member of the EU".

.... and the EUobserver emphasising the absurd 'enhanced cooperation' aspect from here.

Fall out from the earlier disastrous decision by Howard to extend his EPP relationship gets mention on the letter page of The Times:-

From Mr Bruce Shaxson
It is with anger and despair that I learn of Michael Howard's reversal of Tory policies by demanding his MEPs support the most federalist group in the European Parliament

This follows a similar one that appeared in yesterday's Telegraph:-

Sir - Michael Howard is making a grave mistake by reversing Iain Duncan Smith's decision to withdraw from the federalist EPP-ED (report Feb.9). His decidion will be music to the ears of the UK Independence Party, who have been handed all the ammunition they need to mop up many
Tory supporters who are still smarting at the removal of their elected leader by a relatively small number of MP's.

Nigel Draper,
Potton, Beds.

We will provide further comment on the lamentable Berlin speech as it is found. We are searching for evidence of one occasion when Britain has used its veto, as we can not recall such use as ever having been reported, let alone as Howard stated, in one prime example of his display of ignorance and lack of research on the whole question of our European realtions:-

" You are understandably sick of constant British vetoes. And shall I tell you something? So am I. "

Absolute rubbish, typifying the whole underlying tone of obsequious crawling before his hosts. Our initial reaction to the speech (see posts below) seem re-inforced and will be expanded upon in detail on Teetering Tories later today.


posted by Martin at
2/13/2004 08:11:00 AM
Thursday, February 12, 2004

The Sun on Blair's Defence Sell-out

Today's leading article in the popular tabloid is linked from here.

Lucky for Michael Howard the EPP deal which committed the Conservatives to abandoning NATO was vetoed by his EPP non-German partners. Lucky for Blair, none of us yet know what concessions he made to Schroeder over dinner in Berlin! After the last such briefing it was many before the truth slowly seeped out.


posted by Martin at
2/12/2004 09:38:00 PM

Soundbites and first impression of Howard's Berlin Speech

And the European Union has a profound responsibility. For if it stands for anything, it is for the healing of our continent.
--------------------
There is no European public opinion; no European national identity. In the absence of a European demos, we are left with unadorned kratos: the power of a system that commands respect through force of law, not public affection.
--------------------------
It was a Conservative government which first applied for membership in the early 1960s. It was a Conservative government which took us into the European Economic Community in 1973. It was a Labour government which threatened to withdraw from Europe and held a referendum on that issue in 1975. It was the Labour party which stood on a manifesto of withdrawal from the European community in 1983, a manifesto on which Tony Blair was first elected to Parliament. Three years later, in 1986, it was Margaret Thatcher who was one of the leading forces behind the Single European Act which established the single European market.
----------------------------
Faced with a new EU initiative, our traditional response has often been to oppose it, to vote against it, to lose the vote, then sulkily to adopt it while blaming everyone else. You are understandably sick of constant British vetoes. And shall I tell you something? So am I.
---------------------------------
.....enhanced cooperation. It means that, instead of individual member states having fraught negotiations to opt-out of a new initiative, those that support it can simply decide to opt-in.
----------------------------
My policy is simple. Live and let live. Flourish and let flourish. That is a modern and mature approach.
-------------------
History will not forgive us if we squander it.
End quotes

Here was a speech of an ultimate egotist. A man deluding himself that one day he might lead his country, and that when that day dawned there would still be a role for a British Prime Minister.
How his German audience must have laughed up their sleeves as he adopted the concept (unworkably enshrined in the Nice Treaty) of enhanced cooperation' as his cause for the future of Europe.

I have opposed this man as party leader since the beginning, principally as he always appeared unelectable because the voters would never trust him. Firstly due to his high-profile as an ex-senior minister in the now unpopular Thatcher and Major governments, but secondly for his persona (see Alice Thomson's 'hunter-killer of Bambi's mother' analogy in the 'Telegraph' last weekend).

To those failings must now be added his increasingly bungled performance in Parliament, particularly his mishandling of the Hutton report. Now, posted here we have these two completely disastrous major policy speeches in one week.

With all Howard's earlier evident faults, I never believed that the one of 'stupidity' would be added to the list. This speech tonight and his attempts to keep the conservatives within the European People's Party Parliamentary grouping have now not only introduced, BUT elevated that flaw to the head of the list.

Conclusion: Horribly Embarassing Failure with no redeeming features whatsoever!. Poor Tories - poorer country! Read the whole thing in the post immediately below.


posted by Martin at
2/12/2004 08:17:00 PM

Howard's Speech in Berlin

The full text is available from this link to The Guardian


posted by Martin at
2/12/2004 07:36:00 PM

Howard's Trailered Treachery Temporarily on Hold!

No thanks to the leader of the Tory's, is a temporary hitch in Howard's attempt to renew membership of the ultra-federalist EU grouping the significantly named "European People's Party".

Perhaps to convince Eurosceptic British voters that something real had been gained by the 'hypocritical man of the night', his continental partners have scuppered plans for the announcement of a new deal as blogged in detail last evening. Read the latest report from EU Politix who seem to be the best source on this story: linked from here, from which we quote:-

The UK Conservative party's place in the European Parliament's 'EPP/ED' powerful centre-right group remains on ice after French and Italian colleagues refused for now to back Tory membership.

In a vote on Thursday, the EPP group took a political decision to allow the UK Conservatives to remain as allied members.

But the failure of over half the group to actually vote has meant that while today's vote may give an indicative political signal, it will not be legally-binding.


posted by Martin at
2/12/2004 06:20:00 PM

A Black Day for Britain

Thursday 12th February 2004, finds the country's Prime Minister and leader of the New Labour Party, holding a huge majority of around 160 seats in a cowered Westminster Parliament AND the leader of Her Majesty's opposition and the Conservative Party, both in the German capital of Berlin.

Howard's speech announcing the end of Conservative Oppositon to the complete submersion of this country within the European Union has already been extensively trailered (see posts below).

The full extent of the demands on our remaining sovereignty to be put upon Blair, will probably not become fully apparent until next week's full meeting with the French in attendance.

History will probably record this humilation as dating somewhat later than today, but unless a miracle occurs, now seems the moment.


posted by Martin at
2/12/2004 08:52:00 AM

Pressure on Poland Mounts

Gunter Verheugen, the EU enlargement commissioner, singled out Poland, by far the biggest newcomer, as a prime example of the dangers.

The above is taken from this morning's Daily Telegraph. The dangers referred to are destabilisation of the EU. Read the entire article from Man behind EU's expansion turns on new members


posted by Martin at
2/12/2004 08:40:00 AM
Wednesday, February 11, 2004
posted by Martin at
2/11/2004 08:45:00 PM

Microsoft Word and Downing Street

How spinners came to be unravelled could describe this link, which tells the tale of how a students thesis was turned into 'top secret'?? intelligence data for a government obsessed with presentation over substance. Not recommended for the IT challenged: Microsoft Word bytes Tony Blair in the butt


posted by Martin at
2/11/2004 08:28:00 PM

MEPs vote to end Working Week Opt Out

The malign members of the European Parliament broke off from over-indulging their multiplicity of self-indulgent appetites to vote to end the opt-out enjoyed by Britain on the working hours directive.

B.liar bought off the British Unions for his first election victory to sign on to the job destroying provisions of the Maastricht Treaty's Socialist Schedule. Now the MEP's are trying to re-activate their atrophied muscles to lay-down a marker for future action.

Come and join us in the filth and misery of our socialist squalor and poverty is the siren call from the recession-locked and depression-doomed, corrupted Continentals!

Read a more balanced report of this farce from EUobserverfrom which we quote this hilarious contribution:-

However, UK Green MEP Jean Lambert is of a different opinion. "A long-hours culture is bad for individuals and for society as a whole: it is a real threat to health and safety both through exhaustion and burn-out", she said.

The number of hours that can cause such horrendous results: 48 yes just 48 a week!

Something I feel sure is not an immediate danger for a UK Green MEP! (Unhappily)


posted by Martin at
2/11/2004 06:21:00 PM

Kant, Kalingrad, Konigsberg, Joshka Fischer and World Governance

Read it all from this link to German State Broadcaster 'Deutsche Welle' Kant Continues to Influence Modern Politics - pity it isn't Karl Popper!



posted by Martin at
2/11/2004 06:01:00 PM

Were Germany's Christian Democrats behind IDS Ouster

According to a recent BBC documentary on Anglo-German relations, it was fairly clearly implied that Chancellor Kohl of Germany's Christian Democrats party was largely responsible for getting rid of Margaret Thatcher and her replacement by John Major who it quickly became clear was very much a German poodle, who ingratiatingly sucked up to Chancellor until the fiasco of Black Wednesday destroyed the one-sided friendship, and of course the Conservative Party.

Now we watch as the plans of IDS to pull away from the German Christian Democrat dominated European Peoples Party all come to nothing as his successor announces a renewal of the hypocritical deal with the arch-federalists. Where will it be announced - tomorrow in Berlin, nice and handy for the pat on the head, perhaps?

Which Tory MEPs will have the nerve or courage to distance themselves from this tragedy, will this cause the long awaited split which the country now so desperately requires - time will tell!

For more links on this topic try EUobserver, The Scotsman and an earlier Q & A on the EPP fromEUPolitix


posted by Martin at
2/11/2004 04:43:00 PM

Infighting over EPP Deal but not from the Tories!

This report from EUPolitix highlights concerns only from the Continentals UK Tory MEPs put spanner in works

If the Tories really believe they can campaign in Britain on the federalist EPP manifesto where, as was mentioned on Samizdata.net yesterday, the popular reaction to the EU falls between dislike and loathing, then they will deserve very few MEPs after June to worry about which grouping in the Parliament they will belong.


posted by Martin at
2/11/2004 04:30:00 PM

Disgusting Deal on the EU by Howard

Reuters carries a report on a deal to be announced tomorrow, fittingly enough in Berlin by Michael Howard, that spells the end of Conservative resistance to the European Union by extending that party's membership of the extreme federalist European Peoples Party. Blair will also be in the German capital selling out more of this country's democracy and hard won freedoms, and no doubt receiving his instructions for further capitulation when he assembles with several of his ministers before the Franco/German axis next week.

Read the amazing facts of this supposed eurosceptic, Atlanticist's and clearly totally hypocritical political disgrace's total surrender to non-democratic EU federalism from the link to the item titledTories re-embrace European centre-right

Read the whole dreadful manifesto of the European People's Party which astoundingly among other horrors sacrfices Britain's separate foreign and defence policies and potentially seems ready to sever our essential NATO defence dependency, from this link:-

EPP 2004 Manifesto

Read some earlier comments on Ironies from here and here. I will scan the net for traces of protest or resistance from party members, and post any consoling results that might be found!


posted by Martin at
2/11/2004 03:27:00 PM

Straw did not know either!

The Guardian carries this story: Straw did not know 45 mins detail, also reported in detail with excerpts from Colin Powell's and Jack Straw's UN speeches for extra effect on the BBC's World at One today.

Jack Straw ('whose word no man relies on' see past posts for details!)) Foreign Secretary for Great Britain, alongside his boss the Prime Minister B.Liar also did not know that the 45 minutes related to battlefield weapons only. Can one govern without knowledge, even in this information age - it seems New Labour have been trying! Next we will be asked to believe that Alastair Campbell also was not told!


posted by Martin at
2/11/2004 02:57:00 PM

Showmethemoney! says EU Commission

Unsurprisingly the EU Commission has suggested almost doubling the amount of money they be given to waste or lavish upon themselves and their functionaries. Read their plea from here



posted by Martin at
2/11/2004 09:17:00 AM
Tuesday, February 10, 2004

Another Casualty of Blair's Increasing Mendacity - 'The BBC World Service'

I have been a listener of the above world renowned and respected international radio news service for more years than I choose to recall, many while it was only known as the "General Overseas Service of the BBC"

Another victim of Blair's destruction of what was known as good and honest about our country. Read this virtual obituary from a growing competitor, Radio Netherlands:-

Lord Hutton's report on the David Kelly affair, and the BBC's role in it, may have an unintended impact on Britain's influence in the world. Internationally, Britain's equivalent of a three-ocean blue-water navy is the BBC World Service and, increasingly, its television counterpart, BBC World.

The BBC's influence in the world is accomplished through a combination of three factors: First, where it is not available on television or the internet, BBC can be heard by way of its well-distributed network of shortwave transmitters. Second, BBC's formidable newsgathering resources allow it to be a source not only of general world news, but home news in countries where the domestic media are lacking due to government controls, or a poor media resources, or both. Third, and most important, for 80 years, the BBC has honed its credibility by defending its autonomy and occasionally antagonizing the British government.

Read the full article from this link





posted by Martin at
2/10/2004 06:47:00 PM

Reuters Mocks Anglo/French Joint Forces

A report of such new co-operation in the Financial Times, seems to get a mild ribbing from the major press agency. Headlined 'UK and France plan joint forces - paper' it is linked here.

Announcing units of 1500 men that could be ready in 15 days and deployed for missions that would last no more than a month sometime from 2007, it certainly seems a classic among New Labour Damp Squid Press Releases....particularly the sting in the tail that the grandoise EU Rapid Reaction Force of 60,000 seems to be going to be quietly forgotten!

Does this mean 750 troops from each country, I wonder? Hardly enough to police a G8 summit is it!


posted by Martin at
2/10/2004 01:59:00 PM

45 Minute WMD only a 'Scenario'

Startling new information on the government's reporting of the Saddam threat comes this morning in The Independent which reports on an interview with Dr Brian Jones, the former head of the nuclear, chemical and biological branch of the MoD's Defence Intelligence Staff, who made headlines when he told the Hutton inquiry that he had formally complained about the dossier.

In today's interview, Dr Jones made it clear that his biggest fear was that his life's work on the dangers of nuclear, chemical and biological weapons proliferation risked being undermined by the failure to find stockpiles in Iraq...."

The article later continues : "Dr Jones, who saw the intelligence assessment that included the 45-minute claim, pointed out for the first time that it merely outlined "possible scenarios" as opposed to any specific threat posed by Iraq.

"I think it was dealing with an attempt to think through possible scenarios. It wasn't, I think, dealing with, 'This is the threat'. It was saying something more like, 'If the threat we are worried about is there, how would it work? How would it play in a more practical sense?'."

The controversy over which minister was told what about the 45-minute claim had missed the real point. "The fact was that it was so nebulous that there was nothing you could really hang your hat on," he said."

More startling information, such as who did NOT brief ministers can be found from this link.


posted by Martin at
2/10/2004 10:35:00 AM

Concerns over the Independence of the Judiciary

Further signs that Britain may be entering a period of great constitutional uncertainty as MP's finally voice their concerns over the proposed politicisation of the judiciary; undertaken it should not be forgotten at the behest of a foreign power: the European Union. We quote from a BBC report:-

The Tories said the court already had the "taint of party politics".

The committee said plans for reform were drawn up in a "hurried" way, with fewer than 12 weeks allowed for the consultation period.

It warned the "over-hasty" introduction of such fundamental reforms could jeopardise their success.

If the judiciary was not satisfied that the proposals would safeguard its independence it was "highly doubtful" that they should be allowed to proceed

That report is linked in full from here Legal reforms attacked by MPs. Meanwhile from Dubai come some foreign concerns for the independence of the our broadcasting from political control: UK broadcasting future is in peril after Hutton report from the online edition of
Gulf News. To what terrible straits is Blair bringing Britain?

The apparent sell out of the new Conservative Party leader at this critical historical moment is highlighted this morning on our sister blog Teetering Tories, while the almost now complete self-destruction of the UK Independence Party is, as usual chronicled on UKIP Uncovered.


posted by Martin at
2/10/2004 08:47:00 AM
Use eBay's PayPal service if you appreciate this blog - to make fast, easy and secure donations to help towards our broadband and other costs! martin.cole@gmail.com Many thanks!.