Millennium Blitzkrieg - Email for other epub info on the novel
NOW ON KINDLE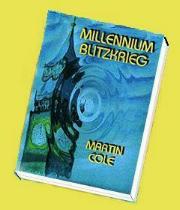 Read the novel, wriiten in the 1990s, which warned of an EU catastrophe by the centenary of WWI in 2014.
- Order for your Kindle from Amazon.com - Order for your Kindle from Amazon.co.uk - Order for your Kindle from amazon.de - Order for your Kindle from amazon.fr
---

Copyright2005MartinCole
---
Blogs:
Teetering Tories
UKIP Uncovered
The Strasbourg Cesspit
Anglo Saxon Chronicle
EU Realist
EU Referendum
Road to EU Serfdom
Eurosoc.com
Adam Smith Blog
Fainting in Coils
Tim Worstall
Anthony Wells
Samizdata.net
The Commons
USS Clueless
UKIP Uncovered
Blogs en Francais:
L'UE L'A EU
---
Archives:
February 2003
March 2003
April 2003
May 2003
June 2003
July 2003
August 2003
September 2003
October 2003
November 2003
December 2003
January 2004
February 2004
March 2004
April 2004
May 2004
June 2004
July 2004
August 2004
September 2004
October 2004
November 2004
December 2004
January 2005
February 2005
March 2005
April 2005
May 2005
June 2005
---
E-Mail Me
---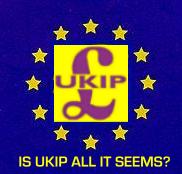 Click here to learn much much more
---
Tuesday, November 30, 2004
More on ID Cards from the Liberal Party


Dear Editor,

Listening to the debate on ID cards I was I was struck by three key points:

Firstly, David Davis for the Conservatives , pointed out that both Spain and Turkey had ID cards but these had not helped to prevent the recent bombings in Istanbul and Madrid. In that case can we expect the Conservatives to vote against ID cards ,rather than just ask questions ?

Secondly the Spokesperson for the Welsh Nationalists pointed out that a conservative estimate of cost of introducing ID cards could fund 6,000 more police officers.

Lastly if readers do not believe that ID cards are the thin end of the wedge of a Police State, consider the impact on seasonal workers crossing the country for work or those whose home lives breaks down suddenly, when failure to notify the authorities of a change of address will lead to a fine of £1,000 and a criminal record.

We urge every reader to write to their MP asking that plans for ID cards in 2012 be scrapped and replaced with 6,000 more police officers now! That would give both better security and real value for money.

Cllr Steve Radford President of The Liberal Party
posted by Martin at
11/30/2004 01:17:00 PM

Big Brother Arrives

One thousand pound fines for failing to register a change of address, two and a half thousand pounds for not registering for an ID card, read all about the Blair and Blunkett's Brave New World from this link to a report by Philip Johnston in today's Daily Telegraph.



posted by Martin at
11/30/2004 10:08:00 AM

Barclay Brothers

An interesting and well researched item on the brothers of Brechou from Bloombergs, linked here.



posted by Martin at
11/30/2004 08:29:00 AM
Monday, November 29, 2004

Has the French State been subsidising 'Britain in Europe' which promotes the destruction of our Nation, our Democracy and our Sovereignty?

The following is from the beginning of a list of donors to the propaganda organisation 'Britain in Europe' :
Quote
Our donors:

http://www.britainineurope.org.uk/aboutus/whofundsus

Since our launch we have received donations of £5,000 or more (cash or
in-kind) from:

Mr Paul Adamson
amicus
ALSTOM UK Ltd
Unquote

Note the name of the third donor on this list. Check out these links: here, here, here and here and read of the the mind boggling subsidies paid by French (and regrettably EU) tax payers in support of this French conglomerate - HOW! One must ask can such an impoverished company, totally dependent upon state aid and blindfolded EU nudges, pay ANY of such money to undermine either OUR NATION - OUR DEMOCRACY OR OUR SOVEREIGNTY?


posted by Martin at
11/29/2004 06:50:00 PM

Pension Cap for Judges spells Danger to Liberty

The exemption from the pension cap of one and a half million pounds revealed yesterday should set alarm bells ringing up and down the land.

This most despotic and autocratic of governments, which has marginalised any check on its powers from parliament by building upon the non-democratic mechanisms provided in the European Treaties, has now contrived to grant the most senior judiciary special privileges, unavailable to the general public and at a stroke therefore destroying public trust in the essential judicial independence, which is itself of equal importance to the democratic rights to remove our rulers but now effectively slipping away.

I hope today to see an outcry from the entire legal profession against this dangerous proposal.



posted by Martin at
11/29/2004 08:30:00 AM
Sunday, November 28, 2004

Preparing for EU Careers

Visit this link they will prepare you for a job with the EU Commission, which will soon be the only ones left!

Was Vasco da Gama the first to understand the Lisbon Agenda - Get Out of Europe QUICK?



posted by Martin at
11/28/2004 06:11:00 PM

Government orders breach of anti-sleaze code.

The article revealing the latest abuses of office by the tawdry Blair administration is revealed in an article in the Sunday Times by their PoliticalEditor David Cracknell, which is titled Ministers hit by sleaze row over 'stars for Labour' and is linked from here. A small quote:-

It is clear that ministers are expected to supply names of people met during the course of government work, according to party sources. However, the office of John Prescott, the deputy prime minister, found the requests "totally unacceptable" and refused to co- operate.



posted by Martin at
11/28/2004 09:02:00 AM
Saturday, November 27, 2004

EU Third World and Planetary Plunder continues apace!

This item was taken from the Europa Midday Express News Service of yesterday:-

EU and Comoros Islands sign fisheries partnership agreement

The European Commission, on behalf of the European Union, and the Islamic Republic of the Comoros Islands have initialled a Fisheries Partnership Agreement which will replace their 1988 framework fisheries agreement. They also initialled a new Protocol for a period of 6 years from 1 January 2005. This Protocol, which concerns exclusively tuna, will provide fishing opportunities for 57 vessels, down from 65 at present: 40 tuna seiners (unchanged) and 17 long-liners (down from 25). The annual financial compensation will amount to € 390,000 (up from €350,250), of which 60% will go to measures to strengthen responsible fishing and sustainable fisheries in Comoros waters. The licences paid by the ship owners concerned will increase by 50% to €3,375 for seiners and €2,065 for long-liners. The fishing possibilities and the technical measures have been agreed in accordance with the measures in place under the Indian Ocean Tuna Commission (IOTC) and the latest scientific advice. The EU is gradually replacing its bilateral fisheries agreements with partnership agreements which place greater emphasis on helping the partner country establish responsible fisheries in their waters. Vessels operating under this Protocol come from Spain, France and Italy.
posted by Martin at
11/27/2004 04:23:00 PM

Opposition to EU Constitution up 9 percent!

This is from the weekly 'VoteNo' e-mail bulletin. Sign up for your own copy from here.

An ICM poll for Vote No published this week found a dramatic increase in opposition to the EU Constitution. Respondents were asked: "If there were a referendum tomorrow, would you vote for Britain to sign up to the EU Constitution or not?"

The poll, conducted on 17 and 18 November, found a record 69 percent against signing up, with just 24 percent in favour. This represents a 9 percent increase in opposition since the last time the poll was asked, and an 11 percent increase in the gap between the "yes" and "no" sides. The last time ICM asked the same question on 16 June the poll found 60 percent against the Constitution and 26 percent in favour.



posted by Martin at
11/27/2004 01:05:00 PM

East of England Regional Assembly under fire

The Epping Guardian speaks out about their regional assembly in their 25th November 2004 edition. Some highlights:-

It has a £2m annual revenue budget that includes over £500,000 in subscriptions from local councils. Epping Forest District Council is paying over £10,000 a year to be a member, but it only meets "approximately" twice a year.....

The assembly has 106 members none of whom was specifically elected to it. Only two-thirds of the membership are elected councillors from local authorities, yet the assembly is making key decisions that will have a widespread impact on not just our district but the east of England for decades to come.....

"The assembly was set up by the Government in response to its own policy of being in favour of regional government and also in response to the EU policy that it likes to deal with the regions rather than with national government.

"At the moment I feel that I and my colleagues have no option but to work with the regional assembly because the Government has given it certain powers. However I feel those powers would be better exercised by the existing authorities the county councils and district councils."
Mrs Laing said: "I know our own councillors such as Robert Glozier do their best within the perimeters of the regional assembly, and of course while it exists he and his colleagues have to do that, but it's an affront to democracy to call it an assembly. It misleads people into thinking that it has some kind of democratic validity."




posted by Martin at
11/27/2004 08:47:00 AM
Friday, November 26, 2004

What was Saddam seeking in the Salt Marshes?

An interesting view on how the Saddam Hussein regime was draining the Salt Marshes over the believed cradle of civilisation may be found from this link.

Were the WMD Blair still apparently believes Hussein was seeking or developing in reality something from an earlier now lost civilisation, the likes and power of which we can only begin to imagine. Is this why the salt marshes are apparently not being allowed to reflood. Or is it the legendary treasures and pre-history of Ur and Babylon that now awaits discovery?


posted by Martin at
11/26/2004 08:23:00 PM

The North East Fight against the EU Assemblies Continues !

The following is a letter sent out today by Neil Herron of NEARA:-


There are a number of issues which are still causing concern:
the relationship between ANEC and NEA, and also the funding and liabilities of these organisations.
I am sure the public will take a very close interest at any attempt to attach any potential cost liability of an unelected assembly to the North East taxpayer, especially after rejecting the proposals for an elected assembly so emphatically.
You will be aware that across the country, and also in the North East, that many local authorities are now preparing to withdraw (and also withdraw funding) from these unelected bodies (assemblies / chambers) as they are now perceived to be nothing more than 'talking shops.'
The emphatic no vote in the North East has highlighted the existence of these organisations.
Plus, major decisions that are being made with regard to planning and housing are being done without democratic accountability.
We are receiving many calls and letters from members of the public who feel that they have been the victims of a political con trick.
However, there are some obvious and very serious implications financially and legally should the NEA/ANEC start to lose its funding, or even attempt to continue in its present form.
Therefore, I would appreciate clarification on the points below and I am sure that in the interests of transparency, especially because of the potential compromise legally of members and local authorities, there will be nothing short of full disclosure. We are quite prepared to challenge the legitimacy of the continuance of these organisations legally, but I am sure that this will not be necessary.
1.Can you confirm that the contracts with the 32 permanent members of staff (is this figure correct?) are all in the name of ANEC as the employer?
2. Is ANEC t
he accountable body and registered as an employers association under S122 of the TU and Labour Relations (Consolidation) Act 1992 ? If not, who is?
3. Can you clarify what legal advice was taken by ANEC or its members prior to creating such a large number of permanent staff especially as both ANEC and NEA are 'unincorporated associations.' Has the question of personal liability of the members been highlighted and legal advice sought?
4. Can you please forward copies, or make available, this legal advice? ( To clarify the legal position I have provided a link to the necessary section of the Freedom of Information Act 2000 here )
5.Can you confirm whether there are any lease agreements and contracts in the name of NEA or are they all in the name of ANEC?
If so, could you please provide copies or arrange an appointment for us or our legal representative to inspect them?
If not, whose name are they held?
6.Can you please supply me with current copies of both the Constitution and Rules of Procedure for both the Association of North East Councils and the North East Assembly?
7. Can you please advise me whether the members of the said organisations will be covered in any future action by legal representatives of ANEC and NEA, their local authorities (or social partner member) or their own legal representatives?
8. In previous correspondence you referred to an insurance policy and you made an offer to 'indemnify' local authorities from any potential liability arising from any action taken against the NEA or ANEC. Please can you please now provide a copy of this insurance policy and clarify whether the policy is held in the name of one or both of the unincorporated associations? If it was a personal indemnity from you as the Director can you tell me where the funds will be accessed to underwrite any potential financial liability?
I am copying this to the Chief Executive of Sunderland City Council, Ged Fitzgerald, David Jennings, District Auditor and also Sunderland Council's members of both bodies.
There are also a number of other interested and associated parties who have been copied in to this communication.
I am sure that you will personally make it available to the members and employees of both ANEC and NEA in order to make them aware of a potential compromise to their personal situations.
cc. Ged Fitzgerald, Chief Executive, Sunderland City Council
cc. Councillor Bob Symonds, Leader,Sunderland City Council, NEA and ANEC member.
cc. Councillor Bryan Charlton, Deputy Leader,Sunderland City Council, NEA and ANEC member.
cc. Councillor Dave Allen, Sunderland City Council, ANEC member.
cc. Councillor Anne Hall, Sunderland City Council, ANEC member.
cc. Councillor Paul Watson, Sunderland City Council, ANEC member.
cc. Hilary Knox, Assistant Director, NEA
cc. Councillor Peter Wood, Leader of the Opposition, Sunderland City Council.
cc. Ian Scotter, Regional Assemblies Division
cc. Christopher Booker, Sunday Telegraph
cc. Ross Smith / Zoe Hughes, Newcastle Journal
cc. Tony Kearney, Northern Echo
cc. Jeremy Wicking, Sunderland Echo
cc. Mike Thatcher, Public Finance Magazine
cc. Peter Hetherington, The Guardian
cc. David Jennings, District Auditor
cc. Tilbrook's Solicitors
cc.Bernard Jenkin, Shadow regions Minister.
bcc. numerous including North East Council Leaders, Chief Executives and councillors.
posted by Martin at
11/26/2004 06:28:00 PM

Policing Britain's Capital November 2004.

Please read the Cover Story in this week's The Spectator linked from here.



posted by Martin at
11/26/2004 06:11:00 PM

Markets and Reality

As the dollar weakens ever further in the face of the growing deficit in the still growing US economy, the prospects for the virtually stalled Eurozone economy get ever bleaker as the Euro climbs to ever greater heights. Meantime what is the true Euroland deficit and who if anybody is going to pay for it?

This comment from Greece gives an insight into the nature of what I believe has to be a major future problem, it is titled 'New 4.5 Billion Black Hole' and is linked from here.

This latest report comes following an earlier admission that Greece failed to meet the Euro joining provisions in the first place, that shortfall itself involving yet more more unquantified billions. Meantime new EU President Barroso has indicated there is no need to change the terms of the Growth and Stability pact, which is now honoured only in the breach by the largest countries - in spite of that agreement essentially being the sole underpinning of the jopint European currency.

Maybe the markets are correct and it is just me who is crazy, time will tell!



posted by Martin at
11/26/2004 02:34:00 PM
Thursday, November 25, 2004

EU Dealing with Terrorists - You must be ........!!!!

The following came from Anne Palmer, thanks again!

Statement by the spokesperson of the EU High Representative Javier Solana dated 25th November 2004.

With reference to the BBC interview broadcasted today, the Office of the High Representative Javier Solana claifies that at no time Dr Solana wished to imply that direct contacts between himself and Hamas had taken place.

Any mention of contacts or meetings with Hamas referred to soundings and impressions conveyed to him but gathered by governments and other parties on the ground.

At no time did the High Representative, nor his Office, hold direct contacts with Hamas or any other organisations appearing on the EU "terrorisrt list".




posted by Martin at
11/25/2004 08:52:00 PM

Macshame Again!

The dreadfully misinformed man and Europe Minister has a column in The Guardian as one might well have suspected. This is a direct quote, here is the link for those who cannot believe the absolute nonsense at first, second or third reading:

"A very long meeting of Europe's 25 foreign ministers. With 25 of us the agenda items can go on and on. I tell my officials I would rather not speak unless there is a vital UK interest to defend. I notice that my silence means fellow foreign ministers are really having to listen to what Britain is saying."

The Foreign Office is now staffed by Ministers who do not just frequently lie to their own public, (as opposed to foreigners for which they are supposed to be paid) but are also clearly stupid to boot!



posted by Martin at
11/25/2004 08:05:00 PM

Britain's quite awful Europe Minister at least nails the Tories!

Denis Macshame, the Europe Minister, whose outrageous attacks on those who disagree with his views on the EU have never been withdrawn, has now at least turned his attack to the nonsense issued by supposed eurosceptics in the Tory Party:

Read the full article from here, or just these quotes for the flavour:-

"Easy, isn't it?" declared John Redwood in an e-mail circulated to UKIP members. No, it isn't easy. What is being proposed would put Britain in breach of its legal obligations. International law, whether contained in EU treaties or in any other treaty, is a constraint, at times irritating, and is sometimes ignored by nations that do not have the same respect for the rule of law as centuries of obedience to law have dunned into every British citizen.....

It is time to be honest. UKIP is. It wants out. But the argument that you can be in the EU and pass national legislation breaking treaty obligations just does not add up. Britain is in the EU. Or outside the EU. There is no third way.

I believe there is a third way, however. That is to drum up sufficient public outrage at the inefficiences, corruption and plain wrong-headedness of the present EU among this and other member states, that a large enough body of them makes a complete restructuring possible. The necessary first step is for some individual political parties to face the fact that continuation in the present EU, absent any such major restructuring, is a recipe for economic decline, continued corrupting and corruption of their own national political institutions as we are seeing in Britain today, and ultimately, I fear, a totalitarian tyranny as defined by Karl Popper, which is now almost upon us!





posted by Martin at
11/25/2004 04:21:00 PM
Wednesday, November 24, 2004

Alex Dakers accuses Mandelson of Treason in Carlisle

The charge:

In November 2004 Pursuant to Article 213 (2) (ex157(2)) of the treaty establishing the European Community, Peter Benjamin Mandelson; Crown Steward and Bailiff of the manor of Northstead not being a person compelled to do so, took an engagement in the nature of an oath intending to bind the said accused to commit an offence namely treason. He freely gave a solemn oath of fidelity before the Court of Justice of the European Union "To perform my duties in complete independence, in the general interests of the communities; in carrying out my duties, neither to seek nor to take instruction from any government or any other body; to refrain from any action incompatible with my duties."

This being treason and misconduct in a public office in direct contradiction to the Oaths he swore as a Member of Parliament for Hartlepool and that, which he swore as a member of Her Majesties Privy Council.


NOTICE OF TREASON
Treason Act 1351
Section 3, Treason Felony Act, 1848
Laying of Information
Names of Suspect

Rt. Hon Peter Benjamin Mandelson "Crown Steward and Bailiff of the manor of Northstead"


Address of Suspect: C/o 10 Downing Street, LONDON SW1

Date:__________________________

To: The Chairman of the Bench,______CARLISLE____________ Magistrates Court,

(Address:)____ Magistrates' Court _____________________________________
_____________Rickergate _______________________________________________
______________CARLISLE ________________________________________________
______________Cumbria __________________________________________________
______________CA3 8QH______________________________________________

Misprision of Treason

I am a loyal subject of Her Majesty Queen Elizabeth II, and wish to remain so. I am aware of her solemn Coronation Oath to the nation in 1953, to govern the British people 'according to their laws and customs'.

As a loyal British subject, it is my duty to bring to your attention any actions or planned actions which may amount to treason or misconduct in a public office by any individual or group of individuals, or which may occur in the future if not prevented, so that the appropriate action can be taken.

It is AN OFFENCE at Common Law ("Misprision of Treason" - see Halsbury's Statutes, 4th Edition, Vol. 11, p. 818) for any person who knows that treason is being planned or committed, not to report the same as soon as he can to a Justice of the Peace.

Accordingly, I am supplying you with the following information about the treason and misconduct in a public office that I humbly believe will or has undoubtedly been committed by Peter Benjamin Mandelson .

(1) Perjury of the Oath of Allegiance;
Took an engagement in the nature of an oath; Intending to bind the accused; To commit treason.

(2) Treason Felony, seeking to divest the Queen of her dominion, since he will be seeking to impose laws made by foreigners within her dominion;

(3) and Treason Proper or High Treason, adhering to the Queen's enemies within or without the Realm.'

In November 2004 Pursuant to Article 213 (2) (ex157(2)) of the treaty establishing the European Community, Peter Benjamin Mandelson; Crown Steward and Bailiff of the manor of Northstead not being a person compelled to do so, took an engagement in the nature of an oath intending to bind the said accused to commit an offence namely treason. He freely gave a solemn oath of fidelity before the Court of Justice of the European Union "To perform my duties in complete independence, in the general interests of the communities; in carrying out my duties, neither to seek nor to take instruction from any government or any other body; to refrain from any action incompatible with my duties."

This being treason and misconduct in a public office in direct contradiction to the Oaths he swore as a Member of Parliament for Hartlepool and that, which he swore as a member of Her Majesties Privy Council.

Parliamentary Oath
I ………. swear by Almighty God that I will be faithful and bear true allegiance to
Her Majesty Queen Elizabeth, her heirs and successors, according to law. So help me
God.

Privy counsellors Oath;

You do swear by Almighty God to be a true and faithful Servant unto The Queen's Majesty as one of Her Majesty's Privy Council. You will not know or understand of any manner of thing to be attempted, done or spoken against Her Majesty's Person, Honour, Crown or Dignity Royal, but you will lett and withstand the same to the uttermost of your power, and either cause it to be revealed to Her Majesty Herself, or to such of Her Privy Council as shall advertise Her Majesty of the same. You will in all things to be moved, treated and debated in Council, faithfully and truly declare your Mind and Opinion, according to your Heart and Conscience; and will keep secret all matters committed and revealed unto you, or that shall be treated of secretly in Council. And if any of the said Treaties or Counsels shall touch any of the Counsellors you will not reveal it unto him but will keep the same until such time as, by the consent of Her Majesty or of the Council, Publication shall be made thereof. You will to your uttermost bear Faith and Allegiance to the Queen's Majesty; and will assist and defend all Jurisdictions, Pre-eminences, and Authorities, granted to Her Majesty and annexed to the Crown by Acts of Parliament, or otherwise, against all Foreign Princes, Persons, Prelates, States, or Potentates. And generally in all things you will do as a faithful and true Servant ought to do to Her Majesty so help you God.

Juramentum est indivisibile, et non est admittendum in parte verum et in parte falsam. (An oath is indivisible; it cannot be in part true and in part false).

May I remind the court that, ignorance is no excuse and Halsbury's Laws of England confirms that a breach of Magna Carta is an offence at common law. This provision is the reason why Crown servants take Oaths. The Bill of Right 1689 specifies the form of the oath and the current wording of the parliamentary oath was established in the Promissory Oaths Act 1868.

May I respectfully refer you to Archbold, Section 25, dealing with "High Treason". There, the Treason Act 1351 is cited with approval. In Section 25.9, the following is a quotation from the case of Fost.C.L. (183): "High Treason, being an offence committed against the duty of allegiance, it may be proper to consider from whom and to whom allegiance is due. With regard to natural born subjects, there can be no doubt. They owe allegiance to the Crown at all times and in all places natural allegiance is founded on the relation every man standeth in to the Crown considered as the head of that society whereof he is born a member the duty of allegiance ariseth out of it and is inseparably connected with it." The commentary in Archbold continues: "The subjects of the King owe him allegiance".

First, the Treason Act 1351 is still in place. This states that the offence of treason is committed, inter alia, "when a man be adherent to the King's enemies in his realm, giving them aid and comfort in the realm". This of course remains good law despite the amendments to the various Treason Acts in the Crime and Disorder Act 1998. An oath recently sworn by the said Peter Benjamin Mandelson to the Court of Justice of the European Union, demonstrates his wish to perjure his oath of allegiance and to undermine the British constitution.

Treason may be committed by words spoken or in writing - see the cases of R. v. Wedderburn (1746) R. v. Francia (1717) and R. v. Watson (1817).

See also (Specifically)

R v. John Eadon (1813) ER 1064, R v William Edgar (1817) ER 145

Under the Treason Felony Act 1848, it is treason if "any person whatsoever [shall, within the United Kingdom or without] devise or intend to deprive our most gracious Lady the Queen from the style, honour or Royal Name of the Imperial Crown of the United Kingdom".

It also states that it is treason if "any person whatsoever shall, within the United Kingdom or without devise or intend to put any force or constraint upon both Houses or either House of Parliament".

Treaty establishing the European Community Article 213 (2) (ex157 (2)) The Members of the Commission shall, in the general interest of the Community, be completely independent in the performance of their duties. In the performance of these duties, they shall neither seek nor take instructions from any government or from any other body. They shall refrain from any action incompatible with their duties. Each Member State undertakes to respect this principle and not to seek to influence the Members of the Commission in the performance of their tasks. The Members of the Commission may not, during their term of office, engage in any other occupation, whether gainful or not. When entering upon their duties they shall give a solemn undertaking that, both during and after their term of office, they will respect the obligations arising therefrom and in particular their duty to behave with integrity and discretion as regards the acceptance, after they have ceased to hold office, of certain appointments or benefits. In the event of any breach of these obligations, the Court of Justice may, on application by the Council or the Commission, rule that the Member concerned be, according to the circumstances, either compulsorily retired in accordance with Article 216 or deprived of his right to a pension or other benefits in its stead.

May I refer you to the Treason case of R. v Casement (1917). In that decision, it was stated that "the offence of treason is committed by persons adhering to and giving aid and comfort to the King's enemies".

The Casement decision referred to the Treason Act 1543, which I believe still to be good law. It may be unprecedented for an appointed UK commissioner to commit Treason, but then the Court itself said: "The Court is not much impressed by the fact that there is very little precedent for a trial the nature of which we are dealing with today" (All ER Reports [1916-17] page 216).

It is further stated in this decision that "The subjects of the King owe him allegiance". To transfer powers from Her Majesty and Her Majesty's Government to the European Union to the extent that is envisaged suggests that Peter Benjamin Mandelson does not owe Her Majesty full allegiance and indeed is seeking to undermine her authority.

The case of R. v. Casement is also quoted in support of the following proposition: "Any act done by a British subject which weakens or tends to weaken the power of the Queen and of the country to resist or attack the enemies of the Queen and country, constitutes giving aid and comfort to her enemies within the meaning of [The Treason Act 1351]".
The offence of misconduct in public office was defined in Russell On Crime, 12th Edition (1964) (J W Cecil Turner) in this way:
"Where a public officer is guilty of misbehaviour in office by neglecting a duty imposed upon him either at common law or by statute, he commits a misdemeanour and is liable to indictment unless another remedy is substituted by statute. The liability exists whether he is a common law or a statutory officer; and a person holding an office of important trust and of consequence to the public, under letters patent or derivatively from such authority, is liable to indictment for not faithfully discharging the office."
In R v Wyat (1705) 1 Salk 380, it was held, that where an officer neglects a duty incumbent upon him, either by common law or statute, he is for his default indictable.

Lord Mansfield stated in R v Bembridge (1783) 3 Doug K B 32:
"Here there are two principles applicable: first, that a man accepting an office of trust concerning the public, especially if attended with profit, is answerable criminally to the King for misbehaviour in his office; this is true, by whomsoever and in whatsoever way the officer is appointed…… secondly, where there is a breach of trust, fraud or imposition, in a matter concerning the public, though as between individuals it would only be actionable, yet as between the King and the subject it is indictable. That such should be the rule is essential to the existence of the country".
In R v Borron (1820) 3 B&Ald 432, a criminal information was applied for against a magistrate. Abbott CJ stated, at page 434:
"…..They [magistrates] are indeed, like every other subject of this kingdom, answerable to the law for the faithful and upright discharge of their trust and duties. But, whenever they have been challenged upon this head, either by way of indictment, or application to this Court for a criminal information, the question has always been, not whether the act done might, upon full and mature investigation, be found strictly right, but from what motive it had proceeded; whether from a dishonest, oppressive, or corrupt motive, under which description, fear and favour may generally be included, or from mistake or error. In the former case, alone, they have become the objects of punishment. To punish as a criminal any person who, in the gratuitous exercise of a public trust, may have fallen into error or mistake belongs only to the despotic ruler of an enslaved people, and is wholly abhorrent from the jurisprudence of this kingdom."
In R v Llewellyn-Jones [1968] 1 QB 429, the Registrar of a County Court was convicted of offences of misbehaviour in a public office. The indictment charged "misbehaviour in a public office, contrary to common law" and alleged that court orders had been made "with the intention of gaining improper personal advantage and without proper regard to the interest of [a named person]". On appeal to this court, it was submitted that, in the absence of allegations of fraud or dishonesty in the counts of the indictment, the ingredients necessary to constitute a criminal offence were not present. Giving the judgment of the court, Lord Parker CJ referred to Bembridge and to Borron and stated, at page 436G:
"Accordingly the court proposed to take the same line as the trial judge did when he came to rule on the argument presented before him, when he said that he did not propose to attempt to give an exhaustive definition of what was covered by misbehaviour in a public office, it being sufficient to say that in his opinion what was alleged and what he proposed should be alleged in the count was sufficient. This court proposed to take the same line and to look at the words of the indictment, and looking at those words the court is satisfied that at any rate what is there alleged, if proved, would constitute the offence at common law of misbehaviour in a public office.
Assuming in [Counsel's] favour that there must be some element of dishonesty involved, a dishonest motive, a fraudulent motive, it seems to this court that that is inherent in the words of the count. It is really impossible to conceive of a case in which action of this sort is not taken with the intention of gaining personal advantage and without regard to the interests of the beneficiary. It is true the word "dishonestly" or "fraudulently" does not there appear, but it is inherent in the description of the offence."

This information has been laid by:
Alexander Dakers, xxx xxxxxxxxxxxxx, Carlisle, Cumbria, CAxx 7xx

N.B. Practice Directions by the Lord Chief Justice for the Classification of the Business of the Crown Court and Allocation to Crown Court Centres

With the concurrence of the Lord Chancellor and pursuant to sections 75(1) and (2) of the Supreme Court Act 1981, I direct that, with effect from October 16th 2001, the following directions shall supersede those given on May 26, 1995 as amended:

Classification

For the purposes of trial in the Crown Court, offences are to be classified as follows:
Class 1:
(1)Misprision of treason and treason felony.
(2) Murder.
(3) Genocide.
(4) Torture, hostage-taking and offences under the War Crimes Act 1991
(5) An offence under the Official Secrets Acts.
(6) Soliciting, incitement, attempt or conspiracy to commit any of the above offences.




posted by Martin at
11/24/2004 01:49:00 PM

Mandelson's EU Commission posting contravenes the European Community Treaty

Peter Benjamin Mandelson, is currently employed as The Crown Steward and Bailiff of the Manor of Northstead. This is an "office under the Crown" in the United Kingdom, appointment to which disqualifies its holder from sitting as a Member of Parliament. It is used to allow MPs to effectively resign their seats, a move which is formally prohibited. A number of offices have been used for this purpose, but only the Manor of Northstead and the Chiltern Hundreds are used today.

The office is only nominally paid, but paid nonetheless, contrary to Article 213 (2) (ex157 (2) Treaty establishing the European Community. Where it states The members of the Commission may not, during their term of office, engage in any other occupation, whether gainful or not.

The Article 213 THEN GOES ON TO STATE:

... When entering upon their duties they shall give a solemn undertaking that, both during and after their term of office, they will respect the obligations arising therefrom and in particular their duty to behave with integrity and discretion as regards the acceptance, after they have ceased to hold office, of certain appointments or benefits. In the event of any breach of these obligations,the Court of Justice may, on application by the Council or the Commission, rule that the Member concerned be, according to the circumstances, either compulsorily retired in accordance with Article 216 or deprived of his right to a pension or other benefits in its stead.

As Mr Mandelson has on Monday of this week, taken the office of EU Trade Commissioner, we must assume he has provided the solemn undertaking required above. If he retains the office of The Crown Steward and Bailiff of the Manor of Northstead (which I assume he does) then it will be interesting to see whether he will now be compulsorily retired or be given the chance to continue to serve without benefit of his EU pension rights.

I hope that if the British Parliament has any say in this matter, they will take the chance to demand the appointment of our one British EU Commissioner from among those many citizens of this country who have no hint of any scandal whatever attached to their names!

Access the new EU Commission from this link. Already the EU Parliament's approval of this team, less than one week ago seems in grave error!



posted by Martin at
11/24/2004 07:04:00 AM
Tuesday, November 23, 2004

Joschka Fischer orders 'Forget Barrot' and then......

The German State Broadcaster, Deutsche Welle, thereafter immediately issues a long report on the French EU Transport Commissioner and Commission Vice-President's chequered past. Read their report in English from here.

Is the continual sleaze and corruption that seems to emanate from practically everything the EU touches, finally striking some chords of protest within the 'core countries' too?



posted by Martin at
11/23/2004 06:23:00 PM

Civil Contingencies Bill would outlaw Ukrainian style Democracy Protest.

In Kiev today massed protesters prevented enough MPs getting into their parliament to form a quorum. The Civil Contingencies Bill now being rammed through our parliament would prevent similar peaceful protest by the people of Britain.

More of course on the real authoritarian nature of Blair's government when the detail of the Queen's speech can be examined in detail. ID Cards and a new Crime Agency plus signing up for a EU army as Hoon did yesterday seems a clear enough continuation.



posted by Martin at
11/23/2004 05:23:00 PM

Britain cedes its armed forces to the EU

As forecast on this blog many times, the signing over of Britain's armed forces to the EU has now begun. Geoff Hoon undertook this latest action in Brussels yesterday as may be read from this link to a web-site in the USA World Peace Herald.



posted by Martin at
11/23/2004 10:30:00 AM
Monday, November 22, 2004

Try 'The Policeman's Blog'

I particularly enjoyed the posting on the blogger's appreciation of the Hunting Ban legislation, linked here.



posted by Martin at
11/22/2004 05:25:00 PM

Crisis in Ukraine over alleged rigged election - Unelected and tainted EU Commission takes majority and increasing control over 25 ex-Nations!

Ironic and incredible! The first item takes the headlines of the BBC and other media outlets - the latter receives barely comment at all!

One country that has barely ever known democracy and always lived in the shadow of Russia seems set to continue in the same old way, but grabs all the news attention - WHILE ELSEWHERE.........well just read this blog!



posted by Martin at
11/22/2004 05:01:00 PM

Increasingly totalitarian, non-democratic and clearly corrupt EU to get armed forces!

On the day another shady group of appointees takes charge of the Continent under the shadow of yet more charges of past digraces, the new evil empire sees fit to announce an expansion of its plans to acquire armed forces, one group of which - it is expected to be announced later this week - will be provided by Britain. The latest report is from The Scotsman and is linked here. It begins as follows:

EU Defence Ministers Commit to 13 Battlegroups

EU defence ministers are to set up 13 elite battlegroups by 2007 to arm the bloc with rapid intervention forces to snuff out incipient international crises.

Announcing the plans in Brussels today, Dutch Defence Minister Henk Kamp said the 1,500 strong battlegroups would give the EU "credible, rapidly deployable, coherent force packages."






posted by Martin at
11/22/2004 01:55:00 PM

14 years of Drift and Deceit

Yesterday marked the fourteenth anniversary of the resignation of Margaret Thatcher. A useful moment to consider what has occurred since.

Fourteen years of being led by men who not only seem unprepared to do anything to act in the interests of the country they lead, but all too often give every appearance of having no knowledge of where that interest might lie nor concern at their own ignorance.

For half that period we had the gray and indecisive John Major, who rammed through the Maastricht Treaty with assurances as to the value of his always frail-looking and forlorn opt-outs. The first of these fell within weeks of Blair's arrival and his signing on to the Amsterdam Treaty, since compounded and worsened at Nice and by his signing of the EU Constitutional Treaty in Rome at the end of last month.

This letter which was forwarded to me over the weekend, clearly from a devout Christian, sums up another's thoughts on these dark and dismal years where even hope seems now extinguished across much of the nation:

A message to Robert Kilroy-Silk

Quote
"I have just listened to Robert having a debate with Piers Morgan and a lady (whose name escapes) on the television.

Please could you convey to Robert my heartfelt thanks to him for his tremendous efforts on behalf of the nation.

Mr Morgan ( poor lost soul) was not listening or did not choose to listen to what Robert was saying. Thanks be to the Lord that I was listening and hopefully were many others.

I will e-mail you again before the next General Election to enquire as to whether Robert feels the UKIP is still representative of his beliefs and values and if so I will vote for them. I have not been so politically motivated by an MP's message since Margaret Thatcher, therefore have obviously been disenchanted for a long time.

I hope Robert's burning desire to stand up and speak out for what he believes in doesn't take up all of his time and that he stiil manages to fit his grandchildren in regularly. They must be terrifically proud of their grandad.

I hope and pray for God to give him the strength and vision to continue his important work. He speaks so eloquently.

This great country needs all Britons whatever race or creed to stand up and fight for its independence at this dangerous time.

Thank you again Robert

God bless you

J ( A Christian )
Unquote
posted by Martin at
11/22/2004 08:28:00 AM
Sunday, November 21, 2004

EU President Barroso's Missing Years

As the past of French EU Commissioner now Vice-President Jaques Barrot, will take centre stage in the EU tomorrow - Is it not time once again to consider the missing years from the CV of President Barroso, first raised on this blog many months ago?

HOW CAN THE EU NOW ACCEPT AS COMMISSION PRESIDENT (according to the report linked below) A MAN WHO HIDES SIX YEARS OF HIS POLITICAL PAST?

Any interested in the Marxist background of the man who will take almost sole charge of the old continent tomorrow morning would be advised to read the report from this link, of which this quote is most pertinent:-

The political history of the conservative Portuguese leader, now 48 years old, began during the leftist military ''Carnation Revolution'' of 1974. He was the student leader of the Movement for the Renovation of the Proletariat Party/Portuguese-Marxist Leninist Communist Party (MRPP/PCP-ML).

This was a long name for a miniscule Mao-inspired organisation that had pegged the rest of the political left as ''revisionist'', ''social-fascist'' and ''imperialist sell-outs''.

In the official biography of the man who is now Portugal's prime minister, that period of his ''revolutionary outbreak'' was left out.

After a brief mention -- ''he began his political activity as a very young man, even before Apr. 25, 1974'' -- six years of his political life were omitted from the official text, which goes on to describe how in 1980 he joined the Social Democratic Party (PSD), which is conservative despite what its name might suggest.




posted by Martin at
11/21/2004 08:12:00 PM

George W. Bush's Second Victory of his Second Term.

Not much commented upon in the British Sunday papers was the foregiveness of Iraqi debt agreed to by France, Germany and Jean-Claude Trichet head of the ECB at the Paris Club meeting this weekend.

It will be fascinating to see if this concession by the Europeans will result in an easing of their economic pain by a strengthening of the US Dollar in the markets tomorrow morning - or if continuing dollar weakness might indicate further concessions in other areas might still be required.

Surely joint dependency and objectives can now be defined and agreed and the trans-Atlantic economic partnership thus resumed? If not could the second Bush term reverse the longstanding US policy of pushing Britain ever deeper and further into the EU - we can but hope!

The first victory of the second term - we'll let history judge - perhaps Fallujah?



posted by Martin at
11/21/2004 07:47:00 PM

More real live danger from the EU and BBC cover-up.

I regularly link the Christopher Booker column in the Sunday Telegraph from UKIP Uncovered, more infrequently from this blog. Today I reproduce in full (linked here) one especially amazing and to me dangerous sounding piece of EU stupidity:-


The new electrical rules will be a shock
Last Monday, inspired by a recent report in this column, Radio 4'sYou and Yours programme devoted its lead item to the chaos that will be unleashed on January 1 when John Prescott's new Part P regulations come into force, applying to all domestic electrical work. The programme-makers had rung me for contact details of the electrician Clive Brittain, featured in my column, who then played a lead role in their own item.
When I briefed the BBC, I told them they could not do a properly professional job on covering these new regulations without explaining why they were being so hastily and chaotically introduced to comply, under an EU directive, with standards laid down in Brussels. Knowing the BBC's reluctance to admit that unpopular legislation emanates from Brussels, I was not surprised when the sole explanation offered for this controversial edict was that, thanks to faulty electrical work, "people are killed, fires are caused and people are injured on an annual basis".
This may also explain why the programme also made no mention of the new colour-coding for electrical cables, also due on January 1, which many electricians fear could actually increase the risk of such accidents. The new system reverses the old coding whereby red indicated a live wire and black stood for neutral, so that black now indicates a live wire and neutral is blue. This could lead to confusion, as the Institute of Electrical Engineering acknowledges, but it tamely concludes that "it is generally considered that the risk is a manageable one".
Naturally the BBC could not risk crossing its own wires by mentioning this, since it could scarcely have avoided mentioning that this change is also necessitated by the requirement - you've guessed it - to "harmonise with Europe".
posted by Martin at
11/21/2004 03:08:00 PM

A lighter post for Sunday!

A parody with apologies to Edward Lear:

The Foul and the Dirtyrat

The Foul and the Dirtyrat went to sea
In our nation's last lifeboat,
They took our money,
and our land's milk and honey,
Wrapped up in a five-euro note.

The Foul looked up to the stars above,
And sang through his thick catarrh,
"O corrupted Dirty, O Dirty my love,
How dreadfully Dirty you are,
You are,
You are!
How dreadfully Dirty you are!"

Dirty said with a scowl, " You rascally Foul,
How temptingly sweet you sing!
Oh! let us be married;
too long have we tarried:
But what shall we do for a ring?"
They sailed away for less than a day,
To the land where the pong-tree grows:
And there in a wood a Commissioner stood,
With a ring of stars in his nose,
His nose,
His nose,
With a ring of stars in his nose.

"Dear Com', are you willing to sell for our drilling
Your ring?" Said the Commie "I will"
So they took it away, and were married next day,
By a turncoat who lives on the hill.
They sated their greed, by betraying the freed,
And supped with a short-handled spoon,

And hand in hand on the edge of the sand
They danced by the light of the moon,
The moon,
The moon,
They danced by the light of the moon.


posted by Martin at
11/21/2004 08:59:00 AM
Saturday, November 20, 2004

Resistance to EU ID Cards

The following is being circulated by Brian Mooney of the New Alliance:-

The Queen's Speech will include plans for compulsory ID cards - something that the EU has been working for over the past 5 years.

David Blunkett said that there could be massive benefits to society. Massive costs more like it, and when the costs are better known and the 'benefits' questioned - the percentage supporting the initiative dropped to 19%.

If you oppose EU ID cards - or even if you don't but are happy to let people make up their own minds - please consider forwarding this to as many people in the UK who might reasonably thank you for letting them know about it.

Supporting info/discussion is available on www.theregister.co.uk including further links on the second page

Demonstrators burnt mock 'Blair' and 'Blunkett' ID cards (clearly showing the yellow & blue flag) in front of Sky TV cameras yesterday. Click here for a good picture and Blunkett is also slated for making silly comments....



posted by Martin at
11/20/2004 08:46:00 AM
Friday, November 19, 2004

Liberal Leader's Speech at English Constitutional Convention Launch.

Some time ago I promised to post the above speech by Councillor Steve Radford. I am now happy to be able to do so:

Quote

You have just heard speeches from two very new and young parties, may I on behalf of one of the countries oldest parties make a contribution. My Party, The Liberal Party is now in its 120th year. We proposed the idea of an English Constitutional Convention with our partners, not because we shared a clear idea of a policy objective but a common concern that the way this government had tackled constitutional reform, was at best ad hoc and fragmented.

I came here as someone who is proud of both Scots and English parentage, I share British identity with equal pride and inspiration from both sides of the border.

You have already heard other speakers labour the point of the Midlothian question, and the cause for concern that MP's representing Scots and Welsh assemblies are imposing laws and reforms upon England that their own assemblies rejected for their nations. I use two examples, the abolition of Community Health Councils and the introduction of Foundation Hospitals.

Whatever you think of the merits of these issues, the fact they are imposed by those who do not feel the consequences, strikes at the very heart of representative democracy.

We in the Liberal Party believe we also should be alarmed that democracy is invidiously being undermined when approximately 60% of our legislation rolls down from an unelected and unaccountable EU Commission in Brussels.

As the opt outs fall away or are being surrendered, this burden of excess legislation and regulation is being of concern to ever greater numbers of both our businessmen and the wider community.

We also fear that many essential elements of British Liberal Democracy are being eaten away.

The right to trial by Jury, Free Speech and the presumption of innocence until proven guilty are being eroded.

As a councillor, recently I was subject to a totally unbalanced investigation by the so called standards board. The so called ethical standards board investigator refused to interview defence witnesses and worked on the basis I and another councillor were guilty from the outset.

The crime was that we had criticised in a letters page an Executive Lib Dem Cllr for holding a public meeting over a major council housing fiasco and who deliberately excluded opposition councillors from attending.

The standards board deemed that the councils own constitution was irrelevant and immaterial. We had no right to free speech and to criticise the Lib Dem Executive Member on the basis we should show respect.

How can opposition councillors call any administration to account, when under the hammer, that they could be dragged to a kangaroo court for failing to show respect.

Respect should be earned, not demanded on force of being removed from office!

Even worse, councillors who are active in councils pursuing community campaigns are then debarred from speaking in council on such things as planning matters, as they have a personal interest. Well what is the point of being a councillor, if not to have a personal interest and
personal commitment to the community!

Who gave these unelected buffoons the power to remove councillors from office? Would MP's impose such stupidity upon themselves? We in the Liberal Party believe only the electors, or criminal trial by jury should remove a councillor from office.

The right of an elected member to speak against negligence, abuse of power and corruption lies at the heart of British Democracy. Lastly let us look at the so called reforms to date:

- Elections by party list removes more power away from the elector and delivers it to the party machine. This is alien to the British and Liberal tradition.

- We need a constitutional review to look at all these issues and bring together people with different ideas and different traditions, but by doing so create a national debate to defend and reinvigorate our democracy in the face of so many perils.

Some will call us little Englanders because we believe in our way of life and democracy. I believe we are big Englanders, because we know the strength of traditions and our intent to protect what is unique to us.

On behalf of the Liberal Party I thank you for coming together today and I wish you all well in this important national debate.




posted by Martin at
11/19/2004 10:35:00 AM
Thursday, November 18, 2004

Dr MacShame WELCOMES!! the new EU Commission??

The following press release has just been issued by the Foreign and Commonwealth Office:-

Quote
FOREIGN AND COMMONWEALTH OFFICE News Release issued by the Government News Network on 18 November 2004


Europe Minister Dr Denis MacShane today welcomed the European Parliament's support for the new EU Commission.

"I welcome the European Parliament's strong vote for the new Commission today. And I wish to pass on my congratulations to Commission President Jose Manuel Barroso who has built an effective and modern looking team drawing on the experience and enthusiasm from all 25 countries. It comes at an exciting time for a new look Europe that now needs to press ahead to take forward a dynamic and exciting agenda and

tackle the challenges that we all face

."
Unquote

The

challenges we all face

could be summarised as

lack of democracy, lack of any democratic accountabilty, lack of debate in formulating new legislation, unemployment, economic mismanagement, corruption going apparently unchecked at every level of the organisation and within each of its component parts etc.,etc.,etc.



The people of the EU do not welcome this new commission, of which the smooth talking but disgraced British Commissioner who oiled his way through a BBC Radio 4 PM interview this evening is such a prime example. Democrats across Europe do not welcome this new Commission. I do not welcome this new Commission, I find it abhorrent that my country of birth is now to be governed and controlled by such as they and the domestic politicians who both sold our birthrights and appointed such men!

Note the now almost compulsory lie within Foreign Office press releases:
"Barroso who has built an effective and modern looking team" .....

he of course did nothing of the sort, merely juggling portfolios amongst the assorted

appointed

mediocrity. What happened to 'integrity in public' from those supposed to represent our once nation's 'public face'? I thought diplomats were sent abroad to lie for their country!


This is yet one more day of shame for Europe!

posted by Martin at
11/18/2004 06:14:00 PM

Enforcers of the 'EU Popperian Tyranny' given POWER

The one-time democracies of Europe had their newly appointed controllers confirmed into their positions by the EU Parliament today. The latter body, having exercised its principle role in the once every five-year vote, can now effectively resume its life of indolence and excess for the next few years, leaving the overssing of the legislating by shady and secretive eurocrats to the latest bunch of lacklustre national political losers and otherwise no-hopers on the Commission.

The Scotsman has this report of some late resistance from the recently feuding top two of the UK Independence Party.



posted by Martin at
11/18/2004 04:04:00 PM

What about Democracy for Us?

In the post below I reproduce what Anne Palmer wrote to the BBC yesterday.

The absence of posts over recent days was the result of some unexpected travel commitments. Normal posting will now be resumed.

I did catch on CNN the press conference, where stomach churningly, the British Prime Minister recently returned from signing away our own Constitution without public assent or parliamentary approval, stood silently by as President Bush boasted of the achievements of bringing democracy to Afghanistan and, from next January, Iraq. He also extolled the benefits of democratic government, the form of government that Britain has now effectively lost thanks partly to the perfidy and duplicity of our present Prime Minister and his recent predecessors. A 'Tyranny' as defined by Karl Popper now enslaves twenty-five former countries of Europe.

Where is our democracy? Search the EU Constitution that Blair so recently signed and wake-up to the fact that IT has ceased to exist! Why do Afghanistan and Iraq receive our sacrifices to attain that of which we are now deprived?



posted by Martin at
11/18/2004 02:55:00 PM

Not just Democracy

The following was sent by Anne Palmer to the BBC Programme 'Farming Today
Your programme today was mainly about Fox Hunting and "Democracy". I see 'democracy' as the will of the majority over the minority, so what is this democracy? Most certainly the Prime Minister has spoken a great deal about it, and Iraq is to have a democratic election in the new year (all being well) whether they want democracy or not. Many thousands of people have died in the search for democracy, but have the nations of the 'west' lost their way in the furtherance of this 'democracy'?
Farming is mostly about the raising of cattle, poultry and fish-all living creatures that are born and bred for us to kill and eat. We hang 'tags' on their ears, plump them up with various injections-for our benefit-just for us to eat. We saw in recent years, millions of cattle destroyed in funeral pyres across the Country and along with them family pets destroyed not to eat but because of thoughtless unnecessary laws. On some occasions the spread of that 'foot and mouth' decease was brought about because too many abattoirs had closed through high costs and regulations. If fox hunting is cruel, then so is the raising of animals to die simply so that we might eat them. The fox does not even kill to eat; it kills because that is its nature. Fox hunting is to go because the democratic Government says it has to go, and that Government has been democratically elected.
The people of the North East Counties have spoken loud and clearly that they want their own Local and District Councils to remain because they truly 'bring democracy closer to the people', yet their voices are being ignored and the unelected Regional Assemblies are to remain in place according to the Deputy Prime Minister, regardless of the people's vote. Is that "democracy"? The people's vote was a rejection of this country of England being split up into Regions, a democratic vote by the people, yet a vote that appears that it is to be ignored by the Deputy Prime Minister.
The Prime Minister made a great play on the word "democracy" whist he was in America at the White House; he wants Iraq and now Palestine to have 'democracy', and the latter a "state" in its own right as long as it embraces "democracy". In his latest speech he used the word 'democracy' many times, but is that all it has become, 'a word'?
So what is this "democracy" that we are so proud to share with others and want others to have too? Is it all that it is 'cracked up' to be? We have fought and many have died fighting for freedom in this country, and many of our brave soldiers are laying down their lives now, fighting for strangers we have never met, so that they too can have a slice of freedom and this magical 'democracy' they have heard so much about. To be able to vote freely for their leader. To actually "take part" in what they are being led to believe, is the running of their Country.
It is not democracy when government does not listen to the people. It is not democracy when people we vote for cannot stop EU legislation from destroying our industries. It is not democracy when our Prime Minister signs for a new constitution for this Country when he knows without doubt that the people do NOT WANT IT. It is not democracy when a Government deliberately sets about destroying the very people's Common Law Constitution that even the Government are supposed to observe and protect. It is most certainly NOT democracy to deliberately continue further and deeper integration into what many of us know by now will eventually become a federal State of European Union in the full knowledge that it is, in this instance, against the wishes of the vast majority of the people in this country by a powerful few. It is not democracy when a National Government puts the undemocratic European Union before their own Country.
A gentleman on your show this morning was to decide whether to break the law by continuing to fox hunt. There are so many things now that are against the law, even politically correctness is not the 'joke' it once seemed to be, but has serious undertones, for many people speak quietly in hushed tones over matters they might have spoken about openly at one time. Why? Because of fear of being overheard and accused under some new law or legislation and taken to Court.
Our once wonderful Police seem to have become simply "Tax Collectors" for the government, so much so, that millions of people may now have a police "record". So where does that leave the gentleman who wants to continue hunting? Soon all of us may have a police record, so what? A police record may soon become a badge of honour against this Government, and that is where "anarchy" begins, because sooner or later the vast majority of the people will no longer listen to the few. The ban on fox hunting is not quite as simple as it at first may seem, because even those of us that have never even seen 'fox hunting' realise that it is the British way of life that is at stake here, and that is what this Government appears to be Hell bent on destroying through the democratic destructive vote over the few. The history of this Country that the democratically elected do not appear to appreciate or understand.
We have lost the true 'democracy' and freedom we once had and I 'pray', I really do pray, that it comes back naturally without having to fight once more for both. The people are beginning to fight back as shown in the democratic referendum on the North East Counties last week. That was a 'legitimate and legal' fight, please remember that fact.
Slowly, over the years in government through the so-called democratic vote of the people, the Government have systematically overruled the law above the law, the very basic foundations of this country, its Constitution, yet the present government would eagerly take on board an EU constitution that, even as a democratically elected Government of this Country, they would no longer have the power to alter one dot or comma of that EU constitution.

So where, since we have democratically elected this Government to represent us, is this magical wonderful democracy now? Anne Palmer.

Wolverhampton
posted by Martin at
11/18/2004 02:49:00 PM
Friday, November 12, 2004

EU's economic strangulation of its member states to continue apace

The EU today issued its eurozone growth forecasts for the first quarter of 2005 and final quarter of this year at 0.2 to 0.6 per cent, linked here. Can an economy get any closer to being stalled without actuallt slipping into reverse. We will be watching the actual figures with interest.

Only the bloated bureaucrats and officials of this grotesque organisation can now be seen to prosper. Visit this posting on a new UKIP MEP who has taken to describing himself as a walking cash dispenser, linked here.



posted by Martin at
11/12/2004 04:23:00 PM

When Thieves (of Democracy) Fall Out!


Tension between Tony Blair and Jack Straw over the referendum on the European Constitution (Photo: Council of the European Union)
The picture above and following post is from EUobserver
linked here
.
Blair cautious on setting date for referendum 09.11.2004 - 10:02 CET | By Marit Ruuda UK Prime Minister Tony Blair is said to be at odds with his Foreign Minister Jack Straw over the timing of the EU Constitution Bill, which will pave the way for a referendum.
Mr Straw would like to rush through the legislation as soon as possible, while Mr Blair is reluctant to give the bill a top priority.
Mr Straw is also pushing for the government to give a firm confirmation to hold the referendum on the European Constitution in the spring of 2006, reports the Independent.
Mr Blair, however, does not want to be tied to a specific time.
According to the newspaper, Mr Blair is reluctant to give the bill top priority, because it would not leave parliament enough time to get through other legislation before the elections.
posted by Martin at
11/12/2004 09:50:00 AM

Brussels, the Government and the FSA are out to get you

Another small example of how we are all being fleeced from this link to an Independent report on a different racket which concludes as follows:-
"..... new rules being imposed on the motor industry next year by the Financial Services Authority in line with a Brussels directive could force up the cost of car warranties by as much as a quarter.
The legislation, introduced in compliance with the Insurance Mediation Directive, means that car warranties must be classed as insurance policies. Therefore, dealers will have to be registered with the FSA and warranties will become liable to Insurance Premium Tax, VAT on the tax and whatever mark-up the insurance company puts on top, costing the car industry millions of pounds. The warranty, for instance, on a three-year old BMW3 series could go up from £510 to £637.50.
"I believe this is a case of the law of unintended consequences," he said. "What a farce, the FSA can now dictate who can and cannot service one of your cars."
posted by Martin at
11/12/2004 09:39:00 AM
Thursday, November 11, 2004


Remember too, those NOW betraying them!

(Photograph from Sky News linked here)



posted by Martin at
11/11/2004 08:03:00 PM

Britain's shameless EU Minister Dr Macshane welcomes Lithuania's enslavement!

Read it direct from the spinmeisters of the Foreign and Commonwealth Office (if Britain ever ratifies the EU Constitution will they rename that Department to reflect the truth that we no longer have either Foreign or Commonwealth authority and merely state the new reality so that it becomes the 'Commonimpoverishment Office'?) linked from here.


posted by Martin at
11/11/2004 07:39:00 PM

Get Letter Writing!

Soon now, the Government will be writing a speech for Her Majesty to read at the opening of Parliament, the contents of which may contain words expressing the hope of ratifying the proposed "Treaty ESTABLISHING a Constitution for Europe".

Ratification of the EU constitution would not only breach Her Majesty's Coronation Oath to the people, it would also destroy the Common Law Constitution of this country, for it is meant to become the Constitution of all the Member States in the European Union. Her Majesty is expected to do as her Minister's bid. As a constitutional Sovereign, the Queen acts on the advice of Her Ministers, and not only that, letters to Her Majesty are forwarded to the Secretary of State for Constitutional affairs so that he too may know of the people's approach to Her Majesty.

It will therefore be up to the people to reject the EU constitution thus saving not only our Country from being governed forever by the Union, but also saving our Queen?

From Anne Palmer.



posted by Martin at
11/11/2004 03:57:00 PM
Wednesday, November 10, 2004

What 'T' (for traitor?) Blair and 'J' (for Judas?) Straw signed (Number 3)

ARTICLE I-54
The Union's own resources
1. The Union shall provide itself with the means necessary to attain its objectives and carry through its policies.
2. Without prejudice to other revenue, the Union's budget shall be financed wholly from its own resources

Bye bye 'no taxation without representation'





posted by Martin at
11/10/2004 06:52:00 PM

What 'T' (for traitor?) Blair and 'J' (for Judas?) Straw signed (Number 2)

In certain areas and under the conditions laid down in the Constitution, the Union shall have competence to carry out actions to support, coordinate or supplement the actions of the Member States, without thereby superseding their competence in these areas.

Bye bye self-governance and national policing responsibilities probably bye bye freedom too!





posted by Martin at
11/10/2004 06:21:00 PM

What 'T' (for traitor?) Blair and 'J' (for Judas?) Straw signed (Number 1)

The Union shall have competence to define and implement a common foreign and security policy, including the progressive framing of a common defence policy.


posted by Martin at
11/10/2004 06:14:00 PM

A Final EU Constitution Version (Don't hold your breath)

A version dated 29th October is finally available - it references the Queen's AUTHORISATION and contains this clause:-

ARTICLE I-6
Union law
The Constitution and law adopted by the institutions of the Union in exercising competences conferred on it shall have primacy over the law of the Member States.

Bye bye Britain!





posted by Martin at
11/10/2004 06:08:00 PM
Monday, November 08, 2004

Vote-No Cinema Advertisement

The cinema ad that has been released with 'Bridget Jones:The edge of reason' may be viewed from this link.



posted by Martin at
11/08/2004 04:01:00 PM

One Way Labour could lose Control

This report in The Independent makes interesting reading for those concerned with the likely course of British politics.



posted by Martin at
11/08/2004 10:44:00 AM
Sunday, November 07, 2004

Twice financially disgraced British EU Commissioner calls for EU Reforms?

The depravity and shame of the Blair administration will reach a level of high farce tomorrow, when the disgraced and demonstrably unprincipled Peter Mandelson, Britain's sole EU Commissioner will deliver a paper to the Confederation of British Industryon reforming the EU.

One wonders what topics will come under the critique the new Commissioner, unreasonable obstacles towards the camouflage of colleagues housing loans, inconvenient obstructions in selling EU passports in exchange for donations to friendly political causes???? Or even...... the appointment of friends with zero qualifications to positions of high power and influence perhaps?

Judge yourself from this Daily Mail link.

How can Britain ever be considered as serious about EU reform when it has named its recently most disgraced politician as its sole representative to that body for the next five years? Tony B....Liar ?????



posted by Martin at
11/07/2004 08:10:00 PM
Use eBay's PayPal service if you appreciate this blog - to make fast, easy and secure donations to help towards our broadband and other costs! martin.cole@gmail.com Many thanks!.