Millennium Blitzkrieg - Email for other epub info on the novel
NOW ON KINDLE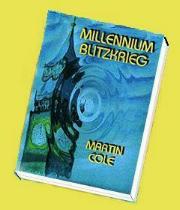 Read the novel, wriiten in the 1990s, which warned of an EU catastrophe by the centenary of WWI in 2014.
- Order for your Kindle from Amazon.com - Order for your Kindle from Amazon.co.uk - Order for your Kindle from amazon.de - Order for your Kindle from amazon.fr
---

Copyright2005MartinCole
---
Blogs:
Teetering Tories
UKIP Uncovered
The Strasbourg Cesspit
Anglo Saxon Chronicle
EU Realist
EU Referendum
Road to EU Serfdom
Eurosoc.com
Adam Smith Blog
Fainting in Coils
Tim Worstall
Anthony Wells
Samizdata.net
The Commons
USS Clueless
UKIP Uncovered
Blogs en Francais:
L'UE L'A EU
---
Archives:
February 2003
March 2003
April 2003
May 2003
June 2003
July 2003
August 2003
September 2003
October 2003
November 2003
December 2003
January 2004
February 2004
March 2004
April 2004
May 2004
June 2004
July 2004
August 2004
September 2004
October 2004
November 2004
December 2004
January 2005
February 2005
March 2005
April 2005
May 2005
June 2005
---
E-Mail Me
---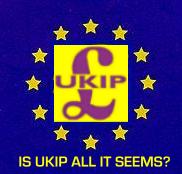 Click here to learn much much more
---
Sunday, November 30, 2003

Aussies call it as it is - 'US snubbed as Britain redirects military ties'

Tomorrow's The Sydney Morning Herald has a headline that pulls no punches on the reality of the momentous, foolhardy and treacherous step undertaken by the British Government this past weekend:

Britain has taken a dramatic step towards a full-fledged European army, signing up to Franco-German proposals for a planning headquarters outside NATO.

The deal, reached by British, German and French officials in secret talks in Berlin last week, establishes an operational command in Brussels, allowing the European Union to run day-to-day battlefield missions for the first time.

Risking a major clash with Washington, it points to a definitive break with British defence doctrine of the past half century......


posted by Martin at
11/30/2003 08:13:00 PM

Donald Rumsfeld Cautions on Duplicate EU Command Post

EU Business reports a moderate but concerned initial reaction to the reported EU Defence Agreement from the US Secretary of Defence. It is headlined 'Rumsfeld cautions against EU moves to create separate military planning' and quotes him as saying:

"I certainly think that NATO has a fabulous record over my adult lifetime contributing to defense and deterrence and a more peaceful world," he told reporters here ahead of a two-day meeting of NATO defense ministers.

"Therefore I would say anything that puts at risk that institution, you would have to have a very good reason for wanting to do it. I think there is no reason for something else to be competitive with NATO," he said.

What we have yet to hear from any French, German, British or even EU spokesman is any rational justification for what they are proposing. Should any be forthcoming we will immediately post it on this blog....but suggest you don't wait up!


posted by Martin at
11/30/2003 08:00:00 PM

Biased and non-biased reporting - Examples

The extreme Euro-Federalist distortions of Britain's pink business daily reach new heights of absurdity in this report just filed, hailing the Naples Foreign Ministers meeting a success. Read it if you wish from here if you must, though it contains nether fact nor new information as far as I can see.

More enjoyable, informative and accurate is this item from Newsweek: The New, New Europe the introduction states:

For much of the past year, Europe has been divided over America and its war in Iraq. Now it is divided against itself. The chief culprits: France and Germany.

The article concludes as quoted below, but it is worthing reading through to see exactly how accurate this paragraph really is:

A Europe divided against itself—as it is now over the Franco-German alliance—is a Europe in the slow lane, falling further behind the United States. Time is not necessarily on Europe's side, and it could prove the undoing of a Europe in protracted chaos.


posted by Martin at
11/30/2003 06:45:00 PM

NATO/EU Defence rift seen from South Africa

An interesting independent view of next weeks crucial meetings at Nato can be read by using this link to IOL.co.za for an article titled 'EU defence deal faces US suspicions at Nato' from Reuters and written by John Chalmers.


posted by Martin at
11/30/2003 12:40:00 PM

Washington Times reports EU Command Centre and

In Washington D.C., newspaper readers will be surprised at the spin on the EU defence pact put out by Britain's Foreign Secretary last evening. According to this report from the Washington Times Defense role for EU gets support the article summarises the agreement as follows:-

The plan would create a planning and command cell for the EU at NATO's military headquarters in southern Belgium. The EU could use the alliance's intelligence, communications network and transport planes for peackeeping operations under the proposal.
The proposed defense policy includes a mutual defense guarantee, similar to the one in the NATO treaty.

The paper later quotes the French Foreign Minister Mr de Villepin as calling the deal a "breakthrough" on defense

Three links to British Sunday Press coverage of the potential end of the Nato Alliance are in the post immediately following.


posted by Martin at
11/30/2003 09:30:00 AM

'Trojan Horse' Defence Deal

The Sunday Telegraph reports Jack Straw is refusing to disclose US reactions to the EU Defence deal and say it is being described as a 'Trojan Horse, read the article from here. Coverage from The Observer can be read from this link and from The Independent on Sunday's article Britain caught between Nato and EU as Rumsfeld flies in from here.


posted by Martin at
11/30/2003 09:14:00 AM
Saturday, November 29, 2003

Straw's Spin on Naples

The Scotsman provides an attempted explanation from Jack Straw regarding the selling out of Britain's defence but no explanation for his belief stated yesterday that international agreements could be broken at will. (See today's first post). Straw Hits Back at Defence Plan Critics is the headline to the article, noteworthy for these totally conflicting statements:

First: He flatly rejected fears that the UK is risking good relations with Washington by reaching a deal with France and Germany on cementing an EU defence policy outside Nato.

followed a few paragraphs later with this statement: Other EU governments are likely to back a regime approved by the EU's three big military powers, particularly if it counters what is seen in the post-Iraq war world as too much transatlantic influence on western defence strategy.

The two most senior office holders in the British Government - Tony Blair and Jack Straw cannot really, in all seriousness be expecting the British Public to believe the above objectives are anything but totally incompatible.

Straw also reverted to form in stating that several EU operations had already been mounted:

He pointed out there had in any case already been several military operations under the EU flag, where Nato as a whole did not want to intervene.

Several normally means three or more. All we can trace is a pathetic, mostly French, sortie to the Congo, which had some EU badges patched on the servicemen's uniforms just before departure. (This was originally designated a UN operation and was a typical EU bullshit exercise involving smoke, mirrors, huge wasted funds and zero benefits) The only other was a turnover exercise in Macedonia the objective again seems solely to provide justification for just this kind of treaty negotiation sleight of hand.


posted by Martin at
11/29/2003 08:28:00 PM

Britain does not have to "Choose" between the EU and USA

Britain: Blair's relations with Europe deteriorate after Bush's state visit By Chris Marsden. This article from the World Socialist Web Site is well worth reading and has an interesting take on recent events.

Recent developments are considered from a viewpoint contrary to that usually presented on this blog and the final paragraph quoted below we find truly implies the existence of a totally false dilemma:

The Sunday Times quoted a French diplomat prior to Blair's meeting with Chirac insisting, "The British must choose. Either they are with us, united in Europe where they should be, or they are destined to become united with America, something like an American state."

Why do so many powerful voices within the EU so frequently pose this false proposition, it makes all else they attempt so deeply suspect? (We do, of course, accept that readers of World Socialists are likely to take this view).


posted by Martin at
11/29/2003 05:09:00 PM

Naples meeting ends with only Britain Defeated

As the Foreign Ministers leave Naples everything is NOW reportedly still in the air (according to this latest EU Business report just in) except:

Consensus appears to have been reached on defence, at least.

Britain, France and Germany outlined plans in Naples to give the EU its own military planning facility independent of NATO.

Belgian's Foreign Minister Louis Michel said the plans had been well-received by the rest of the EU, although Straw was at pains to stress that NATO would remain at the heart of Europe's defences.

It was agreed that "any European Union auspices, defence activities, are handled in a way that is complementary to NATO, not in any sense a way that is alternative to NATO", he said.

This of course is the one absolutely critical area, the nation's most basic security arrangements, where not one inch should have been conceded. Now more than ever must the British people be given their say should this Constitutional Treaty ever survive its protracted process of creation. EU still far apart on new constitution as summit looms

More encouraging is another report from the same organisation Germany's Foreign Minister Joschka Fischer left an EU foreign ministers meeting in Naples Saturday "deeply concerned" about the chances of a successful conclusion to negotiations on the EU's first constitution.

"I'm leaving Naples more worried than before," Fischer told reporters
Read it all from here


posted by Martin at
11/29/2003 04:55:00 PM

Convention Consensus CRUMBLES on Commissioners

Breakthrough has been achieved in a major collaps of one of Giscard's Pillars, the number of Commissioners according to this report from EU Business EU's constitution talks strike deal on Commission:

that every member state should be represented on its executive Commission, Italian Foreign Minister Franco Frattini said.



posted by Martin at
11/29/2003 04:43:00 PM

Look into the eyes to see the soul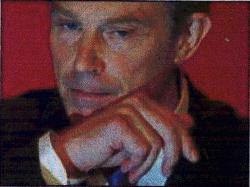 The article from which we copied this image proposes sweeping new powers to be placed in the hands of this man. The original and clearer image and the frightening proposals may be read from this link: Blair plans new laws to curb civil liberties

Extremists on both sides of the religious divide in Northern Ireland are victorious today, precisely because this man cannot be trusted!

'The people never give up their liberties but under some delusion' Edmund Burke


posted by Martin at
11/29/2003 01:59:00 PM

Donald Rumsfeld to Approve EU Defence Strategy next week in Brussels

This report from EU Business 'Big three' win EU over to military planning wing reports that the other EU Nations appear to have gone along with the proposed Defence arrangement. Non-EU Nato powers such as the USA, Norway (as reported below) and presumably others such as Canada an Turkey will also need to be convinced. US consideration is reported as most likely to be undertaken when :

US Defense Secretary Donald Rumsfeld and Secretary of State Colin Powell visit Brussels next week.


posted by Martin at
11/29/2003 01:29:00 PM

EU Defence Proposal waits on Washington

That anyway is the version of events from this report of EU Politix. Other reporst state Straw was caught flat-footed by de Villepin's premature announcement of an accord, and that plans to obtain pre-clearance from George W., were thrown out by his Thanksgiving trip to Baghdad.

The French newspaper Le Monde was carrying the leaked details of the planned arrangement now updated:Washington tente d'empêcher l'accord sur la défense entre Paris, Londres et Berlin to reflect the consultation.

Norway is also particularly concerned by this development, being a long-term and essential Nato partner but happily outside the clearly crumbling European Union. The Norway Post 'Norway's Role in European Defence Weakened.


posted by Martin at
11/29/2003 01:20:00 PM

Jack Straw's 'Reality'

The Financial Times reports:EU pact dispute blights foreign minister meeting

EU Politix reports Britain's Foreign Minister as having been involved as follows:

Commissioner for institutional reform Michel Barnier had earlier on Friday clashed with UK foreign minister Jack Straw.
Barnier had publicly insisted on enforceable – by the commission – EU rules to ensure fiscal discipline to back up the euro.
In a heated exchange Straw disagreed.
"I take the opposite view," he said.
"If you have a set of rules which conflicts with reality, reality wins."

This is an extraordinary statement to have been made by any British Foreign Secretary. Let alone when attending an international gathering with twenty four other foreign ministers, to discuss a far reaching constitutional agreement scheduled to be finalised within a month and stated by his Monarch that very week, as planned to become law within another six months.

Remember that what he was referring to was another such agreement, solemnly entered into at Maastricht, the observance of which by Britain has been scrupulous notwithstanding its controversial nature.

Britain's Foreign Secretary has publicly stated that for him, and by implication his country -

International Treaties and Agreement have no meaning should he determine circumstances have changed!

Blair should summon him home from Naples immediately and dismiss him from office without further delay. Or is the Prime Minister similarly careless of the import of signed Treaties and agreements?


posted by Martin at
11/29/2003 09:21:00 AM
Friday, November 28, 2003

Britain, France and Germany agree Defence Proposal

According to a press statement made by French Foreign Minister Dominique de Villepin some form of agreement has been reached regarding a proposed joint European Defence arrangement that will be put to the other Foreign Ministers over tonight's dinner in Naples.

This is extremely bad news and largely offsets other encouraging prospects of no agreement on any subject that we have been reporting from Naples earlier. The brief statement can be read here.

Further detaoils will be posted as soon as they might become available. BBC World in its TV report of this development stated that the USA has not been informed of the apparent agreement. Another ominous sign!


posted by Martin at
11/28/2003 06:43:00 PM

Defence on Dinner Menu

According to this report the proposed mutual defence arrangement tabled by the Itaian's will be discussed by the EU Foreign Minister's this evening. This too is destined for the dustbin according to an item from EUpolitix Swedish and Finnish concerns over neutrality and fears of another Irish referendum failure should see the proposal does not survive.

European defence is both unnecessary with existing Nato Treaties and an underfunded joke under the existing political leaderships. Failure is the only sane outcome in that area.


posted by Martin at
11/28/2003 05:52:00 PM

Former Dutch PM Wim Kok on G & S Pact Damage

This link to a Radio Nederland report has audio links to various Dutch spokesman on the week's damage to the Growth and Stability Pact. Headlined 'The pact isn't entirely dead' it reports this threat:

Dutch Finance Minister Gerrit Zalm, for instance, is set to stick to the right of each individual member state to veto the EU budget as a whole. This has been a moot point for the Netherlands, being relatively the largest net contributor to EU coffers.

and this suggestion of intimidation:-

"Some ministers had instructions from their prime ministers, so they had to vote against their own beliefs; others may have been intimidated by these two big countries."

Mr Zalm was referring to EU structural funds, which aim to bring poorer regions up to speed with the rest of Europe. France and Germany have the power to block the allocation of these funds to other member states.


posted by Martin at
11/28/2003 05:37:00 PM

Jack Straw BBC Interview

The Foreign Office edited transcript is available from this link.

Ironies Selected Highlights:-

BBC
On Foreign Policy QVM"I assume I'm right in saying that you will reject the proposed amendment out of hand."

JACK STRAW:
Yes we will....

BBC
"They know that's your position, which must raise the possibility that this is just a tactic, a ploy to put you on the back foot and perhaps distract your energies from other areas where you've put those famous red lines".

JACK STRAW:
No I don't think it is a tactic....

BBC
"You are saying that it doesn't actually matter if you don't agree on this thing in the end. That the European Union will continue - it's not essential."

JACK STRAW:
Yes....

BBC
"Let's be absolutely clear about this, as it's a very important point. Are we to take it that it is now the British Government's position that despite all the months of effort that have been poured in to negotiating the text of a new Constitution for the European Union, if you don't do it, it doesn't matter?"

JACK STRAW:
No, I'm not saying it doesn't matter. We've never said it doesn't matter. It would matter, but life would go on, and what we said at paragraph 26 of the White Paper we published in September was this; and I quote - if a new treaty cannot be agreed or ratified then the European Union would still carry on under its current arrangements and it would have the same functions as today. It would not collapse.

BBC
"But the reason you're saying it must be that you're preparing us for failure."

JACK STRAW:
No I'm not preparing anybody for failure, I'm just setting out what the facts are.

---------------

Meantime the Spanish Foreign Minister is reportedly determined to maintain the voting weights agreed at Nice and has also gathered British support according to EU Business Spain refuses to back down in EU Constitution row:

Spain and Poland have won the heavyweight backing of Britain, which says the EU could stick to the unloved compromises reached at Nice if the constitutional debate cannot find anything better.


posted by Martin at
11/28/2003 05:18:00 PM

Sharp Jump in EU Flash Inflation Index

November inflation estimate jumped from 2.0 pct in October to 2.2 pct in November according to a Press Release.

Meantime EU Politix reports the Italian Foreign Minister as preparing to dig his heels in to maintain the original convention draft as far as he can during the Naples meetings:

"The Italian presidency feels the responsibility to limit as much as possible modifications and additions… convinced that opening up debates already exhaustively conducted could hardly result in a more balanced and ambitious results," Frattini said.


posted by Martin at
11/28/2003 01:16:00 PM

Exhausted Euroscepticism

As the EU Foreign Ministers gather in Naples for the opening skirmishes in the final battle to save the Democracies and Freedoms of almost the entire continent of Europe, and more importantly its offshore islands, Britain's, or more accurately England's, one-time leading Eurosceptics appear to have withdrawn from the fray.

John Redwood, Conservative MP for Wokingham and author of books such as 'Death of Britain' and 'Just say No', writes in this morning's Daily Telegraph on the problems of the British motorist: How much more of a bashing does the motorist have to take?.

If this were an isolated incident we could shrug it aside. A couple of weeks back, however, Christopher Booker, (one of the most consistent and most published Eurocritical voices in the country), in his Sunday Telegraph 'Notebook' devoted a large part of his column to a diatribe against parking restrictions and the means of collection of long-outstanding fines.

Last Sunday he provided a plug for his book which at twenty pounds sets out to detail the "Secret History of the European Union". Imagine our astonishment when we learnt that on the same day in the Sunday Times Booker's co-author Dr Richard North (former adviser to the UK Independence Party's lamentable MEPs) was also being written about in connection with his campaign to make himself appear a martyr for the non-payment of multiple speeding fines.

We might be about to lose our Parliament, Democracy, Common Law Rights, Monarch, Defence, Foreign Policy and everything else that was once considered important about our nationality.....but the road traffic regime will assuredly be fully aired if left to these three!


posted by Martin at
11/28/2003 09:36:00 AM

Gold hits 402 dollars an ounce! Why?

The strength of the gold price has been interesting me for some time. This report in the Canadian National Post ascribes the most recent spike to a smell in the New York subway.

Musing on the collapse of the EU's Stability Pact an alternative scenario presents itself. All those one time National Central Bankers still mostly hold their jobs but have effectively no job with no currencies to manage. Being the well paid and well trained expert central bankers most of them undoubtedly are, they must surely have foreseen the eventual collapse of the Euro's foundation pact and contemplated their best course of action when the collapse of the Euro currency potentially follows. After all, once again they will be held to account!

Re-launching National Currencies will be a competitive business and each will require a solid underpinning, which has historically been gold. Much national gold was shipped off to Frankfurt on the Euro's launch and might eventually be reclaimable. But again it might not, what better insurance policy therefore than printing more Euros which in the long term appear useless and using them to discreetly buy up some gold.

The normal political instability that would seem to spark such gold price strength, seems to me to have been missing since Saddam's statue toppled.

Probably just nonsense, late night nonsense, caused by lack of sleep? Next stop USD450?


posted by Martin at
11/28/2003 01:07:00 AM

No Money for Enlargement?

This report from EU Politix Brussels picks new fight with Berlin indicates more difficulties ahead over who should pay the EU's out of control housekeeping bills. The report implies that greatest resistance to increasing contributions from 1.0 to possibly as much as 1.3 per cent of GDP will likely come from Germany.

The reporters must assume that Blair will still be in 10 Downing Street when the budget comes to be discussed early next year. Let's all hope they are wrong!


posted by Martin at
11/28/2003 12:51:00 AM

The EU's Problems from Greece to the Golden Gate

I planned to link to this excellent report on the breakdown of the stability pact that appeared in Greece's Kathimerini earlier today, but then got diverted. The implication from this report is that Greece went along with allowing Germany and France to outrageously break and now destroy the pact that was their joint creation for what the International Herald Tribune said :

"Analysts speculated that there were various political motives among the countries that supported Germany and France, ranging from the personal ambitions of their leaders to negotiations for the future European Constitution," the IHT's Thomas Fuller reported from Brussels.

This renewed rumors of Prime Minister Costas Simitis's ostensible ambitions to pursue a senior EU role, as he had said on Monday, just before the ECOFIN meeting, that he had been on the telephone with German Chancellor Gerhard Schroeder and said that he (Simitis) was in favor of a compromise decision.

Meantime from San Francisco comes this summary of the bleak situation in which the European Union now finds itself 'Problems, divisions deepen.....SFGate.com':

Aggravating the talks is anger at France and Germany for arm-twisting the organization into a deal this week that lets them violate the budget deficit rules for the 12 nations that use the EU's common currency, the euro. Spain, the Netherlands, Austria and Finland failed in their effort to force the two countries to cut government spending

A good overall summary comes from this link to Slate

What other deals or trade-offs sank the pact? No doubt many theories will soon appear!

President Prodi put out a meaningless statement on the pact's demise that appeared as a tailpiece to the Midday Express press briefing. Among many other minor items given greater precedence by the commission was a detailed description of a new pet passport with blue cover and yellow stars for dogs and cats. EU's Pet Passports


posted by Martin at
11/28/2003 12:40:00 AM
Thursday, November 27, 2003

Paris Match Reporters alongside Iraqi Missile Attackers

This item came to our attention from today's blog on USS Clueless

Expatica carries this report Paris Match pics of Baghdad plane attack and says:

The images were taken by one of the magazine's photographers, Jerome Sessini, who was with the attackers - described in the accompanying article as "Iraqi guerrillas" -- at the time of Saturday's missile strike, editor-in-chief Alain Genestar told AFP Wednesday.

He said Sessini and a special correspondent sent to Iraq, Claudine Verniez-Palliez, had been with the group for several days beforehand and were unaware they were about to witness the attack.

Interestingly this comes only days after Chirac visited London and asked for trust. Last night, Blair's representative was in talks in Berlin with representatives from Germany and France regarding the future of Britain's defence.

Meantime British servicemen continue to put their lives at risk in Iraq while these talks continue in the German capital and Blair ingratiates himself on a popular French TV station. Is it any wonder that last evening our PM complained of severe stomach pain?



posted by Martin at
11/27/2003 09:00:00 PM

Blair's sellout of Britain's Nato Defence Relationship Continues

This report from SHAPE's press review highlights the continuing and ongoing danger posed to Britain's defences by the ambitions of the British Prime Minister:-

According to the Financial Times, Britain, France and Germany held special talks in Berlin Wednesday night to reach agreement on how the EU could create an independent planning unit for any military missions carried out separately from NATO. The newspaper quotes diplomats saying officials at Wednesday's talks were hoping to draw up a draft defense paper in time for this weekend's meeting in Naples of EU foreign ministers and those from the candidate countries. "If we don't present the paper in Naples, we might do something at NATO next when the defense and foreign ministers will be meeting. This draft paper will be a very delicate exercise," the newspaper quotes a diplomat saying. It notes that the paper will set out how the EU can establish such a planning unit and what kind of relationship it would have with SHAPE.

NB This draft paper will be a very delicate exercise Why? There can only be one answer, something tricky and far from straightforward is under consideration. There should be no need for such delicacies in matters regarding the mutual defence arrangements of true allies!

I was in France last week and able to watch amongst a French audience a well-rehearsed Tony Blair conduct a TV interview entirely in French with the TF2 channel. The extent of his continental ambitions was there made perfectly clear and reinforced for this viewer. If translated and shown in Britain, however, I believe many thousands would be surprised at the content and the manner of his replies. A British report is linked here from Expatica


posted by Martin at
11/27/2003 06:29:00 PM

Ever Continuing Usurpation

These are the two clauses, proposed by the Italian Presdiency, that will permit subsequent amendments to the EU Constitution without the consent of the British Westminster Parliament:

a) as to the decision to move from unanimity to qualified majority, or from a special legislative procedure to the ordinary legislative procedure (general bridging clause), it is proposed that the text be amended to include a provision whereby if [X] national parliaments raise an objection that decision would not come into effect ("nihil obstat" procedure) [text in Annex 30 to Addendum 1];

b) as to the decision to amend the Constitution provisions on internal policies (Title III of Part III (special revision procedure), the Presidency maintains its approach as proposed to ministers at the last IGC meeting: no increase of competencies conferred on the Union in the Constitution, decision of the European Council by qualified majority and approval by all Member States in accordance with their respective constitutional requirements. Such an approach would have the advantage of removing the requirement for an InterGovernmental Conference [text in Annex 31 to Addendum 1].

Note the suggestion that if [X] national parliaments raise an objection must imply that something less than unanimity is required. This proposal effectively destroys centuries of democratic rights painfully built over centuries of European history, which have come to be vested within the parliaments of the continent's nation states.

There are no proposals anywhere within the proposed Constitution to replace these parliaments with alternative democratic institutions or procedures

This item will be among the matters being discussed in Naples from tomorrow. It is totally unacceptable in any form. The minimum objective for this massive change in the constitutional arrangements of so many nations, must be that the terms agreed are clearly stated and only amendable by subsequent unanimity within another IGC.


posted by Martin at
11/27/2003 06:02:00 PM

Another nail in the Euro's Coffin

The press reports from the German State Broadcaster Deutsche Welle Stability Pact -- Rubber Pact seem to grasp the seriousness of the hollow Franco - German deficit victory, more firmly than the quotes from Holland that we linked yesterday.

As a non-economist my reading of the situation is this: If twelve (now increasingly less likely one day to be a score or more) countries are all free to spend as much as they please in a currency that will devalue at the same rate for all, then the outcome is assured. Countries that spend the most the soonest will incur the least interest charges and the greatest real spending power. The devaluing money they later print to serve the debts will encourage others to board the gravy train but those who join the rush the latest will suffer the most.

Already in the Dutch press yesterday the editorials were urging that spending restraint be abandoned. As the above realisation grows the need for interest rates to rise will further spur the race to be the earlier borrower and the rates being paid yesterday will appear ever cheaper.

The rise of the Euro in the foreign exchange markets seems to me an aberration as the common euopean currency has had its foundations removed. The logical end result "Hyperinflation" or a "Pan-European seige economy with rigid foreign exchange controls". In either scenario economic hardship must result.

If an economist disagrees please e-mail the blog and I will post the counter-arguments. Or add a comment below!

If this is not the case then what was the point of the G & S Pact in the first place?


posted by Martin at
11/27/2003 05:25:00 PM

Referendum Pleas

The Spectator leading article returns to the push for there to be a British Referendum on the EU Constitution and touches upon other issues discussed on the blog today, concluding by saying:-

He (B. Liar - ed.) need not appear isolated, however, by agreeing to the proposal first put forward by this magazine to hold a referendum on the European constitution. Already, six nations have announced that they will be holding referendums — Spain, Portugal, the Netherlands, Denmark, Ireland and Luxembourg, while France, Italy and the Czech Republic are also likely to hold them. To belittle the constitution one day as a 'tidying-up exercise' and to portray it the next as a threat to our national life which must be defended by prime ministerial defiance is an unsustainable position. If he wants to demonstrate a will to stand up for British interests, he should first stand up for our love of democracy and let the people, not him, have the final say


posted by Martin at
11/27/2003 04:59:00 PM

Parliamentary Contradictions

Jack Sraw was once again performing in Parliament today, as reported in this item from The Scotsman:-

Mr Straw also pledged to resist moves to scrap the UK's veto over foreign policy decisions and called for the treaty to include anti-federalist guarantees.

"We do not accept the idea of QMV for foreign policy decisions, except in a very specific way which is within the current published draft text, and we will resist that," he said.

In other words, as detailed at length in the post earlier today (now beneath the bottle), this is very far from the tidying-up exercise Straw always previously maintained was the case!

Does the present British Foreign Secretary not realise that entering a negotiation with an intention that 'we will resist that' concedes the point as lost from the start. He also said in response to a question:

"Do I believe in miracles? No.

"What are the chances? I think the chances are reasonable but you can never predict these things until they have happened."

Yet it is quite clear from the remainder of the report that the outcome is pre-determined as he repeatedly states he merely plans to resist, rather than veto, plans to have EU Foreign Policy subject to QMV and therefore determined by Brussels but applicable to the British Nation.

This is not an item for resistance It is absolutely unacceptable. If the Foreign Minister cannot see that then he should be fired as he clearly has no intention of resigning. Earlier today reports stated a Government spokesman as saying these proposals were unacceptable, now they are only to be resisted!

The Prime Minister deserves far worse than the severe stomach ache from which he is reported to be suffering , as he and his Foreign Secretary blithely relinquish the nation's own authority in the crucial aspect of the way in which its future relations with the outside world are to be handled.


posted by Martin at
11/27/2003 04:23:00 PM
posted by Martin at
11/27/2003 03:45:00 PM

EU Constitution Update

The Leading Article in today's 'The Times' concludes "This is absurd. And it is certainly not democratic."

In another article from that newspaper by Anthony Browne titled 'Loony' we have the following: "THE British Government yesterday dismissed as 'unacceptable' a redrafted European constitution unveiled by Italy, holder of the European Union presidency, before the negotiations' critical two-week endgame.

Greatest concern centred on a surprise amendment making it virtually impossible for member-states to conduct independent foreign policy initiatives, such as the Iraq war. One British government source called that 'loony'."

The Foreign Policy problems plainly evident from our posting of yesterday evening is also the element seized upon by 'The Sun' heads its article EU 'to nobble our US links' while 'The Independent" reckons the proposal has only been included so that it can be later withdrawn as a concession to Britain.

Ambrose Evans-Pritchard in the 'Daily Telegraph' also covers these items and comments positively on the defence arrangement amendments, he ends his article EU redraft robs Britain of foreign policy veto with the following:

So far London has failed to secure any change in a catch-all clause that gives Brussels the power to co-ordinate the economic and employment policy of member states.

North Sea oil, which makes up over 90 per cent of the EU's oil reserves, is still vulnerable to a Brussels take-over.

A totally new "revision clause" has been added allowing ministers to ram through future changes to the bulk of the constitution by qualified majority voting.

A senior EU diplomat called the manoeuvre "barking mad".


posted by Martin at
11/27/2003 12:21:00 PM

Jack Straw's Facts Flaws 4

On 12th September we posted the Foreign Secretaries outrageous Parliamentary statement about the EU Constitution:

"The proposals in the current draft treaty do not change the fundamental relationship between the EU and its member states."

"On any analysis it involves less change than that in Maastricht and the Single European Act."

On 20th October we posted his follow-up statement to parliament, this time when standing in for the PM:

"The draft constitutional treaty is designed to improve the way the EU works after enlargement by reform, clarification and consolidation," he insisted.

"The claims made by the Opposition and others that the treaty would undermine Britain's independence are frankly absurd."

In unattributable briefings spread throughout the British media earlier this week, Jack Straw was quoted as the source for asserting the Constitution might be subject to a British veto!

How can the Foreign Secretary continue in his post?

We are forced to continue our 'Facts Flaws' series, where we post directly contradictory statements to Straw's lies from other EU Foreign Ministers, Prime Ministers and Presidents! Today's quote is from Bertie Ahern, the Irish Taoiseach who has described the :

forthcoming discussion on the future of Europe as 'amongst the most important' that Ireland will ever participate in.

Link from here to Facts Flaws 3 AND Facts Flaws 2.

Some tidying up exercise! Such barefaced lies! Such shameless backtracking! Such non-existent resignation!


posted by Martin at
11/27/2003 09:51:00 AM

France/Californian Dispute

We have been following the matter of the Executive Life scandal on this blog for some months and as it moves towards the final negotiations, (apparently deferred over the Thanksgiving weekend), more of the implications become clear. This report from The Washington Times concludes with the following paragraphs:

Since pulling out of a preliminary deal with the U.S. attorney in California last month, the French government had been insisting any settlement include an agreement not to prosecute Pinault and Jean Peyrelevade, the former chairman of French bank Credit Lyonnais SA.

France is concerned excluding the two men from the settlement would leave the government open to new legal attacks if U.S. prosecutors later were to exact compromising testimony or evidence from either of them.

Another factor is French President Jacques Chirac's friendship with both men. He has personally insisted that they be included in the settlement.


No mention here of any possible involvement by the new head of the European Central Bank Jean-Claude Trichet, who at one time had responsibility for the oversight of Credit Lyonnais and first prompted this blog's interest in the case. We shall nevertheless continue to watch developments. (Forbes latest report can be read here.)


posted by Martin at
11/27/2003 09:33:00 AM
Wednesday, November 26, 2003

Finland Rejects Defence Compromise

Already one of the Italian Presidencies IGC compromises has been flatly rejected out of hand, according to this report from YLE News


posted by Martin at
11/26/2003 08:54:00 PM

Burial of the Growth and Stability Pact

We will be commenting in detail on this matter shortly. As the Dutch were amongst the strongest critics of the pact's total violation this link to the Press Review from Radio Netherlands seems the most appropriate link as a reference: Dutch Press Review 26th November 2003.

An analysis put out this afternoon by EUobserver seems to us rather inadequate, but can be read from here


posted by Martin at
11/26/2003 06:42:00 PM

IGC Compromise Proposals Tabled

According to this EUobserver report a 50 Page document has been tabled by the Italian Presidency ahead of a Foreign Ministers meeting in Nice later this week.


posted by Martin at
11/26/2003 04:43:00 PM

Executive Life Deadline Extension

France may have avoided the fines that should have been levied under the Growth and Stability Pact (at the potential likely cost of the entire Euro project), but the Executive Life scandal rumbles on with yet another deadline extension now having been granted to 1st December according to this report from Forbes





posted by Martin at
11/26/2003 04:35:00 PM
Friday, November 21, 2003

Skeleton Service

In an attempt to stay current with events within the EU, posts will be somewhat sparse. Internet access seems difficult here in France, but the quality of our posts will hopefully benefit from on the ground news when we return next week.


posted by Martin at
11/21/2003 12:15:00 PM
Wednesday, November 19, 2003

Unilateralism caps Multilateralism

Colin Powell proved beyond all doubt that one responsible thinking individual bests 25 Committee Men any time. The three Foreign Ministers of Britain, France and Germany went to Iran and were sold a pup. In the full tradition of the EU they then convinced the 22 other Foreign Ministers they knew what they were doing, all of whom presumably were only along for the lunch. Reuters Report

Powell said he had a "very candid discussion" with the EU Foreign Ministers, which in diplomatic terms is as close as you can come to saying your opposite numbers were talking from the backs of their heads. How is it, we must ask ourselves, the people supposedly amongst Europe's elite and charged with running the Foreign Affairs of their countries can be so cavalier with their citizen's safety?

It is, of course, the torpor and ineffectiveness brought on by the mammoth, corrupt and now totally non-functioning EU. There is only one cure - it must be dismantled, dismembered and totally deconstructed, so that elected accountabilty is restored to Europe's citizens.

This report from HiPakistan gives an overall report of Powell's Brussels trip while the FT covers the Defence Disputes that are likely to sour the atmosphere for Blair during George W Bush's London visit.


posted by Martin at
11/19/2003 08:02:00 AM
Tuesday, November 18, 2003

Iran expected to assume centre stage as Powell arrives in Brussels

EU Business reports:

With a new transatlantic battle brewing over Iran's suspect nuclear program, US Secretary of State Colin Powell sought to win support here Tuesday for a sharp denunciation of Tehran from a wary Europe.

Other issues on the table at the day of talks, after which Powell flies to London to join President George W. Bush on a state visit to Britain, include a simmering dispute over EU defence plans and a spat over US steel tariffs.

But with the European Union generally satisfied with the new US plans for Iraq -- forced into fruition by worsening violence and instability -- the Iran issue appeared set to take the center stage.


posted by Martin at
11/18/2003 03:06:00 PM

Brown's CBI Speech

The speech can be read in full from this link to Shout99.

After welcoming US Treasury Secretary, John Snow, Brown early on made this landmark statement:

In this new century our shared values across the Atlantic can become our common destiny. And Mr Secretary, I - and all of us here - stand for a Britain - as you stand for an America - that is outward looking, ambitious to succeed, determined to advance an enterprise culture, fully equipped to lead in the new global economy.

Later when he finally arrives at the topic of Europe he starts So as we seek, as pro Europeans linked to Europe by history, geography and economics, to build a global Europe --- flexible, outward-looking, reforming and open, far from an inward-looking trade bloc -

Can any set of descriptive phrases be farther from the actual EU being created today? Of course not!

Contrast the speech of Pat Cox President of the European Parliament as trailered by
epolitix


posted by Martin at
11/18/2003 01:44:00 PM

The Dutch Dichotomy

Is one of the previously most enthusiastic Eurofederalist Member States beginning to see the true horror of what is being created?

The following is quoted from a post on the FT Discussion fora on the Future? of the Euro yesterday afternoon:

"Private consumption dropped by 7.2% in Holland during august. This is now the sixth consecutive month that retail sales were lower compared to the corresponding month last year.

The biggest falls were noted in big ticket items and home furnishings.

On top of that new house completions have now dropped to a yearly 60.000 compared to 90.000 in 1999."

Today's EUobserver carries an interview with Gerrit Zalm, the Dutch Finance Minister, titled A 'suspicion of discrimination' against smaller countries.

Viewed against the economic background painted above it is easy to see how seriously his concerns should be taken. He describes the present background within the Eurozone and compares the treatment of Ireland and Portugal over breaches of the Growth and Stability pact with the situation today.


He reserves his hardest comments to date on the behaviour of France and Germany, Mr Zalm agreed that some EU leaders were letting the citizens down. He believes that the euro rules are "a contract with every euro zone citizen" and constantly breaking them is akin to a betrayal of the people.

Mr Zalm sees the whole European project now endangered with heated exchanges ahead on 24th November. The Dutch Press support the concern shown by their Finance Minister with this quote from yesterday's Radio Netherlands Press Review:

The VOLKSKRANT devotes an editorial to this issue of power sharing in Europe and warns that Dutch voters may turn away from the European Union, if the parties deal too lightly with the issue and present the voters with an accomplished fact.
In a related matter, the ALGEMEEN DAGBLAD praises the Dutch finance minister and the president of the Dutch national bank for criticizing Germany and France for their failure to comply with the Stability Pact among countries using the euro.




posted by Martin at
11/18/2003 01:06:00 PM

A Gangway to Gomorrah

Startling proposals to bypass national vetoes within the IGC seem to be included among measures reported upon in this item from EU Politix IGC considers 'passerelle' to future EU.

A 'passerelle' is most directly translated into English as a footbridge or gangway, most notably of late being the one that collapsed last weekend on the new liner Queen Mary 2, killing some sixteen people. I wondered aloud to my wife when first hearing the report whether the curse that Cunard Officers ascribed to the original Mary might have been revived!

As clearly highlighted at the end of the linked article, any such footbridge or shortcut to agreement on the IGC will be unconstitutional in every member state and mostly weel beyond ministers executive authority!

The EU leaders willingness to flirt with illegaility and unconstitutional methods to force through a constitution against all proper procedures and common practice is a rapidly growing disgrace:

Changes to treaty revision have seen concerns that national governments via representation at councils of ministers will be given "carte blanche" to make political decisions without clear democratic accountability via parliaments.

On policy areas, Part III of a new constitution, the IGC is considering a "passerelle" or "escalator" clause allowing the extension of the EU's remit by the unanimous decision ministers.


posted by Martin at
11/18/2003 12:18:00 PM

America and the Bush Visit by Mark Steyn

It's 'peace' psychosis in a nut's hell is the title of Mark Steyn's Opinion Column in this mornings "For Sale Daily Telegraph" Some of my favourite snippets:-

'Well, Saddam's gone, on the run with no Grecian 2000 and all out of Quality Street'

'There's "no connection" between Saddam and al-Qa'eda, because radical Islamists would never make common cause with secular Ba'athists. Or so we're told by pro-gay, pro-feminist Eurolefties who thus make common cause with honour-killing, sodomite-beheading Islamists, apparently crediting Saddam with a greater degree of intellectual coherence than they credit themselves.'

'The fanatical Muslims despise America because it's all lapdancing and gay porn; the secular Europeans despise America because it's all born-again Christians hung up on abortion; the anti-Semites despise America because it's controlled by Jews. Too Jewish, too Christian, too Godless, America is also too isolationist, except when it's too imperialist.'

Worth the read!




posted by Martin at
11/18/2003 11:31:00 AM

91 Per Cent of EU Budget Riddled with Erors

The level of EU misgovernment, corruption, fraud, incompetence, negligence, economic decline is surely beginning to reach levels where ordinary members of the public should begin to take notice. This latest Ambrose Evans-Pritchard article makes scary reason if not feeling the effects of some kind of substance abuse. EU auditors blast budget failings:

The European Court of Auditors refused to certify EU accounts for the ninth successive year, saying Brussels has failed to match reform rhetoric with a genuine change of culture.

Nine Years!!!!!!! Is it not time to Clean it Up or Shut it Down!


posted by Martin at
11/18/2003 09:40:00 AM

Hoon makes Britain Most Culpable

Last evening we posted on the subject of the ill-defined and presently illegally constituted 'Defence Agency'.

According to this EU Politix report titled Green light for EU arms agency it is Britain, presumably trying to show Blair's serious 'good european credentials' that is leading the pursuit to a new bureaucratic encumbrance:

Announcing the plan, UK Defence Minister Geoff Hoon said the agency would help Europe to meet the so-called 'Helsinki headline goal' of creating a 60,000-strong rapid reaction force by the end of 2003.

Work on the Helsinki goal must be completed "so Europe can do more than the smallest and least demanding operations," he argued.

Responding to accusations that American defence companies could lose out to their European counterparts in meeting the EU's capability needs, Hoon denied that Europe's latest move was "protectionist."

"Obviously if we can develop appropriate European solutions to fill the gaps in those capabilities then it is right and proper to assist our industry and our people," he said, but added, "there should not be an automatic assumption that it will be a European solution."

The agency's task of highlighting Europe's defence shortfalls is likely to fuel UK resistance to attempts by some EU member states to set up autonomous European military planning headquarters.

Note the last sentence of the section we quote, it is gobbldegook. The slippery and sly Defence Minister (any man with the slightest grain of decency would long since have resigned over the relevations of the Hutton Enquiry) follows his PM's lead in trying to represent the Government's position as all things to all allies at the ultimate expense of their own credibility, but far more gravely in my view, the cost of their nation's defence.

The Scotsman also reports on Hoon's european sally with an article titled Don't Waste Money on Euro Defence Hq, Says Hoon


posted by Martin at
11/18/2003 09:24:00 AM
Monday, November 17, 2003

New Defence Agency has no Legality

This EU Business report on the above agency, first recently discussed in the post immediately beneath this, appears to have no existing legal basis for its establishment; hence the vagueness, we presume, regarding its remit.

Javier Solana, most notable of late for his ridiculous statement that Iran is not pursuing a nuclear weapons programme, has stated "You should not think of the agency as something in competition .. to NATO," the report continues:

Specifically the EU ministers agreed to launch work on the financial, legal and administrative aspects of the agency, which Solana wants to be up and running by summer 2004.

"As future head of the defence agency, .. I will do my best to give (it) a strong profile in terms of efficiency, competence and results of its work," he said.

The agency was proposed as part of a draft EU constitution agreed in June, which is now the basis of the constitutional talks being held between EU governments.

The EU is operating so far beyond any kind of controls, that it now feels capable of issuing Press Release flaunting the facts that its actions have yet to be granted any kind of national, let alone 'international' approval!

Where is Pat Cox President of the European Parliament while all this is going on...in England of course lecturing British Businessmen at the CBI about becoming better Europeans.



posted by Martin at
11/17/2003 06:43:00 PM

EUobserver reports Defence Agency Go-Ahead

We believe the agency talked about in this report is a kind of 'Defence Procurement Agency' which we presume is intended to ensure standardisation of equipment across the EU. If run as badly as all else within its compass, it will thus no doubt result in nothing working at great expense.

Such an agency is bad enough news but worse, in the form of some EU Defence Headquarters could, of course, be still to come.

Blairs commitment to this agency was trailered in his Cardiff Speechjust over one year ago on 28th November 2002, he said:

I am ambitious for European defence. I do not want to limit Europe's security ambitions to low level peacekeeping. We need to resolve the outstanding issues on ESDP; and we are woefully short of the necessary defence capabilities - and it is that widening gap in capabilities that is the central issue Europe must address.

Again we need more Europe, not less. We need new decision making methods to get better value for money out of European defence budgets: strong peer review mechanisms; a European Defence Capability Development Agency, responsible to and run by the Member States, charged with identifying how capability gaps need to be filled and taking forward procurement projects to fill them; and further moves towards more open defence procurement to save on costly national protectionism

These are not the words and actions of a man who sells out the basic security interests of his country on a whim over lunch in Berlin. This is a long carefully thought through startegy, though with what aim in view we cannot of course yet be sure.

Note the change in recent terminology, a year ago it was a 'European Defence Capability Development Agency more recently it has been described as a Defence Procurement Agency, sounding merely as if it will be standardising bullets and spares. We will wait with interest to see if its creation is even mentioned by the British Media and how it is named and described! (EUobserver for one seems not too sure).


posted by Martin at
11/17/2003 05:22:00 PM

Creepy Cant while Oil Reserves remain at Risk

This is a quote from a longer item in today's The Times:

BRITISH oil industry leaders have requested an urgent meeting with Jack Straw, the Foreign Secretary, over mounting fears that the proposed European constitution will hand over control of Britain¹s North Sea oil to bureaucrats in Brussels.

The Oil and Gas Industry Leadership team has written to Mr Straw after a meeting of officials in Brussels last week failed to water down a clause in the draft constitution that could give Brussels large powers over the UK's oil and gas reserves.

The oil industry fears that the Government has failed to recognise the dangers in the Energy Chapter, which was inserted late into the draft constitution.

Meantime the Foreign and Commonwealth Office, which should be protecting the nation's vital assets sends its Europe Minister Dr Macshane to Berlin to make fatuous 'motherhood' speeches of which the following is a brief excruciating extract from much more of the same:

BUILDING A NEW EUROPE
'The time has come to build a new Europe', Foreign Office Minister Denis MacShane said at the beginning of a speech to the BMW European Forum in Berlin on 15 November. Dr MacShane outlined the challenges facing the new Europe, which include the need to increase its economic strength, to become the 'locus of the world's knowledge revolution' and a leader in scientific research, and to strengthen its relationship with the United States. 'The two great regions of the democracy and rule of law in the world must act as partners', he stressed, adding 'a safer, fairer world will not be built without or against the United States.' Dr MacShane concluded that the aim for all Europeans 'is to build a continent of peace and prosperity, of rule of law and social justice, of cooperating internationally under enforceable rules. It is to show by example and self-discipline and tolerance that different nations, religions, culture, ethnicities and beliefs can co-exist rather than hope for national or religious or ideological supremacy.'

The whole vomit inducing load of rubbish can be read here



posted by Martin at
11/17/2003 04:12:00 PM

Abandoning Nato

The risk of Blair selling out Britain's steadfast commitment to Nato still remains the most clear and present danger. No mention of this crucial matter was made in the PM's speech to the CBI today, but we understand the matter will be raised by Bush during his visit. The French Defence Minister is reported in EU Business in an article titled France insists EU defence plans not against NATO as not wishing to undermine Nato. This is patent rubbish as all must recall that denigrating Nato has seemed the main plank of French foreign policy since De Gaulle unceremoniously booted the organisation out of Paris many years ago.

Now the French seek to pretend that a new EU Headquarters for some two or three score of staff will be insignificant. Britain's increasingly devious and overly ambitious Prime Minister seems ready to accept this pantomine.

We will watch this week's movements with interest.


posted by Martin at
11/17/2003 03:43:00 PM

EU Unemployment and Industrial Production Drop

The EU's Midday Express Press Release today highlights two critical areas of the Union's dreadful economic performance. In unemployment it reports rates between 2,0% et 29,3% in the EU in 2002, lowlights:

The 2 per cent figure is in one region of the Tyrol while the 29.3 figure was on the French Indian Ocean island of Reuinion, which most people do not even know exists. These statistics are presented on a regional basis, of which there are 211 in the existing EU and a further 40 in the applicant countries. This fact further demonstartes the EU intention of destroying the original Nation States if the people continue to sleep and so permit. Extracting the national figures is intentionally time consuming and can be done from this link:

EU Unemployment 2002

The industrial production figures are more realistically presented. For the Euro Zone, sesaonally adjusted, fell by 0,6% in September 2003 compared to August 2003 according to Eurostat. Industrial Production fell by 0,7% in August 2003, after a rise of 1,0% in July 2003.

Production for the EU15 equally fell by 0,4% in September 2003, after a fall of 0,7% in August and a rise of 0,6% in July. In September 2003, compared to Septembre 2002, industrial production grew by 1,8% in the euro zone and by 1,5% in the EU15.


posted by Martin at
11/17/2003 03:07:00 PM

Telegraph/Hollinger Developments

Regarding the Daily Telegraph:

Beleaguered Hollinger International chief Conrad Black, owner of the Daily Telegraph, dramatically agreed to resign this morning along with other top executives after admitting to receiving secret payments. Read it here from The Guardian

Will this affect the recent decline in the paper's output since the resignation of Charles Moore?

We can but hope!


posted by Martin at
11/17/2003 10:04:00 AM

European Parliament President to attack Brown' Euroscepticism

According to the Deputy Political Editor of The Independent Paul Waugh the CBI are to witness something of a spat:

Gordon Brown will today be accused by the President of the European Parliament of pandering to Eurosceptics for "short-term tactical and personal reasons".

The trailered speech in the article seems quite strong, we will report on what is atually said when available, together with Brown's response tomorrow which the paper says will include this statement:

<"Europe's economic future depends on an ever-deeper and closer economic relationship with the US"/strong>



posted by Martin at

11/17/2003 09:52:00 AM


IGC & Monday Update

The Daily Times of Pakistan provides an excellent round-up of the present IGC situation in this brief article EU's constitutional debate inches on to Dec deadline

The most interesting highlights were this quote Belgian Prime Minister Guy Verhofstadt said after meeting Berlusconi that his government was preparing a "counterattack" to forestall the draft text being "unravelled". and its labelling of the Franco/Germany merger plan as 'extraordinary'

Highlights this week:

Colin Powell meets the EU 25 tomorrow on Defence; Hi Pakistan Report

Also on Tuesday the Foreign Ministers will discuss the Constitution and the proposed Foreign Minister's role, Prodi will be enmeshed in talks on Fraud and the Commission will be considering actions against Germany for its excessive deficits.

George Bush of course will be staying with the Queen at Buckingham Palace, the first US President to do so since Woodrow Wilson.




posted by Martin at

11/17/2003 08:33:00 AM

Sunday, November 16, 2003


Trusting Tony?

These worrying two paragraphs appeared at the end of an Independent article yesterday:

The Prime Minister is likely to reassure Mr Bush that the vision promoted by Britain, France and Germany of a joint European defence force would not undermine the effectiveness of Nato alliance.

The President has said he trusts "Tony" on the subject, and European governments will be looking to Mr Bush to make conciliatory noises on the issue in his keynote speech on Wednesday.






posted by Martin at

11/16/2003 08:54:00 AM

Saturday, November 15, 2003


Corrupt Rulers

One of the earliest posts on this blog, and a major inspiration for its start-up was this statement by Michael Rivero founder of the website whatreallyhappened.com:

'Most people prefer to believe that their leaders are just and fair, even in the face of evidence to the contrary, because once a citizen acknowledges that the government under which they live is lying and corrupt, the citizen has to choose what he or she will do about it. To take action in the face of corrupt Government risks harm to life and loved ones. To choose to do nothing is to surrender one's self image of standing for principles. Most people do not have the courage to face that choice. Hence, most propaganda is not designed to fool the critical thinker, but only to give the moral cowards an excuse to think nothing at all.'

In recent weeks the emphasis of the postings on this blog has increasingly concentrated on the EU and the proposed Constitution that will substantially increase that organisation's powers over hundreds of millions of people misfortunate enough to be now living within Europe. The proven corruption of this body and total lack of any democratic accountability proposed in the Constitutional Treaty, makes the original quote by Michael Rivero ever more apposite. We therefore now reproduce another (from the same thinker on the same dangers) from an interview with him in 'Bankindex', that can be read in full from this link:

To know the government is corrupt and to do nothing is to surrender ones self-image of having the courage it takes to stand up for freedom and justice. Many people do not want to know that about themselves, so they refuse to look too deeply at current events because they are afraid of what they may learn, not about the government, but about themselves. Most propaganda is not designed to survive careful analysis but only to give the majority of people an excuse not to look any further or think any more about what is going on.

Those wishing to confront the facts regarding the erosion of their remaining liberties and democratic rights to the transnational, non-democratic and corrupt European Union are invited to return to this blog for regularly updated facts





posted by Martin at

11/15/2003 01:00:00 PM


EU Constitutional Craziness Continues

Much press comment in the UK over the fact that wives will no longer be entitled to half their husbands assets on divorce if the legal changes permitted under the draft convention document are passed. More bad news for the Blair Government with similar reports that Britain's liberal inheritance laws could be affected by the Constitution was also reported yesterday. An Englishman's right to cut whoever he wishes from his last will and testament is not lightly to be withdrawn!

Elsewhere Rupert Murdoch, powerful media figure (also) within Britain, having won his battle to put his son in charge of BskyB the controlling company for the Sky Satellite Television Channels, restated his strong opposition to the EU Constitution. Newspapers controlled by the Murdoch interests The Sun, The Times and The News of the World



posted by Martin at

11/15/2003 08:42:00 AM


End week EU Summary

EU Business closed the week with several bulletins of interest Ireland has announced the theme of its Presidency starting 1st January will be for improving Transatlantic Realations, Germany and France wish to emphasise passing the convention document as little changed as possible (the German spokesman reluctant to discuss any Franco/German Union; Belgium underlines commitment to EU defence initiative and on defence the EU weapons agency moves a step closer hastening the day of effective European total defencelessness.

(When one considers how much EU officials have been able to cream off from a simple statistics agency, the pickings from a weapons agency responsible for pan-European weaponry procurement will be mind blowing, even before a single bullet is bought!)



posted by Martin at

11/15/2003 08:32:00 AM

Friday, November 14, 2003


Europe Grows Again!

Third Quarter estimated GDP growth for the EU fifteen countries has been announced at 0.4 per cent, this compares to the near 20 year record of 7.2 per cent in the USA. Separate figures for the unfortunate countries locked within the single currency Eurozone were not provided by the Commission in today's Press Release.



posted by Martin at

11/14/2003 03:36:00 PM


Mankind Creates Life

USA Today have just posted this startling news on their website, titled "Scientists create a virus that reproduces" It is written by Elizabeth Weise, and begins:

It is the stuff of science fiction and bioethical debates: The creation of artificial life. Up until now, it's largely been just that.

But an important technical bridge towards the creation of such life was crossed Thursday when genomics pioneer Craig Venter announced that his research group created an artificial virus based on a real one in just two weeks' time

Now what?




posted by Martin at

11/14/2003 03:08:00 PM


Executive Life Dispute

Le Figaro reports today on the latest French Offer on the Executive Life scandal. Channel News Asia provides a good English summary in this report French Counter Offer which concludes with the following paragraph:

Prosecutors in the US Attorney's office, which is in possession of a sealed criminal indictment against Credit Lyonnais that could be unsealed if a deal is not reached, triggering a trial, declined to comment.

The extended limit for any agreement is 24th November, at least there is no clash with the following day deadline for France to present its deficit reduction proposals under the Growth and Stability pact!



posted by Martin at

11/14/2003 12:54:00 PM


EU Defence

US Secretary of State, Colin Powell, is set to discuss the above sensitive topic with EU members next Tuesday according to this report from EUobserver which includes the following paragraph:

Also, although Berlin and Paris have publicly dropped plans for a separate military headquarters to be set up in Tervuren (a Brussels suburb), Mr Blair has not ruled out that an operational headquarters would be needed to be able to carry out missions.

It is quite extraordinary that, assuming this report is true, the British Prime Minister now appears the greatest threat to to our nation's defence, which can only realistically be achieved by allowing no weakening of the Nato Alliance whatsoever.



posted by Martin at

11/14/2003 12:40:00 PM


Britain's EU Immersion gets ever Deeper

Jack Staw welcomes Royal Assent for the The European Union (Accessions) Act 2003 according to the Foreign Office the new Act implements in UK law the requirements of the EU Accession Treaty, signed in Athens on 16 April 2003, and provides a power to open up the UK labour market to workers who are citizens of the new Member States in central and eastern Europe.

Not many other existing EU countries have lodged the intruments of ratification, and the suspicion remains in my mind that certain of them might delay such ratification as a means of applying pressure on certain of the newcomers in the event of continuing deadlock within the ongoing IGC.

EU enlargement will not be accomplished until all existing EU countries have ratified the Accession Treaty, we understand the ten accession countries have all duly signed up for membership. Britain's ever deeper descent into the morass is once again now only preventible by the actions of others. Thus does the tragedy unfold!

One note of hope, some of the newer entants seem prepeared to more stoutly defend their new-found democracies than our present leaders. The percentage of those in the EU who believe in individual liberties and defence via Nato, will at least seem to be going to increase.



posted by Martin at

11/14/2003 08:20:00 AM

Thursday, November 13, 2003


Could we be heading to a new Cold War?

Following the reports in the increasingly sensationalist 'Daily Telegraph' of today regarding a "Franco/German Union" supposedly designed to confront the USA and force through the Convention version of the Constitution, this considered report on the growing transatlantic rift from 'The Daily Star' in Bangladesh (which can be read in full from the link below) concludes as follows:

"Many consider this new development is bound to create new cracks in the EU-US relations, despite the recent compromise on Iraq issue in the Security Council. It is really difficult to predict where this game of out-witting each other will end up. The new scenario, looming large on the horizon is ominous. Now the question is: will it ultimately lead to the creation of another volatile situation for a new phase of another, or rather, second 'cold war' period between the two blocs, one led by new Europe and another by the seasoned world power, America? Only time will show what is lotted for the peace-loving peoples of the world."

The Daily Star Bangladesh





posted by Martin at

11/13/2003 02:05:00 PM

Wednesday, November 12, 2003


Government begins to twig Peter Hain's incompetence

We thank Christina Speight's Media Report for bringing these items from the Vote 2004 bulletin to our attention:-

From Vote 2004 bulletin 6-12/11/03

DTI leak shows Government concern over Constitution "energy chapter"

A document leaked from the Department of Trade and Industry to the Telegraph this week expresses fears that the UK could lose control of North Sea Oil and resulting tax revenues of £5 billion under the European Constitution.

The DTI report warns that the proposals could "threaten Britain's controlover oil licences, the tax regime for exploration and development, pipelines, treaties and strategic stocks, which can be used to modulate prices."

However, the Foreign Office said that the transfer of energy competence to the EU was "basically OK" apart from some "second order concerns" (7November). But former Work and Pensions Minister Nick Brown also expressed concern about the plans. He said "the issuing of oil licences and the British oil field is for Britain, not the EU (Sun, 12 November).

Also this week, oil industry leaders called for a referendum on the Constitution. Sir Peter Walters and Sir John Jennings, former Chairmen of BP and Shell, called for a referendum in a letter in the Telegraph. They wrote that, "good or bad, the Constitution proposes sweeping institutional change for the EU... the proposal on energy is just one example," and that "the Constitution's likely impact on so many other areas of national and European affairs makes a wide ranging public debate essential. That is why we are backing Vote 2004's call for a referendum" (12 December).
=========
Treasury scrutinises draft Constitution

According to a report in the Sunday Times, Treasury officials have been through the draft Constitution line by line and proposed a number of changes. A Treasury source was also critical of Peter Hain's handling of the negotiations so far. He said, "The language is such that it leaves open plenty of opportunities for people to reinterpret it in four or five years' time and that has to be closed off. After all, they tried to get us to put VAT on children's clothing because of something that was in a treaty more than 30 years ago" (9 November).



posted by Martin at

11/12/2003 07:43:00 PM


IGC Leading MEP Quits

More dissent! Méndez de Vigo quits IGC is the headline from this EUpolitix report linked from here. A quote:

Méndez de Vigo led a delegation of 16 MEPs to the European Convention – comprised of national parliaments, governments and EU institutions - that drew up the current text under discussion at an Inter-Governmental Conference.

But the senior MEP has pulled out of the negotiations because he believes national capitals are "antagonistic" to the proposed constitution.

Méndez de Vigo's move is an indication of growing dismay – and anger – over the IGC's willingness to rewrite a draft that gave the European Parliament extra powers.



posted by Martin at

11/12/2003 07:01:00 PM


Germany to be in Recession All Year

According to to a report from Channel News Asia the "Five Wise Men" see Germany in shallow recession for whole of 2003 . Things are expected to improve somewhat next year however but not for the unemployed, where we quote:

joblessness in the eurozone's biggest economy was expected to increase with the number of people out of work set to average 4.38 million or 10.5 percent of the working population this year and then rise to 4.40 million and 10.6 percent in 2004, the experts predicted.

Meantime in the UK jobless figures continue to fall, this quote from a report in BusinessWorld:

The number of people claiming unemployment benefits in the UK fell for the fifth straight month in September, according to figures published this morning. The UK claimant count fell 3,300 to 926,900 in October following a decline of 6,900 in August, the Office of National Statistics (NS) said. The decline kept the jobless rate at 3.0pc, the lowest since 1975.

Britain's PM, Blair, is reported to still believe his country should join the Euro, is he completely Bonkers or just obsessed with being a future EU President? The figures seem to speak for themselves!



posted by Martin at

11/12/2003 06:51:00 PM


Big Oil Ironies

The ex-Head of Elf, the French state owned oil giant, between 1989 and 1993, Loïk Le Floch-Prigent, has just been jailed for five years and fined for corruption.

When France unjustly claimed George W. was invading Iraq mainly for the oil, (a charge made to look even more absurd now that Congress has passed an eighty seven billion dollar aid package) were they judging the Americans by their own oil industries' standards one wonders?



posted by Martin at

11/12/2003 03:33:00 PM


Statement by President Prodi on the attack in Nasiriya

Our earlier post regarding President Prodi and Iraq, was purely intended as criticism of EU policy and his part therin as Commission President. We realise that as an Italian, he naturally shares the grief of all his countrymen at today's loss and reproduce below his statement as issued by the EU Commission:

The news of the attack against the Carabinieri Command Centre in Nasiriya has profoundly saddened me. I wish to express my deep solidarity and my heartfelt sympathy to the families of the victims, to the Italian Government and to the Carabinieri Corps, whose sacrifices and extraordinary abnegation have contributed so much to creating the best conditions for maintaining peace and protecting the defenceless civilian population in exceptionally difficult circumstances, wherever they have been engaged throughout the world. I share deeply in the whole country's mourning.





posted by Martin at

11/12/2003 03:18:00 PM


EU acts against UK Customs Seizures

From today's EU Midday Express, some good news for once:

Cross-border shopping : Commission asks Spain and the United Kingdom for information over travellers' rights to bring home alcohol and tobacco

In the case of the United Kingdom, the request concerns the UK policy of seizing goods even for minor offences and follows on two earlier letters (see IP/01/1482 and IP/02/1320). The Commission is concerned that these sanctions may be disproportionate to the gravity of the offence and be an obstacle to the free movement of excise goods in the Internal Market. Both requests take the form of 'letters of formal notice' under the infringement procedures laid down in Article 226 of the EC Treaty. The UK and Spain are asked to reply within two months.

As the UK and their heavy-handed and law breaking Customs have apparently managed to take no notice of two earlier letters, one wonders at the point in sending a third, paricularly when granting two months for the reply!



posted by Martin at

11/12/2003 03:13:00 PM


Bush's Visit

There will much debate in the coming days over the State visit of President George W Bush. The following are the concluding paragraphs to an Opinion article from today's The Times with which this blog concurs.

In Iraq the withering support for sanctions, especially among European nations, encouraged its dictator in defiance. In Palestine the willingness of idealistic Israelis to gamble security for peace only strengthened the hand of Islamic hardliners. Among the leaders of al-Qaeda the reluctance of America to meet outrages in Somalia, Yemen or Kenya with proper fortitude only encouraged escalation.

It is immensely to President Bush's credit that he recognises weakness is more provocative than strength to those who live outside democracy's rules.

We are safer in Britain today than we were 27 months ago, thanks to him.

Of course Bush has made mistakes, on issues from global warming to steel tariffs. There may well be room to criticise much in his record. But given the people who want to occupy that space next week, it is not a place I want to go. I respect freedom too much to enjoy seeing it abused by those whose first instinct is to insult anyone who actually bothers to fight for it.

And I admire what America has done for liberty, throughout its history, too much to want to join those people who are now biting the hand that freed them.

Stop Bush? Not in my name.

If I were to mingle with the protesters next week, a question I would choose to ask would be what future would the protesters now choose for Iraq? In what way do the present attitudes and foreign policy stances of France and Germany contribute to creating any kind of peaceful solution for that country?

I have just read the sober response of the Italian President and Prime Minister to the heavy loss their country suffered today. Noble words about continuing to work to bring a decent life for the people of Iraq. Old Europe has much of which to be recently ashamed and the list grows longer with every passing day, and each new western casualty. The EU under the guidance of Prodi, Patten and Solana shares in the shame!




posted by Martin at

11/12/2003 02:37:00 PM


Scots and Poles push for Referenda

EU Business has just issued a report headlined Three quarters of Poles want referendum on EU constitution: poll Only 12 per cent say the Constitution should be accepted by their Parliament with 13 per cent Dont Knows.

Meantime closer to home The Scotsman carries this report SNP Pushing for Scots Referendum on EU Constitution it quotes SNP shadow europe minister as follows:

"By refusing to hold a referendum in the UK all Tony Blair is succeeding in doing is giving the moral high ground to those who are against the whole concept of the EU.

"It's right to allow the people of Scotland to make the decision and have their voice heard on what is a very important step in the development of Europe.

"A referendum is also the only way, under our current constitutional arrangements, that Scotland can have a voice and can make its views known."

Which could of course go equally well for the people of England, Wales and Northern Ireland just as well.



posted by Martin at

11/12/2003 12:32:00 PM


Commons to consider Referendum

John Maples former Conservative Minister will today use the opportunity of his 10 minute rule bill to propose a referendum on the EU Constitution according to this report from Epolitix Commons to hear new calls for EU constitution poll

It will, at the very least, be a chance to identify MP's positions on this crucial matter for the nation.



posted by Martin at

11/12/2003 08:00:00 AM

Tuesday, November 11, 2003


EU/Nato Defence Exercise

EU Business has this report on an exercise to test how things might develop in a possible EU humanitarian deployment. It wil take place from 19 to 25th November and is described as a joint crisis management exercise, involving no troops.




posted by Martin at

11/11/2003 09:01:00 PM


Good to be German

The EU's midday express release has three items of good news for Germany today:

A subsidy of 27 million Euros for a propylene pipeline to Cologne.
A subsidy of 40 million euros for some milk processing up to December 2004 and,
A subsidy of 90 million euros for some fish farms etc.

As EUobserver reported earlier not such good news for real space exploration European space mission cancelled for lack of funds. Such will not deter the EU Commission, who also from Midday Express announces EU space policy ready for lift-off : Commission adopts Space Action Plan a bit like some of the more recent Ariane satellite launches then?



posted by Martin at

11/11/2003 12:55:00 PM


Howard's Huge Hole

After dithering around all weekend and nearly the entire working day of Monday, the old but new Tory leader, Michael Howard, finally presented his mini-Shadow Cabinet.

Across Europe, Countries are preparing their citizens for the most sweeping change in their Governance many will have ever seen. In spite of all the pretence to the contrary, Europe's leaders, in an act of huge subterfuge, are planning to disband their peoples democratic arrangements and substitute a transnational, totalitarian tyranny upon their citizens. The sole beneficiaries will be those currently holding positions of power at the time of the transition.

Official opposition is mostly essentially silenced, how we have yet to fully learn. In the UK an opposition party that after years of ineffectual internal wrangling was finally beginning to make a meaningful protest, has within the past two weeks been brutally, suddenly and ruthlessly neutered.

The refusal, maintained by the Howard team throughout last week, to answer straight questions regarding the EU, and reported in full on this blog, proved their intention to duck or ignore the Europe issue.

The Shadow Cabinet appointments confirm that Europe is once again to become the issue the Tories will not face.

The list of Shadow Cabinet Foreign Affairs spokespersons and appointments makes no mention of Europe. In Government the main minister promoting the new European Constitution is Denis Macshane. Reflecting his mission and responsibilities he is Minister for Europe.

This is the list as supplied by epolitix for Foreign Affairs:

Foreign Affairs
Deputy leader and shadow foreign and international development secretary: Michael Ancram.
Shadow defence secretary: Nicholas Soames.
Shadow international development secretary: John Bercow
Shadow secretary of state for trade: James Arbuthnot

The intent of the Tory Party under Howard is thus vividly illustrated. Europe is to be ignored.

Eurosceptics who were repeatedly warned of the Europhile takeover of their party in the week during which they could have mounted a challenge, cowered and cast such warnings aside.

Iain Duncan Smith, made a grand speech on Friday to the Congress for Democracy. It becomes meaningless as it was preceded by these words:-

I take this opportunity to congratulate Michael Howard very warmly on his
election, to pledge my absolute loyalty to him as my new leader and to..."

The Tory Party has re-joined the eurofederalist conspiracy which is robbing the British people of their constitutional , common law and and democratic rights. Any arguments to the contrary clearly fly in the face of all available evidence.

Eurosceptics who remain within Howard's Conservative Party might delude themselves, but they will not deceive the voters! Evidence such duplicity will no longer succeed may be found in the post below!



posted by Martin at

11/11/2003 05:05:00 AM


Eurobarometer Flash Constitutional Poll

Ambrose Evans-Pritchard writing in today's Daily Telegraph reports trans-European lack of enthusiasm for the EU Constitution in EU constitution faces poll defeat

The EU's own summary of results, presented quite differently can be read here and the full poll results in pdf format from the link Flash EB Convention - 2nd Wave



posted by Martin at

11/11/2003 04:29:00 AM

Monday, November 10, 2003


84 per cent of Europe's Citizens want Constitution Referendum

From the EU's Midday Express Press Release comes this news of the latest Flash Eurobarometer Poll that shows the unsurprising headline figure given above. Further details from this link to the Commission Press Room



posted by Martin at

11/10/2003 02:32:00 PM


Needed a Margaret Von Thatcher

This link to TCS argues that Germany needs some kind of miracle. It includes this statement from Barclays:-

on current trends the UK will once again become Europe's largest economy by the 2020s, a state of affairs that has not been the case since the 1890s.

Strange that today's first post also harked back to those days!



posted by Martin at

11/10/2003 01:39:00 PM


Failing Euro Re-visited

Following on from our weekend posts regarding the increasingly dodgy looking future of the single currency, EUobserver highlights the growing difficulties with this article published this morning, of an intensification of the battle between the smaller countries and France and Germany on the implementation of the euro rules.

Dutch Finance Minister Gerrit Zalm said that Paris and Berlin were in clear breach of the rules and that "this is bad for all EU citizens".

"There is a danger of interest rate hikes and inflation, which could even undermine the stability of the euro", continued Mr Zalm.






posted by Martin at

11/10/2003 11:23:00 AM


Origins of "United States of Europe"

Every now and then I read a book, paper or learned treatise that asserts Monnet, Schuman, Churchill or some such coined the expression, if not the concept of a 'United States of Europe'.

I sometimes send off a correction, or post an item on a discussion fora pointing out the error, which is then forgotten or ignored.

I received a book review this morning that seems to repeat the error, though whether the fault of just the reviewer or the book itself I am unable to tell.

Th following internet link will take those interested to an article written in 1899 by the pioneering Victorian journalist, W.T. Stead. The paper was entitled Europa and can be reached by clicking on the title.

It is worth a read, but for those without the time, there follow a few quotes:

"So far, therefore, we have come in our pilgrimage to the United States of Europe..."

"This question of the United States of Europe has been one of the ideals towards which I have constantly, in fair weather and in foul, directed my course" (since 1880 - ed.)

"The conception in those days was confined to few, but nowadays the parties led by Lord Roseberry and Lord Salisbury would vie with each other in asserting their readiness to recognize the European Concert as the germ of the United States of Europe,"

Citation:W.T. Stead, The United States of Europe, Part I, ch.V, 1899

The whole piece is rich in Irony and essential for those desiring facts; not least to expose the myth upon which the EU is built.

I accept that others before may have also considered the title "United States of Europe", but this clearly puts the date to 1880 and elucidates the whole concept in considerable detail.



posted by Martin at

11/10/2003 08:48:00 AM
Use eBay's PayPal service if you appreciate this blog - to make fast, easy and secure donations to help towards our broadband and other costs! martin.cole@gmail.com Many thanks!.