Millennium Blitzkrieg - Email for other epub info on the novel
NOW ON KINDLE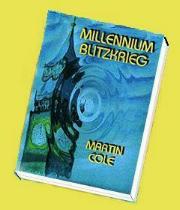 Read the novel, wriiten in the 1990s, which warned of an EU catastrophe by the centenary of WWI in 2014.
- Order for your Kindle from Amazon.com - Order for your Kindle from Amazon.co.uk - Order for your Kindle from amazon.de - Order for your Kindle from amazon.fr
---

Copyright2005MartinCole
---
Blogs:
Teetering Tories
UKIP Uncovered
The Strasbourg Cesspit
Anglo Saxon Chronicle
EU Realist
EU Referendum
Road to EU Serfdom
Eurosoc.com
Adam Smith Blog
Fainting in Coils
Tim Worstall
Anthony Wells
Samizdata.net
The Commons
USS Clueless
UKIP Uncovered
Blogs en Francais:
L'UE L'A EU
---
Archives:
February 2003
March 2003
April 2003
May 2003
June 2003
July 2003
August 2003
September 2003
October 2003
November 2003
December 2003
January 2004
February 2004
March 2004
April 2004
May 2004
June 2004
July 2004
August 2004
September 2004
October 2004
November 2004
December 2004
January 2005
February 2005
March 2005
April 2005
May 2005
June 2005
---
E-Mail Me
---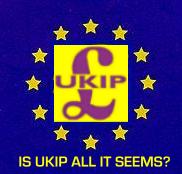 Click here to learn much much more
---
Tuesday, August 31, 2004

Stopping the Tyrannical Civil Contingencies Bill!

Subject: CCB full list of potentially sympathetic Peers
Date: 31 Aug 2004 07:45:45 +0000

Mike Stagman Concerned Citizens Information Network (CCIN)

CIVIL CONTINGENCIES BILL --- WHAT TO DO (CONTACTS)

The following, after the introductory material regarding the House of Lords, is a full list of all the Peers whom we feel are potentially sympathetic to the defeat or crippling amendment of this evil Bill.


What Can Each of Us Do in a Little Sparetime to keep our Democracy and civil liberties, to defeat or take the teeth out of this subversive, anti-democratic Civil Contingencies bill?

Make some telephone calls. Just some phone calls. We need to contact members of the House of Lords.

HOUSE OF LORDS --
Note: The Houses of Parliament is on recess, returning 7 September. D-Day for the bill is 15 September when it will be discussed on the floor of the House of Lords. But you can, and should, call and leave messages now at 0207-219-5353.

You can leave up to 3 messages with your phone call, one for each of 3 different Peers. You will get two sentences per message, plus your name and telephone number. So have your 2 sentences ready. Some Peers may indeed telephone you. Don't be embarrassed or shy. They are pretty decent folk. Just get to the point because they are quite busy.

By the way, you can call and leave a message for any Peer or MP, 24 hours a day, every day of the year at 0207-219-5353. Repeat: During the recess, use the -5353 number. When Lords and MPs return on 7 September, use numbers 0207-219-3107 (Lords) and 0207-219-3000 (MPs) during opening hours, and -5353 after hours and on weekends.

[You can, in addition, write a short letter. Send it to Lord or Baroness. . ., House of Lords, London SW1A OPW.]

We need to send them messages now, and from 7 September, when Parliament resumes, we must really let them know. 15 September is the day for discussion of the bill on the floor of the House of Lords. So, 15 September is D-Day and we must act in advance.

Between 7 September and 15 September, ask the switchboard for the Lord or Baroness. Mention your strong opposition to the bill, and why you oppose it, and insist on rejection of the bill and also specify that tooth-pulling, radical amendments be tabled -- concerning the Grounds for declaring an Emergency (actual, verifiable catastrophe) and the Powers granted (no infringement on democracy and civil liberties), and Coalition government, not a single-party dictatorship.

You will probably talk to an assistant or leave a message on their message machine. Or you may again need to leave a 2-sentence message with the switchboard.

Calling your MP -- Also, make a telephone call to your MP, denouncing the Civil Contingencies Bill and insisting he/she reject and radically amend the Bill when it gets back to the House of Commons after its stay in the Lords. (You can telephone or leave a message for your MP at the House of Commons, 0207 219 3000, or the after-hours Parliament number at 0207 219 5353. To find out the name of your MP and his/her constituency telephone number, call House of Commons info-service at 0207 219 4272.)


Finally, TELL FAMILY, FRIENDS, ASSOCIATES about all this. Get the word
around.
_______________
P.S. "For evil to flourish, it is sufficient only for good men to stand
by and do nothing."
(www.statewatch.org criticises the bill sharply, as does the Freedom
Association, www.tfa.net )

Contacts in the House of Lords are as follows:-

L. Ackner; L. Addington, addingtonD@parliament.uk; L. Adebowale,victor.a@virgin.net; L. Ahmed, ahmedN@parliament.uk ; L. Alderdice,alderdiceJ@parliament.uk; L. Alexander; L. Allen of Abbeydale; L.Allenby ; L. Alton ; L. Ampthill ; B. Anelay anelayJ@parliament.uk
; L. Archer of Weston-Super-Mare, jeffrey.archer@jeffreyarcher.co.uk; L. Armstrong, armstrong@parliament.uk ; Earl of Arran ; L.Ashdown ; L. Ashley, ashleyJ@parliame nt.uk ; Viscount Astor ; L.Astor of Hever ; L. Attenborough ; Earl of Attlee,attleeJ@parliament.uk ; L. Avebury, ericavebury@hotmail.com ;

L. Bagri ; L. Baker, bakerK@parliament.uk ; Earl of Baldwin ; L.Barber of Tewkesbury ; B. Barker ; L. Bell,lord.bell@bell-pottinger.co.uk ; L. Belstead ; L. Berkeley,tony@rfg.org.uk ; L. Bernstein ; L. Best, richard.best@jrf.org.uk ;L. Bhatia, abhatia@casley.co.uk ; B. Billingham ; L. Bingham ; L.Birt ; L. Black, cblack@hollingermail.com ; B. Blackstone, tessa.blackstone@culture.gsi.gov.uk ; L. Blackwell, blackwellN@parliament.uk ; L. Blake ; B . Blatch, blatchE@parliament.uk ; Viscount Bledisloe ; B. Blood ; L. Blyth,chairmans.office@diageo.com ; B. Boothroyd ; L. Borrie ; L. Boston; L. Boyce ; L. Bowness, bownessP@parliament.uk ; L. Brabazon,brabazoni@parliament.uk ; L. Bradshaw ; L. Bragg ; L. Bramall ; L.Brennan, danbrennan@matrixlaw.co.uk ; L. Brett, brettW@parliament.uk
; L. Bridge ; Viscount Bridgeman, bridgemanR@parliament.uk ; L.Bridges ; L. Brightman ; B. Brigstocke ; L. Brittan ; L. Brookeof Alverthorpe, brookeC@parliament.uk ; Lord Brooke of Sutton Mandeville ; Viscount Brookeborough ; L. Brookman ; L. Brooks of Tremorfa, ; L. Brougham ; L. Brown of Eaton Under-Heywood ; L. Browne-Wilkinson ; L. Bruce ; L. Bullock ; L. Burnham ; L.Burns, terry.burns@abbeynational.co.uk ; B. Buscombe BuscombeP@parliament.uk ; L. Buxton ; B. Byford,byfordH@parliament.uk ;

Earl of Caithness ; L. Callaghan ; L. Cameron ; L. Campbell of Alloway, campbellaA@parliament.uk ; L. Campbell-Savours ; Archbishop of Canterbury, and call him at 0207-898-1200 -- the bishops finally spoke out on the Iraq war, and perhaps they will do the same here ;L. Carey ; L. Carlile of Berriew, carlileA@parliament.uk ; L.Carlisle of Bucklow ; B. Carnegy ; L. Carr ; L. Carrington,lc@lodcarrington.demon.co.uk ; L. Carswell ; L. Carter ; L.
Cavendish, cavendishR@holker.co.uk ; L. Chadlington ; L. Chalfont; B. Chalker, Lchalk er@africamatters.com ; L. Chan,chanM@parliament.uk ; Viscount Chandos, tom@northbridgefunds.com ;L. Chapple ; Bishop of Chelmsford ; Bishop of Chester, bpchester@chester.anglican.org ; L. Chitnis ; M. Cholmondeley ; L.Chorley ; L. Christopher ; L. Clark of Kempston ; L. Clark of Windermere ; L. Clarke of Hampstead ; L. Clement-Jones ; L.
Clinton-Davis ; L. Clyde ; L. L. Cobbold,lordcobbold@knebworthhouse.com ; L. Coe ; Baroness Cohen ;Viscount Colville ; L. Colwyn, colw ynA@parliament.com ; L. Cooke of Islandreagh ; L. Cooke of Thorndon, ddensem@attglobal.net ; L. Cope, copeJ@parliament.uk ; Earl of Courtown ; Bishop of Coventry,bishcov@btconnect.com ; B. Cox, ccox@ertnet.demon.co.uk ; L. Craig ,
craigD@parliament.uk ; Viscount Craigavon ; L. Crathorne,james@jcrathorne.fsnet.co.uk ; Earl of Crawford and Balcarres ; B.Crawley, ccrawley@enterprise.net ; L. Crickhowell,
ncrickhowell@aol.com ; L. Croham ; L. Cuckney ; L. Cullen, amaxwell@scotcourts.gov.uk ; B. Cumberlege,cumberlegeJ@parliament.uk ;

B. Delacourt-Smith ; B. D'Souza ; L. Diamond ; L. Dahrendorf ;B. Darcy ; B. David, davidN@parliament.uk ; L. Davies of Coity ;L. Davies of Oldham ; L. Dean of Harptree ; B. Dean of Thornton-le-Fylde ; L. Dearing, ronald.dearing@blueyonder.co.uk ; L. Deedes ; L. Denham ; Bishop of Derby, bishopderby@clara.net ;L. Desai, m.desai@lse.ac.uk ; L. Dhollakia, dholakiaN@parliament.uk; L. Dixon, dixonD@parliament.uk ; L. Dixon-Smith ; L. Donaldson,
donaldsonJ@parliament.uk ; L. Donaghue ; L. Dubs, dubsA@parliament.uk ; Earl of Dundee ; B. Dunn ; Bishop of Durham, bishop.of.durham@durham.anglican.org ;

L. Eames (Archbishop), archbishop@armagh.anglican.org ; L.Eatwell,president@quns.cam.ac.uk ; B. Eccles ; L. Eden ; L. Elis-Thomas, dafydd.elis-thomas@wales.gsi.gov.uk ; B. Elles ; L.
Elliott ; L. Elton ; L. Elystan-Morgan ; B. Emerton,audrey.emerton@sja.org.uk ; Earl of Erroll ; errollM@parliament.uk ;L. Evans of Parkside ; L. Evans of Temple Guiting, evansM@parliament.uk ; L. Evans of Watford, lordevans@senateconsulting.co.uk ; L. Ewing ;&nbs p; L. Ezra ;B. Falkender ; Viscount Falkland ; B. Falkner of Margravine ; B.
Farrington ; L. Faulkner ; faulknerRO@parliament.uk ; L. Fearn ; L.Feldman ; L. fellowes ; Earl of Ferrers ; L. Filkin,gfilkin1@aol.com ; B. Finlay of Llandaff,finlayIG@cardiff.demon.co.uk ; B. Fisher of Rednall ; B. Fookes ; L.Forsyth ; L. Foster, enquiries@fosterandpartners.com, L. Fowler ;L. fraser, lordfraser@hotmail.com ; L. Freeman,freemanR@parliament.uk; L. Freyberg, freybergV@parliament.uk ; L.Fyfe ;

B. Gale ; L. Gallacher; B. Gardner, gardnerT@parliament.uk ;L. Garel-Jones ; L. Geddes , lordgeddes@aol.com ; B. Gibson of Market Rasen, agib1957@aol.com ; L. Gibson ; L. Gilbert ; L.
Glenarthur, glenarth@northbrae.co.uk ; L.Glentoran, RG@glentoran.demon.co.uk ; Bishop Gloucester, bshpglos@star.co.uk ; L. Goff ; B. Golding ; L. Goldsmith,LsLo@gtnet.gov.uk ; L. Goodhart, goodhartW@parliament.u k ; L.Gordon, gordonJ@parliament.uk ; V. Goschen ; B. Goudie ; B. Gould; L. Graham ; L. Gray ; L. Greaves, greavesA@parliament.uk ; B.
Greenfield ; susan.greenfield@pharm.ox.ac.uk ; B. Greengross ;greengrossS@parliament.uk ; L. Greenway ; L. Grenfell.grenfellJ@parliament.uk ; L. Griffiths ; L. Griffiths of Fforestfach
;Bishop Guildford, bishop.john@cofeguildford.org.uk ; L. Guthrie, lord.guthrie@rothschild.co.uk ;

L. Habgood ; B. Hale ; B. Hamwee, sally.hamwee@london.gov.uk ; B.Hanham ; L. Hannay; L. Hanningfield, lord.hanningfield@essexcc.gov.uk; L. Hanson ; L. Hardie ; L. Hardy of Wath ; L. Harris of Haringey,toby.harris@london.gov.uk ; L. Harris of High Cross ; L. Harris of
Peckham ; B. Harris of Richmond, harrisA@parliament.uk ; L.Harrison ; L. Hattersley , roy.hattersley@ukgateway.net ; L. Hayhoe; B. Hayman ; L. Healey ; L. Henley, henleyO@parliament.uk ; L.Heseltine ; L. Higg ins, higginsT@parliament.uk ;L. Hill-Norton ; L. Hobhouse ; L. Hodgson, hodgsonR@parliament.uk; L. Hogg, hoggN@parliament.uk ; L. Hollick ; B.Hollis, PSL@dwp.gsi.gov.uk ; L. Holme ; Earl of Home ; B. Hooper; L. Hooson ; L. Hope , craighead@dial.pipex.com ; B. Howarth ;Earl of Howe, howeF@parliament.uk ; L. Howe of Aberavon ,howeG@parliament.uk ; B. Howe of Idlicote , howeE@parliament.uk ; L.
Howell , howellD@p arliament.uk ; B. Howells of St. Davids ; L.Howie ; L. Hoyle ; L. Hughes, hughesR@parliament.uk ; L. Hunt ofChesterton , JCRH@mssl.acl.ac.uk ; L. Hunt of Kings Heath ; L. Huntof Tanworth , madjon1919@hotmail.com ; L. Hunt of Wirral ,
lordhunt@bwlaw.co.uk ; L. Hurd ; L. Hussey ; L. Hutchinson ; L.Hylton ;

L. Imbert ; L. Inge ; L. Inglewood ; L. Islwyn ;L. Jacobs ; B. James of Holland Park ; L. Janner ; L. Jauncey ; B.Jay ; Earl of Jellicoe ; L. Jenkin of Roding , jenkinP@parliament.uk ;
L. Joffe ; L. Jones ; L. Jopling ; L. Jordan , JI@dial.pipex.com ;L. Judd ;

L. Keith , wicken@c-acre.u-net.com ; L. Kelvedon ; B. Kennedy ;L. Kilcloony ; L. Kilpatrick ; L. King of Bridgwater ; L. King of West Bromwich , lordking@sandwellmbcfsnet.co.uk ; L. Kingsdown ,lord.kingsdown@btinternet.com ; L. Kirkham ; L. Kirkhill ; B.
Knight; L. Knights ;L. Laing of Dunphail ; L. Laird ; L. Laming ; L. Lamont ; L. Lane
; L. Lane of Horsell ; L. Lang of Monkton ; L. Lawson ; L. Layard ,r.layard@lse.ac.uk ; Bishop Leicester , bptim@leicester.anglican.org; L. Lea , leaD@parliament.uk ; L. Lester , lesterA@parliament.uk; L. Levene , peter.levene@lloyds.com ; L. Lewis , j1219@cam.ac.uk
; Earl of Lindsay ; B. Linklater , v.linklater@talk21.com ; L.Lipsey , lipseyD@parliament.uk ; Earl of Listowel ,listowelF@parliament.uk ; Bishop of Liverpool ,bishoplodge@liverpool.anglican.org ; L. Livsey of Talgarth ; L. Lloyd of Berwick ; L. Lloyd-Webber ; B. Lockwood ; L. Lofthouse ;Bishop London , bishop@london.clara.co.uk ; L. Luce ; B. Ludford ,sludfordmep@cix.co.uk ; L. Luke , lukA@parliament.uk ; L. Lyell ; L.

McAlpine ; L. Macaulay , macaulayD@parliament.uk ; L. McCarthy ; L.McColl , mccalliI@parliament.uk ; L. Macdonald of Tradeston ; L. Macfarlane of Bearsden ; B. McFarlane of Llandaff; L. MacGregor ;L. McIntosh of Haringey , mcintoshAR@parliament.uk ; B. McIntosh ofHudnall ; L. Mackay of Clashfern ; L. Mackay pf Drumadoon , lord.mackay@scotcourts.gov.uk ; L. MacKenzie of Culkein ,mackenzieH@parliament.uk ; L. Mackie of Benshie ; L. MacLaurin ; L.
MacLennan ; L. McNally , tmcnally@webershandwick.com ; B. Maddock ,maddockD@parliament.uk ; B. Mallalieu ; Bishop of Manchester bishop@bishopscourt.manchester.anglican.org ; L. Mancroft ,mancroft@iluk.co.uk ; Countess of Mar , marM@parliament.uk ; Earl of Mar and Kellie ; L. Marlesford , marlesford@parliament.uk ; L. Marsh; L. Marshall , anne.p.hensman@britishairways.com ; B. Masham ,
baroness.masham@breathemail.net ; L. Mason ; B. Massey ,masseyD@parliament.uk ; L. May ; L. Mayhew ; L. Merlyn-Rees ; L.Methuen ; B. Michie , margaret.wills@virgin.net ; B. Miller of
Chilthorne Domer , millerS@parliament.uk ; B. Miller of Hendon ,millerD@parliament.uk ; L. Millett , lordmillet@02.co.uk ; L. Mishcon; L. Mitchell , parry M@mac.com ; L. Molyneaux ; L. Monro ; L. Monson; L. Montagu , lord.montagu@beaulieu.com.uk ; Duchess of Montrose ,
montroseJ@parliament.uk ; L. Moore of Lower Marsh ; L. Moore of Wolvercote ; L. Moran ; L. Morgan , k.morgan@online.rednet.co.uk ; L.Morris of Aberavon ; L. Morris of Manchester ; L. Moser ; L. Mowbray; L. Moynihan , cbm@dial.pipex.com ; B. Murphy ; L. Murray ; L.
Murton ; L. Mustil

;L. Naseby ; L. Neill of Bladen , pneill@serlecourt.ac.uk ; B. Neuberger; L. Newby , newbyR@parliament.uk ; Bishop Newcastle ,bishop@newcastle.anglican.org ; L. Newton ; L. Nicholls ; B.Nicholson , enicholson@europarl.eu.int ; L. Nickson ; B. Nicol ; B.
Noakes , noakes@parliament.uk ; L. Nolan ; Duke of Norfolk ; L.Northbourne ; L. Northbrook ; Earl of Northesk ,northeskDJM@parliament.uk ; B. Northover , northoverL@parliament.uk ;
L. Norton , nortonP@parliament.uk & nbsp;
L. Oakeshott ; B. O'Cathain , ocathainD@parliament.uk ; L. Oliver; B. O'Neill ; Earl of Onslow ; B. Oppenheim-Barnes ; L. Orme ;L. Ouseley ; L. Owen , lordown@nildram.co.uk ; L. Oxburgh ,
oxburghE@parliament.uk ; Bishop Oxford , bishopoxor@oxford.anglican.org ;

L. Palmer , palmer@manderston.co.uk ; L. Palumbo ; L. Parekh ,b.parekh@bigfoot.com ; B. Park ; L. Parkinson ; L. Parry ; L.Patel ; L. Patel of Blackburn ; L. Patten ; L. Paul ; L. Pearson
; Earl of Peel ; L. Pendry , pendryT@parliament.uk ; B. Perry ,pp204@supanet.com ; L. Peston , pestonHH@parliament.uk ; Bishop of Peterborough , bishop@peterborough-diocese.org.uk ; L. Peyton ; L.Phillips of Sudbury , a.phillips@bateswells.co.uk ; L. Phillips of Worth Matravers , mor@scgmor.demon.co.uk ; B. Pike ; L. Pilkington; B. Pitkeathley , pitkeathleyJ@parliament.uk ; L. Plant ; B. Platt; L. Plumb , plumbH@parliament.uk ; L. Plummer , plummerNE@clara.co.uk
; L. Posonby ; Bishop of Portsmouth , bishports@clara.co.uk ; L.Powell ; B. Prashar , prasharU@parliament.uk ; L. Prior ; L.Prys-Davies ; L. Puttnam , puttnam@enigma.co.uk ; L. Pym ;

L. Quinton ; L. Quirk ;

L. Radice ; B. Ramsay ; L. Randall ; B. Rawlings ; L. Rawlinson ; L.Razzall ,tim@argonaut-associates.net ; L. Rea , reaJN@parliament.uk; L. Reay ; L. Redesdale ; L. Rees ; L. Rees-Mogg ; B. Rendell ,ruth@ampelos.demon.co.uk ; L. Renfrew ; L. Rennard ,
chrisrennard@cix.co.uk ; L. Renton ; L. Renton of Mount Harry rentonT@parliament.uk ; L. Richardson ; B. Richardson of Calow ,richardsonK@parliament.uk ; L. Richardson of Duntisbourne ; L. Rix ;L. Roberts , robertsW@parliament.uk ; L. Roberts of Llandudno ; L.
Robertson ; Bishop of Rochester , secretary@rochester.anglican.org ;L. Rodger of Earlsferry , castilloC@parliament.uk ; L. Rodgers of Quarry Bank ; L. Rogan ; L. Rogers , jo.m@richardrogers.co.uk ; L.Roll , lorderic.roll@ubsw.com ; L. Rooker ; L. Roper ; Earl of
Rosslyn ; L. Rotherwick , RR@cpark.co.uk ; Earl of Russell ; L.Russell-Johnston ; L. Ryder ;

L. Saatchi , maurices@mcsaatchi.com ; Bishop of St. Albans ; Bishopof St. Edmundsbury and Ipswich ; L. St. John of Fawsley ; L. St. Johnof Bletso , asj@globix.com ; Bishop of Salisbury ,
dsarum@salisbury.anglican.org ; Lady Saltoun ; L. Sandberg ,lordsandberg@msandberg.com ; L. Sanderson ; Earl of Sandwich ; L.Saville ; L. Sawyer ; L. Scarman ; L. Scott of Foscote ; B. Scott of Needham Market ; B. Seccombe , seccombeJ@parliament.uk ; Earl ofSelborne , selborneJR@parliament.uk ; L. Selkirk ; L. Selsdon , selsdonM@parliament.uk ; L. Sewel ; L. Sharman ,lordsharman@kpmg.co.uk ; B. Sharp , sharpM@parliament.uk ; B.Sharples ; L. Shaw ; Bishop of Sheffield ,jack@bishopcroft.idps.co.uk ; L. Sheldon ; sheldonR@parliament.uk ;
L. Sheppard of Didgemere , lsd_allen_sheppard@unipart.co.uk [there is
an underscore after lsd and after allen] ; L. Sheppard of Liverpool ;Earl of Shrewsbury , shrewsburyestate@aol.com ; L. Shutt ,shutt@jrrt.org.uk ; Viscount Simon , simonJ@parl iament.uk ; L, Simon of Glaisdale ; L. Simpson , lordsimps@aol.com ; L. Skelmersdale ,
skelmersdaleR@parliament.uk ; L. Skidelsky , skidelskyR@parliament.uk; Viscount Slim ; L. Slynn ; L. Smith of Clinton ,smithT@parliament.uk ; Earl of Snowdon ; L. Soulsby ,
lordsoulsby@aol.com ; Bishop of Southwark , bishops.house@dswark.org.uk; Bishop of Southwell ; L. Stallard ; L. Steel ; L. Sterling ;B. Stern , icps@kcl.ac.uk ; L. Stevens , stevensdavid@parliament.uk; L. Stevenson , dennis@maximise.demon.co.uk ; L. Stewartby ; L.
Steyn ; L. Stoddart ; L. Stokes ; L. Stone , stoneA@parliament.uk; L. Strabolgi ; B. Strange ; L. Strathclyde ; L. Sutherland ,sutherlandS@parliament.uk ; L. Swinfen , swinfenR@parliament.uk

L. Tanlaw , tanlawS@parliament.uk ; L. Taverne , dick.taverne@lineone.net ; L. Taylor of Blackburn ,janetmrobinson@compuserve.com ; L. Taylor of Warwick ,taylorJDB@parliament.uk ; L. Tebbit ; L. Templeman ; L. Temple-Morris, templemorrisP@parliament.uk ; Viscount Tenby ; B. Thatcher ; L.Thomas of Gresford , thomasMparliament.uk ; L. Thomas of Gwydir ; L.
Thomas of Macclesfield ; L. Thomas of Swynnerton ; B. Thomas of Walliswood ; L. Thomson of Monifieth ; B. Thornton ,thorntonG@parliament.uk ; L. Tombs ; L. Tomlinson ; L. Tope ,
graham.tope@london.gov.uk ; L. Tordoff , tordoffG@parliament.uk ; L. Trefgarne [trefgaRNe] ; B. Trumpington ; Bishop Truro , bishop@truro-anglican.org ; L. Tugendhat , cstug@lehman.com ; L. Turnberg , taturnberg@onetel.net.uk ; B. Turner ;

B. Uddin , uddinM@parliament.uk ; Viscount Ullswater ,ullswaterN@parliament.uk ;

L. Varley ; L. Vincent ; L. Vinson ;

L. Waddington , waddingtonD@parliament.uk ; L. Wade ; L. Wakeham ; L. Waldegrave ; L. Walker of Doncaster ; L. Walker of Gestingthorpe; L. Walker of Worcester ; L. Wallace of Saltaire ; B. Walmsley ,walmsleyJ@parliament.uk ; L. Walpole , WalpoleH@parliament.uk ; L.
Walton , waldetch@aol.com ;L. Warner ; B. Warnock ; B. Warwick diana.warwick@universities.ac.uk ; L. Watson of Invergowrie ,watsonM@parliament.uk ; L. Watson of Richmond , alan_watson@uk.bm.com[there is an underscore after alan] ; Viscount Waverley ,waverley@int-affairs.com ; L. Weatherill ; L. Wedderburn ; L.
Weidenfeld , agw@orionbooks.co.uk ; L. Whaddon ; B. Whitaker ; L Wigoder ; B. Wilcox , wilcoxJ@parliament.uk ; B. Wilkins ,wilkinsRC@parliament.uk ; B. Williams of Crosby ; L. Williams of Elvel , williamsCC@parliament.uk ; L. Williamson ; L. Willoughby ,
willoughbyL@parliament.uk ; L. Wilson of Dinton ; L. Wilson of Tillyorn , master@pet.cam.ac.uk ; Bishop of Winchester ,michael.scott-joynt@dial.pipex.com ; L. Winston ,
Rwinston@globalnet.co.uk ; L. Wolfson ; L. Wolfson of Sunningdale; L. Woolf ; L. Woolmer , woolmerK@parliament.uk ; Bishop of Worcester , bishop.peter@cofe-worcester.org.uk ; L. Wright ; L. Young of Graffham ; B. Young of Hornsey ; B. Young of Old Scone , youngB@parliament.uk ; Archbishop of York , office@bishopthorpepalace.co.uk
posted by Martin at
8/31/2004 09:24:00 PM

Moscow threesome face reality of Iraq

Earlier reports that President Chirac would not attend today's Moscow summit with Chancellor Schroeder and President Putin proved unfounded as this news report from China demonstrates, read from here. French reluctance to protect their citizens and democracy by showing fortitude in the face of open kidnapping blackmail, already evidenced by the panicky dispatch of their Foreign Minister to the Middle East cannot be strengthened by Chirac's reported response when asked about the kidnappers request to scrap the democratically passed law on headscarves in state schools:-

"The French democracy has its values, its laws and traditions. I cannot add anything to this," Interfax reported.

Release this afternoon on the internet of video of the execution of 12 Nepalese workers kidnapped earlier in Iraq must further outrage the international community and hopefully strengthen French nerves.

Whichever way this matter now develops - the contrast in French policy towards Iraq and hostages with the fortitudet shown by the Italian government just last week cannot now continue to be ignored.

The pretence that the European Union is now supposedly committed to work more closely together on foreign policy matters is farcial. France and Germany from today's visit to Moscow seem to now endorse Russian policy towards Chechnya while condemning coalition efforts at democratisation in Iraq.



posted by Martin at
8/31/2004 03:42:00 PM
Monday, August 30, 2004

Fascism versus Democracy - Plato or Popper?

This blog exists because the European Union's Europa Discussion Forums refused publication of my commentary "Democracy or Pan-European Totalitarianism" linked here.

Karl Popper's ideal of democracy, which permits the bloodless removal of governments (as detailed in his book 'The Open Society and its Enemies') is the blog's constant theme.

The builders of the European Union make no such provisions and the agreed EU Constitutional Treaty will perpetuate indefinitely the nascent tyranny so created. These misguided individuals who are thus destroying the individual freedoms and democratic institutions of twenty-five once free nation states justify their actions on the teachings of Plato and his views on the need for a self-selecting and perpetuating elite. Such arguments are comprehensively trashed in Popper's book quoted above and various of his other works as quoted from time to time on this blog.

Hints of the basis for the Platonic influence for the Global Civil Society, egalitarian internationalism, globalism or various other descriptions these groups frequently employ are to be found across the pages of the worldwide web. Rarely is the non-democratic inevitability of these structures justified, let alone addressed.

It was with some surprise that I therefore came across a clear attempt to turn Plato's authoritarian elitism into a noble aim. This justification is in a speech given by the Headmaster of Salem College in Germany on the subject of their Founder - titled 'Kurt Hahn, the Politician' I recommend it be read in full from this link. (Note how Popper himself is misconstrued!)





posted by Martin at
8/30/2004 11:06:00 AM

Conflicting British foreign policy signals of the past.

Last April, the one hundredth anniversary of the signing of the Entente Cordiale was celebrated by Britain and France. Ninety years ago this month World War One broke out. Britain's european policy intentions in the period between 1904 and 1914 were far from clear.

The evidence for this fact is extensive but best illustrated in Barbara W Tuchman's Pulitzer prize-winning book 'The Guns of August' ISBN 0-345-38623-X. (References are to First Ballentine Books Edition April 1994).

Signals were mixed because the country was not united, see particularly Chapter Seven 'Paris and London' pages 84 to 97. The oratory of the Foreign Secretary Sir Edward Grey (pages 115 -118) committed the country and the British Expeditionary force but doubts continued within the Cabinet and on the Continent, the latter heightened no doubt by the hesitant naval response in the Mediterranean (as discussed and linked in last Saturday's posting to Ironies). Such doubts were never finally resolved until almost the end of the month of August when British troops were engaged against the Germans at Mons during the Battle of the Frontiers. Grey's task in Parliament, as brilliantly described by Tuchman, illustrates the difficulties and is therefore quoted here:-

'He had to explain to the oldest and most practised parliamentary body in the world how Britain was committed to support France by virtue of something that was not a commitment. He must present Belgium as the cause without hiding France as the basic cause; he must appeal to Britain's honour while making it clear that Britain's interest was the deciding factor; he must stand where a tradition of debate on foreign affairs had flourished for three hundred years and, without the brilliance of Burke or the force of Pitt, without Canning's mastery or Palmerstone's jaunty nerve, without the rhetoric of Gladstone or the wit of Disraeli, justify the course of British foreign policy under his stewardship and the war it could not prevent. He must convince the present, measure up to the past, and speak to posterity'

German surprise at Britain's involvement is well described on page 129 and comes across strongly throughout the book. This surprise and the ensuing consequences of such misunderstanding are also set out in John Laughland's brilliant analysis of the causes for our present EU plight in his book, 'The Tainted Source' ISBN 0 7515 2324 0 first published 1997 by Little, Brown and Company London. The similarity of the dilemma Britain faces today with that of the years leading up to 'The Great War', to which topic I will return later this week, are most easily discerned against the background of this latter book.


posted by Martin at
8/30/2004 08:25:00 AM
Sunday, August 29, 2004
Civil Contingencies Bill - Part 2 of several from Anne Palmer.

How did the whole sorry Constitutional vandalism mess start? Once again, these are only snippets. Part 2 of either 5 or 6 August 2004.
There is no doubt that the removal of the Office of Lord Chancellor, the removal of the Law Lords from the House of Lords (and perhaps in time, The Bishops) the removal of the remaining hereditary peers, and the setting up of a Supreme Court (that can never be supreme) is the biggest piece of Constitutional vandalism that has so far taken place.
I can do no better that take part of the speech from the debate on "Supreme Court and Judicial Reforms" on 12.2.2004 given by Baroness Kennedy of The Shaws, (Col 1281)
Baroness Kennedy of The Shaws:
My Lords, it is interesting to hear noble Lords puzzle over the events of 13 June. There we were, expecting simply a reshuffle, and yet we were plunged into this extraordinary
constitutional
drama. It was described by the noble and learned Lord, Lord Hoffmann, as an issue of personalities in the Cabinet. Was it simply a drama of loyalty? I am sure, as the noble and learned Lord, Lord Hoffmann, suggested, that the removal of the Lord Chancellor in that reshuffle must have caused considerable anguish. It must have been a source of great distress to a Prime Minister who had known that Lord Chancellor so intimately and who had him as a mentor and pupil master. It must have felt like an act of patricide. It may be that, like many an employer, one would want to say that the person was now redundant because their post was abolished, rather than that one was sacking them…….
Of course, what a Lord Chancellor learns in our constitution is a greater loyalty—a loyalty to the Constitution. The weight of that loyalty is probably not there in the beginning. It comes as you feel the weight of the role; you are more than a member of the Cabinet, you are the guardian of the Great Seal, the protector of the judiciary, the protector of an independent legal profession, careful of access to justice and mindful of the special role that you play. Because of your life in the law, you know about those checks and balances. Because of your life in the law, you know why law matters. Because of your life in the law, you have come to understand that you cannot only consider the short term in policy-making when it comes to law.
The role of the Lord Chancellor creates for that person a great conflict of loyalty. That was the drama that unfolded in the prologue to 13 June. The prologue, as has been described, involved a conflict of loyalty. What we saw unfolding was the drama that is crucial in any Cabinet, where on the one hand there is a Home Secretary who argues about law and order, and on the other there is a Lord Chancellor who is to be the voice of justice and who speaks about what is right and just. We saw that conflict of loyalty played out. The noble and learned Lord, Lord Ackner, described very powerfully the subject matter over which those battles ensued, where it became necessary for the Lord Chancellor to say to the Home Secretary, "Take your tanks off the Middle Temple's lawns. Take your tanks away from the front of the Royal Courts of Justice". The Home Secretary did not receive that message too kindly.
The Prime Minister had to decide where his loyalty lay—did it lie with authoritarianism or liberalism? Did it lie with the protection of justice or with the short-term politics of satisfying the hunger of a media that are often not too concerned about justice? That drama of the constitution was played out, and inevitably, I am afraid, a decision was made that meant that not just the Lord Chancellor himself was removed, but his role was abolished. It may well be that as the noble and learned Lord, Lord Hoffmann, described it, we saw that event dressed in the robes of high constitutional principle.
……The role of the Lord Chancellor, in the form that existed, was becoming untenable. In the new world that we live in it was, and is, unacceptable for a Lord Chancellor to sit in the Cabinet and also to sit as a judge. Politics has changed, and the interface of law and politics is much more complex than ever before.
…….There is great admiration for the British judiciary, but there is a puzzlement over the way in which our Lord Chancellor fulfils a strange tripartite set of roles. It was time for us to unpick some of those functions, and it was a great sadness to me that the Lord Chancellor, the noble and learned Lord, Lord Irvine of Lairg, did not reform himself. It need not have meant the undoing of that great institution of state, the Lord Chancellorship. There was no reason to abolish it, given the weight of history and tradition, which is so important when the issue is played out in the Cabinet.
What concerns me now is that we have reduced that role to just another Secretary of State, who may still have political ambitions and may still want to become Foreign Secretary, Chancellor of the Exchequer or Prime Minister. He may have constituents who demand of him that he is tough on asylum seekers, sends more people to prison and so on. The imperatives of justice may not be the highest in the mind of such a Cabinet Minister because the weight of that great role of state is not on his shoulders. That is a source of sadness to me because I think that that makes the difference. However much we try to entrench it in statute that the role of the new Secretary of State should be to protect the judiciary, I have concerns about whether that will be done with the urgency and passion with which Lord Chancellors have fulfilled that role for a long period of our history. That is where my regrets lie.
Just as it has become inappropriate for the Lord Chancellor alone to make appointments on soundings that are so secret and on questionable criteria, the judges must for a moment consider their position too. It is not acceptable to have in our legislature those who sit as judges in our highest courts, particularly now that our political world has become so much more complex. We could all say, "Why should we concern ourselves? If our practices suit us, why should we concern ourselves with perceptions around the world?". It matters because people look to us when they are reforming systems that have been under the heavy hand of the state and in which party members have become judges. Creating distinctions matters, and we should make it clear what those distinctions are and where they lie in our system.
We are seeing something of which the Hutton inquiry gave us a scent. There is a blurring of boundaries between intelligence and the politicians and between the Civil Service and politicians. We see the embracing by the politicians of aspects of government that should be distinct and where boundaries should be clear. I am afraid that we are, at times, seeing our judiciary co-opted. I was unhappy about the way in which Lord Justice Auld was given the role of considering reform of the criminal justice system. If his remit had been merely procedural, that would have been fine, but he did not confine himself to the procedural. He found himself moving into the constitutional sphere and advising about the removal of juries and so on. What happens then is that the politicians can say, "But our judicial brothers have suggested that this should be done". Such co-option of the judicial arm should be guarded against.
To noble and learned Lords from the judicial arm, I say that those are the concerns that should be in the mind of a judge, when invited to chair inquiries or head commissions. Judges should look carefully at the ways in which co-option should take place. Given the world that we live in and the way in which things have become more complex, it is in the judge's interest that the distances are clearly marked.
It is important to embrace constitutional change, but that should be done properly. We must understand what the foundations are. What is the baseline? What are the non-negotiables? Where are the cornerstones that we must not undermine? When we know those, we can embark on the process of change."
Lord Millett Col 1295:….. Does anyone seriously believe that the creation of a new Supreme Court, modelled on that of the United States, will make the judiciary more independent of the executive? Does anyone seriously believe that transferring the ultimate responsibility for appointing judges from the Lord Chancellor to a Secretary of State will entrench the independence of the judiciary?
The Secretary of State in future, whatever he may be at the moment, is likely to be a middle-ranking, ambitious, career politician, with hopes of attaining yet higher office, dependent on the patronage of the Prime Minister and certainly subject to his direction. Moreover, he can be removed easily and at a moment's notice, without causing the kind of outrage which greeted the announcement last June.
The Lord Chancellor, by contrast, is a man bred to the law, holding an office which has existed for centuries, and which in itself tends to model his own conduct. He fills one of the great offices of state. He has reached the highest office any man of ambition could reach. There is nowhere else for him to go. Even historically, when he held not the greatest office of state but only the second office of state, the only place he could go was to become Archbishop of Canterbury.
His function in Cabinet is not to advise on the law. That is the function of the Attorney-General. His function is to represent the rule of law and to represent the judiciary. In performing his vital function, fundamental to the rule of law, he needs to be a member of the Cabinet. His brooding presence at the Cabinet table ensures the independence of the judges. He is the only person at that table who can say to a Minister, "You cannot do that; if you do you will cause an almighty row with the judges". When he makes such a point, he does not do so as a Cabinet Minister, but as head of the judiciary who happens to be sitting at the Cabinet table; and not exercising ministerial powers but representing the judges.
Lord Howe of Aberavon: Constitutional Reform Bill (Committee Stage) Col 1152:. Throughout the world, our legal system, because of its structure and shape, commands universal respect which we put at peril with great unwisdom.
It is interesting that that was clearly recognised by Her Majesty's Government only a very short time before the events of 12 June—to be compared almost with 9/11 in their folly. When the Council of Europe pressed the Government to explain the extraordinary anomaly of the Lord Chancellor's role, emphasising the separation of powers and so on, the Lord Chancellor's Department submitted a long paper in response to Mr Eric Jurgens's motion in the Parliamentary Assembly of the Council of Europe, which explained the position as follows:
"The Lord Chancellor provides a counter-balance for the judicial branch against the centralised power of government and Parliament
. . . he is removed to the House of Lords, away from the full force of party politics.
The Lord Chancellor is always a senior lawyer or judge, and therefore comes to government imbued with full understanding of legal culture and the rule of law". He is thus, "both a link and bulwark between the judiciary and the executive and the legislature".
The phrase, "imbued with full understanding of legal culture and the rule of law", goes a long way to answering the point most recently made by the noble Lord, Lord Goodhart.
That is the position as it was until June last year.
My Comments at this Point.

Are we really obeying orders from the Council of Europe? Are we deliberately allowing an outside body to dictate to us, this great Country with about 60 million people in it, to destroy our Constitution? To bring about changes to it of such enormity and permanency that the people in it do not have a say? Changes that will affect each and every one of them for all time to come and they do not have a say?
Who was it that is on record as saying about the proposed EU constitution? That there is nothing of significance that will change our Constitution in the proposed "Treaty establishing a Constitution for Europe" that would require a referendum ("a tidying up exercise" comes to mind) and yet here we are, allowing a temporary Government destroy our 1000 year old constitution without a murmer? Why? We are duty bound by oath of allegiance to defend our Queen and Country.We have no choice in this, it is a matter of fact. The same applies to our politicians, they are so bound and they may make no law that is unconstitutional.
What is the destruction of our Constitution all about? Why have a Supreme Court that cannot be supreme? I asked if Ireland had a Supreme Court and back came the reply from Anthony Couphlan, "Yes there is a Supreme Court as there is in most countries with written Constitutions, such as the Republic of Ireland, France, Germany, and the USA etc. The Supreme Court has the function, inter allia, of interpreting the Constitution. As the saying goes here: "The constitution is what the Supreme Court says it is", for it is to be interpreted in the present tense.
Of course the Irish Supreme Court is no longer really supreme in fact, since in matters covered by the EC/EU Treaties, the EU Court of Justice has supremacy, and the Irish Court must follow its judgements, so that local, or national, title has really been a misnomer since we joined the EU.
When we joined the EU, the (written) Irish Constitution was changed to allow EU law to override anything else in the Constitution so long as it was "necessitated" by the obligations of membership of the Communities.
Of course, as you say, the proposed EU Constitution would give the UK a written Constitution for the first time, of which the ECJ would be the supreme interpreter. End of reply.
I do not believe that I am alone in my firm belief that should we accept the Treaty Establishing a Constitution for Europe, that we would indeed have a written Constitution for the first time. There is no doubt what so ever that it would override our Common Law Constitution thus making it redundant, and according to R, v Thistlewood 1820, to destroy the constitution "is an act of treason". But who is listening, where are the judges that believe in the rule of law? The Law above the law to which all must obey, our very own Common Law Constitution. Whose Rule of Law are we following? Our law or the European Unions?
Do we need a Supreme Court for incorporating the EU Constitution into our legislation? Will we need a Supreme Court to ensure it is interpreted as is required by EU Law??
I quote from one document from the Centre for European Reform by Adam Townsend., "Can the EU achieve an area of freedom, security and justice?"
"It is unclear whether the EJC will interpret the Charter in such a way as indirectly to increase the powers of the EU institutions at the expense of national Governments. The EJC has traditionally been a force for integration in the EU. But although the rights in the EU Treaties have guided the Court's decisions throughout its history, the EJC has been far less activist than the US Supreme Court, and has rarely struck down legislation on the grounds that it breaches rights."…..
…"There are four additional factors that will increase the Court's caseload over the next decade and suggests that national governments should make the court more efficient now."
"First, the Charter of Fundamental Rights could generate a lot of litigation as plaintiffs test out its limits and meaning. Member States have increased the chances of litigation by making the operation and interpretation of the Charter unclear."
"Second, the regular caseload of the EU Courts will inevitably increase with enlargement. The courts of the new members are also less familiar with EU Law, and may request more preliminary rulings from the EU Courts."
"Third, the adoption of the new Constitutional treaty could make the overall legal framework uncertain for a time, which could lead to an increase in disputes….
Forth, the draft constitrutional treaty expands the court's jurisdiction to cover almost all aspects of justice and home affairs, which is a very contentious and sensitive area.
In line with the Nice treaty, the draft constitution establishes three levels of federal courts. The European Court of Justice remains Supreme court of the Union, and its function is largely unchanged-it interprets the treaties and provides rulings on important questions of EU law. The draft treaty would rename the Court of First Instance the 'High Court'. The draft treaty would allow the Union to establish 'specialised courts' below the High Court to hear cases in certain specific areas of law-intelectual property for example. The Union should establish these specialised Courts immediately-the Nice treaty of 2000 already permits this-to test whether they improve the administration of Justice".End of quotes from that paper.
So, the question has to be asked, is this why there is such a rush for all the changes to our constitution? Is it truly all being done for the European Union? There is no doubt that the requirement of the Council of Europe requires a signature on this matter, for we are 'the odd ones out again. We could remain as we are though for there is also a quote in the proposed EU constitution, something about 'respecting the constitution of nation states' or is that too much to expect now?
I turn now to a document all should read. It is the House of Lords European Union Committee 6th Report of Session 2003-4 "The Future Role of the European Court of Justice", a 50 page report with evidence published `15th March 2004.
http://www.publications.parliament.uk/ld200304/ldselect/ldeucom/47/47.pdf (I cannot find this link -Ironies ed.)

One cannot but help make a few observations, and these are, that the witnesses very rarely agree over the interpretation of whole sentances or even on certain words and what they mean. Much of what is in the proposed EU Constitution seems to be a puzzle to them. The Committee appears to take the interpretaion they want it to mean and go on from there-working towards further integration-to making that work-they, as far as I can assertain, never err on the side of caution, or have any thought of our own constitution. Yet, as has already been mentioned in various debates, the changes proposed to the slautering of our constitution, which seemed to have happened without thought, or put down on the back of an envelope, just an urgent need to see to the 'problem' at the time without a thought of what was being proposed or the effect on our 1000 years of history. Actually even jokes about people sitting on wool sacks, in fancy breeches etc.
It is already expected in the paper that, "In a number of respects the powers of the Union would be increased". (that of course means that the powers of the Member States is decreased, so let us not beat about the bush).
Paragraph 9. Under the treaty the jurisdiction of the Court has been extended. The draft treaty would bring judicial cooperation in criminal law and police co-operation within the same overall framework of judicial control as applies to other areas of EU law.
Para 39. Professor Denza….extending the doctrine of primacy to the CFSP would cause "a significant shift in the balance of power between the Union and the Member States towards the Union". In her view, the Government appeared to be ignoring the extension of primacy issue and had misrepresented the position. Further, Professor Denza believed that it could be argued that the formalising and extension of the doctrine of primacy, when taken together with a number of other specific changes to the rules of governing the CFSP, were "sufficiently fundamental to call into question the ultimate independence of the Member States in the conduct of their foreign policy". In international law, loss of such independence would imply loss of the separate status of the Member States. Professor Denza noted that the draft treaty was not expressly presented as producing such a fundamental effect and it contained other provisions pointing to the continuance of the Member States as separate sovereign entities. (My comments, what would the ECJ make of that?)
Para 84. Giving effect to the doctrine of the primacy of Community law nevertheless presents a serious constitutional issue, namely the compatibility of the primacy rule with the constitutional principle that Parliament is supreme and cannot bind itself or its successors. The potential problem of Parliament inadvertently overriding Community law in future legislation is dealt with in Section 2 (4) of the ECA which provides that "any enactment passed or to be passed shall be construed and have effect subject to the forgoing provisions of this section". Parliamentary sovereignty is maintained—Parliament could expressly enact that a provision should take effect notwithstanding section 2 of the ECA.
Para 85, Professor Alter thought that the lack of a British Constitutional Court inclined to protect its own prerogatives could affect the debate within the United Kingdom about the limits of EU law authority. It is true that the discussion focuses more on the issue of Parliamentary sovereignty and the extent to which Parliament may, by the terms of the ECA, have abrogated its authority."
Para 91 The scope for the new Supreme Court to adjudicate on the reach of Union law may need to be considered further and possibly defined in the legislation establishing the new Court.
ara 93 Professor Gaja said that the draft treaty "still reflects the attitude of Member States that are reluctant to submit to the Court's review CFSP acts, which they consider the result of the use of their sovereign prerogatives. This attitude contributes to keep pillar structure in existance in spite of the declared intention to merge the three pillars into a single Union. Para 97 It was noted that the European Court of Human rights did not exclude foreign policy as such from judicial review…..
Para 98 ….Professor Priban expressed a concern that giving the Court jurisdiction over CFSP might result in limitation of national sovereignty in the field of international politics……
You cannot have a true State if you do not have the control of the Criminal Justice system. This is the control of the relationship between one citizen and another, which is the defining moment of the modern State.You cannot have a true State if you do not have the control of the CFSP. Our State already has, (if only our Parliamentarians look to it), as its primary purpose, to protect one person from the other, Magna Carta and our very own Bill of Rights. Our freedom was established when Henry II set about the creation of the common law; when the Barons brought King John to Runnymead.
It may be that the new Supreme Court is to keep watch and make sure EU laws are implemented as the EU wishes, or it may be that the new Supreme court is required to incoporate the Treaty ESTABLISHING a Constitution for Europe (meaning the Union) into our law, but it is time once again to remind all, that the Parliament of the United Kingdom of Great Britain must and will be supreme and sovereign once more, but it is up to the people to make their voices heard to bring this about.
To transfer power over criminal law is one of the most fundamental things that could happen to this Country's Constitution, but for a British Prime Minister to agree so easily to this transfer, to eagerly WANT this to happen, is unpardonable. To deliberately destroy this countries 1000 year old Constitution in order to comply with the Council of Europe's rulings or at the wishes and will of any person from outside this country, is something the people of this country should never, ever forgive.
The proposed United Kingdom's new Supreme Court will not (at this present time) be able to deal with Scottish appeals partly for historical reasons. The Act and Treaty of Union 1707 guarantees the separation of the Scottish judicial system from that of England; the administration of the civil and criminal courts in Scotland is a devolved matter within the competence of the Scottish Parliament and Executive.
The basis for the criminal justice system is utterly separate from that in England and Wales, As Lord Hope of Craighead has said:
…."although there is now much common ground between England and Scotland in the field of civil law, their system of criminal law are as distinct from each other as if they were two foreign countries".
So for all the expense in finding a suitable place to either build a Supreme Court or a building suitable for renovating (or for a 'make-over') to house a Supreme Court, could hardly be classed as a "United Kingdom" Supreme Court, but the argument for and against, will be in part three.
Anne Palmer.
(I apologise for the format changes which occurred in transcribing this comment).
posted by Martin at
8/29/2004 02:20:00 PM
Saturday, August 28, 2004

The "New European Soviet"

This article, linked here, by Vilnius Brazenas is in the latest edition of the magazine 'New American' which should should alert some on the other side of the Atlantic to the growing tyranny now engulfing the entire European Continent. The following are a few extracts:-

Most Americans have only a very hazy understanding about what the EU is and an even foggier notion of how it came about. Unfortunately, most Europeans also have a very poor understanding of these things. They have only recently begun to recognize how blind they have been to the very real threats that the growing centralization of power in the EU poses to their national independence and their freedoms.

However, it must be said that the main reason why Europeans and Americans both have such foggy notions about the EU is that the EU architects and promoters have purposely kept the real origins and objectives of the EU shrouded in deception. They had to do this, in order to foist this scheme on the peoples of Europe. If they had openly proclaimed their true objective — to end national sovereignty and create an unaccountable, socialist suprastate — the entire scheme would have been rejected overwhelmingly, right from the start. .......................

The Treaty of Rome was, in truth, a constitution for a new government disguised as a treaty. Traditionally, a treaty is an agreement between sovereign states, concerning borders, military alliances, trade relations, extradition, etc. The parties to the treaty remain sovereign states; their form of government is not altered and their citizens are not directly bound with new laws or obligations. The Treaty of Rome, however, created a new, over-arching "community" independent of its member states and claiming the power to create laws that are binding not only on the member nations but on their individual citizens as well.



posted by Martin at
8/28/2004 12:42:00 PM

The Mediterranean pursuit of the German Imperial Navy Battlecruiser Goeben August 1914.

The implications of this incident ninety years ago were tremendous and well described in Barbara Tuchman's 'The Guns of August'. An online description of the apparently almost deliberately unsuccessful pursuit is linked from here.

Details of the vessel that almost alone brought Turkey into World War One on the wrong side are available from this link.



posted by Martin at
8/28/2004 07:49:00 AM

Its 'Voter Distrust and Dismay' - not apathy!!

This morning's Opinion piece in The Scotsman, linked from here, titled 'Non-voters have a lot to be apathetic about', follows the theme of lack of trust in our politicians about which I was protesting last evening in the posts immediately below. It concludes as follows:-

"... to oppose those oppressive aspects of New Labour rule, you do have to be a politician who genuinely believes in freedom; not just the freedom of the rich to exploit the poor, but the freedom of all citizens, expressed through a political system that is designed to show respect not only for their rights, but - even more importantly - for their human dignity and potential.

If any mainstream political party ever rediscovered the nerve to embrace that cause, with all its complex ramifications, people might suddenly find it worthwhile to go to the polls again. But not so long as our mainstream parties continue to come at us like so many faces - smug, concerned, or reactionary - of the same big controlling power-structure, dressed in the same bland business suit; as difficult to distinguish from one another as the pigs and men at the end of Orwell's Animal Farm, and almost as unattractive."



posted by Martin at
8/28/2004 06:46:00 AM
Friday, August 27, 2004

Impeaching Blair

The Spectator leads the media justification for such a move with both its cover story and a powerful leading article. Click on the titles to read in full:-

The abuse of power.

High crimes and misdemeanours

This blog supported the action in Iraq for reasons other than those Blair presented to Parliament. This blog supports the impeachment of Blair even though in today's political environment it will almost certainly guarantee the continuation of his disastrous New Labour government into a third term.



posted by Martin at
8/27/2004 06:16:00 PM

BRITAIN DOES NOT TRUST ITS LEADERS!

The YouGov poll with a sample of 2213 electors across Great Britain, published today in the morning's Daily Telegraph linked here, reports the following terrible indictment of the nation's political leadership:-

Is the Government honest and trustworthy? Yes 28% No 63%

Would a future Conservative Governement be honest and trustworthy? Yes 22% No 57%

The only surprise in these figures is that there can still be found roughly a quarter of the population willing to trust those now sitting as MPs at Westminster. They are in my view quite beneath our contempt.



posted by Martin at
8/27/2004 05:54:00 PM

Pan-European vehicle monitoring - Big Brother's next step!

The announcement of a supposed 'ecall' system allowing standardised call-up of emergency services may quickly be seen as the fraud it clearly is when reading the details from the EU press release of today linked here, from which the following is quoted directly:-

Today, Mr. Fabio Colasanti, Director-General at the European Commission's Information-Society Directorate-General, signed together with the representatives of two other major stakeholders, ACEA and ERTICO, a Memorandum of Understanding that aims at realising an interoperable, pan-European in-vehicle emergency call, eCall. The MoU, which is soon expected to be signed by other industrial and public sector stakeholders, provides for a solid basis for the partners to actively contribute to the development and implementation of the eCall in potentially all new vehicles sold in Europe.

If the scheme was connected with road safety or transportation then it would hardly have been solely announced by the European Commission's Information-Society Directorate-General. An excerpt from the explanatory document:-

The eCall Driving Group is working on an integrated strategy for Pan-European emergency services. These services will build on the location-enhanced emergency services being implemented in the Member States on the basis of the recently adopted Recommendation on the implementation of E-112. Furthermore, these services will include provisions for more accurate location information and additional safety information.
Chair:
Michael Nielsen, ERTICO
Wolfgang Reinhardt, ACEA

Emergency services are most assuredly something that can only be handled on firstly a national but mainly a local (or motorway by motorway basis). There can be absolutely zero justification for the introduction of such an integrated system on safety or emergency service grounds. The intent is quite clear from the final chilling words -
implementation of the eCall in potentially all new vehicles sold in Europe.


We are to be monitored everywhere by our unelected masters. Nowhere will we be unwatched or unmonitored and never in our vehicles!

posted by Martin at
8/27/2004 05:22:00 PM

Civil Contingencies Bill

I received the following circular e-mail which I repeat for interest.

Quote

CIVIL CONTINGENCIES BILL - ANALYSIS & CONDEMNATION

I am a visiting American researcher and doctor of philosophy who wishes to raise an alarm about the Civil Contingencies bill now before Parliament. Such a dangerous legislative proposal has no place in a democratic country.

Lord Lucas, speaking at the second reading of the bill in the House of Lords on 5 July, came to the point with a telling historical reference:

"Are we opening up our system to the equivalent of what happened in Germany in 1933, where it became possible for an extreme party legitimately to hijack a democracy and turn it into something totalitarian? . . . They [the New Labour Government] appear to want a role of issuing diktats." Lord Lucas concluded by calling for action to be taken against the bill which would safeguard our rights, "or we are signing our death warrant as a democracy".

This bill, which is not far from passage, entering a committee stage on 15 September, enables the Government to declare a State of Emergency (clauses 1 and 18) on trivial or "threatened" events (e.g. an oil slick, threatened "damage to property", threatened "destruction of plant life", threatened "disruption of a supply of money").

Even non-events qualify for a declaration of the Emergency -- a "situation" suffices, indeed it may be a situation which exists (or, in practice, is claimed to exist) outside of the UK.

In other words, the Government has de facto carte blanche to declare the Emergency.

(Only an actual, verifiable catastrophe should occasion this.)

Parliament can then be counted on to rubber-stamp the Government's insistence on a State of Emergency, and likewise for the Emergency Regulations proffered by the Government.

After this (see clause 21 and note insignificance of clause 22), democracy is suspended, Parliament in effect inoperative (see clauses 21 and 25 together with the questionable 26), the Citizenry, which is the soul of a democracy, effectively brought under strict police-military
rule (clause 21), property can be confiscated without compensation [clause 21 (3) (b)], previous Acts of Parliament can be nullified[(21(3) (j)], etc.

No conceivable state of affairs warrants the suspension of democracy and, essentially, the imposition of rule by decree -- dictatorial power.

[And just what credible evidence has ever been produced that the UK is in serious danger?? To my knowledge, never in the history of England has such an Emergency been declared during any of England's many wars. Non-evidentiary alarmist talk, and This is the reaction?)

A Government composed of deified saints should not be entrusted with the powers this bill grants. As the Iraq war and numerous other actions testify, the present Government that authors this carnivorous bill is not composed of deified saints.

The German bombing of Britain during World War II and the Troubles stemming from Northern Ireland never brought forward even a suggestionof what this frightening bill boldly enables.

I strongly request that you consider this matter, discuss it with colleagues, and take action before it is too late to have any effect.

I would point out that the Public is totally uninformed about this threat to British liberties and traditions. And an irresponsible News Media have been silent as a stone all the while this terrible Thing steals in.

We must have publicity and discussion. We must have Light cast on this Thing.

Will people in positions of influence and power truly allow to be torn down what centuries of constitutional development have built up?


Your Petitioner,

Myron (Mike) Stagman, PhD
Concerned Citizens Information Network (CCIN)

[Note: When reading the current Civil Contingencies Bill, observe the following key portions: Clauses 1, 18, 21-26]
Unquote



posted by Martin at
8/27/2004 07:58:00 AM
Thursday, August 26, 2004

Move to impeach Blair.

A Welsh nationalist MP has drawn up a report detailing the Prime Minister's alleged "high crimes and misdemeanours" which will form the basis of the indictment. The report may be read from today's Daily Telegraph from here.

Boris Johnson linked here, also in that newspaper, covers the same topic and concludes that while such a move is entirely justified, views the chances of success as zero in view of the 'lobotomised' state of Labour's MPS.




posted by Martin at
8/26/2004 08:22:00 AM
Wednesday, August 25, 2004

Eurozone faces inflation surge!

The logical outcome from this report in today's Daily Telegraph, linked here, about the demise of euro coins smaller than five cents can only cause a surge in inflation.

It is all very well for Governments such as that in Holland to order shopkeepers to round prices down as well as up, but how many will actually do so.

Britain's experience with a huge spurt in the value of its smallest coin, (initially by a factor of 2.4 but soon after by 4.8) caused by Jim Callaghan as Chancellor of the Excchequer opting for the pound as the new decimal unit rather than the ten shillings kicked off an inflationary spiral that decimated the British economy for years!



posted by Martin at
8/25/2004 10:47:00 AM

Denis MacShane back-footed on 'Today' once again.

The Europe Minister was once again pulled up over inaccurate claims regarding the statements of those opposed to further EU federalisation. This time it related to an earlier broadcast where he wrongly criticised an article by Trevor Kavanagh the political editor of The Sun . The item can be heard again from the Today programme web page - it was just before the eight o'clock news.


posted by Martin at
8/25/2004 08:01:00 AM

Price of a Peerage now Half a Million Pounds?

The latest list of donations to political parties seems to indicate that New Labour have upped the price for a peerage. Of course in this particular case the circumstances of the new peer's corporate earnings from the smallpox vaccination supply ordered by the government could complicate any direct cost/benefit analysis of a straightforward seat in the House of Lords. Details may be read from this link to The Guardian.



posted by Martin at
8/25/2004 07:53:00 AM
Use eBay's PayPal service if you appreciate this blog - to make fast, easy and secure donations to help towards our broadband and other costs! martin.cole@gmail.com Many thanks!.