Millennium Blitzkrieg - Email for other epub info on the novel
NOW ON KINDLE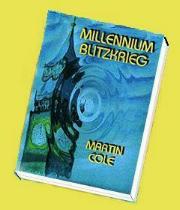 Read the novel, wriiten in the 1990s, which warned of an EU catastrophe by the centenary of WWI in 2014.
- Order for your Kindle from Amazon.com - Order for your Kindle from Amazon.co.uk - Order for your Kindle from amazon.de - Order for your Kindle from amazon.fr
---

Copyright2005MartinCole
---
Blogs:
Teetering Tories
UKIP Uncovered
The Strasbourg Cesspit
Anglo Saxon Chronicle
EU Realist
EU Referendum
Road to EU Serfdom
Eurosoc.com
Adam Smith Blog
Fainting in Coils
Tim Worstall
Anthony Wells
Samizdata.net
The Commons
USS Clueless
UKIP Uncovered
Blogs en Francais:
L'UE L'A EU
---
Archives:
February 2003
March 2003
April 2003
May 2003
June 2003
July 2003
August 2003
September 2003
October 2003
November 2003
December 2003
January 2004
February 2004
March 2004
April 2004
May 2004
June 2004
July 2004
August 2004
September 2004
October 2004
November 2004
December 2004
January 2005
February 2005
March 2005
April 2005
May 2005
June 2005
---
E-Mail Me
---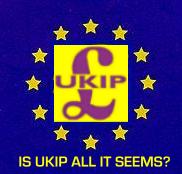 Click here to learn much much more
---
Friday, April 30, 2004

Euro Support Drops to 22 per cent

According to this report from Bloomberg UK Voter Opposition to Euro- Rose in April, Barclays Says the number of completely ill-informed and naive individuals in the UK continues to fall - Commissioner Patten, in outraged reaction, has been reported as calling for increased EU brainwashing in our schools! Shameful for someone soon to be responsible for a venerable institution of tertiary education. Worried about the Franco-German core group administrator's continuing to honour his pension entitlements should Britain centrifuge to the fringe, I wonder?


posted by Martin at
4/30/2004 06:39:00 PM

Kinnock Continues Scare Tactics - So That Corruption Can Continue???

The EU Vice President, whose MEP wife was recently named by The Sun as the worst British offender in the MEP Attendance Allowance scam has been adding his voice to that of Jaques Chirac ( himself only avoiding prosecution for expense violations due to his continuation in the Presidential office), is suddenly getting hysterical on realising the strength of the arguments and depths of the disgust now forming against the grotesque organisation of which his family have been such huge beneficiaries over the past five years!

His arguments are detailed in this report from The Scotsman linked from here


posted by Martin at
4/30/2004 11:42:00 AM

Chirac wants the UK Out

The Financial Times reports that Jaques Chirac has now proposed any member state not ratifying the EU Constitution within two years will be ousted from the EU. The clearest signal yet given to the French people that as far as their President is concerned they will not be getting a referendum in France. Will he crumble like Blair? The article is linked from here


posted by Martin at
4/30/2004 07:30:00 AM
Thursday, April 29, 2004

This is the once so-called Common Market

Was this what we voted for in 1975? A free trading common market????

European Food Safety Agency – to be sited in Parma, Italy.

Our British Food Standards Agency will come under their control and they will enforce the laws made in Brussels.

European Aviation Safety Agency – based in Cologne, Germany, and will be the only one allowed to issue licences. Our CAA is virtually redundant.

European Maritime Safety Agency – based in Lisbon, Portugal, with wide powers to enforce laws relating to shipping and the running of ports.

The Railway Safety Agency – goes to Lille, France, with immense new powers over the operation of Europe's railways. This ties in with the Government's recent announcement that it intends to set up powerful regional transport agencies (answerable to the French agency).

Eurojust – is in Holland and will co-ordinate the harmonisation of the EU's criminal justice systems.

European Public Prosecutor – will be in Luxembourg. All national prosecution services will ultimately be answerable to this Agency.

European Network Security Agency – charged with internet security, is to be in Greece, the country with the lowest internet use.

European Chemical Agency – to be in Helsinki, Finland.

European Environment Agency – in Copenhagen, Denmark.

European Police College – will be sited in London. This is part of the EU's takeover of national responsibilities for justice and law. The aim is to promote EU-wide integration of Police Forces.

Fisheries Control Agency – responsible for enforcement of the EU's Common Fisheries Policy, will be in Vigo, Spain. Royal Navy protection vessels will now operate under the direction of Spanish officials.

The EU's Centre on Racism & Xenophobia – in Vienna, is being turned into a fully fledged European Human Rights Agency



posted by Martin at
4/29/2004 06:41:00 PM

'WE WILL BE YOUR ALLIES AND YOUR PARTNERS IN MAKING EUROPE WORK' - BLAIR WELCOMES THE EU ACCESSION COUNTRIES

Said by Tony Blair Prime Minister of Britain at a reception in the Foreign and Commonwealth Office yesterday. He was also reported in the same press release as making this totally unjustified, if not untrue and most certainly quite outrageous statement:-

" He said that the countries were joining a Europe that 'shares values of democracy, the rule of law, basic rights and liberties for each INDIVIDUAL citizen - in this Europe their nationhood, their independence is not defeated,....

Democracy is crushed within the EU as Blair very well knows! As for the individual citizen it is perfectly clear that there are no plans whatever for any such to continue to survive. The very concept is alien to the entire constitutional document he planned to ram through Parliament before the protests became too loud and frequent for even this putative tyrant to ignore.


posted by Martin at
4/29/2004 05:41:00 PM

Blair now Mortally Wounded?

The Independent headline article this morning (linked here) draws attention to the now seriously damaged condition of Britain's Prime Minister:-

Senior ministers rallied round a beleaguered Tony Blair yesterday as they sought to quash speculation that he might stand down as Prime Minister this summer amid fears that he has become dangerously isolated inside his own Cabinet and party.

Although Blair aides dismissed the idea he might quit as "nonsense" and "tittle-tattle", the move to bolster his position by loyalist ministers was seen as a clear sign that the Prime Minister is facing the most testing period since he won power seven years ago.

While Iraq has taken its toll, when Blair eventually departs there now seems little doubt that for the third time in a row, it will be the thorny matter of Britain's relationship with the European Union that has destroyed yet another Prime Minister. Will his successor have the perspicacity and good sense to slay the dragon once and for all and immediately on entering office? Hesitate and you are lost is clearly the lesson of recent history!

The continental situation looks unlikely to ever again be quite so amenable to fundamental root and branch reconstruction. Perhaps the last moment of calm for planned progress before growing crisis brings growing chaos and puts matters beyond sensible control.

Beneficiaries would be the existing fifteen member states, the ten new arrivals, now surely doomed to become similarly entwined and entrapped from this weekend, and the world at large, which is crying out for the European nations to cease their half century of introspective navel gazing, view the state of the world and just for once show some concern for others!

Has perhaps Gordon Brown's date with destiny arrived? Or is there somewhere else in Europe a man of stature with the courage to step forward and proclaim that things cannot continue as they are!

Ex-Prime Minister Aznar, perhaps, as he clearly knows the reality - his replacement already appears cheap, opportunistic and tawdry. Aznar must be more than fully aware that none of the existing heads of government has the insight, judgement, moral courage or leadership to even attempt to do what must be right! Boldly declare that the EU is flawed beyond repair!



posted by Martin at
4/29/2004 08:03:00 AM
Wednesday, April 28, 2004

Giscard Meets Blair!

EU Business reports a 'private meeting' between the two men in London today,linked from here


posted by Martin at
4/28/2004 09:11:00 PM

Howard Leads the Tories in pursuit of Public Opinion?

According to this trailer from ePolitix, the opposition leader is today reported, (presumably after having read this mornings ICM poll showing 73 per cent of 1000 Company heads stating the belief that the EU was a "failure") that maybe the EU of which he is apparently determined to remain a committed member, is not perhaps, such a fanastic entity after all, this is a quote:-

Addressing the Institute of Directors, Howard will make the case for a "free market approach to Europe" by campaigning for a "no" vote.

"Consider what is happening in the European Union as we speak," he will say.

"Chancellor Schroeder is reported in the Financial Times to have said that the low tax rates of eastern Europe were "not the way forward".

"Instead of facing up to the challenge of global competition, Europe's leading member states are trying to threaten and cajole new members into adopting the EU's expensive social model as soon as possible," he was set to say.


The complete report is linked here.


posted by Martin at
4/28/2004 05:07:00 PM

British Business Leaders Slam the EU

An Opinion Poll amongst 1,000 business leaders in Britain reveal the growing opposition to the fast failing EU conglomerstate, the report linked here states:-

The ICM survey of 1,000 company chief executives found that 73 per cent of business leaders believed the European Union was "failing" and that Britain would be more successful if it retained the pound and reclaimed powers from Brussels.

Only 18 per cent of those interviewed believed that the European constitution would be good for their businesses; 59 per cent said it would be bad; 23 per cent did not know.

730 Business Leaders out of 1,000 believe the EU is failing, yet it is close to impossible to find one single leading British politician with the courage to even HINT that Britain would be better off outside this growing disaster!

Today the EU Commission takes the Finance Ministers of the EU Member States to court for breaching the Stability Pact while another member of the Eurozone - this time Italy gets a warning about what looks like another certain infringement developing.



posted by Martin at
4/28/2004 10:30:00 AM

Poland Proposes EU Constitutional Voting Override

Fearful the Polish Parliament will lack the majority to pass the Constitutional document, Poland now proposes to hold a referendum, which to pass they believe will need a provision suspending the voting procedure, if a country feels a vital national issue is at stake. Back to national vetoes in effect and therefore the death of the VGDE constitutional concept. Bravo Blair and the Poles, it look as though they have scuppered the whole horrendous 'Convention' concept in just one week!

The Financial Times has the full story from this link.


posted by Martin at
4/28/2004 05:55:00 AM
Tuesday, April 27, 2004

The Next Mass Migration?

This quote is from the Radio Nederlands daily press review, (linked here):-

More skills, fame, or laughs
In an article advising Dutch people on how to emigrate successfully themselves, the VOLKSKRANT says you should ask yourself what you have to offer the host country. The VOLKSKRANT reports that emigration countries, like Australia and Canada, have a greater need for people with practical skills like farmers and roof setters than for academics, lawyers or economists. The VOLKSKRANT has compiled a list of the professions most in demand in the countries that Dutch people tend to emigrate to: The United States is looking for anyone who is famous or has one million dollars to start a business hiring at least ten Americans. Now Canada, on the other hand, needs more masons and farmers, but it also wants more actors and comedians.


posted by Martin at
4/27/2004 09:20:00 PM

EU Trivia I Find Ironical

The call centre, Europe Direct, handling enquiries from across the EU on 00 800 6 789 1011 or for your browsers bookmark http://europa.eu.int/europedirect/ is in fact outsourced to a company called Tech Team which is headquartered in Southfield, Michigan. USA.

Ring or e-mail them with your question, in any language you choose. My question is one posed on this blog a few days back to which as yet, no replies have been received. Has the EU achieved anything positive whatsoever? The usual untruthful response is peace, none others are forthcoming!

(Thanks to the IHT for this information taken from one of today's front page stories)


posted by Martin at
4/27/2004 03:15:00 PM

The Economist

A problem for those few of us in Europe, who retain faith in democracy and still believe it has a role to play in our daily lives - we are often referred to as Euro-sceptics or Euro-realists as a convenient means of denigrating our true beliefs - is to identify which media outlets are friends and which our foes.

This was touched upon on this blog last weekend in connection with the credentials of the 'Telegraph' group newspapers under the proprietership of Lord Black (whose wife continues with her regular column in the DT., I noted this week).

Today another excellent example of this problem is demonstrated by this statement from The Economist', which is reproduced from today's International Herald Tribune:-

A British referendum increases the risk that the EU constitution (more properly called a constitutional treaty) may never come into force. But it is right to hold one, for two main reasons.
.
The first is that there is still time to improve the text. The biggest area for improvement should be "subsidiarity," an ugly term for the proposition that powers are best exercised at the level closest to the citizen. Second, a big factor contributing to popular disillusion with the EU, which is felt well beyond Britain, is that a huge gulf has opened between what is seen as an elite project run from Brussels and the day-to-day concerns of ordinary voters. And the best way to try to bridge that gulf is to stage a full-blown campaign that gets voters to focus on European issues - and then decide whether they want the constitution that the Brussels elite is proposing.

Examine and consider this sentence The first is that there is still time to improve the text. - Does that not speak volumes?

The constitutional document is fatally flawed, it reverses the whole concept of law and understandings between the ruled and their governors in this nation as established over centuries. Principally that what is not forbidden or declared as illegal is by definition permissable and allowed! No amount of redrafting of the present document can ever alter that fact!

The constitutional document is supremely anti-democratic and sets in concrete a profound Tyranny almost exactly meeting the text book defintion described by Karl Popper in his book 'The Open Society and its Enemies' (Published by Routledge, London and New York ISBN 0-415-23731-9). Except for one 'motherhood' sentence at its opening there is no recognition of democracy anywhere within the proposed constitution. No amount of redrafting of the present document can ever alter that fact either!

Some years back 'The Economist' published its own proposed constitution for the European Union, I did not agree with it all, but it might have formed a potential starting point for debate. I will try and retrieve my old copy and return to it later.

Meantime beware! 'The Economist', is a hugely influential leader of opinion in the English speaking world. The fact that it is now adopting an openly anti-democratic line, rather than its long-term tendency towards Platonist elitism, is more than worrying - it's really rather scary!




posted by Martin at
4/27/2004 09:58:00 AM
Monday, April 26, 2004

Anzac Day

This Blog salutes our friends in the Southern Hemisphere on this most important anniversary. We reproduce part of today's editorial from The Australian which may be read in full from here:

At Gallipoli itself, terrorism warnings did not prevent about 8000 Australian visitors joining Defence Minister Robert Hill for the ceremony. All nations honour their war dead. But in Australia, where the sacrifices have been so great, and almost always so far away from home, the ritual has a special purchase on the imagination

Many of we British will never forget that the truest of friends with most community of values may still be found the farthest from our shores! Such as we also remember in gratitude.


posted by Martin at
4/26/2004 05:33:00 PM

Schroeder: Constitution without Ratification

That startling headline brought to us by EUobserver, shows even the concept of democracy is now to be ignored within the EU. The article source was a french report from Yahoo News my rough translation of the final, also significant, paragraph:-

The decision by Tony Blair to consult the British People (in a referendum), most of whom are eurosceptic, makes one believe the text will not be adopted. Questioned on this subject by the magazine "Focus" the German Chancellor replied "I do not wish to think along those lines"


posted by Martin at
4/26/2004 01:52:00 PM

The 1975 Referendum

Debate is now certain to become dominated by aspects of the eventual referendum on the EU Constitution announced by Blair last week. Already we have encountered misconceptions and conflicting versions of what took place and therefore reproduce below a brief summary with some relevant links which follow immediately afterwards. Those wishing to view, download or print (11 pages) the Pamphlet that was distributed to every household in 1975 may do so from from here.

Quote

In 1975 a referendum was held in the United Kingdom, asking whether the electorate wished to remain part of what was then the Common Market. It is a common misconception that this referendum was on whether Britain should join - this is not the case, as Britain was already a member.

The referendum was a manifesto commitment of the Labour party under the leadership of Harold Wilson. The Labour party was elected to form Her Majesty's Government and duly held the referendum.

The main purpose of this site is to host an online version of the pamphlet distributed to every household by the Government in support of the Government's recommendation that people should vote in favour of staying in. The aim is to provide proof of what the British people were told about membership of the Common Market on the occasion they were last consulted. It demonstrates just how far the European Union has 'progressed' as a political project since then.

Please use this link to see the pamphlet text. Scans of the original document should be available soon.
---------------------------------------------------------

The question that was actually asked was:
DO YOU THINK THE UNITED KINGDOM SHOULD STAY IN THE EUROPEAN COMMUNITY (THE COMMON MARKET)?

The result was that 67.5 % of votes were in favour of staying in.

The House of Commons had voted (9 April 1975) on staying in on the new terms:
396 in favour (70.0%), 170 against (30.0%).

Earlier polls had asked:
"If you could vote tomorrow on whether we should stay in the Common Market or leave it, how would you vote?"
Average results: 33% stay, 41% leave, 26% don't know.

In Feb 1975 the question was altered to:
"If the Government negotiated new terms for Britain's membership of the Common Market and thought it was in Britain's interest to remain, how would you vote - to stay or to leave?"
Results: 53% to stay, 22% to leave, 25% don't know.

The above information is apparently available in:
"The 1975 Referendum" by David Butler and Uwe Kitzinger. ISBN 0-333 662990-3
Unquote

Links are from the first page of the pamphlet site click here to access.


posted by Martin at
4/26/2004 09:54:00 AM

Scotland Strongest against Constitution

A good analysis of present attitudes and recent polls from The Scotsman linked here.


posted by Martin at
4/26/2004 09:12:00 AM

"France First" Policy makes mockery of EU's Supposed Guiding Principles

What is the point of being in a group or club, costing huge amounts every year where other members take advantage of every little rule or quirk acting in their favour, but totally refuse reciprocation. The EU supposedly is all about the operation of an open and free market. The British Water supply industry bears ample witness to the proof of its operation within the UK.

This morning's extraordinary news from France, although the victim of French chauvanism in this case is non-EU Switzerland, still serves to amply illustrate the pointlessness of EU membership by the lack of reciprocity available from France, the nation that presumes to act as standard-bearer for the new conglomerstate.

NZZ Online has the report linked here, on the rejection of the financially much more attractive bid by Swiss Novartis for French drug company Aventis, with the clear aim of keeping the resulting larger drug making company fully French.

This flies in the face of everything towards which the EU is supposedly being built. Surely in the one area of the Common Free Market (unaffected by the presently disputed constitutional issues and enlargement concerns) and presumably now having been set in stone - this should be one area which should be seen to be working in accordance with pan-European principles - NOT IN FRANCE - NO WAY!

Incroyable et Pitoyable! Who would be an investor in France?



posted by Martin at
4/26/2004 09:00:00 AM
Sunday, April 25, 2004

Telegraph Group to be Compelled to Adopt Eurofederalism following German Takeover

Further to our postings of yesterday (which may be read below this post), concerning the possible takeover of the Telegraph Newspaper Group by the German Axel Springer Group; it appears from an item in today's Sunday Times that if such proceeds: Any euroscepticism will be banned.

So it will be farewell to Ambrose Evans-Pritchard, Boris, Janet Daley, Tom Utley etc., unless, of course, like the one-time eurosceptics in the Conservative Party they change their beliefs. As journalists (with one part exception), we trust that they will not be following the example recently set by the pathetic politicians in the party their paper previously supposedly supported!


Sunday Times printed the following:-

"under an edict issued during (Axel) Springer's lifetime the Telegraph would have to fall in line with the pro-Europe stance of all Springer publications and drop attempts to portray the European Union as a federalist conspiracy.

It is part of the Springer "Constitution" that company titles unconditionally speak for the united development of the European people."

As our informant commented - "This is a sinister development in stiffling democracy in the press but one only to be expected from the European power blocks".



posted by Martin at
4/25/2004 09:25:00 PM
Saturday, April 24, 2004

Cyprus Says NO

Is there anything the EU ever puts its hand to that works? I have asked before but answer comes there none. I certainly can't name a recent success. Real achievements, sent by e-mail WILL be mentioned here!


posted by Martin at
4/24/2004 09:06:00 PM

Only 25% will vote Yes for the Constitution'

The Scotsman linked here, has released these details of a News of the World Poll:-

Two Thirds of the public 'strongly' believe Britain should stay in the EU however, that is the nature of the task ahead, in which it appears few are yet ready to fully join!

Quote

Only a quarter of the British public will vote 'yes' in the planned referendum on the European Constitution, a new poll has suggested.

The ICM poll for the News of the World found just 25% of those surveyed said 'yes' when asked: 'Do you believe Britain should sign up to the EU?s constitution?'

Some 55% said 'no' with just 20% undecided.

However the poll also revealed that the British public believe strongly that Britain must not withdraw from Europe altogether

Almost two thirds of those expressing an opinion said they believed that Britain should stay in the EU.. (Ironies emphasis - ed.)

The poll also suggested that Mr Blair?s abrupt U-turn over a referendum did little to enhance his personal standing with voters.

Just 10% said his reputation had improved since he announced on Monday the public vote; with 35% saying it had gone down.

ICM Research interviewed a random sample of 1,010 adults across the country aged 18-plus by telephone on April 22-24."

Unquote


posted by Martin at
4/24/2004 05:55:00 PM

First Political Party of substance in the EU to be banned is Belgian

The Tyranny grows! Stephen Pollard on his blog reproduces his article in The Times which mat be read from here, if you wish for a shudder up and down your spine.


posted by Martin at
4/24/2004 04:16:00 PM

Telegraph Bilderberg Links

The following interesting comment on our posting below this titled, 'Democracy in Danger - Telegraph Takeover by German Group', has been received from Mr Edward Spalton:-

I have long suspected that the Telegraph is a "pretend Eurosceptic" paper. It will carry the Christopher Booker-type stories of the Straight Banana Inspectorate et al but will usually not print anything which goes to the heart of the the EU project. The previous proprietor , Lord Black, attended conferences of the Bilderberg Group. I am told that the Telegraph also refused to print an accurate account of the life of Prince Bernhard of the Netherlands. As a German aristocrat (Prinz Schaumberg-Lippe , I think - but I haven't looked it up) , he was a member of the SS. That was a voluntary act, requiring deep commitment to the Nazi cause - not like being in the Hitler Youth or some other organisations which were more or less compulsory after 1933. Prince Bernhard was one of the founders of the Bilderberg group which met, for the first time, under his patronage in Bilderberg. He was also compelled to resign as Inspector General of the Netherlands armed forces after the Lockheed bribery scandal. So there is a continuing thread of "Corporatist" politicking and corruption which ran through his life. I believe he was an IG Farben executive whilst he was in the SS . That was a huge conglomerate, perhaps best known as "Zyklon B is us". The Telegraph airbrushed all this out of their account and would not print corrections.

Some years ago, I spoke in a debate at the Leicester University Students' Union. My opponent was a journalist from the "Independent". Talking afterwards, he said we had an unfair advantage with so many Eurosceptic papers. I said I would not be surprised if the Daily Telegraph changed its view abruptly or subtly and he literally rocked backwards in surprise. I still hold to that. The Telegraph, like some supposed "Eurosceptics" (like Austin Mitchell) follows a "sceptical" line which never lands a real punch on the EU project.

Further explanation on the reporting in that paper over the past two days is provided by this item published yesterday in Expatica, which is linked from here and titled 'UK newspaper owner in anti-German outburst'.

Conrad Black the former proprieter of the Telegraph Group was well known for his Bliderberg connections and acted as chairman for its conference in Canada. A good site for information on that group Bilderberg - "The High Priests of Globalisation" is linked from here.

Ironies posts touching on such secretive groups and the historical background may be found among our following earlier posts Divide and Conquer 7th June 2003 here, Franco/American Relations on Independence Day 4th July 2003 (Includes BBC Bilderberg Broadcast), here and Ironies Christmas Eve Special post from last year HERE.


posted by Martin at
4/24/2004 03:39:00 PM

'DEMOCRACY IN DANGER' - Telegraph Takeover by German Group

The Daily Telegraph this morning returns to the topic of the 'Nazi' accusation by the owner of the Express Newspaper Group in connection with its own takeover by the German Axel Springer Group. The following are selected quotes from the article that may be read in full from here:-

Mr Desmond claimed that "all Germans are Nazis" in what was seen as an attack on a possible bid by the Berlin-based Axel Springer group to buy The Daily Telegraph.

His outburst was condemned by commentators, historians and politicians alike, whose reactions ranged from angry puzzlement to fears that it could discourage German business links with Britain.
........

Jorg Friedrich, the historian and author of Der Brand (The Fire: Germany Under Bombardment 1940-45), in which he called on Britain to re-examine its war history, said he was not surprised by Mr Desmond's tirade. "The British think the Germans have swastikas printed on their brains - it's an obsession.

"We are talking about the sale of a newspaper, and if it had been a company from any other nation that was rallying to buy it, people would say this is part of globalisation, but because it's a German firm everything has to be related back to the war."

The danger here should NOT be allowed to relate back to the past, NOR should it be considered in terms of a normal commercial company take-over as in the case of BMW and British Leyland as the article then goes on to do.

We are clearly NOT just talking about the sale of a newspaper, as I feel sure historian Jorg Friedrich well knows.

The threat goes to the potential undermining of the bedrock of our very political system and our existence as an independent nation.

The putsch that ousted Iain Duncan Smith from the leadership of the Conservative Party was accomplished in such a manner that it immediately aroused grave concerns regarding the remaining democratic credentials of the party and the independence of mind of its sitting MPS. These have been discussed at length on this blog starting with this post last October and linked here from its title Howard's EU Compromise with Clarke and many other such postings on the 'Teetering Tories' blog November Archive Files linked here.

The threat to the Telegraph Group of newspapers, which are undisputably recognised as the effective house journals of the Conservative Party must be considered against the backdrop of this recent party takeover, the undemocratic nature in which such was accomplished and the extraordinary series of policy decisions taken by the new Tory leadership in the intervening six months.

Considering the nature of our political system being absolutely dependent upon the two party system, to allow one such party to fall completely under the influence of foreigners who recent actions have proved carry no feelings of community of purpose or obligations of what they would term as 'solidarity' to the people of this country would be an act of treachery unprecedented in this nation's history.

Some might consider such a view unreasoned or xenophobic, but that is not the case. Whatever the rights or wrongs of our entering into the actions in Iraq, our troops are now in Basra engaged in bringing a better life to the people of southern Iraq. Are we supported in this task by the two powers that presume to lead the EU - France and Germany? We are not. In fact it is clear from their actions and media comment, that those two countries share with our nationalised broadcaster the BBC an almost obsessive desire to see the objectives of the coalition in Iraq fail, even, it sometimes appears, considering that casualties amongst our soldiers out there on the ground are a necessary side-product of the desired humiliation.

Howard's extraordinary and hushed-up extension of the Conservative Party's membership of the German dominated, ultra-federalist EPP-ED group in the European Parliament after the June elections is further sign of his apparent subservience to outside influences - there is no logic in this action. It has almost entirely been kept out of the media and it defies any explanation as it was always bound to have adverse electoral consequences on 10th June and no amount of examination or objective analysis of its likely consequences can uncover any presumed benefits for either the Conservative Party and even more certainly none whatever for Britain.

More astounding still is the incident of the proposed motion of censure of the European Commission over the Eurostat corruption scandal, which was first signed by the Conservative MEP delegation, who almost all subsequently removed their signatures, causing the motion to nearly fail, on the orders of German Christian Democrat and EPP leader Hans-Gert Poettering, in which matter the EP Chief Whip Chris Heaton-Harris resigned, the sole demonstration of resistance that I have discovered during the past six months during which we seem to have seen the loss of the independence of our main opposition party with all its long and sometimes honourable history.

The Telegraph Group cannot be allowed to fall to the Axel Springer Group. Readers should make their feelings known to Axel Springer and the paper. My novel Millennium Blitzkrieg which predicted a non-democratic German dominated French assisted EU, opening a Trade War with the USA in the early part of this century, was initially accepted for publication in Britain by the publishing house Macmillan's one time family firm of Conservative Prime Minister Harold Macmillan. Subsequently I was informed that such decision had been reversed by higher management. The firm had some time before, I later learnt been taken over by the giant multinational German media group Bertelsman. Free sppech is one of our last remaining freedoms within the EU, it depends on a free press. The Telegraph titles are a main supporting pillar of those freedoms. Canadian press barons of the past are founder members of that tradition and have proved sound defenders of our rights, to argue that they and the Axel Springer Group, founded in 1946, (as no doubt some soon will do) are remotely similar would be clearly false.

The myth that we are all one and the same in Europe is just that: a dangerous fabrication. Moves are afoot that all seem designed to prevent the people of this country calling a halt, let alone reversing the move, to our subjugation.

Would the French stand by and let Le Monde or Le Figaro go to Axel Springer, the very idea is absurd!

The chaos uncovered within the UK Independence Party now reaching a climax as is revealed in my blog UKIP Uncovered, where the extraordinarily anguished resignation statement of the party Returning Officer charged with overseeing NEC elections, posted last evening makes particularly harrowing reading, underlines theses concerns. Coming just ahead of the EU elections and as the culmination of a long chain of quite extraordinary goings on, these events are impossible to be viewed as uncontrived. When considered alongside the recent far from open goings-on within the Conservative Party, I find it impossible not to conclude that the very basis of our democracy is what is now at risk.


posted by Martin at
4/24/2004 08:17:00 AM
Friday, April 23, 2004

Complaint to Electoral Commission

On Wednesday I blogged a piece of blatant pro-EU propaganda issued by the Foreign and Commonwealth Office which is linked here.

I received this remarkably prompt, courteous but somewhat unsatisfactory reply. It seems the government will be free to use the full civil service to propagate their disinformation and half-truths about the inefficient, corrupt and non-democratic EU until 28 days before the polls open:-

Quote

Thank you for your query which was forwarded to me for response. The Electoral Commission has a number of responsibilities with regard to UK wide referendums. I attach a link to a briefing paper which provides information about this.

http://www.electoralcommission.org.uk/templates/search/document.cfm/6320

The Commission takes its powers from the Political Parties, Elections and Referendums Act 2000, Part VII of which includes the referendums provisions and which also sets out information about the role of central Government in a referendum campaign. The legislation essentially provides restrictions on the type of publicity that may be issued by the Government for the final 28 days prior to a referendum.

As a referendum on the EU Constitution has not been formally triggered by legislation and there is no date set for a poll, there is no restriction within referendum legislation on related publicity which the Government can issue at the current time. I hope this is helpful.

Should you have further queries relating to how a referendum would be run or about the Commission's role in a referendum please do not hesitate to contact me directly.

Uquote

I wonder if hoping for a return to traditional standards of civil service impartiality will be forlorn?


posted by Martin at
4/23/2004 04:44:00 PM

Blair will Accept Referendum Verdict

The Mirror reports that Blair has now reversed course once again and will now not seek a second referendum if he does not like the first answer received.

After his parliamentary answer and follow-up letter of the past couple of days saying the exact opposite his democratic credentials now join his reputation for truthfulness and honesty (finally lost over Iraq and Hutton) in the dustbin of history.

What a crying shame that there seem no honest men on the front bench of the main opposition party to wisely stand-back from the referendum fray and let those truly committed to the well-being of the country outside of the EU now drive the referendum campign to a successful conclusion!

What a crying b****y shame that the UK Independence Party is also in such dire straits at this crucial time. The finale of the attempt to disqualify its hard fighting and reforming ex- Vice Chairman, Damian Hockney, reaches its climax today. The latest news will be posted on UKIP Uncovered the instant it is received.

The newspaper article is linked from here.


posted by Martin at
4/23/2004 12:31:00 PM

Bring it on Baby! - Richard Littlejohn in The Sun

We quote the finale to today's column:-

The more they rant and rave, the more lies they tell, the more they try to stifle genuine debate, the more the British people turn against them.

Blair's humbling over Europe and Blunkett's moves to clamp down on bogus asylum seekers aren't down to the Tories or the Right-wing Press.

It's because the British people have finally had enough of these intolerant metropolitan mediocrities who have been forcing their prejudices down all our throats for far too long.

Blair has tried to disguise his defeat by coming over all Henry V. Let battle be joined.

Bring it on, baby.


posted by Martin at
4/23/2004 11:42:00 AM

France and Spain to act Jointly on Constitution

This report is from the Chinese News Agency


posted by Martin at
4/23/2004 07:04:00 AM

Referendum 'NO' Contingent Splits before it Forms

True to the history of the anti- EU movement within Britain, the first decision by the referendum side seeking a negative vote, seems to have become - 'who not to work alongside'.

According to The Independent this morning in an item titled - 'No' campaigners desperate to sideline hardline Eurosceptics the forces who pretend to seek to save Britain from the EU, while working towards ensuring Britain's continued membership, having villified the true eurosceptic movement for years and now having seen the objects of their scorn proved correct in almost every single particular, now seek to continue as before. I quote:-

Leaders of the embryonic "no" campaign are desperate to sideline hardline Eurosceptics who could aid Tony Blair's strategy of turning a referendum on the treaty into a full-scale poll on Britain's future place in the EU.

Senior figures want to exclude the UK Independence Party and other figures vehemently opposed to Britain's membership of the EU in favour of a "positive vote" for radical reform in Brussels.

The public will be presented with the facts on this and my other blogs, and each voter will be free to decide how to vote in the basis of all the evidence. The NO campaign now debating what thought processes and criteria they consider electors should utilise in reaching a decision is a demonstration of the dangerous and anti-democratic mindset the EU has wrought.

Looking across the channel at what is happening within the EU will most probably be all the proof of the 'hardline' Eurosceptic position that might be required if the referendum polling day should ever dawn!


posted by Martin at
4/23/2004 07:00:00 AM

We Welcome a New Blogger

Dr Richard North, co-Author with Sunday Telegraph columnist Christopher Booker of the tell-all book on the EU - 'The Great Deception', has joined the blogosphere and we welcome him. We have added his blog with a link on our side-bar and you can also visit the site, which will concentrate on matters regarding the planned referendum, at www.eureferendum.blogspot.com or by clicking here.


posted by Martin at
4/23/2004 06:32:00 AM
Thursday, April 22, 2004

Austria Objects to National Referenda - The EU cracks spread and widen!

The Austrian premier is opposed to national referenda but proposes a one-time pan-European vote. The Bloomberg and Eu Business reports do not make it clear whether he is suggesting the constitution should then be imposed on a simple pan-European majority but it is implied- thus jumping to full federation even before the constitution is agreed.

Full of Machiavellian tricks these Continentals - I couldn't even try to begin to explain the complicated and devious avoidance routine Michael Howard's Group Leader in the European Parliament, the German head of the ultra-federalist EPP, Hans-Gert Pottering, proposed yesterday!

The Bloomberg report is linked from here.


posted by Martin at
4/22/2004 07:01:00 PM

Pressure for vote builds in Germany while Chirac dithers!

While the Netherlands, (see the posting of 23rd March titled "Dutch to become last hope for Democracy?" linked here) remain my favourite to be the next country to plump for a vote on the constitution and blow the Valery Giscard d'Estaing text to kingdom come, Reuters has issued an interesting report on growing pressure within Germany - linked here and titled 'EU referendum puts pressure on Germany'.





posted by Martin at
4/22/2004 06:04:00 PM

Twelve wise men to push EU economy forward

Such is the headline of an EUobserver article linked here. For all the good another committee or panel of experts will do for the contradiction-riven wreck that is Euroland's economy they might just as well - Get Out and Push.

Individual, 'Sovereign State Leadership' seems the most likely hope, but the intiative throttling EU mindset prevents that from being perceived.

Will Britain need a fully active NO campaign in the coming referendum, or can we eurso-sceptics sit back and let the Euro do all the work?

Tempting thought, but too important to take such a chance! Maybe once the Dutch also opt for a referendum, some relaxation might be in order.

Business Europe.com linked here, reports in a new poll of over 400 of London's businesses some 55.9% said they were opposed to the constitution.

Only 7.4% said they backed the document while another 34% supported it in parts, the London Chamber of Commerce (LCC) report said.

In further good news at the start of this new exercise in democracy only 57.8% of London business favoured retaining British membership of the EU!!



posted by Martin at
4/22/2004 05:29:00 PM

EU's Political Leaders See Reality of Referendum

While Blair and Howard shadow box and pussyfoot around the real implications of Blair's violent volte-face, other leaders across the EU take note that the constitution is probably sunk and perhaps with it the EU too. This editorial from the 'Süddeutsche Zeitung' (Germany) seems to express the fear:-

Britain's vote A coalition of the opposition and a furious mass media has forced Prime Minister Tony Blair's decision [to hold a referendum on the EU constitution]. Its clear goal is bringing down the constitution and damaging the core of the European idea. British Europhobia has taken on monstrous dimensions in recent months. Britain has always behaved like an oyster when it comes to Europe: it only opens up very slowly and cautiously, and the slightest knock makes it clam up again. Blair is further than ever from achieving his goal of leading Britain toward Europe. The decision in favor of a referendum may look like a heroic act. In fact it is reaction born of despair. It is impossible to see at the moment how such a referendum will be won.

While the front page article from the International Herald Tribune linked from here and titled 'Tricky Albion? Blair throws EU into a spin' gives an excellant overview.


posted by Martin at
4/22/2004 02:03:00 PM

Non-UK Blog Readership hits Two-Thirds

Readership of this blog 'Ironies' is small but diverse. The level of UK Time Zone readers has hovered around the fifty per cent mark for some months. Recently overseas readership has been growing at an even greater pace and now accounts for two-thirds of all readers.

I am especially gratified to welcome a small spread of readers across the Australasian Continental time zones. As the battle to regain Britain's Sovereignty is now truly joined; demonstrating continuing strong links with fellow democracies everywhere across the globe will be a crucial factor in persuading the cowed British electorate that they have a better future outside the EU. Our links with India and Pakistan have recently become ever stronger and renewing the past strong ties with Australia and New Zealand as well, will be sure to work in all our interests.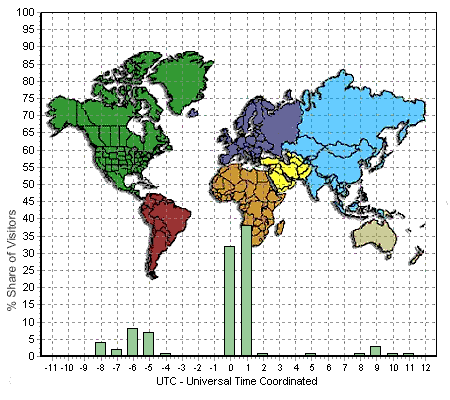 posted by Martin at
4/22/2004 10:41:00 AM

Fooling the Electorate

The linked article, here, from the The Scotsman points the finger at Tony Blair:-

The government, it seems, will fight a strategy of conflating the EU constitution with EU membership. As things stand, the Prime Minister will attempt the highest-risk election tactic: trying to fool the electorate.

Interestingly the newspaper then made this statement - Ms Hewitt, leading the attack on BBC Radio yesterday, suggested that the Tories' agenda was secretly that of the UK Independence Party - to withdraw from the EU altogether.

To Tories listening on their radios, it seemed too good to be true; was Ms Hewitt really ducking the constitution issue and pretending it was about EU withdrawal?

If indeed there were or are Tories in the country holding such a view, then I believe the self-delusion within that party is now reaching almost disastrous proportions.

The 'Man of Straw' Foreign Secretary, prattling in my earphones on this morning's Radio 4 Today programme as I now type this, compounds the disastrous illusions that seem commonplace throughout the political and pundit classes within the country. Confusing referendum re-runs with considerations of winning margins and divining what considerations voters made when making their decisions is lunacy.

All this seems to stem from one of the major problems of our age, connected to our involvement in the EU, and ultimately only curable by withdrawal from it, namely - the urge by politicians to follow political opinion rather than to lead it.

That won't wash in this referendum, it is far too important. The spectacle of all the party politicians struggling to avoid any careful thought or deep consideration of the issues and then taking a public stand by stating on which side of the question of Brtain's future they stand, would be almost comical, were it not so tragic!

The Telegraph also considers the ambiguities here and for a Tory MP's view of the important issue - Boris Johnson from here.

I believe the average reader of The Sun newspaper now has a better grasp of the issues at stake than any politician has yet to demonstrate.


posted by Martin at
4/22/2004 08:36:00 AM
Wednesday, April 21, 2004

A Tribute to a British Patriot

The link below will take you to a moving tribute to Norris McWhirter written by his friend Rodney Atkinson.

Norris McWhirter, CBE, MA, 1925 - 2004


posted by Martin at
4/21/2004 08:56:00 PM

PM Question-time swings Early Dynamics of Coming Referendum Campaign

A suggestion by Blair that he would consider a second ballot on the constitution if he lost the first in Parliament this afternoon, seems a major error after his sure-footed opening of yesterday.

The Scotsman carries a full report linked from here.


posted by Martin at
4/21/2004 06:14:00 PM

British Foreign Office Kicks off the Referendum Campaign with its own Myths and Disinformation

The Foreign and Commonwealth Office today disgracefully issued a press release, which may be read from this link. It quotes the Foreign Secretary as having made the following statement on Sky News television:-

But we do believe that a referendum is now needed in order to break through the myths and distortions about what is in this document so we can, if you like, establish a new commitment between the British elector voter and the European Union about our future within Europe.

It is to be regretted that MYTHS AND DISTORTIONS have become the stock in trade of both main political parties on matters regarding the EU since well before the first referendum campaign in 1975, when I personally can assert and recall that many lies were told and promises made that have since proved to have been entirely worthless.

More unfortunate still is the evidence provided by this press release, that civil servants are now actively engaged in this campaign of disinformation. If the coming referendum campaign develops as I fully expect, namely to be a re-assertion of the peoples' democratic rights against the deceitful, untruthful and unscrupulous political class, who have knowingly and actively betrayed the democratic rights and freedoms of the British people for decades, then it might be sensible for the supposedly non-political sections of the governing establishment - particularly the senior civil service, to rapidly re-appraise its role in the coming fight.

Issuing untrue press releases in the names of Government Departments would seem to be a sensible place to draw the first line.


posted by Martin at
4/21/2004 01:15:00 PM

A Look at Press Reaction to the Referendum as seen from Oz

This one link provides a quick review of most of the British press reaction to Blair's retreat may be read from this link to smh.com.au


posted by Martin at
4/21/2004 08:29:00 AM

US wakes to EU and ECJ Menace

Signs that the USA, which has almost seemed to have been encouraging the growth of a federalist Europe for many decades, is at last becoming aware of the threat the non-free market, non-democratic, huge collectivist EU conglomerstate poses across the globe.

This article by Professor Frank J. Gaffney, Jr. for townhall.com, (linked here) highlights that a change of attitude is needed, brought about it seems by Blair's U-turn on the Constitution and Zapatero's accession. A couple of quotes:-

If the EU Constitution becomes binding on all member nations – including those of New Europe who will shortly become full-fledged members, we are unlikely ever again to see the sort of independent, let alone reliable, support for America that has been among the finest moments in Great Britain's storied history. It is hard to imagine Winston Churchill or Margaret Thatcher allowing their country's foreign – or for that matter any other – policy to be dictated by the Continent's political lowest-common-denominator, let alone by unelected, unaccountable bureaucrats in Brussels. .....

The negative implications for the United States are not hard to discern. The front page of Sunday's New York Times featured an article about American judges discovering to their surprise that international tribunals are second-guessing and in some cases overruling their decisions. Georgetown Law Professor John Echeverria told the Times, "This is the biggest threat to United States judicial independence that no one has heard of and even fewer people understand."

Although the article's focus was on obscure courts created by the North American Free Trade Agreement (NAFTA), a similar interference in our jurisprudence is predictable as the European Court of Justice (ECJ) flexes its muscle. Last fall, the Conservative Party's "shadow" Attorney General and Minister for Constitutional Affairs, Member of Parliament Bill Cash, observed: "Together with legal personality for the [European] Union, [the creation of an ECJ capable of defining its own jurisdiction] would turn the Union from a creature of the member states into their master." He could have added, it may become the master of non-member states, as well.






posted by Martin at
4/21/2004 08:26:00 AM
Tuesday, April 20, 2004

Scope for a New Referendum Party?

The Scotsman provides a good summary of the provisions likely to apply to the upcoming referendum, from which comes the following quote:-

In a referendum called before the next general election Labour and the Tories would both receive £5 million, Liberal Democrats £3 million and other parties £500,000.

As well as receiving cash grants both sides will be given free mail shots and public broadcasts.

Rules on balanced TV and radio reporting will apply as they do during general elections.

Douglas Stewart, the Electoral Commission's head of referendums, said involvement of new, inexperienced campaign groups threatened to throw up unexpected problems.

"At the moment I am not anticipating any significant problems," Mr Stewart said.

"But this is the first time this legislation has been tested used – it is untested.

"And there is a whole host of new organisations and campaigners who are new to the scene."

If the referendum is held after the general election as is now generally being predicted - this seems to provide a real opportunity for referendum candidates. Why elect candidates from the three main parties who have all supported the EU and landed the country in the major mess which it will then almost certainly be obvious for all to see it is! Especially as they have clearly rigged the rules to get nearly all the funding to swing the subsequent referendum in favour of remaining within the corrupt, economically depressed, bureaucratic nightmare.

Referendum candidates, committed to a complete re-negotiation of Britain's relationship and restoration of sovereignty might suddenly seem an attractive alternative.


posted by Martin at
4/20/2004 06:02:00 PM

Britain's Red-Lines on Constitution Secure

While it is a tragedy that Blair had not realised from the beginning of the Convention that a referendum on such a hugely important matter was always going to be an essential, this belated recognition of reality will at least guarantee no further major and potentially disastrous concessions will be yielded by our Government.

What a tragedy for those two MPs Gisella Stuart and David Heathcote-Amory who battled for Britain with no governmental support that this did not occur at Laeken!

On the other hand it makes defeat in the referendum a racing certainty, and I presume a vote on whatever document replaces the VGDE Constitution (which will now PROBABLY die a well deserved death) a racing certainty.

The future of the entire EU has never looked less certain, with a plunge in German confidence figures to below the 50 level on one much followed index today and yet another hike in French unemployment figures. Will Blair go down as the man who killed the European dream? Now that would be Ironic!


posted by Martin at
4/20/2004 05:47:00 PM

Blair's Referendum Statement

'LET THE PEOPLE HAVE THE FINAL SAY' ON NEW EUROPEAN TREATY - TONY BLAIR

'It is time to resolve once and for all whether this country, Britain, wants to be at the centre and heart of European decision-making or not; time to decide whether our destiny lies as a leading partner and ally of Europe or on its margins', Prime Minister Tony Blair said in a statement to the House of Commons on 20 April. He spoke about the forthcoming enlargement of the European Union, and how, in a few years, Europe will be transformed into 'easily the strongest political union and greatest economic market in the world'. Mr Blair outlined the issues for discussion on the new European Treaty, noting that the aim of the new document is to help Europe to work better as a group of sovereign national states, not to reduce member states' control over issues of national importance. In areas like 'taxation, foreign policy, defence, social security, how the essentials of our common law, criminal justice system work, like Treaty change, we believe the national veto must remain', Mr Blair said. When the Government is satisfied that the Treaty embodies the essential British positions, he went on, it will be debated by Parliament and then 'let the people have the final say'.

To view the article in full, visit the FCO via this link


posted by Martin at
4/20/2004 02:50:00 PM

Motion of Censure against Commission Goes Ahead

Following pressure on Britain's Conservative MEPs only 65 signatures were finally gathered (two more than necessary) to win a debate and vote of censure against the EU Commission on the Eurostat scandal. The report on the motion is linked from here.

The EPP - ED group to which the British Conservative Party belong - WILL VOTE AGAINST THE MOTION. The Tories will continue to belong to the EPP even after the next EP election - following an astounding decision by the new leader, the supposedly euro-sceptic Michael Howard, taken early in February even after that group had adopted its new ultra-federalist and pro-EU Constitutional manifesto for the June elections.

No word has yet been received of resignations from the ranks of Eurosceptic Conservative MEPs, although rumours such might result were circulating at one point in the rows over gathering and maintaining signatures for this motion.


posted by Martin at
4/20/2004 02:40:00 PM

Blair's Referendum Statement

This report from Bloomberg provides a good early report Blair's Referendum


posted by Martin at
4/20/2004 01:38:00 PM

Howard to take Back Seat in Referendum

Perhaps in recognition of his flawed past credentials and more recent record on the EU, the Evening Standard reports linked from here, that Michael Howard will take a back-seat in the coming referendum campaign.

As just blogged on Teetering Tories, after the effrontery of his nausea inducing article in the same newspaper last evening, the best course for Howard, following his recent renewal of the coalition with the ultra-EU federalist European Peoples Party for the next European Parliamentary session, would be to actually resign. Failing that there seems no useful role for the Conservatives in the coming campaign at all.

Another sign of the seismic change the very suggestion of a referendum is starting to bring about, may also be found in the same article: - The Prime Minister was exposed to ridicule after Commons Speaker Michael Martin effectively ordered him to come to the Chamber to explain in person, rather than delegating the job to Foreign Secretary Jack Straw as planned.

Is power just beginning to trickle back to Parliament? If so from there it will return to the voters.


posted by Martin at
4/20/2004 10:27:00 AM

Bloomberg Reflects French Concerns

Citing the FT, Bloomberg summarises their report under the headline, 'France Concerned Over U.K. Vote on EU Constitution'. It may be read from from here.

We will be bringing regular reports on everything I consider to be relevant thoughout what we are sure is going be a truly significant day!


posted by Martin at
4/20/2004 08:57:00 AM

Politicians vs People

The Independent reports on the coming battle with the headline: Blair plans an all-party alliance to win yes vote linked here, which makes the coming referendum battle lines clear - this is to be a fight between the politicians, (who have deceived, dissembled, and subverted the will of their electorate for decades) against the people. On the one side will be the combined power of the state and most probably the broadcasting media, (who depend upon the state for their continuing ability to exist) against will be the ordinary, non-empowered people, some sections of the free market media (who will mostly be villified as foreign owned or controlled) with one principle weapon: The Truth!!!

Reproduced below is our morning's posting from UKIP Uncovered:

Quote

Telegraph's Ambrose Evans-Pritchard hints Blair's U-Turn could signal EU's Demise

The article, (read from here), which makes such sweet reading for any eurosceptic, just had to be linked from here this morning, although it makes no mention of UKIP whatsoever.

We hope the facts in this blog, revealing how UKIP has been apparently deliberately undermined in its resistance to the EU, when widely known and matched alongside other such tales for other similar organisations, will make the NO vote the sole respectable choice. The argument that we cannot survive without Europe, as the EU falls apart as a consequence of its own corruption, bureaucracy, elitism and the economic fallout from the disastrous Euro decision, will soon be seen as entirely illusory!

The Daily Telegraph's Leading Article, linked here, however, makes a major mistake in this writers considered opinion, in considering the coming referendum campaign in terms of party politics.

The EU saga from which the country must now break free has been a betrayal of the people by the party politicians, who have all conspired to keep their real plans and true intentions from the voters for decades. The referendum will be the means by which the people can rectify this matter, therefore the full truth of how the situation came about and the full facts and details of all those responsible need to be exposed. Few politicians will therefore be comfortable at the forefront of the NO campaign.

Those wishing to arm themselves with the facts for the extensive education campaign which now lies ahead, could do no better in my view than investing a few quid in the Christopher Booker and Richard North book that exposes the EU titled 'The Great Deception'. It can be competitively obtained by using the link to Amazon from this page. (No, I haven't been asked to plug this book - I am just convinced it is the best and cheapest means of getting the facts to your fingertips!)

Unquote



posted by Martin at

4/20/2004 07:44:00 AM

Monday, April 19, 2004


The Sun YouGov Poll

These were some of the results of the poll published this morning that give an idea of the mountain to be climbed if Blair makes the Constitutional Treaty the Referendum question:-

YouGov / Sun poll YouGov questioned a representative sample of 2,462 electors throughout Britain online between 15 and 17 April, 2004

If a new European constitution does come into force, do you think this would be good or bad
for Britain, or would it not make much difference?
Good for Britain 11%
Bad for Britain 55%
Not make much difference 15%
Don't know 19%

Do you think the following statement is true or untrue: 'Britain will still be able to keep
control of its taxes, defence, criminal justice and foreign policy if a new European
constitution does come into force'
TRUE 18%
Not true 60%
Don't know 21%

If Europe's leaders do agree a new constitution for the European Union, who should decide
whether Britain signs it?
The decision should be made by Parliament 10%
The decision should be made by the people in a referendum 83%
Don't know 7%

If there were a referendum on a new constitution, how do you think you would vote?
In favour 16%
Against 53%
Don't know 28%
Would not vote 4%

The latter question and the huge margin against the constitution is what makes me suspect that Blair will try to drag the issue away from a straight consideration of the constitution. We shall see!

Personally I would welcome a straightforward In or Out question, put as soon as possible which Blair might believe he could win, as indeed he well might. The advantage would be some degree of future certainty which the country and the EU, both now desperately need.



posted by Martin at

4/19/2004 06:06:00 PM


PM Will Now Stage his Own Climb Down

Downing Street have corrected their earlier report and it will now be Tony Blair himself who makes the announcement regarding the EU Constitution tomorrow. Realisation that the referendum will not just be about his political career as PM, but probably also his entire legacy, must now be beginning to sink in. See link to The Scotsman.



posted by Martin at

4/19/2004 05:48:00 PM


Jack Straw's Fact Flaws Revisited

Last year as the IGC on the EU Constitution approached, I ran a series of posts on the conflicts between what Britain's Foreign Secretary was calling a 'tidying up exercise' and other statements across Europe. I thought it would be amusing to return to these ahead of the statement in parliament tomorrow, when the referendum about turn is now expected to be announced by all.
Jack Straw's Fact Flaws



posted by Martin at

4/19/2004 05:39:00 PM


Prodi Backs Spanish Withdrawal

This report from ABC quotes the EU President as stating :-

'The divide that prevented Europe from having a common position is being overcome."

The report may be read from this link Blair and Berlusconi Snubbed

Britain being granted a referendum on the whole EU question will hopefully soon allow the EU to be a lot more united on many more issues, with Great Britain firmly outside!



posted by Martin at

4/19/2004 04:35:00 PM


Thanks from Referendum04

10am Monday 19th April 2004

Referendum04's Aggressive Campaign Helps Force Blair U-Turn

Sunderland based national campaigning organisation, Referendum04, was today toasting victory with other referendum campaigning groups after Tony Blair's dramatic U-turn over a referendum on the European Constitution.
It appears that this dramatic shift in calling for a referendum on the European Constitution has been due to the intense pressure created by Referendum04's tactics of not only targeting Downing Street with its campaigning, but more significantly by applying pressure to MP's in their constituencies.
The grass roots campaign has acted as a cross / non-party umbrella coalition with the aim of forcing the Government to concede to a referendum.
Working in association with organisations which include the Democracy Movement, Labour Euro Safeguards, Campaign for an Independent Britain, the Liberals and the European Referendum Campaign, as well as many smaller groups and a massive network of individuals across the country, the effective network was created.
The argument was quite simple... that the European Constitution represents a fundamental shift in the way we, as nation are governed, and therefore must be put to the people in a referendum.

Campaign Director, Neil Herron, who also fronts the successful Metric Martyrs Campaign (www.metricmartyrs.com) and the North East No Campaign (against elected assemblies www.northeastnocampaign.co.uk ) which has seriously derailed Deputy Prime Minister Prescott's regionalisation plans and is standing as an Independent Candidate in the European Elections, stated...
" This is a massive victory for Referendum04's supporters. When we began the campaign the Government were adamant that the Constitution was nothing more than a 'tidying-up' exercise. However, by successfully targeting individual MP's and putting them under intense local pressure, along with our street petitions which are being networked across the country both physically and electronically, the word has eventually got back to the Prime Minister that to deny the people their say on the future governance of the country would be political suicide. We also ensured that the Prime Minister was directly aware of the public mood. He had stated that he rarely received correspondence on the European issue. On 6th December 2003 at 12 noon all that changed when the Prime Minister's e-mail address was visited by tens of thousands of 'Virtual Marchers' which caused the Downing Street site to collapse.
The pressure has become too intense and with the European Elections just weeks away Blair has been backed into a corner.
May I take the opportunity to thank all the organisations, groups and individuals who have supported the campaign and we can raise a collective glass to our success. The big battle, a debate denied for nearly thirty years, about the future governance of this country will now commence and we will once again be in the front line leading the way."

Blair's u-turn will now create a problem for all the MP's who have said no to a referendum. A full list can be seen at the Democracy Movement's website.

We will continue to apply pressure to assist them with their own personal u-turns and I am sure that their constituents and local press will challenge them on their position.
We expect each MP to have an intimate knowledge of the draft European Constitution and its implications for our democracy.

Neil Herron
www.referendum04.co.uk



posted by Martin at

4/19/2004 04:23:00 PM


Straw to Announce Referendum to Parliament Tomorrow

The Scotsman carried the first such report, which has now effectively been confirmed on the BBC's Radio 4 'World at One' programme. The newspaper report is linked from here



posted by Martin at

4/19/2004 01:04:00 PM


Referendum Now Assumed as Certain by the Media

The FT report on the referendum is pretty typical of the general coverage this morning and is titled 'Blair to hold a referendum' and it is linked from here. The paper says:-

Mr Blair's decision to pledge a referendum on the constitution amounts to one of the biggest surprises in UK politics in recent times. It has come after weeks of private discussions between the prime minister, Gordon Brown, the chancellor, and Jack Straw, the foreign secretary.

Readers of this blog have of course been aware for several days that such a referendum had become impossible for Blair to avoid. We will be active in the campaign which we are confident will result in the return of our sovereignty!



posted by Martin at

4/19/2004 08:47:00 AM


Voter Apathy

The Sun in a Leader titled 'Wake-up Call', considers the lack of interest in politics now evident in the country and concludes as follows:-
---------------
The root cause seems to be that people feel that however they vote, politicians will ignore voters once in power.

Voters have given up believing what politicians say.

Fighting such massive public cynicism, particularly among younger voters, is a battle our leaders cannot afford to lose.

Voters will only return if they feel their choice CAN make a difference.

That means politicians must demonstrate they are LISTENING to the voters — not just on polling day but every day.

They must KEEP their promises.

Democracy dies if people don't take part.
-------------------
What can those of us who do care what happens to our country, (among whom I assume will be all the approximate fifty per cent of this blog's readers who live in Britain) now do? I wrote a piece to an internet forum on this very point over the weekend and feel it is probably worth repeating here:-

I think maybe the main thing we can now all do - is to pressurise those politicians we suspect are still good, true and honest men and women beneath the political charade (and lets face it, what that covers is usually downright self-love and conceit). Not gently, but harshly and if possible even brutally - let them know you know the true venality of what they are about....not just Tories - all of them know what they have done to ditch Westminster and therefore their voters - make it plain to them that they are rumbled....part of what they want is your respect because they are all stuffed full of their own self-importance. DON'T GIVE IT TO THEM, THEY HAVEN'T EARNT IT AND MOST CERTAINLY, ALMOST ALL OF THEM NOWADAYS, DO NOT DESERVE IT.

Write to your MP and/or MEP and make it clear that you know the self-interested game in which they are engaged. Especially MEPs, if they happen round looking for your vote on 10th June! Visit the blog WE WON'T GO where I have collated much detail of the extent of the European Parliamentary fiddles and perks - challenge the individuals who are benefitting from these many quite frankly disgusting scams directly, by letter or even better, quite politely, but direct to to their face. Shame might be the most effective tool that we now have for reform.



posted by Martin at

4/19/2004 08:07:00 AM

Sunday, April 18, 2004


Al Qaeda's Victory

Spain has ordered its troops home from Iraq. More shame now accrues from our EU associations!

Disregarding the rights and wrongs of the intervention - it cannot now be morally justifiable to leave the Iraqis to the gunmen - can it?

This report is from Bloomberg Spain to Withdraw Its Troops From Iraq `as Soon as Possible'



posted by Martin at

4/18/2004 07:34:00 PM


Clever Twist for Constitutional Referendum Volte-Face

According to this report in the EUobserver, linked here, the justification for the complete reversal of Blair's decision regarding a referendum will be the excuse that the Conservative Party's decision to change position to seeking to re-negotiate the proposed Treaty will now require a national plebiscite to forestall uncertainty.

That position will allow an earlier annonuncement of the change of policy, than the suggested ceding of a red-line issue would have done, which was my guess here yesterday. It appears we will now know during this coming week!



posted by Martin at

4/18/2004 05:40:00 PM


Scotland on Sunday Reports Poll Cover-up

A sixty-four page report that cost the taxpayers twenty thousand pounds has been suppressed according to the Scottish Sunday paper. Most astounding unknown fact for me was the news that the Scottish Parliament building cost had gone from an estimated forty million to four hundred and thirty one million pounds, breathtaking incompetence on an almost EU scale. The article is linked from here



posted by Martin at

4/18/2004 01:13:00 PM


The Role of the Electoral Commission in the Referendum

The Observer in this article which starts with a very funny description of George Bush's brain freeze, goes on to discuss the potential powerful part to be played by the Chairman of the Electoral Commission in the pending referendum. It is linked from here and is titled 'The man who wants your vote' and summarised as follows - The Electoral Commission may sound unimportant, but some believe its chief, Sam Younger, has become uncomfortably powerful.



posted by Martin at

4/18/2004 11:35:00 AM


'REUTERS' Reports Referendum now Likely!

The international news agency has put out a report with this headline:

Referendum on EU constitution seen likely it may be read in full from this link.

WHAT will be the question and WHEN will it be asked?



posted by Martin at

4/18/2004 10:28:00 AM


Blair Refuses to rule-out Referendum!

EU Business in this report gives pretty clear evidence that Blair has changed his mind on a referendum. It is linked from here and these are the most significant portions:-

Speculation that the increasingly embattled Blair could be considering what would be a significant political gamble picked up on Saturday after he failed to categorically rule out a referendum when asked about it during an interview.

"Our policy has not changed and if there is any question of it changing I can assure you we will tell you," he told BBC radio, while adding: "You will have to wait and see what occurs on any of this."

According to an unnamed senior minister in Blair's government cited by the Sunday Telegraph, Blair used his trip last week to the United States to weigh up the options on the constitution.

"Tony said he needed more time to think about it while he was in America. He seems to have made up his mind," the minister was quoted as saying.

Perhaps Britain's long EU nightmare has a chance of at last being brought to an end. The task ahead should not be underestimated, the skilled deviousness and underhand methods used to undermine and discourage the eurosceptic movement over the past decades will now surely be brought into play in the campaign to continue to Britain's final entrapment within the non-democratic EU.



posted by Martin at

4/18/2004 09:30:00 AM


Conservative Corruption Condonement and Confusion finally gets some Coverage

A good two weeks later than when the story first broke the chaos in the ranks of the Conservative Party in Brussels finally gets a mention in the Christopher Booker column, which supposedly prides itself on being at the forefront of eu-sceptical news. The item is linked from here and concludes with this paragraph:-

But as a measure of the mess the Tories get into when they try to play weasel games over Europe, thus showing contempt for the views of most of their grass-roots membership, this shabby episode deserves more publicity than it has received.

Hear, hear....we have been doing our best on all our blogs and internet fora for the past couple of weeks....where was the Booker Column?



posted by Martin at

4/18/2004 09:22:00 AM

Saturday, April 17, 2004


The UN, Iraq and Corruption

While today's UK press pretty much hails Blair's success in getting Bush to agree to a renewed role for the UN in Iarq, the real story takes a different turn! CNN's UN specialist programme Diplomatic Licence, which will be screened again tomorrow, carries an item indicating that because of the corruption in the UN's administration of the oil for food programme the world organisation would be better not to return to the country.

This report, from the Washington Times, linked from Contra Costa indicates things are indeed grave with the appointment of former World Bank Chairman, Paul Volcker, by Secretary General Kofi Annan to lead an inquiry into the abuses. This is a portion of that article:-

The Bush administration has defended Annan, charging that Russia, France, China and other commercial partners of the former Iraqi government bore greater responsibility for misconduct by routinely frustrating efforts to rein in abuses in the program.

"We have had resistance" from those countries "with respect to correcting improprieties and inadequacies" in the program, John Negroponte, the U.S. ambassador to the United Nations, told the Senate Foreign Relations Committee last week.

The United States says it supports an appeal by Annan and Volcker for passage of a legally binding Security Council resolution that would "compel member states and entities to comply with the Secretary General's intention to thoroughly investigate the charges," according to Richard Grenell, spokesman for the U.S. mission to the United Nations.

As I stated on a post here last November linked here titled "Multilateralism, Transnational Progressivism, the Aqui Communitaire and Howard's Tories" :-

Following the Kuwait invasion the UN had imposed various sanctions, no-fly zones etc., upon Iraq. The burden of implementation fell mainly upon the US aided by Britain. As the years passed the suspicion formed in my mind that other major countries, while paying lip service to the UN mandated restraints, sought maximum commercial advantage from their non-involvement in the enforcement process and benefit from the latent oil wealth of Saddam?s oppressed nation.'

Another post (for those interested in these matters) regarding the dangers of the spread of transnational and inefficient organisations was also dicussed on 5th February in 'Enemies of Democracy in the EU and Beyond'



posted by Martin at

4/17/2004 04:28:00 PM


Foundations of the European Police Superstate take Shape

From the EU Parliament

Quote

European Police College goes to Bramshill in Hampshire, UK
Martine ROURE (PES, F)
Report on:
1. the initiative of Ireland with a view to adopting a Council Decision amending Decision 2000/820/JHA establishing a European Police College (CEPOL)
(15400/2003 – C5-0001/2004 – 2004/0801(CNS))
2. the initiative of the United Kingdom with a view to the adoption of a Council Decision amending Decision 2000/820/JHA establishing a European Police College (CEPOL)
(5121/2004 – C5-0040/2004 – 2004/0802(CNS))
Doc.: A5-0140/2004
Procedure : Consultation
Vote : 20.04.2004
Parliament will vote on a non-binding report from Martine ROURE (PES, F) for the Justice and Home Affairs Committee on the establishment of a European Police College (CEPOL). This college already exists as a network of national policy training bodies, but it is now proposed to make it into a legal entity in its own right and to assign it a permanent seat, namely Bramshill in Hampshire, which already hosts the Directorate and other bodies of Centrex, the UK's Central Police Training Authority. The report calls for Parliament to approve the two measures concerned, with only minor clarifying amendments.
Unquote

Note the instructions in the last sentence that I have put in bold type. Parliament - hardly one worthy of the name!



posted by Martin at

4/17/2004 01:36:00 PM


Another Look at the EU Constitution

Much has been said here on the above topic, and many links provided to explanatory papers and guides, not least the proposed treaty itself. However, this recent article on the Constitution, written by Ashley Mote a UKIP MEP candidate for the South East, gives an up to date and fresh view and has therefore been reproduced below from UKIP web-site.

As mentioned on UKIP Uncovered this morning (where another plea for reform is made), it was something of a surprise to find someone still capable of rational and coherent thought still apparently thriving within that shambles of a party:


Author: Vigilance, A Defence of British Liberty
UKIP Candidate: South-East England
14-04-2004

by Ashley Mote

When the former French president, Valery Giscard d'Estaing accepted the EU's invitation to head the convention which eventually produced the 350-page document, he was asked to find ways of making the EU 'more democratic, more transparent and more efficient'.

The convention promptly turned itself into a praesidium - and where have we heard that word before? It then re-wrote its own brief. The words 'democratic, transparent, efficient' all disappeared.

Now we have this: '…how to bring citizens closer to the European design…how to organise politics in an enlarged Union…how to develop the Union into a model in the new world order.'

d'Estaing told the European parliament that the proposed constitution was a 'revolution in law'. But revolutions are uprisings of the people against the ruling elite. Such events don't create law - they usually precede it. So this revolution is unique. It is a revolution by the ruling elite against the people.

By its full title, the proposed 'Constitution for Europe' apparently claims authority over the nations of the whole continent, members or not. It shows no modesty of ambition. Nor does it compare with the great elegance, simplicity, clarity and wisdom of Magna Carta, the Declaration of Rights, or even the American Declaration of Independence.

The proposed EU constitution is deeply flawed. Essentially, it is not a constitution at all. It is little more than an elaborate attempt to legitimise the seizure of power by a ruling elite. If it succeeds, Westminster will become redundant, its powers stripped bare. So the question for the British is very simple. Do we wish to govern ourselves - or not?

There are at least six fundamental defects in the proposed constitution, any one of which should make it utterly unacceptable to the British:

It is vague, grandiose, imprecise, deliberately complex, confusing and extremely long.

It is proscriptive rather than enabling. It makes law, instead of creating a framework for law-making.

It offers no effective checks and balances to control future law-makers.

It consolidates power for a system of government by a self-perpetuating bureaucracy.

It puts that elite group above the law to be imposed on everyone else.

It turns the member states from theoretical masters of the house of Brussels into its servants.

The proposed constitution also attempts to include everything and - by implication - it forbids everything else. Of course, that latter failure is the norm in Continental government. They believe the state exists in its own right, and the people answer to it. Here in Britain, the exact opposite is true. We, the people, are sovereign. Here, everything is permitted, until we elect a Parliament that decides otherwise. And, if we dislike a law, we are free to elect another to overturn it.

Under this constitution - we will be faced with a government we cannot remove, nor hold to account. By this constitution, the EU creates power for itself. Worse, it specifically demands unquestioning obedience from the member states. Yet Tony Blair never says anything about that. He claims there will be 'no fundamental change'.

Why have a new constitution if you don't want fundamental change? And why pretend otherwise? Is it because Labour failed to ask the British people for a mandate at the last general election? This constitution was not even mentioned in Labour's manifesto. Or does Blair's new-found enthusiasm suggest he might become president of the Commission in November, when Prodi steps down? Was that what Schroder and Chirac talked about at their private meeting with Blair in February? And has Gordon Brown been encouraging him to accept?

But let's just have a brief look at some of the sweeping powers taken by the proposed constitution, which was drafted in French. The EU intends to take what it calls (in English) 'competence' over almost every aspect of our life. But the word 'competence' - in French – means 'authority'. 'Power' would be a much better translation into English.

So why have the translators kept the French word? Was it because they knew it would confuse the Brits? Did they imagine that the idea of 'competence'
might somehow be more acceptable to us? Power is power, whatever you call it.
And this power is seized over our civil and criminal laws, over taxation and economic policy, over transport, crime, social services, immigration, the environment, consumer protection, research and technology, public health, security, education, commerce…even cultural activities

It is also made plain that they want control of our defence and foreign policy, our army, and all our assets – oil, gold, foreign reserves, pension funds, and what remains of our fishing and farming industries. And this constitution says 'the currency of the Union shall be the euro.' Ratify this constitution and
a referendum on the euro becomes pointless.

The financial provisions in this document also allow the EU to 'provide the means' to implement its policies, which can only be code for the introduction of EU taxes.

The Charter of Fundamental Human Rights is incorporated in it as well. It becomes the 'supreme law' of the EU, despite Keith Vaz's remark when he was minister for Europe about its being no more important than a copy of the Beano. The charter appears to be based on the cretinous idea that mere unelected officials can grant rights and freedoms to free-born Britons.

The time has come to remind them that our rights and freedoms are not in the gift, nor at the mere discretion of a passing parade of petty bureaucrats, or our elected government. They answer to us, not the other way around! None of which is allowed to stand in the way of Article 52 of the Charter. That purports to allow the EU to withdraw our rights and freedoms, if it is in the interests of the Union.

Can you imagine such power falling into the hands of leaders Europe has known in the past? Yet, under this constitution, one man can hold the presidency of the council and the presidency of the Commission. He can also be the president of the standing committee on internal security. If that happens - and it is clearly the intention that it could - one person would hold all the key positions of power at the same time.

We all remember the men who have seized such awesome power in the past, and the mayhem they caused - Charlemagne, Napoleon, Hitler, Lenin and Stalin.

It is impossible for the EU to guarantee that such powers would not fall into the hands of men such as these. Power attracts those least suitable to hold it. It is naivety - or cunning - of the highest order to create such a risk, and to do so deliberately. This is the road to tyranny.

And so is Article 17 of the constitution itself. That says – in effect – if the ruling elite have forgotten to take a particular power, this catch-all clause gives it to them retrospectively. This article by-passes any need for approval by the member states for any future EU action on any matter. They have merely to be informed. So ratification of the constitution effectively ratifies all future decisions, whatever their merits or demerits, whatever the costs or consequences, however unacceptable or tyrannical or damaging.

The exit clause - Article 59 - is an elephant trap as well. It demands that any member state wishing to secede must first apply for permission. It then gives the EU the right to decide on the terms of withdrawal over a period of up to two years. The state wishing to leave will be excluded from any such discussions. It will be expected to meet all its obligations until it is allowed to leave, and meanwhile tolerate EU interference in its internal affairs. Nothing in this clause restrains the EU from seizing assets and attempting to overthrow the government that made the application in the first place.

The British would be reckless to sign such a blank cheque as the proposed EU constitution. Once ratified, there is no mechanism to stop it later. There is no mechanism to throw the rascals out. There is not even a mechanism to stop the imposition of the constitution in the first place. If one or more member states fail to ratify it within two years but at least 20 others do so, the European Council has taken powers to decide what happens next. Nothing in the constitution prevents them from imposing it on dissenting states, against their will.

Peter Hain, leader of the House of Commons, no less, claims that the proposed constitution is merely 'tidying up' previous treaties. That is plainly absurd. Such a claim is an insult to our intelligence.

Not since 1688 have the British addressed the simple question: 'How, and by whom, do we wish to be governed?' Those ten crucial words lie at the heart of this issue. After a gap of over 300 years, we have to ask ourselves again.

The views of pre-eminent constitutional lawyers over the centuries, including Halsbury, Erskine May, Blackstone, Sir Edward Coke - even Professor Dicey - all support the contention that the British constitution specifically forbids the ratification of the proposed EU constitution.

As long ago as 1621, Parliament itself said that it could not diminish or give away its own powers. And Dicey told the British people that they are free to withdraw their consent from a Parliament at any time, and have the right to use any means to regain control of their sovereignty. The Bill of Rights, 1689, is still the statute law of this country. The suggestion that it is just an ancient statute and no longer relevant under modern conditions, is invalid. The authority of the Bill of Rights was re-affirmed in a House of Lords judgement in November 2001. Desuetude (repeal by lack of use) is unknown to English law.

On 21 July 1993, the Speaker of The House of Commons issued a reminder to the courts. Betty Boothroyd said: 'There has of course been no amendment to the Bill of Rights…the house is entitled to expect that the Bill of Rights will be fully respected by all those appearing before the courts.' The Bill of Rights is based on a concept of permanence and declares that any actions taken against its principles are null and void. It specifically forbids handing power to foreigners.

The Bill of Rights proclaims what were then taken to be self-evident freedoms, which exist by right, and nothing has changed that situation lawfully over the intervening years. The Bill includes the words: '…the said Lords…and Commons, being the two Houses of Parliament, should continue to sit and…make effectual provision for the settlement of the …laws and liberties of this kingdom, so that the same for the future might not be in danger again of being subverted. …the particulars aforesaid shall be firmly and strictly holden and observed…and all officers and ministers whatsoever shall serve their Majesties and their successors according to the same, in all time to come.'

Does the Government intend to ignore these words, its obligations to the crown and to the British constitution? If Blair signs and then attempts to ratify the EU constitution, what becomes of the Bill of Rights 1689? Is he planning to repeal it? Has he taken advice on his power - if any - to change the British constitution? What legal advice has the government received?

Unless the British people receive clear and acceptable answers to these questions - which seems increasingly unlikely - what the British government is planning is prima facie unlawful. The proposed EU constitution is grotesque, an abomination. So is the British government's response to it. Together, they represent the most dangerous and immediate threat to these islands since 1940. Then, it was the Battle of Britain. Now it is a Battle for Britain.

April 2004




posted by Martin at

4/17/2004 09:59:00 AM
Use eBay's PayPal service if you appreciate this blog - to make fast, easy and secure donations to help towards our broadband and other costs! martin.cole@gmail.com Many thanks!.